Catholicism is among the oldest forms of Christianity in Vietnam that has existed for several centuries. Represented as a part of the worldwide Catholic Church, Catholicism in Vietnam has significantly flourished to rank the fifth position involving the largest Catholic population in Asia. As reported by Hierarchy Catalog, there are currently around 5,658,000 Catholics within the country, which makes up nearly 7 percent of the total population.
The History of Catholicism in Vietnam
Brought into Vietnam from Portugal at the beginning of the 16th century, Catholicism contains basic beliefs and practices represented by threefold ordained ministry including Bishops, Priests and Deacons and other beliefs. In 1954, when the communists gained power, there are approximately 750,000 Catholics migrating to the south. This is to say Catholics make up a considerable number of the total population.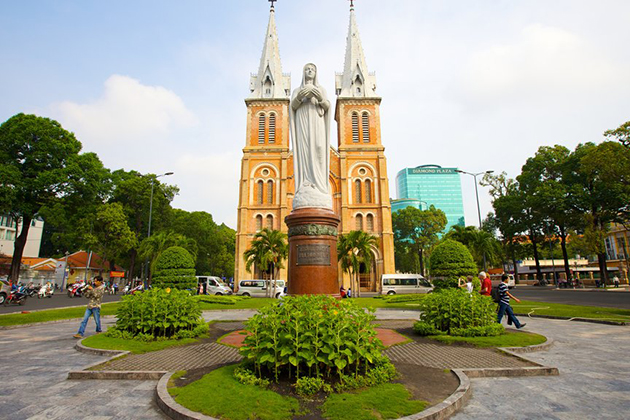 The Development of Catholicism in Vietnam
Nowadays, of the development Catholicism in Vietnam is accompanied by the vibrancy of church life with a broad selection of Catholic activities. For Catholic followers in Vietnam, there are a lot of places for them to get together and take part in meaningful Catholic activities.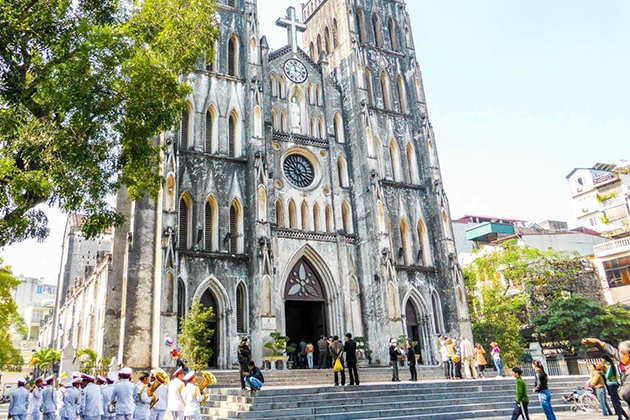 There are various churches throughout Vietnam. These sites are not only the places in which Catholics practice their faith but also symbolic attractions included in Vietnam tour. In Hanoi, the most famous and biggest church is the Big Church, also known as St Joseph's Cathedral in Nha Chung Street, near Hoan Kiem Lake, Hanoi. A visit to St Joseph's Cathedral will give you an insight into Catholicism in Vietnam and you will have a chance to admire the unique architecture of the church which is seen as a resemblance of Notre Dame of Paris. Moreover, there are also other renowned places such as Cua Bac Church and Ham Long Church in Hanoi. Head to Ninh Binh Province, there is an amazing church for Catholics known as Phat Diem Church which was constructed by stone and wood. Also, the internationally famous Notre Dame Cathedral of Saigon located in Ho Chi Minh City is also worth a visit as one of the biggest impressive church with a unique architectural style.
The Ancestor Worship Rituals of Vietnamese Catholics
Vietnamese Catholics worship their ancestors on occasions such as Lunar New Year, ceremonies, funerals, death anniversary ceremonies, marriage … with various forms. In China, the Philippines, Catholics also perform ancestor worship on these important occasions.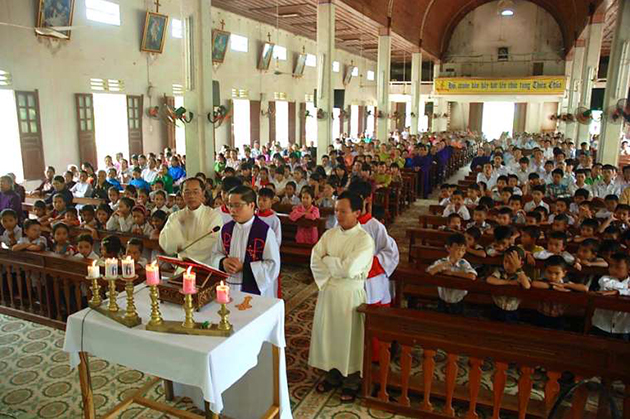 In Vietnamese Catholicism culture, so many contents of mourning and mourning, etc. for Catholics are practiced similarly to those of non-Catholicism following Vietnamese. But in terms of the funeral, there are many different things, clearly reflecting the characteristics prescribed by the church.
Moreover, Vietnamese Catholicism people do not have the tradition to grave, cremate or decimate people. The dead people were "dug deep", also known as a static metal, the grave could be solidly built.