Multi Countries: Tour Packages Vietnam, Laos, Cambodia, Myanmar…
Discover untouched Southeast Asia with a customized multi-country tour!
Southeast Asia is home to an incredible diversity of cultures, landscapes, and sounds. Our multi-country tour packages travel across the borders to show you the hidden charms and distinct beauties of Vietnam, Laos, Cambodia, and Myanmar with diverse experiences. From must-see destinations to off-the-beaten-track paths, multi-country holiday packages include everything to meet your unique need. Unwind on an old junk cruise in the majestic Halong Bay, admire the scenic sunset at Angkor, immerse in the breathtaking Kuang Si Falls, and get lost in gilded pagodas in Yangoon, sound enticing?
Viet Vision Travel designs Southeast Asia multi-country tours to feature the very best of what these amazing countries have to offer. As a leading Vietnam Local Tour Operator in the region specializing in tailor-made travel packages, each of our expertly crafted itineraries can be customized to match your preferred travel taste, catering needs, and budget for a memorable Asian discovery. Have a look at our multi-country tour list and if you don't see any proper tour packages, do not hesitate to contact us for a customized multi-country travel package that exactly meets your need.
Top Multi-Country Southeast Asia Tour Packages
Tour Route: Bangkok - Bangkok City Exploration - Siem Reap - Angkor Wat - Koh Trong Island - Mondulkiri Expedition - Phnom Penh
Tour Highlight
Dive into the local culture with a captivating Tuk Tuk night tour.
Explore Bangkok's iconic sites and neighborhoods by day and enjoy a morning biking tour.
Discover Angkor's wonders, from Bayon to Angkor Wat.
Venture into Koulen National Park for an active day.
Travel to Mondulkiri and engage with elephants at the Elephant Valley Project.
Immerse yourself in Phnom Oudong's captivating nature sights.
---
Things to Do & See for Multi-Country Southeast Asia Tour
Southeast Asia, which is considered as one of the world's must-visit destinations for travelers, is famous for amazing beauty with a wealth of natural wonders. It is blessed with a lot of fantastic gifts from the majestic nature including picture-perfect rivers, spacious lagoons, breath-taking waterfalls, pristine mountains and wonderful beaches. Moreover, Southeast Asia is the best choice for tourists looking for destinations that are rich in unique culture and profound history. The following is the guide to explore the most attractive sights and best recommended activities for your multi-country tour in Southeast Asia's popular tourist attractions.
Best Places to Visit in Vietnam
Hanoi – A Thousand-Year-Old Capital
The first recommended place for your flawless multi country tour is Hanoi. It's the heart of Vietnam, and known as one of the most ancient capitals in the world. It is well-known for the cultural mix of Southeast Asian, Chinese and French influences as well as the ancient beauty blending with modern development. Located on the bank of the Red River, Hanoi is also a historical center which is full of fascinating legends. Stepping foot into this majestic city, travelers can discover precious gems such as ancient pagodas, unique museums and colonial buildings. Coming to the "Paris of the East", tourists should not miss the majestic sights of more than two dozen lakes and thousands of buildings with unique architectures as well as flourishing arts. Hanoi - a great place to explore on foot - is an excellent city with delectable cuisine, skillful silks and handicrafts, busy nightlife and cultural diversity. As a result, this amazing capital welcomes millions of visitors every year. A visit to Hanoi cannot be missed in your Southeast Asia tour.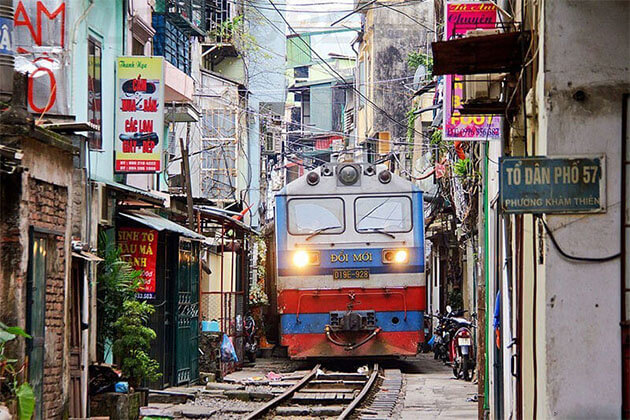 Best things to do in Hanoi
• Wander around the old quarters • Go shopping at Dong Xuan market • Enjoy a Hanoi street food tour • Get social and drink fresh beer on the street • Enjoy some peace and quiet at West Lake
 Sapa - The wonderful town
Located in the northern mountains of Vietnam, Sapa is a beautiful tourist attraction. It is famous for marvelous rugged scenery and picturesque mountainous view with breathtaking valleys; green rice terraces and cooler air from the delicate thick mist cover mountain peaks. Visitors can easily find a selection of local villages which are homes of some diverse ethnic minorities in Vietnam. In addition to the notable landscapes, what make Sapa become amazing town are distinct cultures of many tribes such as the Hmong, Red Dzao and Phù Lá ethnic groups. If you like trekking, Sapa is definitely the perfect place in Southeast Asia Tour Packages to get outside and explore.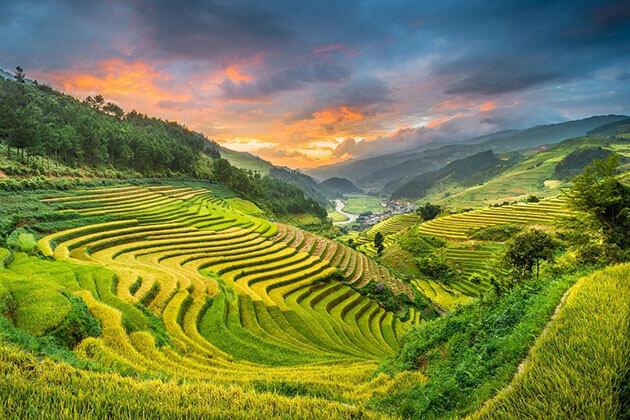 Best things to do in Sapa
• Enjoy Cafe in the Clouds • Join a H'mong Sewing Class • Climb Fan Si Pan - the highest mountain in Indochina • Trek and visit fascinating tribal villages • Shop at the local Sapa Market
Must-visit Places in Laos in Multi-country Tour
Vientiane – The cozy capital
Your Southeast Asia tour Packages will not be fulfilled if you have not been to Vientiane, Laos. Unlike some bustling capitals like Bangkok or Hanoi, being the charming capital and the largest city of Laos, Vientiane still feels like a small sleepy town of French colonial influence and timeless Buddhist calm. Life here is very slow, which attracts people enjoying its deliciously relaxing atmosphere. This laid-back capital city is full of centuries-old Buddhist temples, perfect cafes galore and local crafts boutiques. If you want to experience genuine Laotian culture, don't miss Vientiane in your Southeast Asia Tour Packages.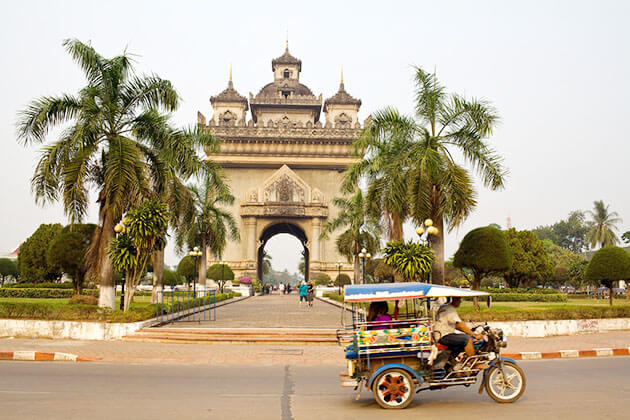 Best things to do in Vientiane
• Try the traditional Laos herbal sauna and massage • Climb up Patuxai Victory Monument • Marvel at Xieng Khuan Buddha Park • Enjoy the food at the Ban Anou Night Market • Relax with a cold Beerlao and watch the Sunset over the Mekong
Luang Prabang - The City of History & Buddhism
Luang Prabang, the ancient city that lies on the mighty Mekong and Khan rivers, is the peaceful heart of Laos as well as the UNESCO World Heritage. If your Southeast Asia tour package stops at Laos, when traveling to Luang Prabang, you should not miss the chance to discover the miraculous and remarkably well-preserved architectural structures from the French colonial influences. Luang Prabang means "the city of the Golden Buddha", so you can find majestic Buddhist temples all over the city including the gilded Wat Xieng Thong, and Wat Mai, etc. This mesmerizing city is also known for a selection of amazing little European-style cafes located along the river banks.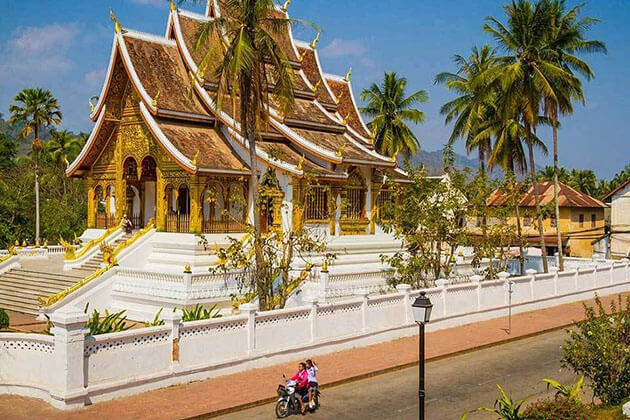 Best things to do in Luang Prabang
• Relax at Kuang Si waterfalls • Discover the stunning golden temples • Experience the alms giving ceremony • Cruise along the Mekong river • Join in an adventure tour in green Jungle park
Must-visit Places in Cambodia
Phnom Penh, Cambodia – the safe city full of beautiful masterpieces
Often referred to as the 'Pearl of Asia', Phnom Penh's shine was tarnished by the impact of war and revolution. But today, the city has revived itself a lot with a charming cafe culture, an amazing food scene and incredible nightlife, appealing markets. Traveling to Phnom Penh, tourists will be attracted by the nice riverside promenades and numerous beautiful Cambodian Buddhist wats, Khmer-era temples, wildlife sanctuaries and other artifacts. The top highlight of this miraculous city to see is the Royal Palace. Gleaming in gold, the Royal Palace is one of the most spectacular architectural achievements of Phnom Penh.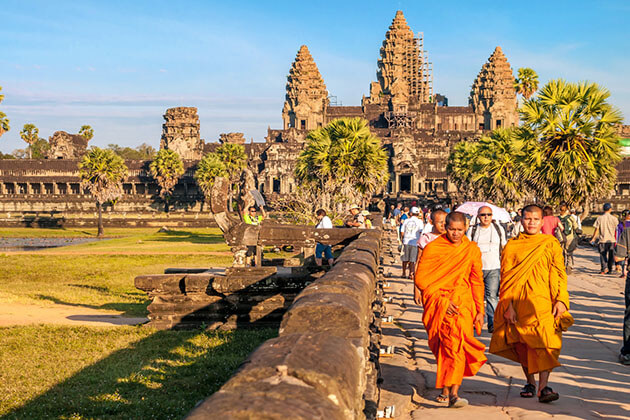 Best things to do in Phnom Penh
• Enjoy Cambodian Living Arts – Apsara and Traditional Khmer Dance • Visit the pepper farms of Kampot • Walk silently in the Killing Fields • Wander around the Royal Palace
Angkor Wat, Cambodia – Center of the Universe
Famous for sheer massiveness and breathtaking beauty, tourists should not miss Angkor Wat on their Southeast Asia Tour. Angkor Wat, located in the northern province of Siem Reap - Cambodia, is one of the most significant archaeological sites. of Southeast Asia. As Cambodia's top tourist attraction, Angkor Wat is home to hundreds of ancient temples and dozens of magnificent religious structures over 400 square kilometers. Declared as the UNESCO World Heritage site in 1992, it contains capitals of the Khmer Empire from the 9th to the 15th century. It is a majestic complex of history, spiritual beliefs, and harmony. Especially, enjoying the sunrise in Angkor Wat is a must-do experience for tourists when traveling to Cambodia. It is a magical moment to see this ancient city come to life - the orange morning sky, the beautiful sun, and an incredible atmosphere.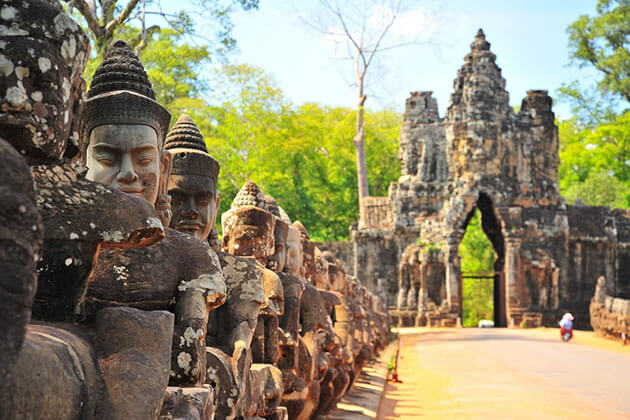 Best things to do in Angkor Wat
• Visit Bayon which is known for the incredible stone faces • View sunset in Phnom Bakheng • Entering Angkor Thom via the South Gate