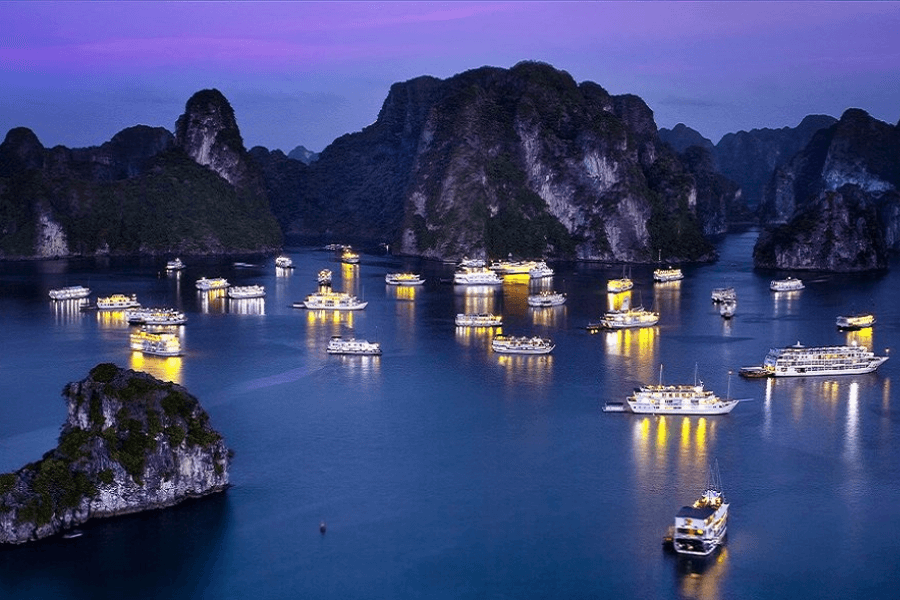 Halong Bay
Halong Bay in the early morning is unlike anything else. Hundreds of enormous karst structures may be seen rising above the boat as the mists dissipate. It seems like you are waking up in a watercolour painting of a mystical place in the beautiful morning light.
Hanoi
Motorbikes zoom through the streets carrying a heavy load of people, goods, and even animals. It's absurd and unplanned, but it manages to work. A rooftop café is the ideal location from which to view it all. While sipping an extra-strong coffee, see the commotion below.
Mekong Delta
The friendliest people on earth live in this vast region of floating markets, emerald rice paddies, and lush islands. To get a first-hand look at Delta life and meet the locals, take a boat trip to one of the sleepy islands.
Sapa
See the vibrant villages of Vietnam's minority tribes, the Zay and the Blue and Black H'mong, by traveling to the highlands. Due to the area's isolation, an overnight hike where you stay with a local family is the best way to experience it.
Qui Nhon
Quiet Qui Nhon is a peaceful seaside hamlet that is off the beaten path for tourists. Even the trip here is worthwhile. Rice fields and sugar plantations gradually take the place of islands, lagoons, and sand dunes as the road follows granite cliffs that drop into the South China Sea.
Hue
Hue is a city for history aficionados since it is crammed with imperial sites. Prior to channeling your inner emperor and having a dragonboat journey down the Perfume River, explore the Citadel and its abandoned Forbidden Purple City.
Hoi An
More boot manufacturers, tailors, and artisans call this shopping haven home than you could possibly visit in a lifetime. Hire a bicycle and tour the Old Town while you wait for your suit to be constructed; the streets are gloriously car-free.
Ho Chi Minh City
Most people still refer to HCMC as Saigon, and it is a busy metropolis. It moves quickly, is thrilling, and has wonderful sights. Skyscrapers, cathedrals, and marketplaces all coexist in a heady mingling of traditional, colonial, and modern architecture.
Mai Chau
The hustle and bustle of Hanoi seems a million miles away in Mai Chau. The tranquil atmosphere is aided by misty mountains and verdant rice fields. Be sure to keep an eye out for the traditional textiles produced by the local White Thais population.
Dalat
In the "honeymoon capital" of Vietnam, spring lasts all year long. Discover the eccentric local artists, take in the French-inspired ambiance, and explore the nearby lakes, waterfalls, and woods. It's fantastic!