Viet Vision Travel – Award-Winning Vietnam Local Tour Company
Viet Vision Travel is a reliable travel company based in the most highlights in the world. In 2006, we built the website www.vietnam-tour.biz for the purpose of offering Vietnam & around with a myriad of touristy & hidden places. Our products are specializing in bespoke journeys for independent tourists and small groups. We craft bespoke itineraries for the modern traveler of the 21st century ensuring the one-of-a-kind blend of deluxe service and adventure travel experience.
Reaching out to the World with Viet Vision Travel
Throughout 18 years of Viet Vision Travel, we always focus on delivering true values to our clients. We understand our customers expect the best in each moment during their trips so we seriously challenge ourselves with the goal to bring experiences beyond the expectations of our customers, each and every time when they travel to the countries we operate in. Viet Vision Travel does not limit our development and success in the region. "Reaching out to the World is our ultimate aim in the future.
We aim at connecting people to hand-on travel experiences!
After spending a long time for touring in Vietnam and other countries, in particular, we fully believe that traveling is the best way that connects people all around the world to delve into the true essence of a country, witness, and learns about its tradition & culture, the unique custom as well. Therefore, we always try to work to bring people together to taste authentic local life, savor its sight, sound, and flavor.
Who are Behind Viet Vision Travel?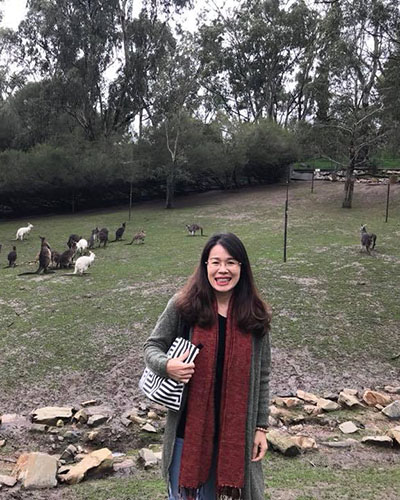 "The deeper the journey, the richer the experience, the greater the reward"
We are a team that is purchasing a huge passion for traveling, venturing, and we always stay hungry experiencing and exploring something new & unique to help you, our clients, our partners who have a dream of indulging in the tradition & culture beauties of Indochina.
As locals, we master every corner of the country to create the finest itineraries to satisfy the need and interests of each individual and group, help them gain authentic, in-depth and meaningful experiences when traveling to Vietnam, Laos, and Cambodia. Our website subject-specific conferences for holiday packages, tailor-made tours, day trips, and excursions in Indochina. Your satisfaction is what drives us ahead.
Excellent Service for Discerning Travelers
Our innovative and diverse journeys are designed to cater to travelers of all types, with varying interests and styles of travel. All Vietnam tour packages are executed with care, detailed planning, and a sense of discovery, which offers a unique insight in comfort & style.
As travel specialists and the advantage of our local infrastructure and support network, we can continually seek to improve, create and innovate our journeys. Our personalized service includes morning and afternoon refreshments freshly brewed plunger coffee, selection of teas, bottled mineral water, fresh fruit, and handmade biscuits and sweet offerings.
Our tailor-made service is offered to a unique journey, embodied to incorporate levels of accommodation or ensure these handmade tours fit into a time frame or budget. Viet Vision Travel knowledge and experience enables travelers to create a journey of your life in the wonderful land.
What We Will Do for You?
Safety
As a professional travel operator in Vietnam & Asia, we always ensure the safety of any group tour. Our Safety Management covers the following elements of your trip:
Safety First: We consider safety is our priority, so on any trip, you will be well caring and all of our tours will avoid any risk that may arise during the trip.
Hotels or resorts: All of the accommodation must be well chosen and arrange (central location, services, facilities, etc), we make sure that all the booking is the process the same Confirmation Voucheraware of all unexpected things that may occur during the trip
Services Confirmation Vouchers: All of the services we provide we always issue the Services Confirmation Vouchers. In that voucher, we've listed all the services bought by clients.
Well-plan: All of our Vietnam tours are designed to strike the balance between touring, relax, and have a lot of fun. We always create a lot of unique experiences for you to participate in the activities of the locals. All trips are well-organized to the last details.
Free Inquiry
As soon as you make an inquiry to Viet Vision Travel with your ideal trip, you will be put in contact with a consultant who:
Transport: Good conditions vehicles (air-conditions, clean, tidy…) Experienced driver/s and always on times. The driver has been trained on how to serve tourists
Local Tour Guide: All of our tour guides are well-trained, all have licenses, and based on the performance. The most experienced tour guides will be arranged for our clients.
Travel Insurance: We do not put the Travel Insurance in our tour packages to Asia. Insurance is compulsory when you travel with us.
Pre-tour inspection visit: Since we build any tour Itineraries, Vietnam Local Tour company, as well as the travel advisors, must inspect all of the sites, restaurants, hotels… to make sure we offer the best available services to customers. Our tour operators are always has been exploring the area deeply. Your consultant will first talk with you on the phone or exchange via emails to better understand your interest and specific requirement. Then, they will quote a tailor-made itinerary proposal that can be refined until you are satisfied and ready to book.
Your inquiry is free and without obligation!
Easy Booking – High Value – No Hidden Cost
When you are satisfied with the itinerary, book with your specialist and pay the deposit. The payment process will be carried carefully with your specialist right after the booking. Keep in mind that the sooner you book, the better promotion you will receive! Our specialist will then assist you every step of the way until you finish your trip to Vietnam with the most satisfaction. The specialist will support you 24/7 during your journey. You can also contact us over the phone on a specific number at any time.
Flexibility
In all of our tours and holiday packages in Vietnam, Laos, and Cambodia or travel services for travelers on offers, you will find a selection of our best-selling tours in Indochina. Those tours were experienced by many of our customers and we also have very good feedback for those too. If you can't find any tours that suit you on our ready-made itineraries, please do not hesitate to contact us for tailor-made tour program, as the holiday-maker experts; we customize and program to meet your unique needs to all parts of these countries.
Specialized Knowledge
Our well-trained travel advisors have a large amount of experience, knowledge, efficiency to enable us to provide you – our clients with the best possible advice, itinerary, and information.
Outstanding Value
We have a large number of long-established partnerships ensuring that the prices we offer are highly competitive, and without compromising on quality & safety. We are big enough to have power in buying good prices from our services providers, and we pass that to our clients.
Trusted Payments
We offer 3 ways of payment options for you to choose when making payment after your booking. You can pay with your credit card, Western Union or One PAY to ensure that your bookings are always easy. We make sure that all the payment methods are at secure standard, convenience, and safety.
This is our Payment Guide.
Our Awards & Achievements
Message From Our Founder
"At Viet Vision Travel, our dedicated travel experts work exceptionally hard to provide clients with ultimate luxury, flexibility, and comfort during their vacation in three countries in Indochina. If there are any of the ready-made tour packages in Vietnam, Laos, and Cambodia do not suit your interests, feel free to contact us (without any commitment) and we will tailor-make the best travel time that deserves you most. The over 18 years of experience working in tourism has helped us a lot in the journey to be the leading Tour Operator in Vietnam and with this success, our team undertakes extensive programs in helping the community around us. I am Henry– Founder of Viet Vision Travel."
We have done all the hard work so you can access the wonderful destination has to offer. Thus, do not just take the road, determine your unforgettable trip to Vietnam and other countries with Viet Vision Travel!