Viet Vision Travel  – A Vietnam Local Tour Company based on Experience
Viet Vision Travel was established in 2006 and since then we have soon become one of the leading tour operators in Vietnam providing tours to Asia. In 2007, we built the website www.vietnam-tour.biz in the purpose of offering Vietnam, Cambodia and Laos tour packages and travel services for visitors from all over the world to explore the mysterious countries. This website subject specifies conferences for tailor-made tours, holiday packages, day trips and excursions in Vietnam, Laos and Cambodia.
At Viet Vision Travel, we always focus on delivery a true value to our clients. We know that our customers expect the very best, every moment of every trip. And we seriously challenge ourselves with the goal to deliver an experience beyond the expectations of our clients, each and every time when they travel to Indochina.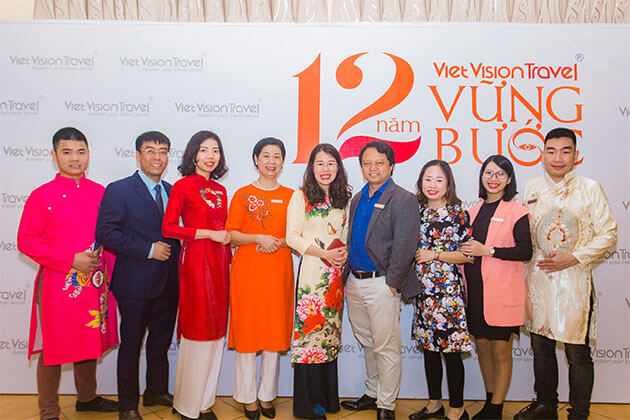 Why Travel with Viet Vision Travel
Local Tour Operator & Travel Agency
Headquartered in Hanoi, Vietnam and running local offices in Vietnam, Laos, and Cambodia, Viet Vision Travel knows the region thoroughly, which allows us to provide you a better way to immerse in the local lifestyle, explore hidden corners and appreciate the nuances of this wonderful region.
We are a tour operator, not a middle man, and so we can ensure the best local price for any of our tours.
Itinerary Flexibility
In all of our Vietnam, Laos and Cambodia tours, packages and excursions or travel services for travelers on offers, you will find a selection of our best selling tours in Vietnam (Laos and Cambodia as well). Those tours were experienced by many of our clients and we also have received very good feedback for those.
If you can't find any tours that suit your interests on our website, please do not hesitate to contact us for a tailor-made tour program. As a Vietnam local tour operator; we customize tour programs to meet your unique needs to all parts of Vietnam, or to the neighboring countries: Laos, Cambodia.
Free Inquiry
As soon as you make an inquiry of your ideal trip with Viet Vision Travel, you will be put in contact with our specialist who has been exploring the area deeply. Your specialist will first talk with you on the phone or exchange via emails to better understand your interests and personal requirements. They will then quote a tailor-made itinerary proposal which can be refined until you are satisfied and ready to book. This inquiry is totally free and you are under no obligation!
1-on-1 Customer Service
We are committed to caring for our clients after receiving the very first inquiry, and at every stage of the trip. Our 1-on-1 service is to ensure you can reach us all the time.
Specialized Knowledge
Our well-trained travel advisors have a lot of experiences, knowledge, efficiency to enable us to provide you with the best possible advice, tour itinerary, information and prices
Safety Commitment
As a professional tour operator in Vietnam, Laos and Cambodia, we always ensure the safety of any tour groups, whether it is small or big. Our Safety Management covers the following elements of your trip:
Hotels or resorts
All of the accommodation must be well chosen and arrange, we make sure that all the booking is processed exactly the same as Confirmation Voucher
Transport
Good condition vehicles (air-conditions, clean, tidy…) Experience driver/s and always on times. The driver must be trained how to server tourist
Tour guides
All of our tour guides are well trained and have international licenses and based on performance. We always arrange the most experienced tour guides for our clients.
24 Hour Emergency Cover
Our tour guide, tour leaders and tour operator/s turn on their cell phone 24 hours/day in case of emergency and you need their assistance. After check in any hotels or resorts, they need to make sure everything well organized
Travel Insurance
We do not put the Travel Insurance in our tour packages to Vietnam, Laos and Cambodia. Insurance is compulsory when you travel with us.
Pre-tour inspection visits
Since we build any tours programs, our tour operator, as well as the travel advisor, must inspect all of the sites, restaurants, hotels… to make sure we offer the best available services to customers. In most of the cases, our tour operators are aware of all unexpected things that may arise during the trip
Safety First
We consider safety is our first priority, so on any trip, you will be well care and all of our tours will avoid any risk that may arise during the trip.
Services Confirmation Vouchers
All of the services we provide we always issue the Services Confirmation Vouchers. In that voucher, we have listed clearly all the services bought by clients.
Well-plan
All of our tours are designed to strike the balance between touring, relax and fun. We always create some unique experiences for you to participate in the local culture and activities. All trips are well-organized to the last details.
Excellent services
Many of our customers have returned to travel with us year after year and from one country to another because of our excellent services. We are a devoted team who proud of our selves on providing a friendly, personal and professional level of service to ensure that any tour in Vietnam will be operated well and effortless.
Price Promise
We are absolutely confident our tour prices are competitive and match the quotations. All inclusions and exclusions are extremely clear mentioned. There is always the price valid in our quotation has been sent.
Outstanding Value
We have many long-established partnerships which ensure that the prices we offer are highly competitive, without compromising on quality and safety. We are big enough to have power in buying good prices from our services providers, and we pass that to our clients. And we are small enough to offer great personal care.
What Makes Us Different?
Locally Own Business
Customized services
Tailor-made Vietnam, Laos and Cambodia holiday packages
Products designed by travel experts