Generally, Vietnam is boasting its best with dry conditions expected throughout much of the country. January is one of the coldest months in the Northern provinces of Vietnam including Hanoi, Sapa, and Halong Bay… The temperature is still maintaining in a range of around 10°C, but it is said that this temperature in combination with the strong monsoon in winter the weather seems to be worse than temperate zone countries. It is necessary to bring warm clothes and have a look at the weather forecast before each Vietnam trip. The weather gets warmer and warmer if you travel southward to the south of Vietnam. In central provinces like Danang and Hue, this time is the end of the rainy season with the range of temperature from 16°C to 21°C. In Ho Chi Minh City and southern provinces, January is the month in the middle of the dry season. The days become longer and the sun is on until 6 or 7 p.m. January is considered as one of the best months to visit Ho Chi Minh City and the Southern provinces.
North Vietnam Weather in January
You can absolutely expect the beautiful days of your trip to Northern Vietnam with sunshine and clear blue skies as well as quite cool weather (average temperature: around 18 °C). The rainfall of the north is at its lowest in January although the fog and haze appear frequently, especially coastal provinces. In the far north (typically Lao Cai, Ha Giang), the weather are dry but chilly and foggy occasionally, become worse at night, so suitable clothing is recommended.
North Vietnam Attractions in January: Hanoi, Sapa, Halong Bay, Ha Giang, Ninh Binh, Ba Be, Mai Chau & Cuc Phuong
Central Vietnam Weather in January
The weather in the central Vietnam change considerably since the damp season has come to an end and the rainfalls become is reduced significantly especially during the last 15 days of the month (average temperature: 23°C). The beaches at Hoi An, Danang, and Nha Trang escape from the prolonged winter and return to their beautiful days. Dalat and the Central Highlands are dry but chilly at night, warm clothing should be prepared before the trip.
Central Vietnam Attractions in January: Danang, Hue, Hoi An, Nha Trang, Dalat, Quy Nhon, & Central Highlands
South Vietnam Weather in January
Ho Chi Minh City and southern provinces are in the best conditions of the year. Clear blue sky and less rain will be the advantage of this month. Soaking up under the sunshine of the stunning beaches like Phu Quoc and Phan Thiet & Mui Ne or roaming around the streets in Ho Chi Minh City with cool and dry weather (Average temperature: 26°C).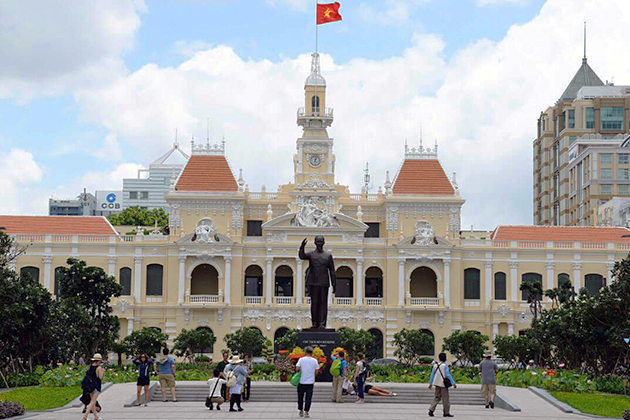 South Vietnam Attractions in January: Ho Chi Minh City, Mui Ne, Vung Tau, Mekong Delta, Con Dao & Phu Quoc