Visiting Vietnam, you will be deeply overwhelmed by the marvelous beauty of splendid attractions, the diversity of biodiversity, culture, and architecture as well as the soul beauty of Vietnamese people. A Vietnamtour is such an optimal choice to explore all amazing attractions from the uninterrupted pristine green forests, unspoiled beaches and wonderful waterfalls to attractive wildness of nature. If you are planning a trip to this beautiful multi-ethnic country and haven't decided on where to go, here is the ultimate list of 10 best places in Vietnam that should be added into your bucket list.
Tourist Attractions in North Vietnam
Halong Bay – The World Natural Wonder
Popularly known as "Bay of Descending Dragons", Halong has its own legend, making it one of the most attractive things that tourists are keen on. Officially recognized as World Heritage Site by the UNESCO in 1994, Halong Bay has a lot to offer from wonderful natural landscape and splendid beauty of a group of islands and islets to extraordinary activities for visitors to do, which enables it to become a perfect getaway for those who are looking for the feeling of immersing in the nature. Halong Bay is really a remarkable highlight to be included in Vietnam highlight tour.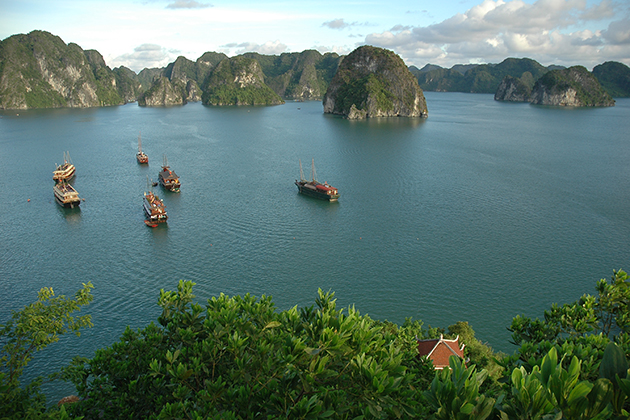 Hanoi Capital – The City of Peace
"Hanoi, the city of longstanding history, of thousands of years, is attached with a special emotion in each person who has occasion to live in, work in or travel in too. Hanoi nostalgia is a style of hard-to-depict nostalgia, and I miss the peace at night, the bustle in daytime, cuisine or simply, I love Hanoi without any reason…"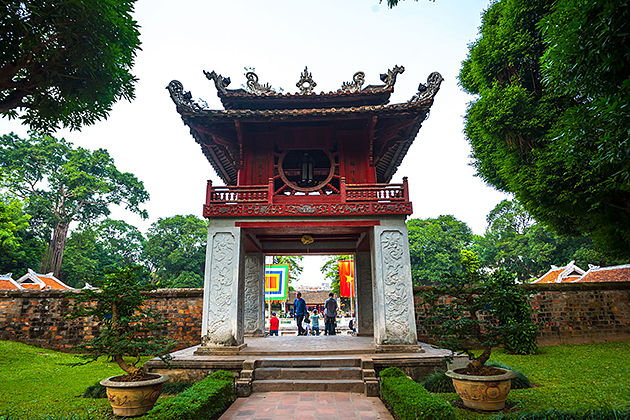 A trip to Vietnam would not be complete without paying a visit to Vietnam's capital city. Hanoi is famous for a city experiencing a long history with not only glories and sufferings in ancient time but also unique values of culture, tradition, and people. There is nothing quite like getting an insight into the beautiful Hanoi with a trip around Hanoi Old Quarter featured by 36 old streets selling different products, exploring the amazing Dong Xuan night market, gazing out at an ancient Long Bien Bridge witnessing a tough time for the Vietnamese during the war against the French colonial, heading to the first and oldest university of Vietnam – the Temple of Literature or walking around Hoan Kiem Lake to see the strong vitality of Vietnam's potential development.
Ha Giang – The Northernmost City of Vietnam
Ha Giang, the home of the happy path, is the furthest point in the north of Vietnam. There is no word that can be used to depict the beauty of the city because of its beautiful spectacular nature. It is really a great place to highlight in your North Vietnam tours.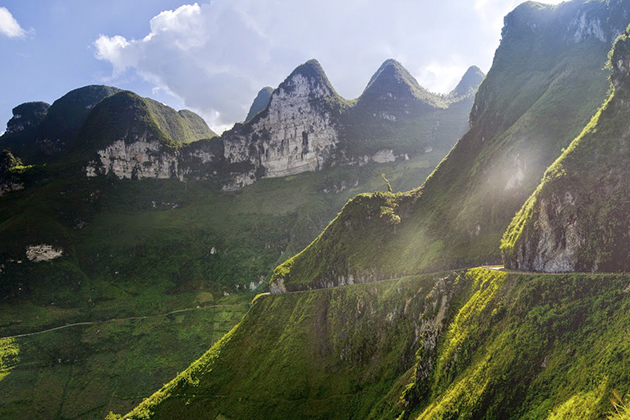 Located in the highest latitude in Vietnam, Ha Giang Province offers great mountainous landscape with refreshingly cool weather. For a long time, Ha Gang has been the home to a group of ethnic minorities living together in peace with their own culture and custom. For those who are seeking adventurous experience, Ha Giang is such an ideal destination with endless expanses of limestone area represented by the unique formation of peaky rocks.
Sapa – The Heaven on Cloud
Come to visit Sapa, you will have a chance to admire the heart-touching marvelous beauty of nature and take part in a wide range of exciting and unique activities that Sapa offers.
There is nothing amazing than capture a spectacular view of a symbolic image of this wonderful land – stepped paddy fields favored by an ideal climate, coupled with refreshing weather. Moreover, follow your way to Fansipan, highest peak in Indochina which is considered as the roof of Indochina to capture a magnificent panoramic view of the whole landscape. You can look through a guide to Fansipan cable car to better plan your discovery.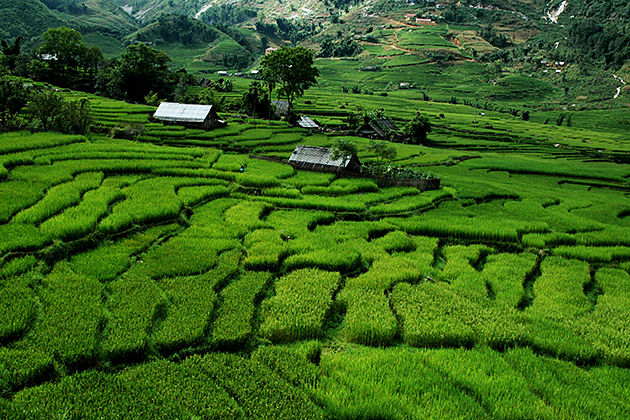 Tourist Attractions in Central Vietnam
Hue – The Ancient Capital of Vietnam
Make your own way to the former imperial capital of Vietnam – the home of the ancient glorious time of Nguyen Dynasty. A visit to Hue is like a journey to the ancient period of last Vietnam's emperor to gain an interesting insight into the world of historic tombs and mausoleums, thereby understanding more about the lives the imperial families and their society, cuisine, culture as well as tradition.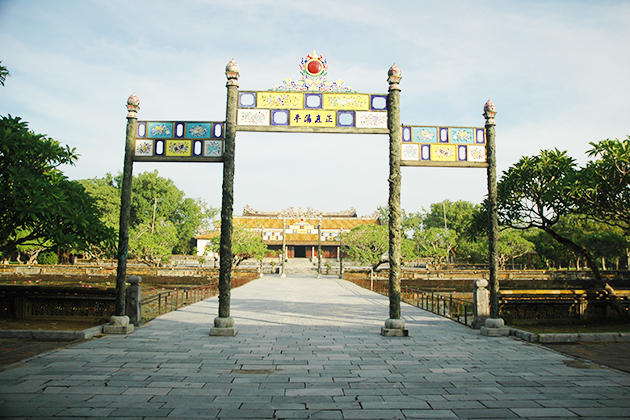 Nestled on the bank of Perfume River, Hue was old capital as well as the center of politics, culture, and religion of Vietnam under the Nguyen Dynasty. Until now, Hue still preserves the charming and elegant beauty as it used to be. Already recognized as one of the World Heritage Sites by UNESCO, visitors to Hue would be certainly mesmerized by a poetic Hue with Perfume River – the symbol of this ancient city, Bach Ma National Park with endless stretches of mountain ranges, wonderful Imperial Citadel, Hue Museum of Antiquities, Emperors Tombs and beautiful Thien Mu Pagoda. A very new and authentic experience is to enjoy the sunset over the Perfume River, which brings you peaceful feelings and panoramic view of the imperial city. Have a look at this Perfume River view tour.
Hoi An – The Yellow City of Vietnam
Welcome to Hoi An – a picturesque town of Vietnam. Hoi An today is regarded as a living condition of the S-shaped Vietnam with a collection of old streets, winding lanes, Chinese-style shops and a group of amazing places, accompanied by mouth-watering local cuisine. Located on the coast of the South China Sea, Hoi An is one of the top tourist attraction in Vietnam with millions of visits annually. Hence, it is not exaggerative to claim that Hoi An is the "Venice of Vietnam". Hoi An is outstanding with yellow color overwhelming the whole romantic town, enchanting many travelers to get their Hoi An tours in Vietnam vacation.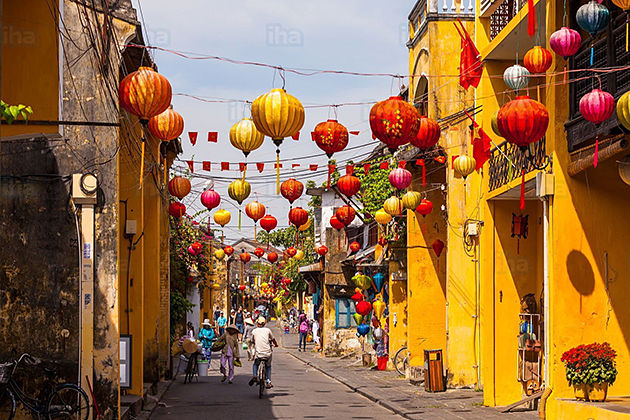 Quang Binh – The City of World's Largest Cave
Quang Binh is one of the most attractive tourist destinations in Vietnam. Thanks to the diversity of terrain including mountains, lowlands, forests, islands, seas and rivers, Quang Binh is not only a spectacular beautiful tourist attraction but also an ideal site for filming crews. Therefore, this province is gaining its increasing famousness to attract millions of visitors coming to explore the mystical beauty.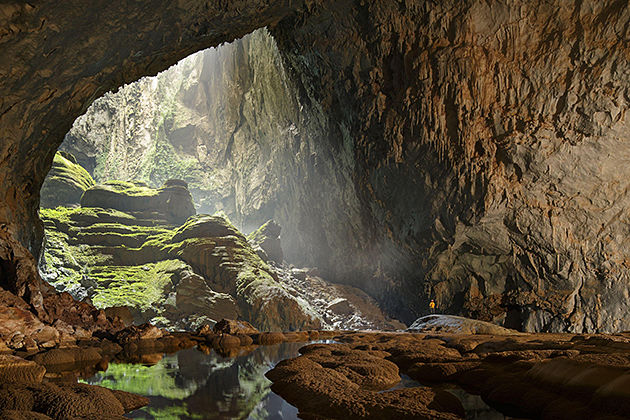 There is a wide choice of top amazing places to visit in Quang Binh. The province is the home of the world's largest cave – Son Doong Cave which gives you an opportunity to admire stunningly impressive stalagmites and stalactites. Moreover, you will get excited when seeing a brilliant patchwork of nature with crystal blue water and countless kilometers of white sandy beaches. It is a really enjoyable experience to plan a trip to explore Phong Nha-Ke Bang National Park to get a glimpse of giant karsts, a great number of caves and grottoes….
Nha Trang – The City of White-sandy Beaches
Whenever we think of Nha Trang, the image of long white sandy beaches with crystal blue water immediately comes up in our mind. This is to say Nha Trang is undeniably one of the top attractive tourist destinations in Vietnam.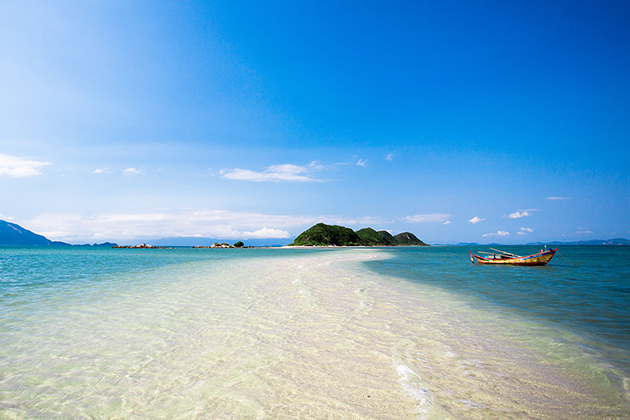 Located in the Khanh Hoa province along the second most beautiful bays in the country, Nha Trang will satisfy anyone's needs and demands by offering luxury and convenience beyond your wildest dream.
Southern Vietnam's Tourist Attractions
Mekong Delta – The Area of Unique Floating Markets
Discovery of Vietnam would not be complete without joining in the marvelous Mekong Delta tours. Visit Mekong Delta is almost like stepping into the world of miracles filled with a system of rivers, canals, and myriad vegetables, fruit, green rice fields, and tropical orchards. Stop at Mekong River Delta to get the taste of a land born in contact of the harmony between the ancient and modern cultures and gain your first-hand experience of unique values with a perfect combination of Khmer, Cham, and Vietnamese cultures.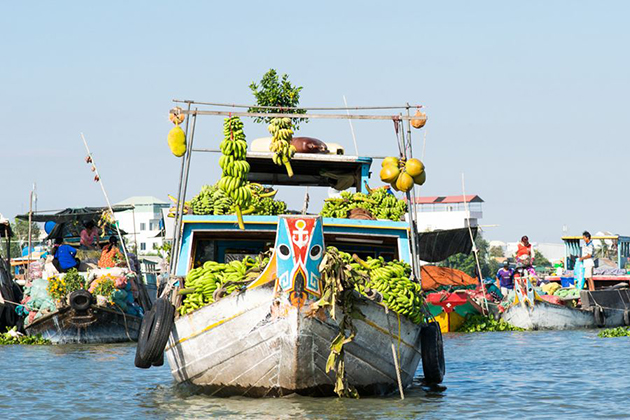 The Mekong is actually a lively picture of beautiful scenery, tranquil and peaceful atmosphere as well as people's daily activities. One of the most outstanding highlights of Mekong Delta is floating markets such as Cai Rang, Cai Be… Take your time but you should be ready to "wow".
Ho Chi Minh City – The Largest & Dynamic City of Vietnam
Welcome to the largest city of Vietnam where there are countless interesting things to do and see. Also called Saigon, Ho Chi Minh City is also the hub of commercial and business of Vietnam. You can easily encounter a lot of skyscrapers (the famous Landmark 81), tall buildings, luxurious and modern hotels, convenient restaurants as well as people dressing Western-style clothes. Nowadays, Ho Chi Minh City is one of the top tourist attractions in south-east Asia with a perfect combination of different cultures, historical sites, and myriad architectural styles.
From Ho Chi Minh city, you can get many tours to interesting places such as Cu Chi Tunnels or historical relics. They are not-to-be-missed sites in the South of Vietnam.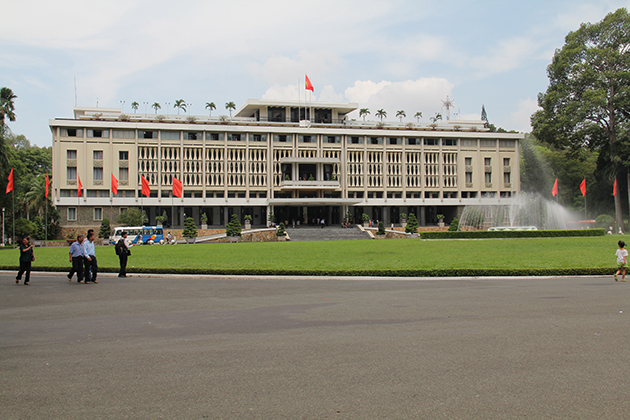 All in all, Vietnam is such a perfect country favored by the Mother of Nature for international tourists to come and explore an amazing Vietnam. Your journey to visit Vietnam will become one of the most unforgettable memories for a lifetime. Right now, do not hesitate to plan a trip to fulfill your passion for traveling. Hope that this list of top 10 best attractions in Vietnam can be helpful for you.
Happy traveling!