The image of floating markets has become the iconic symbol of the south-west of Vietnam. Those markets are closely associated with the daily life of people in this region. In addition to the well-known Cai Be floating market, Cai Rang admirable floating market is also one of the biggest and busiest markets in Mekong River Delta. Indeed, Mekong Delta tours including Cai Rang floating market definitely brings you to be covered in one of the most super cool travel experiences in Vietnam local tour.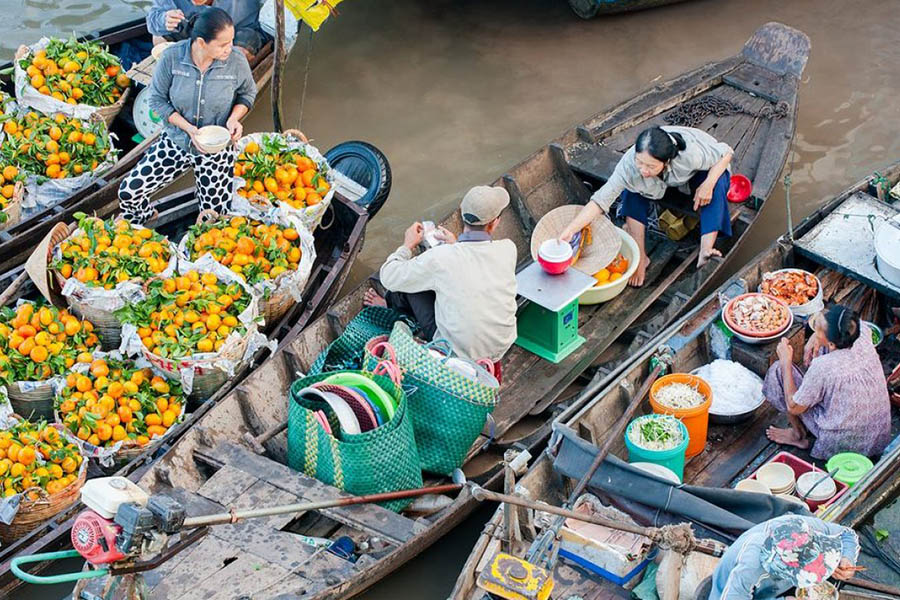 An Overview of Cai Rang Floating Market
From Can Tho, it is a 6-kilometer ride in the direction of Soc Trang or a 30-minutes boat trip to Cai Rang floating market. It is gaining its ever-increasing popularity to be the biggest floating market in Mekong Delta. Despite opening all the day, Cai Rang Market is at its best from 5:00 am to 9:00 am. The busiest time of Cai Rang is likely from 6 am to 7 am when most of the Vietnamese people go to the market for fresh and good products. The market is the home to a variety of products and goods of Chau Thanh District and the neighboring areas.
Cai Rang Floating Market Highlights
It can be said that floating markets are also called "Fairs on Rivers". Take time to explore this amazing market, you will capture a majority of agricultural products and other goods. Spreading over half a kilometer of Can Tho River, Cai Rang floating market is busiest in the early morning packed with large-sized boats selling different products including tropical fruits, vegetables, and handicraft products. All create a lively picture of selling and buying activities, thereby creating a hustling and bustling atmosphere that only exists in those floating market to create the distinct soul of southern Vietnam.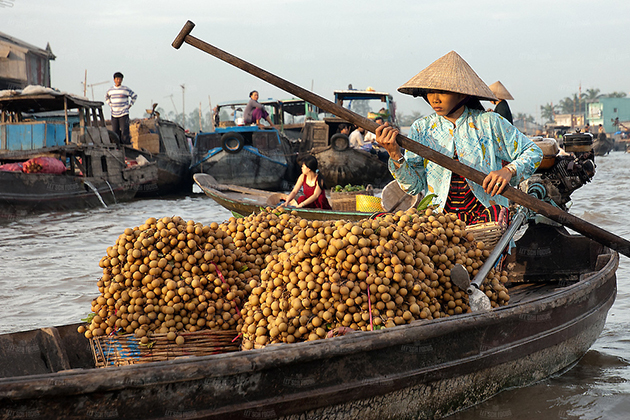 Cai Rang floating market offers farm products and items. Most popular things you can see here are fresh fruits such as coconut, banana, watermelon, dragon fruits, grapefruit and so on. Many tourists feel that it is very hard for them to distinguish those kinds of fruits in Cai Rang market which is the typical place for a variety of fruits in Asia. Prepare your big stomach to enjoy, you cannot wait for it! Moreover, tourists also can purchase such drinks as soft drink and wine, which are available to serve visitors.
While taking a boat trip down the river, you can lay your eyes on vibrant life along its shore accompanied by floating villages with houses built on stilts. Actually, it is such a great experience to ride across the river, try some tropical fruits and talk to local merchants to have an insight into the unique culture of this southern part. In order to make your trip enjoyable, you can head to a local orchard to grab an awesome breakfast with a wide range of tropical fruits, carrying the taste of the southern part of Vietnam. Or spend time discovering best of Mekong's canals cloak with lush vegetation and beautiful scenery.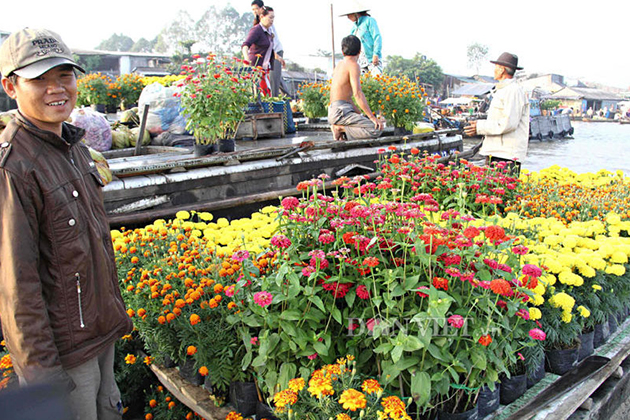 If you are interested in exploring Vietnam's life, taking a boat ride to have a closer look at families living on boats with several generations. They are all amiable, hospital, friendly and well-behaved towards others. It is a great chance to have some useful knowledge about where you go, what you do and things you see.
Some Basic Tips When Visiting Cai Rang Floating Market
There are some things that you should bear in mind when planning a trip to this wonderful floating market. The best time to visit the local market is around 6 to 8 am. This can be seen as the busiest and most crowded time during the market day. Furthermore, take advantage of this opportunity to shop around the market and enjoy local specialties offered by local people. Also, take care when you take photos while seating on the boat, otherwise the camera or phone may be fallen into the rivers.