On 24th September, the Department of Culture, Sport and Tourism of Da Nang announced the plan to open three waterway tourist routes in the central city to attract more tourists to its trade villages and landscapes.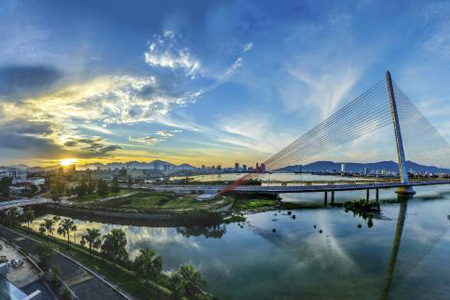 The first waterway is the Han River-Co Co River, will take tourists to the city's attractions such as cultural village K20, the Quan The Am (Goddess of Mercy) Pagoda, the Marble Mountain, and the fine arts stone village, whereas, the second one Cu De-Truong Dinh sails visitors to an old wall, the shrine dedicated to Ms. Bo Bo, and the Nam O fish sauce making village. The last waterway route, the Han River-Tuy Loan, will be a tour to the Cam Ne sleeping mat making village, and the communal house of Tuy Loan village.
Da Nang focuses on investing in infrastructure to develop local tourism. Apart from the three new routes mentioned above, Da Nang city has also concentrated on developing the Han, Thuan Phuoc and Thu river ports, rolling out criteria for boats operating on the rivers and increasing training for staff to meet the growing demands of tourists. With the Han River flowing through the city, the Han River seaport and various beautiful islands in the Da Nang Bay, Da Nang city expects to entertain tourists with its newly-designed waterway routes.