Sung Sot Cave, called Surprised Cave or Amazing Cave, is on Bo Hon Island and is one of the largest grottoes in Halong Bay. Perhaps, it is the most renowned one among many caves in Halong Bay. Visiting Sung Sot Cave and experience the feeling of unlocking the new world.
Location of Sung Sot Cave
Sung Sot Cave is situated in Bo Hon Island, where have many rocky islands concentrated. It's a close neighbor of several other renowned attractions such as Titov Island, Me Cung Cave, Luon Cave, and Bo Nau Grotto.
Sung Sot Cave Formation & History
Sung Sot Cave was firstly discovered by the French in 1901, who took it upon themselves to call it "Grotte des Surprises", or we call Surprising Cave, because of its amazing beauty. The Cave welcomed the first visitors in 1993, merely one year before Halong Bay would proudly receive the first bestowment of World Heritage site status from UNESCO.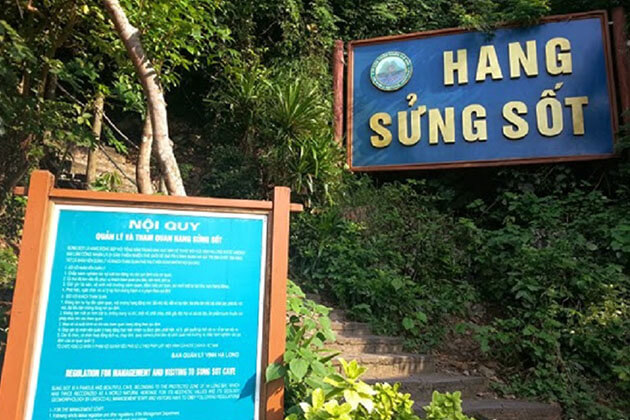 Many time ago, the geological formation of limestone in this stunning Halong Bay took place approximately 500 million years. It's the combination of natural elements such as environment, weather, geology, and geomorphology; it has brought the bay high biodiversity with the various stunning landscapes consisting of green forests, splendid islands, and majestic caves. Especially, it's undergone over 20 million years of Karst revolution, the myriad of picturesque caves was formed in Halong Bay. And today, these caves become the ideal attractions in Halong, attract both domestic and international tourists coming here. Along with Thien Cung, Dau Go Cave, Sung Sot Cave is one of the largest and most alluring caves in Halong Bay.
Things to See at Sung Sot Cave
There has a small dock at Bo Hon Island, where you'll dismount the boat and begin the climb up 100 steps to reach the mouth of Sung Sot Cave. The road leading us to Sung Sot Cave is under a canopy of leaves. Walking through the steep stone steps, tourists will have the feeling of climbing on mountains and undergo the excitement as if they are stepping to the sky.
When setting foot in Sung Sot Cave at the first moment, visitors may realize that this cave has a very small area. Nevertheless, when they pass the rocky slot and enter inside, the huge expansion of the area inside absolutely surprises you.
Sung Sot Cave (Surprising Cave) is divided into two main areas. The first area is like an immerse theater, the ceiling is covered by stalactites and stalagmites, which is like a silky velvet carpet with stunning motifs. It has been said that you are in an illusory world when visiting Sung Sot Cave.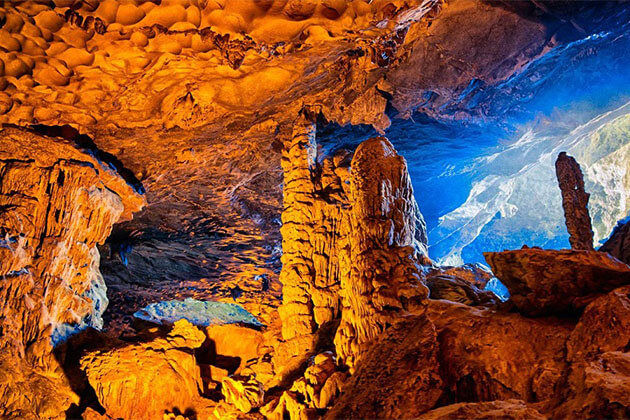 To get the second area, we have to go through a small road. In the second one, visitors can relish in a completely different space in comparison with the first one. Right next to the cave entrance is a stone horse and a long sword. According to the folklore, Thanh Giong, a mythical folk hero of Vietnam, defeated An aggressors. Then, he helped the locals to expel demons before left the horse and sword in order to reassure people, banish demons, and then flew to the sky. It's said that many objects and sceneries in Sung Sot cave are now considered as the traces of the fierce battles between Thanh Giong and invaders.
How to get Sung Sot Cave
The best way to get Halong Bay, as well as Sung Sot cave, is always by boat. You have a chance to choose one among the numerous cruise companies that tour through the Bay.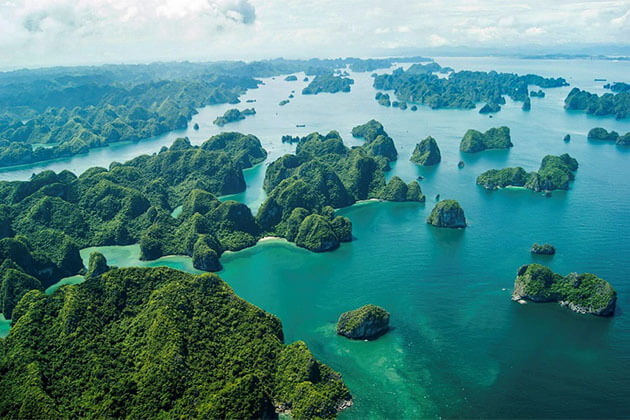 To be one the safe side, hereunder is a list of the cruises we highly recommend that definitely have Sung Sot Cave on their route:
– Aclass Legend Cruise
– Aclass Stellar Cruise
– Carina Crusie
– Glory Legend Cruise
– Pelican Cruise
– Rosa Cruise
Travel Tips When Visiting Sung Sot Cave
For the wonderful trip to Halong Bay, we suggest some useful tips in advance:
– Do not forget to take pictures of Halong Bay at the mouth of the cave
– Stay close to the guide, and pay attention when switching shifts with another guide
– Leave your stuff on the boat while visiting the cave
– Remember to wear sensible shoes and bring water (since water sold at the cave entrance might be expensive.
Enjoy the great travel time in Sung Sot Cave, Halong Bay. You can also refer our Halong Bay Tour Packages.