The Mid – Autumn festival is a harvest festival celebrated widely in China and Vietnam. The festival takes place in the 15th day of the 8th month of the lunar calendar, which usually with full moon at night. During Mid – Autumn festival, people will make moon cake – a rich pastry filled with sweet beans, lotus seeds and many other kinds of stuffs inside the modern moon cakes. This is a relatively big festival in Vietnam and people celebrate it seriously and this will make you children exciting. Here are top 4 best destinations in Vietnam for visitors to enjoy Mid – Autumn festival.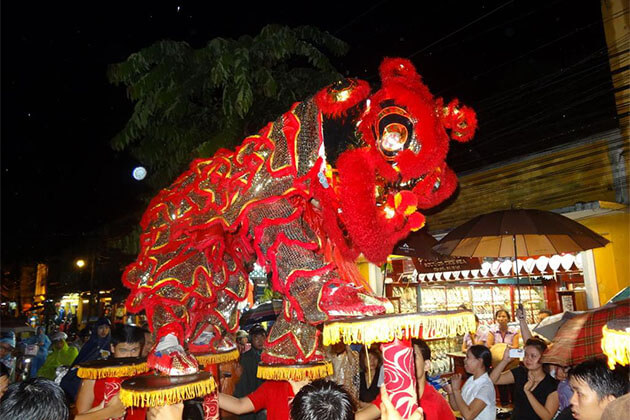 Hang Ma street – Hanoi
From a very long time ago, whenever it comes to the 8th month of lunar calendar, Hanoi Old Quarter became super excited and colorful. People from all over the country gather to celebrate Mid – Autumn festival here, makes the streets much busier than normal. When the night falls, Hang Ma street becomes very beautiful with thousands of sparkling lanterns with all shapes and colors. During Mid – Autumn festival, Hang Ma street is the place where you can find all kind of toys, from old school to modern stuffs, this will make you children become exciting and they will enjoy one of the largest festivals in Vietnam.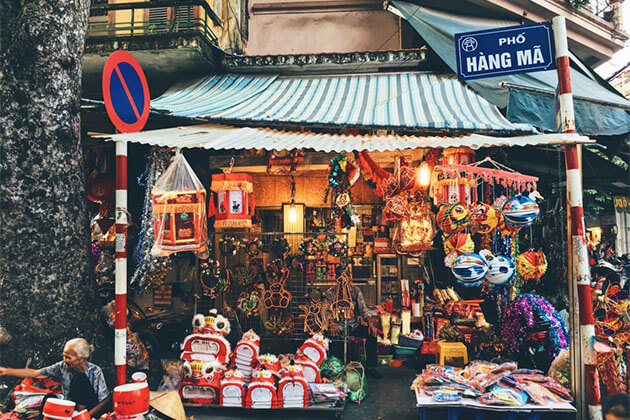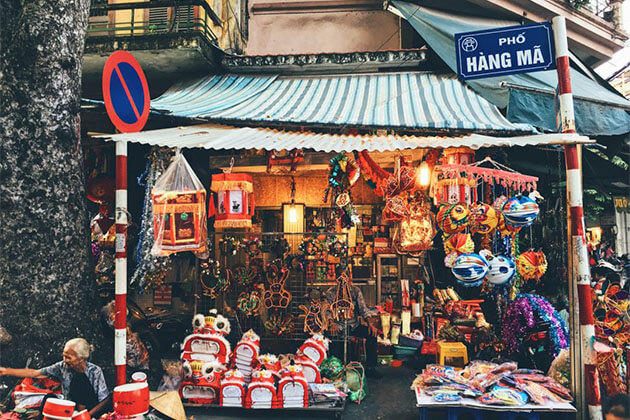 People's need of decorations and lanterns during Mid – Autumn increases and local business man have everything to sell. You can find a lot of traditional lanterns with the shape of fish, star or original shape, etc. Stores are crowded with customers but prices here are very reasonable, you can easily buy a traditional lantern from 10.000 VND, others accessories will be slightly more expensive.
During Mid – Autumn festival, many activities will take place in Hang Ma street and Hanoi Old Quarter like the opening ceremony of Mid – Autumn festival, singing, dancing, outdoor games, and many other traditional activities. If you are in Hanoi, you should really go to the old quarter to enjoy the exciting atmosphere.
Imperial Citadel of Thang Long – Hanoi
The Imperial Citadel of Thang Long (or Hanoi Citadel) is a complex of historic imperial building located in the center of Hanoi – Vietnam. It was first built during the Ly dynasty when they moved to Hanoi in 1010. Having been existing for over a thousand year, many structures inside were torn down and disappeared, but in the early 2000s, Hanoi Citadel was systematically excavated. Now it became a favorite destination for both locals and visitors, many important ceremonies and festival were held here, including Mid – Autumn festival.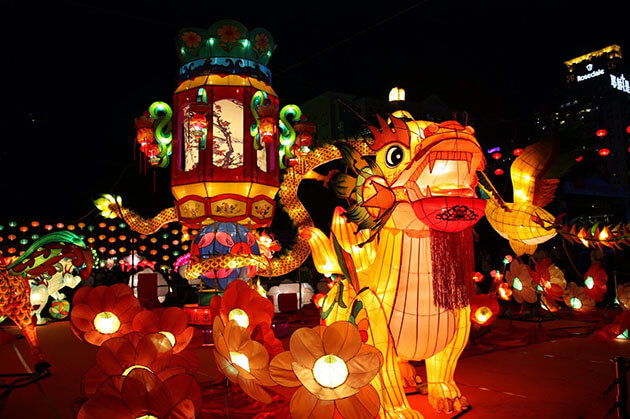 There will be many events and activities, especially for children during Mid – Autumn festival in Hanoi Citadel. The government will establish seasonal exhibition for visitors to have space to enjoy traditional outdoor games like hide and seek, color the mask, try making lanterns, etc. You can also watch water puppet shows, meet some history professors and talk to them about relevant topics. Both children and adults will have chance to experience the most authentic Mid – Autumn festival in the Imperial Citadel of Thang Long.
Hoi An ancient town – Quang Nam
What do we have in Hoi An during Mid – Autumn festival? Hoi An is amazing in every full – moon and it is even more fabulous in Mid – Autumn festival, this is also a highlight when you travel in Hoi An. You will feel the authentic feeling of an ancient festival here. Every street, every corner is colorful and exciting with lanterns, gifts and decorations. Unlike everywhere else, Mid – Autumn in Hoi An is very peaceful. Thousands of people line up across the river to watch the floating candles, take some photographs and remember about the good old days.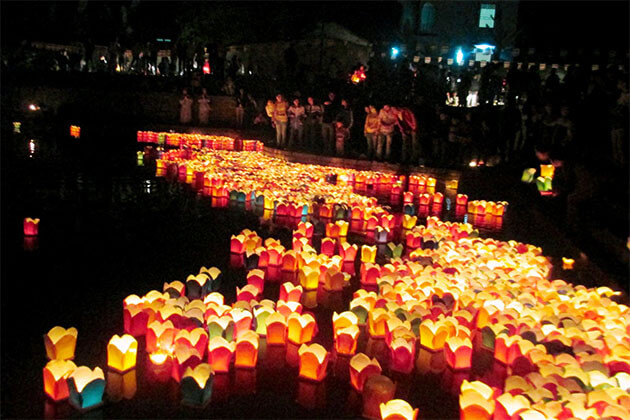 The most unique thing in Hoi An in Mid – Autumn festival is from 5 pm to 10 pm, every house, shop, restaurant will turn off their light, the whole ancient town will be lightened up by the moonlight only. Vehicles are restricted, only pedestrians are allowed to enter the town. Mid – Autumn festival in Hoi An doesn't have modern lanterns and decorations, there are only traditional stuffs, paper made lanterns, etc. Apart from the big cities, you can find a piece of tranquility and fresh air here in Hoi An.
Tuyen Quang city – Tuyen Quang
If you have never heard about Tuyen Quang city, don't worry because it is not a popular destination for foreigner tourists. Interestingly, Tuyen Quang holds the biggest Mid – Autumn festival celebration in Vietnam and attracts thousands of Vietnamese tourists across the country. Tuyen Quang city is famous since people there celebrate Mid – Autumn festival very seriously with many exotic activities.
Thousands of people of all ages and genders will walk on the street along with huge lanterns of all unique shapes and colors like the parade. There are several huge lanterns. They are made with steel frame which weight up to 100 kilograms, bigger than a whole bus. There are several unique shapes of the lanterns too like animals, national heroes, etc.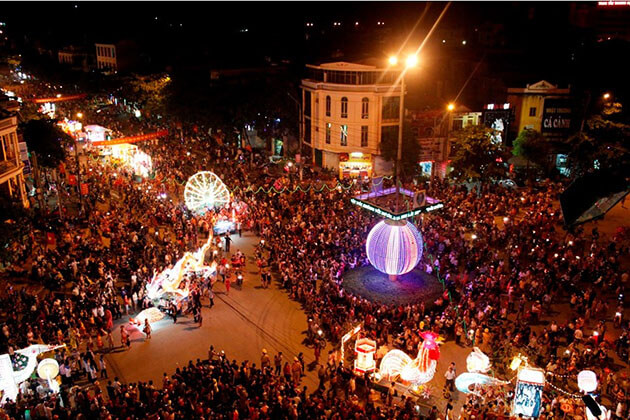 People celebrate Mid – Autumn festival in small groups in everywhere else, but not here, in Tuyen Quang, the whole city will celebrate this together. The trucks will carry the giant lanterns slowly across the main road, followed up by many traditional characters dancing, singing and local people, especially children.
In Western countries, Mid – Autumn festival is not really an important event. But in Asia countries, despite celebrating the full moon, this is also called the Reunion festival, an event for family to get back together. If you are travelling in Vietnam during this festival, let's go out, joy the streets and enjoy the exciting atmosphere.