Nha Trang, "The Pearl of the East Sea", offers a six-kilometer stretch of beautiful coastline with white sandy beaches, untouched mountains, and clear water with an abundance of marine life. This is an ideal destination for tourists to enjoy the beaches and relax in luxurious resorts. Here are Things to Do as well as some Essential Guides for you to travel to Nha Trang Beach City.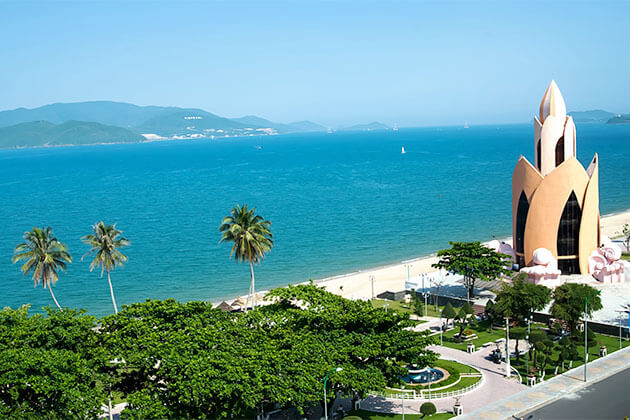 Top Tourist Attractions in Nha Trang
Vinpearl Land
Vinpearl Land is a new tourist attraction of this coastal city in recent years.
Located on the wonderful Hon Tre Island, Vinpearl Land attracts millions of tourists each year. Vinpearl Land has been considered as a "Paradise Island" thanks to picturesque scenery and perfect services. Tourists who come here will not only explore the gracefulness of the white sand stretching beaches, the green palm trees, but also experience the luxurious hotels, ideal freshwater pool as well as thrilling game parks, aquariums, and spectacular 4D cinema.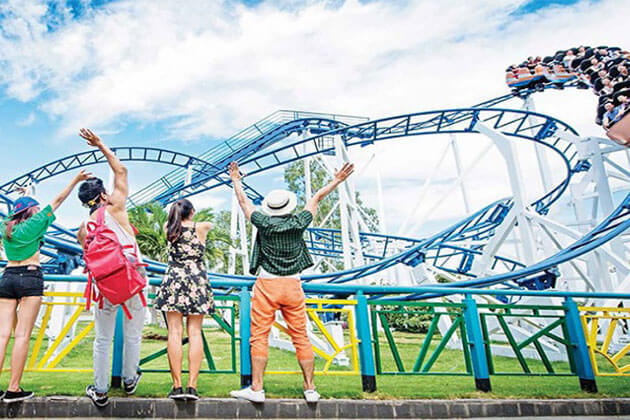 Nha Trang Beach
The perfect combination of white sand shores, blue clean water, and amazing scenery has made Nha Trang Beach be the most beautiful beach in Nha Trang that you should not miss. You can explore the romantic and gentle beauty of nature. Especially in the afternoon, you can walk along the beach to watch the magnificent sunset to end the day.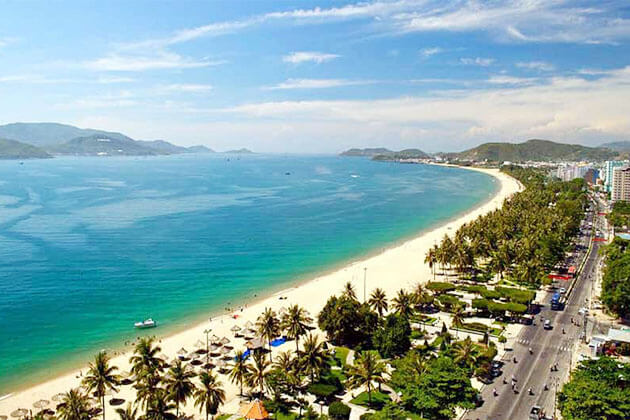 It is also home to a lot of luxurious hotels and resorts. Tourists will have chances to experience many interesting and adventurous entertainment activities at Nha Trang Beach such as parasailing, flyboarding, windsurfing, etc.
Besides, there are many other beaches which also welcome a large number of visitors namely: Tran Phu Beach, Bai Dai Beach, Doc Let Beach, Hon Chong Beach, Bai Tru Beach, Son Dung Beach…
Po Nagar Cham Towers
Po Nagar Cham Towers are the complex of temples that were constructed between the 8th and 11th centuries by the Cham people. Cham people who were Hindu in origin are famous for their skills in architecture and sculpture.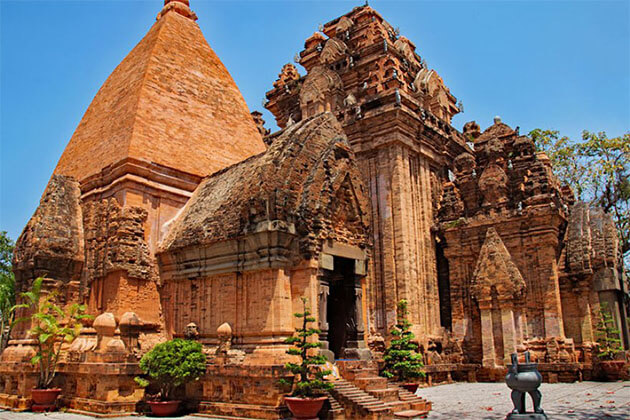 The largest tower, founded in 817 A.D., is 23m in height and includes a linga together with a statue dedicated to Po Nagar, who is believed to have instructed new agricultural and weaving techniques to residents. To express gratitude, Cham people built the complex to honor the Goddess. In addition, the Central Tower is in honor of Cri Cambhu, the goddess of fertility. The two temples are the shrines of the Hindu gods Shiva and Ganesh. Visitors can get to this complex by taxi, bus, or motorbike.
Opening hours: 07:30 am – 5:00 pm daily
Address:
2 Thang 4, at the end of Xom Bong Bridge
Entrance fee: 20.000 VND
National Oceanographic Museum
The National Oceanographic Museum offers unique exhibits of local marine life consisting of more than 20.000 live and preserved marine specimens and lots of displays of fishing artifacts and boats.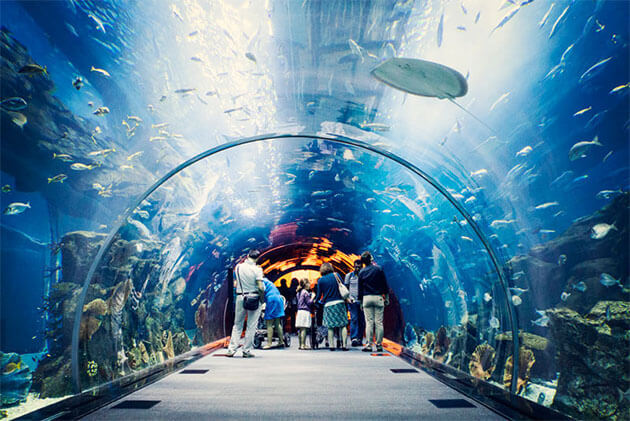 The collection of the museum is so extensive that it spans two floors within a French colonial building in Cau Da, Nha Trang. The first floor is home to fish tanks of different sizes with many types of fish, turtles, reef sharks, lionfish, clownfish, seahorse… The upper floor is home to specimens, an 18-meter whale skeleton, and a lot of fishing artifacts. Many theme rooms within the National Oceanographic Museum focus on marine science presenting the history of the technology and research equipment while the others demonstrate natural disasters and legends of Vietnamese fishing.
Opening hours: 6:00 am – 6:00 pm daily
Address:
No.1 Cau Da, Nha Trang
Entrance fee: 30.000 VND for adults & 12.000 VND for children
Hon Tam, Hon Mun
Your holiday in Nha Trang will not be complete if you don't take part in a tour to islands. Nha Trang has many beautiful islands which are worth contemplating such as Ho Tam, Hon Mun, or Con Se Tre, Hon Mieu islands. Tourists get here to participate in many interesting activities such as going fishing, playing golf… Besides, you will have the chance to dive and see coral, immerse yourself in the cool blue water and admire the diverse marine species, then take the freshwater and rest on the boat.
What to Eat in Nha Trang
Seafood
It is a pity if you travel to Nha Trang without trying the seafood. Nha Trang's seafood is extremely fresh and diverse in comparison with other regions.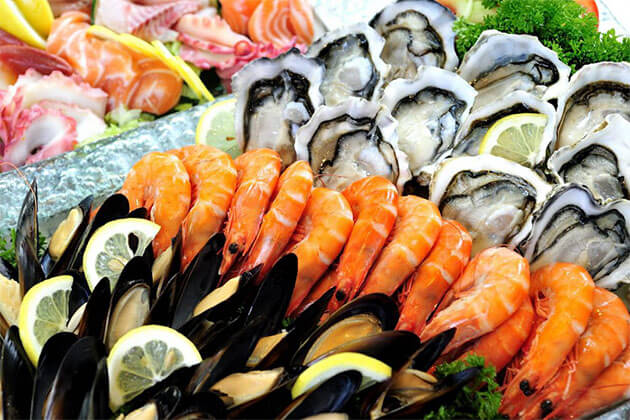 Some famous seafood restaurants:
• Hoa Bien Restaurant, 124KA Ton That Tung, Nha Trang
• A Thanh – grilled fish restaurant 33 Trinh Phong Street, Nha Trang
• Bo Ke Restaurant, 42B Cu Lao Trung, Nha Trang
Fish cake noodle soup – Bún Chả Cá
Being a famous dish of the coastal city of Nha Trang, fish cake noodles soup is cooked with pure broth, fish cakes, and vermicelli. Delicious fish cakes are made from fresh fish to ensure its toughness. They are mainly made of sardines, sailfish, mackerel… and processed into steamed and fried fish cakes.
Address:
• Ninh Hoa Restaurant, 02 Lan Ong Street, Nha Trang
• Nguyen Loan Restaurant, 123 Ngo Gia Tu Street, Nha Trang
• Cay Bang Restaurant, 6 Han Thuyen Street, Nha Trang
Vietnamese Thick Noodle Soup – Banh Canh
Thanks to the broth cooked with soft sea fishes, thick noodle soup of Nha Trang owns a unique taste. It is usually served with sea chubs. Enjoying a bowl of thick noodle soup with fish cakes, mackerel, tuna together with a little bit spicy fish sauce, you will taste the flavor of the coastal cuisine.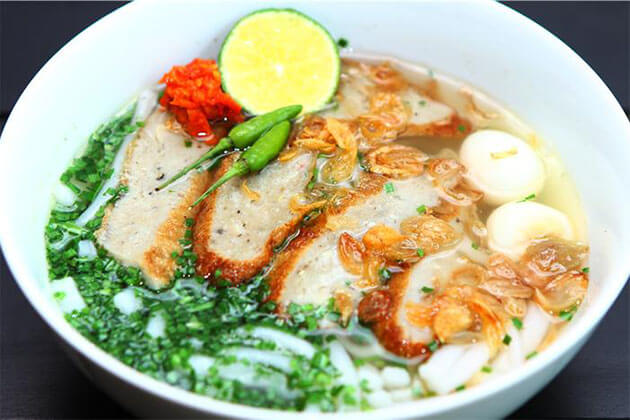 Address:
• Ba Thua Restaurant, 55 Yersin, Nha Trang
• Mrs. Ha Restaurant, 14 Phan Chu Trinh, Nha Trang
• Phuc Restaurant, 53 Van Don, Nha Trang
Vietnamese Mini-pancake – Bánh Căn
The main ingredient of Mini-pancake is rice which is soaked, ground into flour, and then pour into a mold. The stuff of this dish is made of meat, eggs, squids, shrimp, and mushrooms. Mini-pancake tastes best with fresh lettuce together with the red sauce which is quite sour, sweet, and spicy.
Address:
• Mini-pancake Restaurant, 151 Hoang Van Thu
• Mini-pancake Restaurant, 48 Hoang Hoa Tham
Best Time to Visit Nha Trang
You can travel to Nha Trang any time during the year thanks to its comfortable weather. However, the best time to visit this city depends on how you want to spend your holidays there. Some months are perfect for culture-exploring, sight-seeing while the others are suitable for water sports.
From January to August, Nha Trang enjoys warm and comfortable weather, so any day between these months is a good time to travel to this beautiful city.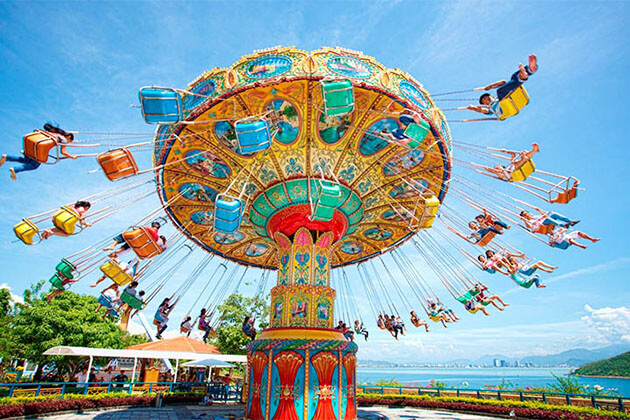 The best time to visit Nha Trang Beach City would be from February to April with a moderate temperature at around 26 degrees Celsius and the lowest level of water. Diving into the ocean shouldn't be missed as the water is clear and the coral reef is the most beautiful at this time.
The temperature and humidity rise up between June and August, so you will feel hotter and uncomfortable. However, it is suitable for ecotourism, ocean tourism, and several water sports which can help you enjoy the ocean and forget the heat.
In the rainy season (September – December), heavy rains and storms sometimes occur. This extreme weather condition can get violent and you might be in danger when playing near the beach. Overall, traveling to Nha Trang in this period is not recommended.
How to Get to Nha Trang City
Taxi is the most convenient way to travel from Cam Ranh airport to Nha Trang City (Cam Ranh airport – an international airport located in Khanh Hoa province, Vietnam_). However, the price is quite high. Tourists should move outwards airport gate to catch taxis at the lower price, from 200.000 – 250.000 VND.
Mai Linh Taxi: (058).3.811.811
Khanh Hoa Taxi: (058).3.810.810 – 3.871.871
Nha Trang Taxi: (058).3.81.81.81 – 3.824.000
Emasco Taxi: (058).3.51.51.51 – 3.814.444
If you want to pay less, find the buses at the airport. It takes 60 minutes from Cam Ranh airport to Nha Trang and only costs 50.000 VND.