Being held at the end of the hot and dry season, Thingyan Water Festival is one of the most popular and national-wide celebrations in Myanmar. Although the festival is a Buddhist event, it has been made to be a legal public holiday by the government, which ensures that almost Myanmar people wish to join. Thingyan is a symbols for warmth and happiness. The water festival marks the end of peak Myanmar vacation (annually start from October to April).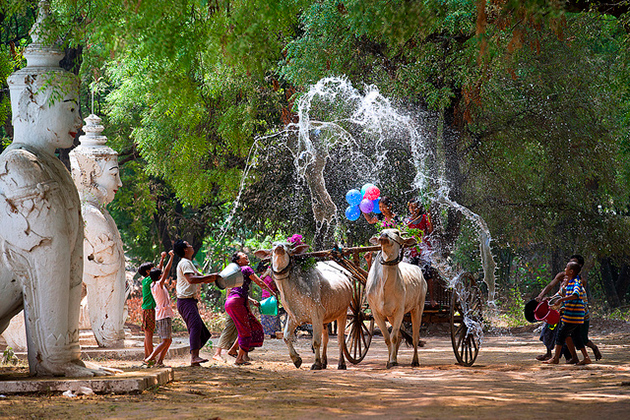 Origin and Meaning
Thingyan originated from the myth about a story between The King of Brahmas called Arsi, lost a wager to the King of Devas, Sakra so he was decapitated. His head was substituted by one of an elephant, and he then became Ganesha.
It was believed that if his head was put into the sea, the water would instantly dry up. If it were placed on land, it would be scorched. If it were thrown up into the air there would be flames on the sky.
To thwart Ganesha destroying the world, every year, the head is carried by one princess after another. Thus, the Myanmar celebrated the head transitional period and the world's continued existence through this Thingyan Water Festival.
People assumed that the evils and sins of the last year would be washed away from the body, they would have purified clean mind and soul. They also released fish and birds as well as held special feast for monks.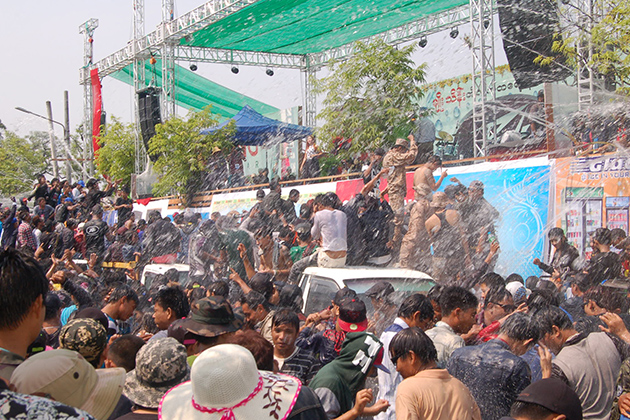 Celebration
Before the Water festival
Thingyan Festival happens during the last four days before the Lunar New Year day, which often falls roughly in the second week of April. This time is the merriest holiday for all the Myanmar regardless of age, sex, status or religion. Moreover, there are a number of activities to do on this vacation so that if tourists come to Myanmar on these days, they will absolutely have opportunity to experience this amazing festival.
– Fasting: People, mainly Buddhists, who fast in these days will eat a soft meal prior to noon.
– Observing the eight moral precept: While observing the principles, Buddhists must do the following:
• Desist from killing living creatures
• Desist from stealing
• Desist from sexual activities
• Desist from lying or using incorrect speech
• Desist from using alcohol or drugs
• Desist from desiring entertainment
• Desist from eating during fasting periods
• Desist from sleeping on high places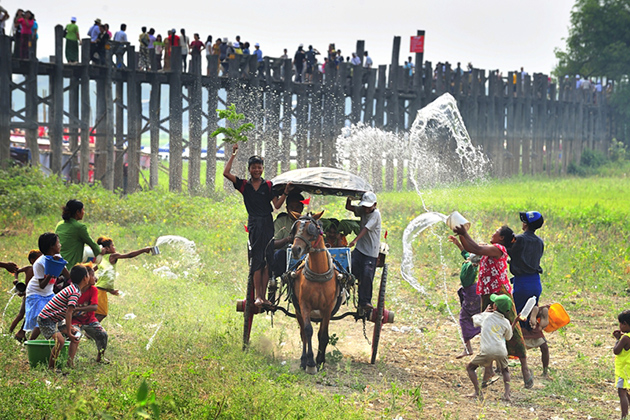 – Offerings to Monks: Lots of Myanmar people celebrate Thingyan by visiting a Buddhist temple. It is proper to leave an offering of a single green coconut wrapped by a circle of bananas.
– Washing the Buddha: Buddha statues are washed with sacred water, which is scented with flower extract, from the top and running down the body.
– Night Celebration: Due to one of the eight precept that prevent Buddhists from any kinds of entertainment during day time, people are allowed to celebrate when nights come. Woman dressing in floral skirts will dance to classical and contemporary. Moreover, they often wear padauck blossoms in their hair which is commonly referred to as the Thingyan flower due to its scarce and use.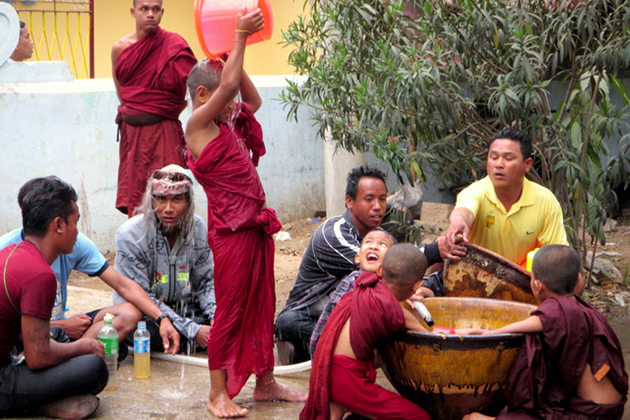 In the Water Festival
During the festival, small stages are set up in both cities and towns. Thingyan songs are played all the time. All people joining the event are in joyous mood, drifting around the city on foot or by vehicles, armed with bucket full of water to readily throw and splash water to each other. When turning up a passerby in front of these stages, he/she will be drenched with water. At this time the temperature is over 40°C degree so that it is not a problem when the whole body get wet. This is considered as an act of kindness and is appreciated by almost everyone. Proper clothing would be a hat, t-shirt with thin trousers, flip flops. It is essential to wrap all your electronic equipment carefully, otherwise they are likely to be damaged. Sometimes, we can see the young riding on the open top jeeps or pick-up trucks coming to the pavilions to play water and see the dance.
Not only Thingyan is celebrated for fun, it is also the time for religious reflection in this peaceful country. It is truly a unique tradition of Southeast Asia that you really should come and experience!