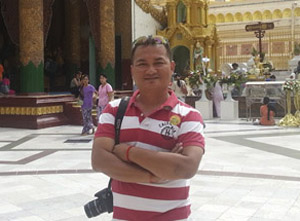 Mr. Phalkun Seng (Kun),
Cambodia Representative
Hi there, my name is Kun. I come from a farming family in the rural area of Siem Reap, and my parents now still live there. I have two brothers, and I am the eldest. I have been involved in the Tourism Industry since 1996 when Cambodia was first opened to travelers. I have led tours to all the major sites in Cambodia, including: "Angkor", the beaches of Sihanoukville, Bokor Hill Station in Kompot, Rabbit Island in Kep, Khmer Rouge sites in Phnom Penh, and the Royal Palace in Phnom Penh. I also had privilege to explore the mountain villages of Ratanakiri and Mondulkiri in the northeast of Cambodia. I have operated trips and tours for travelers through Cambodia, Vietnam, Laos and Thailand for several of years. Of course I like traveling, and my favorite places are Quang Xi Waterfall in Luang Prabang, Laos; and cruising in Halong Bay, Vietnam.