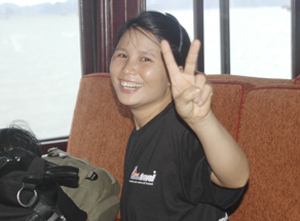 Hue, Le Thi Hue (Mrs.)
Housekeeper
Hi,
My name is Hue and everyone in the company calls me, "Chi Hue" means "Sister Hue" as I am the oldest one in the team.
Before working at Viet Vision Travel, I worked as a worker in a Garment company for more than 10 years in shift working at night. I joined Viet Vision Travel in 2007 and I daily keep the offices clean, and try my best to provide excellent lunch for every member, and taking good care of every member of the team. I supplies plant and flower… I am always early bird who come to work earliest in the company.