A festival honoring the making of ethnic wood sculptures and musical instruments was held in the Central Highlands province of Kon Tum on March 18.
The festival is part of the Central Highlands Folk Culture Festival and Culture Tourism Week which is scheduled to take place in Kon Tum from March 18 to 23. The festival in general is hoped to offer a glimpse of the regional traditional cultural heritages of the ethnic minorities.
This three-day festival was expected to see the present of 57 artisans creating wood sculptures on site from the five Central Highlands provinces.
Meanwhile, the talents of 22 other artisans will be showcased when they create several ethnic musical instruments, such as T'rung, Ting ning, Koni, and Dinh Klok.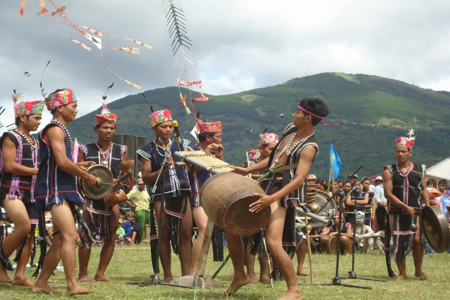 Visitors to this event could get the opportunity to admire a showcase of traditional item collections in accordance with the cultural daily routines and costumes of the ethnic minorities at the provincial museum.
Apart from that, people will be able to enjoy a gong-tuning customs, musical performances, and the making of handicraft products.
The Central Highlands includes five provinces which are Dak Lak, Gia Lai, Kon Tum, Dak Nong, and Lam Dong. These 5 provinces are inhabited by more than 5.5 million people with 36 percent of them hailing from 46 minority groups.
Several cultural heritages of the region have been recognized worldwide, including the cultural space of gongs, the UNESCO-recognized world cultural heritage.