The "Light of Paradise" or the "Great Wall of Vietnam" is illustrative identifier people assign to Son Doong Cave in Quang Binh province of Vietnam. Of all the beautiful natural caves throughout Southeast Asia, Vietnam has the most amazing natural cave – Son Doong Cave. It is widely famous for the World's largest natural cave until now.
Son Doong Cave Location
Son Doong Cave of Vietnam, located in the heart of Phong Nha Ke Bang National Park which is recognized as World Natural Heritage Site by UNESCO, has defeated Deer Cave of Malaysia to become the leading natural cave in the world. However, the cave has just been discovered and officially detected in some recent years.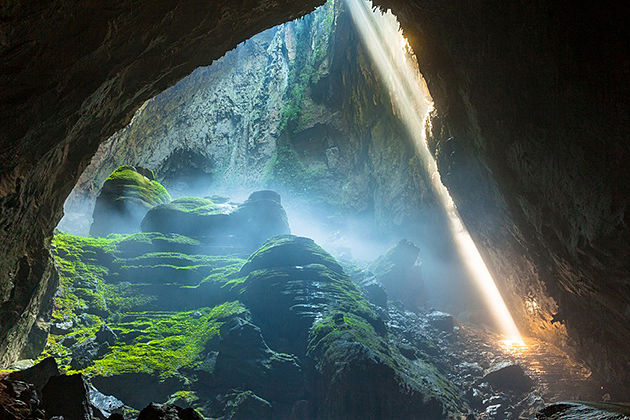 A famous American director of the well-known film: "Kong: Skull Island" used to share that he loves everything in Vietnam, but the most wonderful is to explore Quang Binh. He added that he spent some days discovering Son Doong and it is definitely one of the most special and marvelous places on the Earth. Indeed, there is no second version of Son Doong in the world, so it is a truly great experience to conquer this majestic cave in Vietnam.
To get to Son Doong Cave, travelers may have to pass 50 kilometers on a mountain forest road, to climb the high slope of 400 meters, to overcome large river, to pass 10 kilometers in the cave with complex terrain and to follow rope swing with 80 meters high. It is virtually hardship and even is harshness, but it is extremely worth so that travelers can immerse into the great scenery. The cool wind will remove tiredness during the journey. And now, it is the time for the best moment of harmony among humans and nature.
Stories about Discovery of Son Doong Cave
Who First Discovered Son Doong Cave?
According to geologists, Son Doong has formed two to five millions of years ago. However, Son Doong Cave was first discovered in 1991 by a Vietnamese local farmer called Ho Khanh. He accidentally discovered Son Doong while seeking shelf from a passing storm in the jungle. However, Ho Khanh totally didn't know the value of this amazing cave and gradually forgot where he randomly found out this cave. Until an accidental meeting with Howard who is the leader of British Cave Research Association in 2006, Ho Khanh told about that he used to see the strange place like the mouth of a cave and Howard thought it is the majestic world he was seeking to discover since the 1990s. Howard with a big dream in exploring the world's majestic caves decided to look for this magical cave. This was also his promise with great General Vo Nguyen Giap of Vietnam in general's accidental visit in 1992 although Howard used to determine to just explore Vietnam in a short time.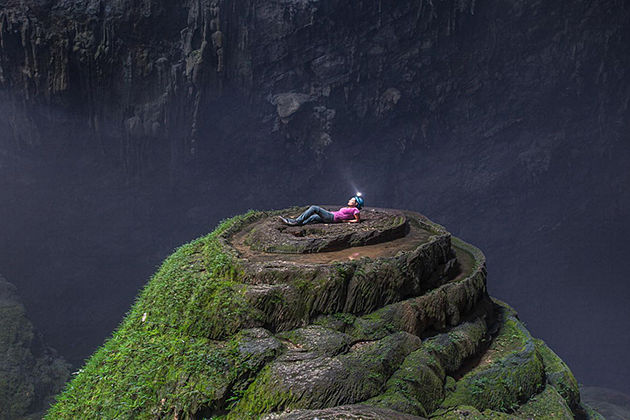 Unfortunately, seeking seemed to become harder as even Google Earth could not recognize the cave and as a result, the expedition team looked in vain. Until 2009, after all, difficulties, Ho Khanh finally led the Royal expedition team to the mouth of the cave. The team then claimed the seeking and discovery inside Son Doong Cave, attracting many world's leading pens. It was truly an incident "agitating" the Earth. People determine that discovery of Son Doong is like a "discovery of Everest Mount Peak underground". On 22nd April 2009, British Cave Research Association officially claimed the presence of Son Doong Cave of Quang Binh, Vietnam as well as its world's largest size.
What Does "Son Doong" Means?
The name Son Doong has meaning as "Cave of the Mountain River". Or people can understand that "Son" is mountain and "Doong" represents for a Doong village where a small ethnic group lives near the cave, only about 40 people. Actually, the British Cave Research Association asked Ho Khanh for giving a name for the cave because he was the first person discovering the majestic cave and their leading person to the mouth of the cave as well. He named the cave by his name, which was agreed by the association. However, after that, they asked for his permission to give the name "Son Doong" for the cave and Ho Khanh also accepted for name's uniqueness.
When was Son Doong Cave Officially Open to Public?
Son Doong Cave has officially been open to public since 2013. Until now, more and more travelers wish to conquer the Son Doong Cave once. Try to plan your itinerary to enjoy this wonderful cave if you have a chance. It is a worthy challenging experience!
The Size of Son Doong Cave
According to the information provided by the British Cave Research Association, Son Doong Cave has a width of 200 meters, the height of 150 meters and the length of at least 5 kilometers. However, due to the limitation of technical conditions, the explorers could not measure the real length of Son Doong Cave which may be much deeper. In many newspapers, Son Doong Cave is even mentioned to be large enough to host an entire New York City block. Or Son Doong Cave is so enormous that a Boeing 747 can go through.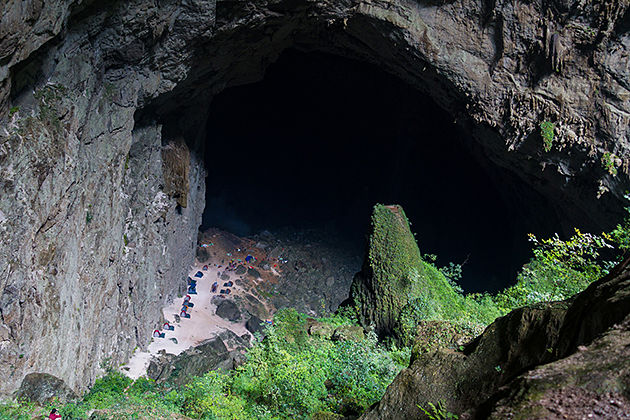 Fun Facts about Son Doong Cave
Son Doong Cave was not ever shown on Google Earth
Son Doong is large enough to become "an Airport"
Son Doong Cave is called "the Great Wall" of Vietnam
Son Doong is considered as "Garden of Eden"
Son Doong Cave possesses "pearl" that is as big as … a baseball
Son Doong attracts supermodels coming to conquer: Jasmina Mala, Ahmed Hamdan
Son Doong Cave can host 40-story buildings or 68 Boeing 777
Indeed, Son Doong Cave is really marvelous with stunning scenery travelers cannot see in any places on the Earth. Son Doong contributes to the fact that Phong Nha Ke Bang becomes the kingdom of spectacular cave agitating the world.