Considered as "The Underground City", Cu Chi Tunnels with a special system is one of the best choices for a Vietnam tour. Cu Chi Tunnels saves historic artifacts from the Vietnam War. It is an ancient witness for an extreme period in the Vietnam-US War. There is one saying that:
"If Cu Chi Tunnels fell, the Vietnamese would have lost the war. But if they stood, they would win."
Then, it is understandable how important Cu Chi Tunnels is in Vietnam! Definitely, this place is so amazing for visitors to discover the history of Vietnam.
Facts about Cu Chi Tunnels
Cu Chi tunnels, the hero land, is considered as a symbol of fighting spirit of army and Vietnamese against the invaders. Cu Chi with a sophisticated geological system is among the most interesting underground attractions on the planet beside world landmarks like Derinkuyu underground city (Turkey), RESO (Montreal, Canada), Tomb of Capuchin (Italy), Moscow metro system (Russia), Salzwelten salt mine (Austria)…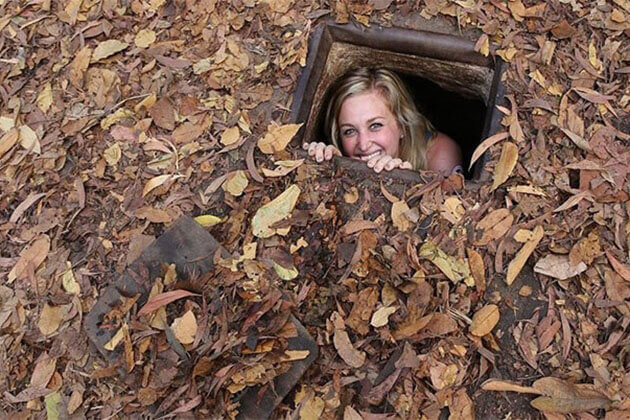 Cu Chi Tunnels have an extremely smart and intertwined system of doors, open spaces and traps. The entrance is cleverly disguised and small doors are to observe from the inside out. In the difficult ancient times, the soldiers were so thin that they came out Cu Chi tunnels quickly, while the American soldiers could not go into the tunnels because of their bigger bodies.
Things to Do and See in Cu Chi Tunnels
There are a bunch of things you can do at the Cu Chi Tunnels. Explore the area, go underground, watch documentaries, see exhibits, explore traps, take photos, and of course, shoot a gun!
When you enter, you will immediately be shown a video about the lives of the Viet Cong and locals in the villages nearby were during the war and then the exhibits begin.
Cu Chi Wildlife Rescue Station
The station, built in 2006, is about 1 km from Cu Chi Tunnels. It has rescued up to 3,600 rare animals. The place is full of rare animals and reveals interesting stories about them. Visiting the rescue station will give you understand more about fauna in Southern Vietnam.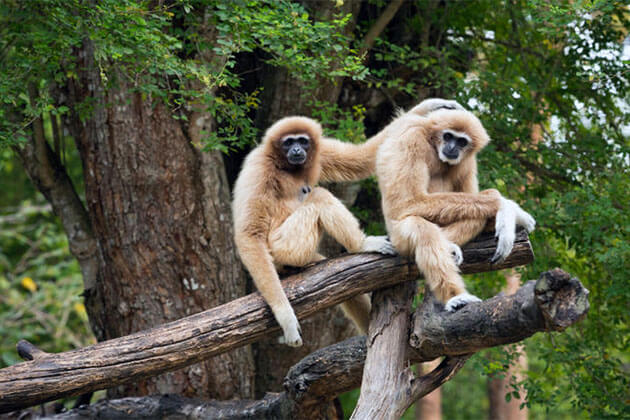 Cu Chi Underground
Indeed, this is the main attraction in your Cu Chi Tunnels trip. You will have authentic experiences in the underground, the same as the life of former Vietnamese in the war. In addition, you will be amazed by its unique system: corners of the tunnel system in 120 meters long with 2 floors.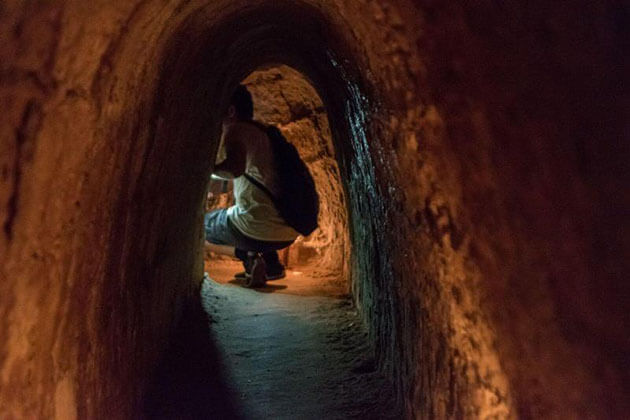 One of the most interesting things while exploring Cu Chi tunnels is that you will have the opportunity to enjoy yam provided in Hoang Cam kitchen area after going through the end of tunnels.
War Re-Emergence Zone
War Re-emergence zone is the place to see the "footage" showing the war in this historic land. In addition, in this area, there are also famous Vietnamese monuments and landscapes such as Nha Rong, Hoang Sa, Truong Sa, Long Bien bridge, One Pillar Pagoda, Saigon Bridges…
Shooting Area
In this area, you can learn how to assemble the gun as well as show your shooting skills. The shooting area attracts a lot of international and domestic tourists looking for adventurous experiences.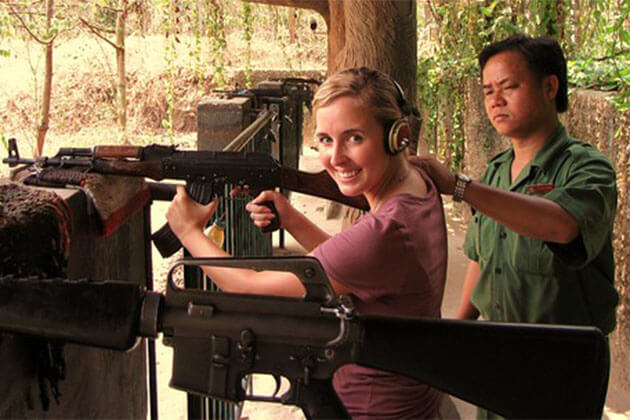 Trung An Fruit Garden
The South of Vietnam is actually famous for a variety of fruit gardens and Cu Chi Tunnels is, too. This is the place for you to stray to a spacious, cool orchard and enjoy delicious soy fruits such as durian, rambutan, plum, jackfruit…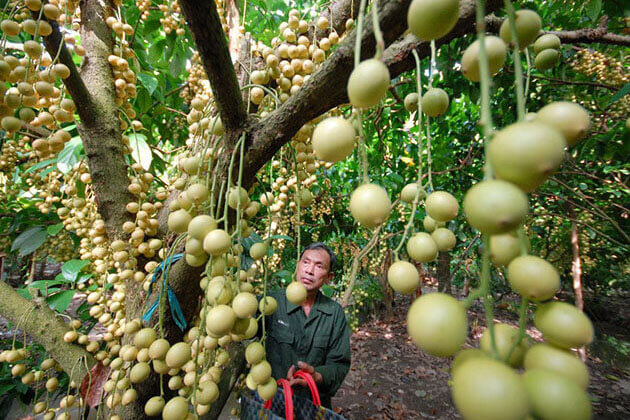 For cuisine in Cu Chi Tunnels, you can enjoy the most recommended specialties such as Xuan Dao beef, – Bun gio heo Minh Quy, Che Hoc Mon, Durian sugarcane juice, Steamed cassava, roasted sweet potatoes and dry pancakes…
Opening Times and Entrance Ticket Prices at Cu Chi Tunnels
– Opening hours: 8.00 AM- 5.00 PM every day
– Entrance ticket:
+ For Ben Dinh gate: 110,000 VND/person (about 5$)
+ For Ben Duoc gate: 90,000 VND/person (about 4$)
Entering any gate you want, you will have different interesting experiences.
Useful Tips for Visiting Cu Chi Tunnels
– When traveling to Cu Chi tunnels, you should wear clothing that you do not mind getting dirty as you are going underground.
– Prepare a comfortable pair of shoes so that you can walk around easily.
– There will be no flooding in the tunnels, even in the rainy season.
– Take spray, and insect repellent with you, in the case you will use them.
– Don't feel scared, no ghosts are inside.