Moral traditions are incredibly important among the Vietnamese people. Thus, Hung Kings' Temple Festival is annually celebrated to express Vietnamese people's gratitude towards Hung Kings-the founding fathers of the country.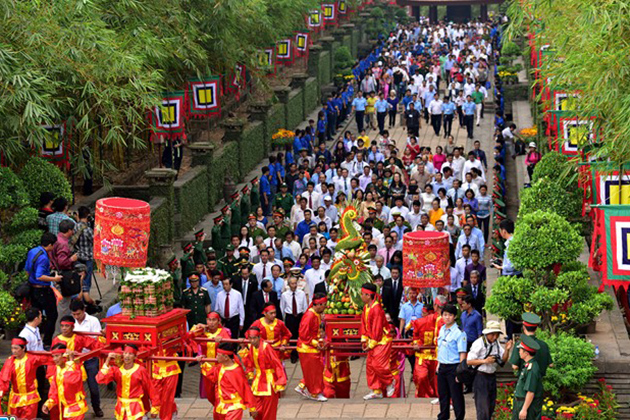 Why is the festival celebrated?
Thousands of years ago, the Emperor Hung Kings established Van Lang – the first nation of Vietnamese people. The dynasty with 18 Hung Kings were divided into different areas and ruled these regions, meanwhile King Duonng Vuong was regarded as the first Hung King in 2879 BC. To honor the founding fathers of the country, people built the Hung King Temple in Phu Tho province (85km northwest of Hanoi).
When is the Hung Kings' Festival held?
According to Lunar Calendar, the main festival day takes place on 10 March every year. However, the festival's activities last for around 10 first days of third Lunar month. The official name of the festival is "Death Anniversary of Hung Kings". Although the date does not mark the death of any specific Hung King, the festival is held to honor their contribution to Vietnam as the initial founders of the nation. Importantly, the ceremony has been recognized as a national holiday in Vietnam held with the presence of Vietnam's heads of state since 2007.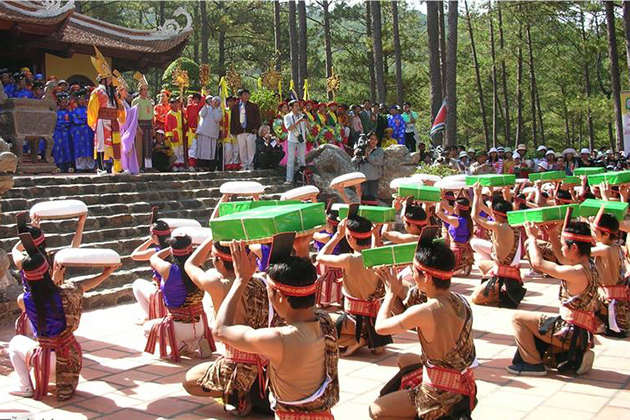 What activities happen during the festival?
Every year, millions of people around Vietnam flock to Hung King Temple to join in the commemoration of the country's ancestors.
There are a wide range of activities during 10 days of the festival. Several cheerful activities are organized such as performances of Cheo singing, Quan Ho singing, Xoan singing as well as games of chess playing, rice cooking and chicken kicking. The solemn ceremony is held on the main festival day, beginning with a speech by a representative from Ministry of Culture, Sports and Tourism or one of the country's head of state. Then, a procession starts at the foot of the mountain, and stops at every small temple before reaching the High Temple. Here pilgrims offer prayers and incense to their ancestors. People who participate in this special occasion also have an opportunity to enjoy a huge "Banh Chung" and "Banh Day" (traditional foods made from sticky rice).
The Hung Kings' Festival is a great chance for not only Vietnamese to visit their land of origin but also tourists to obtain an overview of Vietnamese cultures and beliefs. Are you willing to experience one of the biggest Vietnam's festivals in the next March? Come and check it out!