Ranked at the eighth position of the largest minority ethnic groups in Vietnam, the Hmong inhabit in the Northern and Western mountainous areas. They emigrated from some China's provinces like Qui Chau, Van Nam and Quang Tay around 300 years ago because of brutal crackdowns and power wars. The first area they moved to Vietnam was at Dong Van Plateau before spreading out around the country and now it is recognized to be an ancestral land of all the H'mong people. The H'mong scatters in the northern mountainous provinces as Quang Ninh, Lang Son, Bac Kan, Cao Bang, Ha Giang, Tuyen Quang, Yen Bai, Lao Cai, Lai Chau, Son La, Hoa Binh, Thanh Hoa, Nghe An and a little in Tay Nguyen. They are divided into small groups including Flower Hmong, White Hmong, Blue Hmong, and Black Hmong.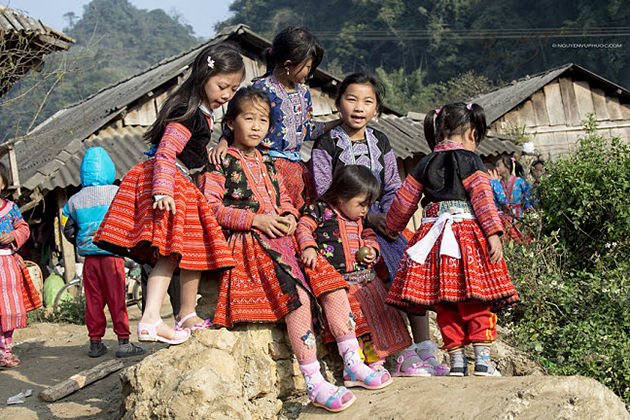 Language of Hmong Ethnic Group
Their main language belongs to the Hmong-Mien language system and they have had a non-written one yet.
Costume of Hmong Ethnic Group
Traditional costumes of Hmong women consist of a deep V-chest shirt, an overall of two square pieces covering the front and the back, a big belt, a headscarf, leggings, and a truncated cone-shaped gather skirt. The White Hmong women wear a white skirt, a deep V-chest shirt with patterns embroidered at their sleeve and back overall and a wide-brimmed headscarf. The Flower Hmong women wear an indigo skirt along with embroidered flowers at the hem, color pieces-attached, snail-shaped pattern shirt. They had their long hair wrapped around their head and wear a toupee. The Black Hmong ethnic women also wear the same skirt but shorter than the Flower Hmong. They fix with a deep V-chest, sleeve-embroidered shirt. The Blue Hmong's costume includes an indigo skirt embroidered cross-shaped patterns in squares at the hem; a one button-closed left V-chest shirt. The Blue Hmong ethnic girls let their hair long hanging up their shoulders, after marriage, they wrap them around the head by a horseshoe comb and a headscarf.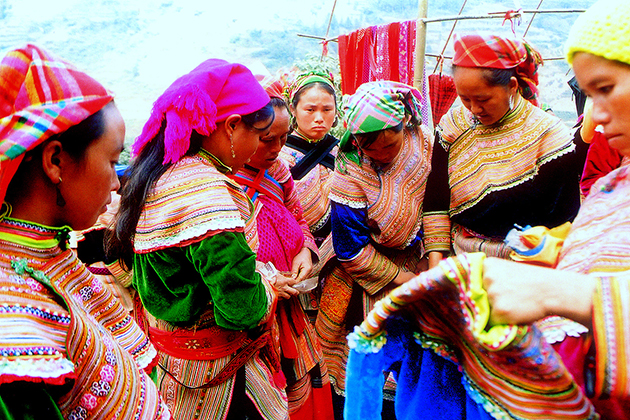 Nowadays, these costumes change a lot. The Hmong Sapa women wear short and narrow trousers, standing-collar double shirt while the White Hmong ethnic women in Son La add a white blouse inside and traditional one outside. Men dress in a sleeveless and chest vent shirt with 4 pockets and 4 buttonholes along with a drain-pipe, lame style trousers.
The Hmong ethnic people enjoy jewelry: silver or gold earrings, necklaces, bracelets, and rings. A person having two rings in his/her hand says that he or she had a wife or a husband. The Hmong ethnic women also love beautiful color umbrellas, to both avoid rain and sunshine and make up their charm.
Hmong Ethnic Group's Culture
The best time to explore the Hmong Ethnic group is during their festivals. They have two big festivals: the Lunar New Year festival at the beginning of the lunar December and the Dragon Boat Festival (on 5th Lunar May). Their month calendar counts 30 days per month. During the festival, there are many traditional activities like traditional folk games, blow their unique woodwind instrument named as "khèn" and sing in a large courtyard. The Hmong ethnic people drink corn, rice wine and smoke by the plow. If they invite a guest a self-loaded plow, it represents their hospitable welcome. Fair and love market are two features of their special traditional culture.
Customs & Traditions of Hmong Ethnic People
In the Hmong ethnic family, a husband plays an important pillar role and he cares all works of the whole family. The Hmong treasured sons over daughters, so families are often proud of giving births a lot of sons in the village. A wife's main households are to take care of children, cook meals and hand-make hemp and indigo color clothes and jewelry.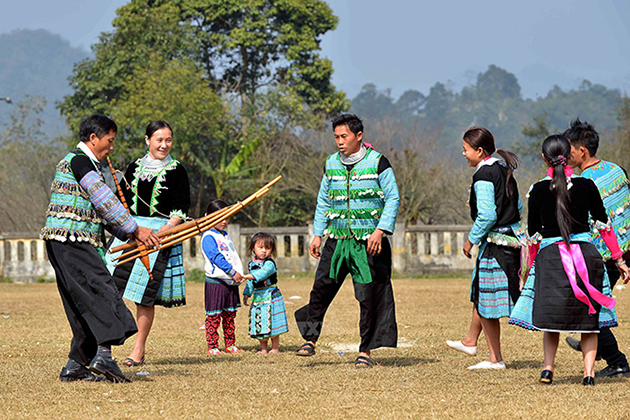 The ethnic Hmong also respect funerals and ancestor worships. Previously, the Hmong funerals are usually held last from 5 to 7 days, today reduced 2 to 3 days. When a person dies, they will invite witchdoctors for worship songs before shrouding. Until the tale of "chicken leads the deaths to reunite their ancestors", they put a dead, feather-remaining chicken in a cornstarch bowl under the dead man. They use "khèn" and drum in the rituals of the dead's farewell funeral. After completing a burial, if the dead is a male, they leave 9 brands of a tree, 7 ones for a female to distract him/her in order that they cannot return and harm their family members. They also believe ancestor worship that will protect their family.
One of the other special customs of the Hmong ethnic group is stealing wife (cướp vợ). It often happens after love market when a man meets and loves a woman, he will "steal" her and put her on the dark without food from 2 to 3 days. If she agrees to get married to him, he will go to her family to pay a penalty and ask for her parent's allowance.
A girl is valued through the value of meat, wine, white silver, and opium. In a wedding, the bride family usually require between 60 and 120 white silver coins; from 60kg to 120kg of pork meats, around 60kg to 120kg wines and opium. The higher values are required, the more beautiful and talented girl is. The Hmong ethnic tradition allows marriage between the husband's brother and sister-in-law in case the husband died to preserve assets and take care of the husband's children. If the brother had his wife, sister-in-law must be his concubine. If the family has no brother, sister-in-law can get married to a cousin. But the marriage among people in a Hmong family is banned. Some Hmong popular surnames are Giang, Thao, Lu, Vu, Ma, Lung, Hau, Ly, Vang, Tau, Trang, Han, Then and Cu.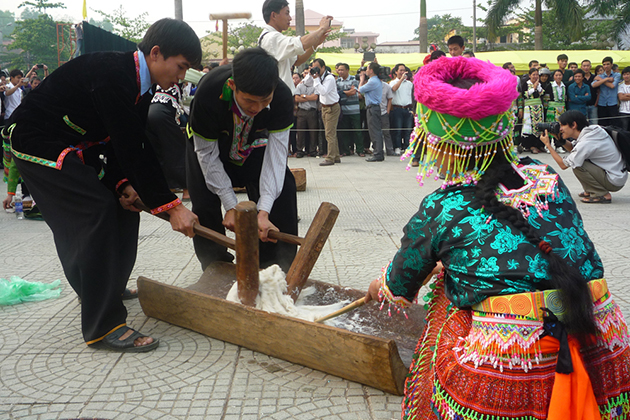 Almost the Hmong living areas are now welcoming a huge number of tourist arrivals. They are gradually changing in some of their traditions and customs. They changes in clothes, culture as well as lifestyle such as making business in attractive tourist points, using the phone and riding a motorbike. But up to now, a lot of unique customs which they have still remained or preserved by the government are the highlights of visitors' adventures.