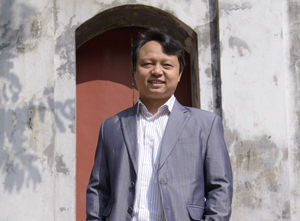 Henry, Le Xuan Huong (Mr.)
Chairman of the Managing Board (Founder)
Hi,
My name is Huong, means "Enjoy", and hopefully all clients will enjoy the trip to Indochina with us.
In 1997, during the Asian economic crisis, after several years working as an interior designer, I changed careers and became a tour leader. I immediately fell in love with tourism and began working as a tour leader for a global tour company. I love to show people my beloved motherland, Vietnam, and I have also been privileged to take many groups of Western tourists to Lao and Cambodia. In early 2006, I founded Viet Vision Travel which has luckily become a trustable tour company and one of Vietnam's leading local tour operators. But I remain ambitious for Viet Vision Travel JSC, aiming to make it the best local tour operator in Indochina. We have already opened an operation office in Ho Chi Minh City and Da Nang, representative office in Siem Reap, Cambodia. I love to think of Viet Vision as a family, but insist on the highest standards of professionalism. Apart from running the business and training the staff, I love photography and I am an amateur photographer (most of the pictures in this web site are my own works. Hope you guys like my pictures).