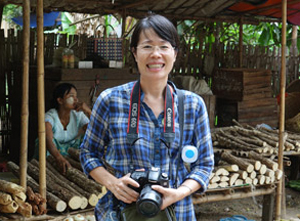 Hana, Nguyen Thu Ha (Mrs.)
Managing Director – Travel Advisor
I am Thu Ha. I have been working in tourism since 2002 when I was a 24 years old girl. I love traveling, reading history books and more than over I like contacting with people all over the world. I have many friends from all over the world; first they came to me as clients and then finish with friends. That is really fabulous! Isn't it?
I was born in a village, outskirt of Hanoi. My parents wanted me to be a Teacher and I was trained as a teacher 1 year when I was 18 years old. However, I got over many difficulties of daily life to be a student in Faculty of Tourism in Hanoi National University and Faculty of English in Hanoi Foreign Language University.
After 4 years with 2 Bas, I worked as an English speaking guide, then Cruise tour operation staff, sales staff… at one more Travel company. Now, Viet Vision Travel is my home where I enjoy with work very much. Here we are working with target "Clients will get what they paid for and even more" so traveling with our company everyday is your new day with new experience and interesting.
Thu Ha