You usually see that the railways are isolated from houses in a sufficiently far distance in many countries. However, have you ever seen the row of houses and daily activities of local people happening surround the railroad? In your Vietnam tour, you will have a chance to witness this strange thing that occurs every day in the Vietnam lifestyle. It is definitely in Hanoi Old Train Street which is recently popular for its ancient beauty and local culture.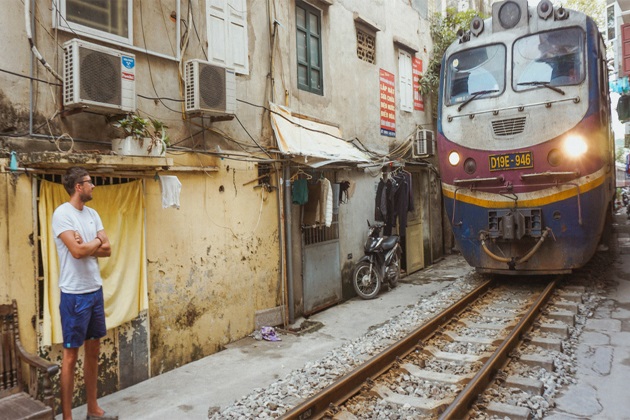 Hanoi Train Street is a small street in the central Hanoi, where the train from North goes through. The train street is one of the most typically ancient features of Hanoi, attracting a lot of tourists in many recent years. Nowadays, more and more visitors consider Hanoi Train Street as one of the most ideal destinations in their Hanoi tours. A special thing of Hanoi old train street making tourists very curious and excited is that the street is so narrow that people feel affordable to touch the train if it goes through. Or even tourists can feel that two rows of houses on two sides are very close to each other and there is just a middle line for trains.
CNN, a very famous channel of the US, referred to Hanoi's train street as the most popular selfie destination in Hanoi. The foreign newspapers and magazines have also mentioned much Hanoi train street and considered it as a highlight of Hanoi. Each house in the train street is only about 15 to 25 meters square wide. In which all activities of the people take place around the train track, even on the train track. This is a particularly rare thing.
The Location of Hanoi Train Street
The Hanoi old train street is at 224 Le Duan Lane, Dong Da district, Hanoi. Especially, it is located in the middle part between Le Duan and Kham Thien Street in Hanoi Old Quarter. It is easy to find out this street because it is close to some tourist attractions. If Google maps cannot support, you can ask local people for help.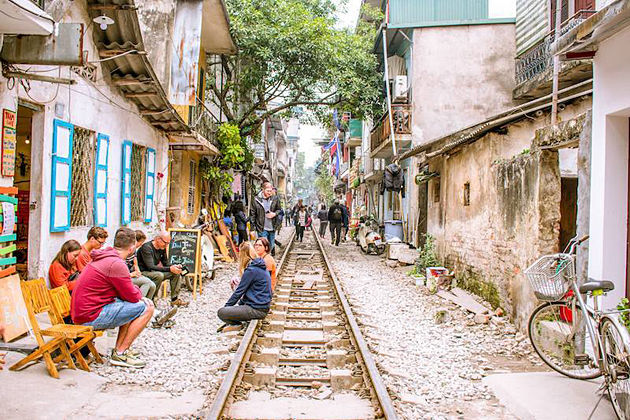 Best Time to Visit Hanoi Train Street
The best time to visit Hanoi Train Street is about from 3 pm to 8 pm. Take notice that the train will go through the street twice a day at around 3 pm and 7:30 pm, so arrange your plan if you would like to see the moment when the train comes.
You can experience a pretty thrilling feeling and take the stunning pictures in this strange train street. Moreover, you cannot take your eyes off as seeing how local people live and work there, which gives you a feeling of peaceful life in the local culture of Vietnamese people.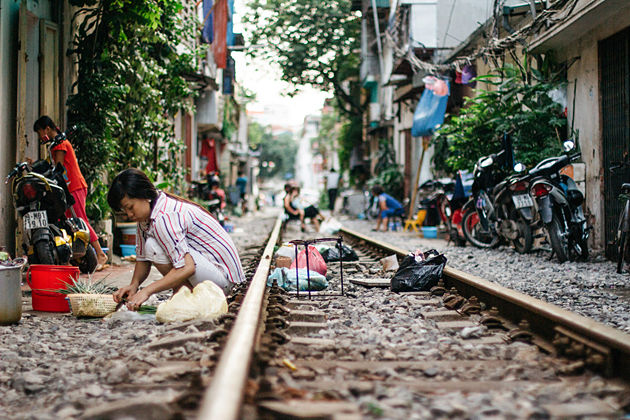 In general, Hanoi Train Street has just been discovered and increasingly becomes a favorite place of many visitors in Hanoi.