Generally speaking; "Happiness is on the road, rather than at destination. And your journey in Ha Giang never has the last stop of "happiness" as its route endlessly covers with happiness through beauty embodied by lovely images of local people in highland areas and a great view of stunning landscapes. There is no florid word to best depict the beauty of the province.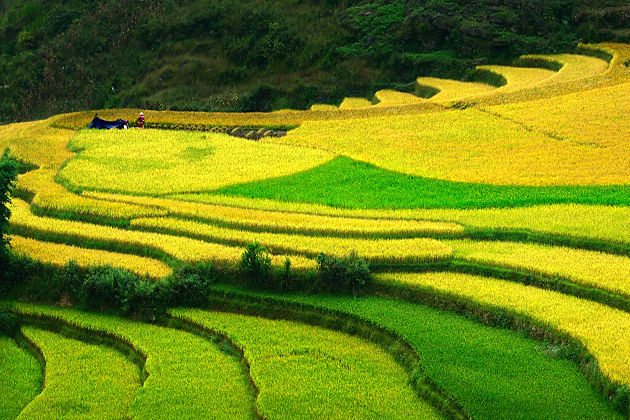 Ha Giang covers the Northernmost point of Vietnam. The province is very famous for terraces, the challenging arcs of the road and Buckwheat forest. Ha Giang, really beautiful, is covered with terrace fields passing through streams, wading through the forest and blending into the tone of nature. Happiness is shown up on the faces of local people in highland areas. Highland inhabitants with thick wrinkles and dark skins look so happy and nice through their smiley eyes regardless of their difficulties and harsh living conditions.
Not only being a place of happiness, Ha Giang but also is the place where love begins. People said that after setting foot on the Ha Giang land, they will never forget the marvelous moments they experienced in this wonderful place. Their love to Ha Giang never exhausts, instead, they miss Ha Giang so that each time referring to Ha Giang, they look so happy and cry in nostalgia. Keep reading to see the ultimate Ha Giang travel guide provided by Vietnam local tour agency.
Best Time to Visit Ha Giang
It is really hard to point out the best time to discover Ha Giang because Ha Giang actually owns distinctive beauty in every season. Travelers can discover Ha Giang in different time periods as Ha Giang exposes itself in distinctive and stunning beauties.
Spring in Ha Giang
At the beginning of spring, you can discover the different traditional festivals in Ha Giang. It is a good opportunity to explore the culture and traditions in the province. The outstanding festivals are buffalo fighting festival, Long Tong festival and horse duel festival which attracts the majority of participants from different countries.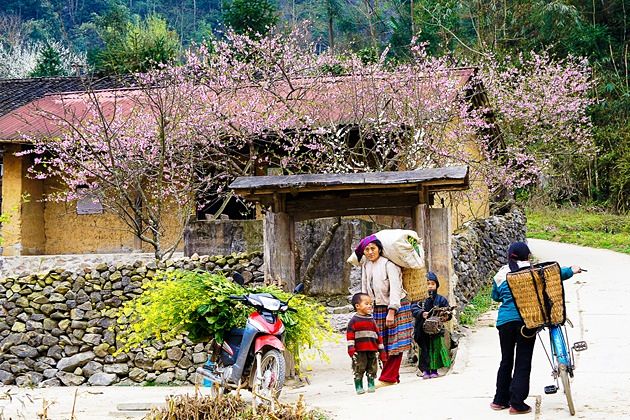 March is a great moment to enjoy in Ha Giang with peach, plum garden, and blossom flowers. Many young travelers or couples love to visit Ha Giang in this time in order to take the most stunning pictures for their memory.
Summer in Ha Giang
For April, there is a very big festival in Ha Giang, called Khau Vai love fair. It is one of the special cultures of Ha Giang people, shown in bustling atmosphere covered with the crowded number of participants. In the fair, people can see the humanistic beauty of Khau Vai love fair with an image of the guys and the girl sharing life stories together.
In May and June, Ha Giang becomes attractive with "pouring water" season. At this time, Ha Giang is beautiful and glamorous with an image of winding terraced field picking water from the peaks. This is also the time when local people are busy at preparing for next harvest.
Autumn in Ha Giang
In August and September, Ha Giang exposes itself under ripe rice fields. You can enjoy the beauty of terraced fields in a golden color of rice together with their sweet fragrance.
Winter in Ha Giang
Time in October and November is best for enjoying the Buckwheat season with the violet color overwhelming the hills and mountains. December is the season of yellow Cauliflower blossoming and spreading a yellow color into the whole Ha Giang, which creates extremely beautiful and romantic moments.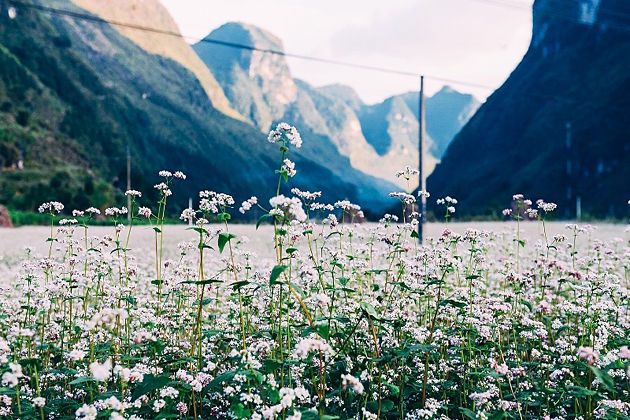 Best Things to Do & See in Ha Giang
In Ha Giang, there is a path any travelers go through. It is the path named "Happiness Path" stretching from the plateau Dong Van, over the legendary Ma Pi Leng peak and toward Meo Vac. The path connects youthful dreams in discovering and conquering the sacred land of the northernmost area of Vietnam.
Ma Li Peng Peak
One of the most stunning things to see in Ha Giang is Ma Pi Leng peak. Ma Pi Leng pass is one of the four peak passes, the king of passes in Vietnam. Definitely, through Meo Vac, Pine Forest is a great place for stopover or picnic. In this place, travelers usually sit together and enjoy their picnic after tiredness of driving.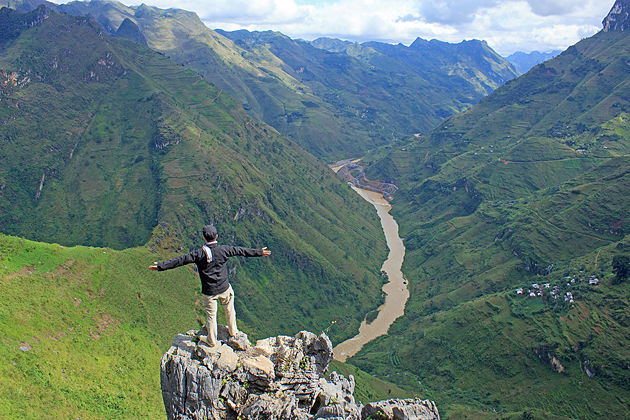 Dong Van
It is an interesting place for your trip to Ha Giang. Travelers usually choose homestays or hotels in Dong Van because Dong Van is like the center of Ha Giang province, then, they can easily get to other destinations. In Dong Van, visitors can enjoy the love market and visit handicraft shops along with brocade items.
Lung Cu Flagpole
The most special thing in Ha Giang is Lung Cu Flag Pole, representing for the northernmost of Vietnam. It is the most highlight landmark of Ha Giang, which is also the national flag pole. This is a sacred image of the nation in each Vietnamese person.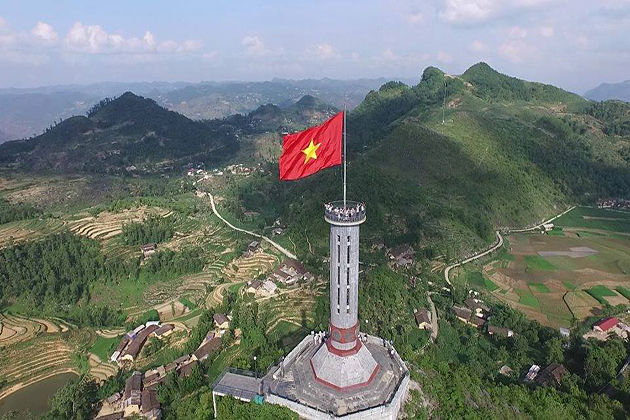 How to Get to Ha Giang
By Motorbike
The best means of transport for your perfect trip in Ha Giang is motorbike. You can see and enjoy the great view by surrounding stunning landscapes. Many young travelers wish to conquer the road in Ha Giang which is one of the most beautiful roads in Vietnam. You will feel so close to nature while driving on the path.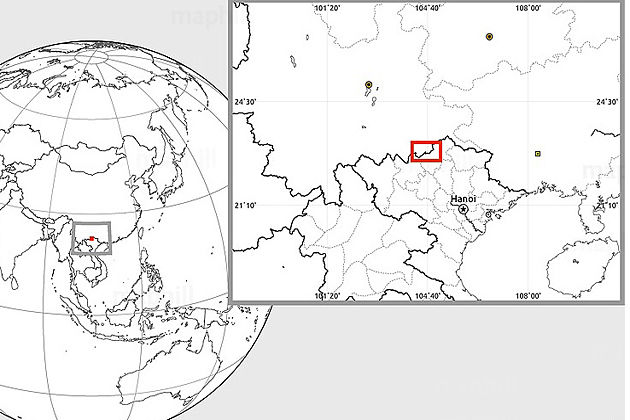 Travelers usually take the coach to Ha Giang city and then rent motorbikes for their on-going trips. The price for renting a motorbike in Ha Giang is not expensive, about 150,000 – 200,000 VND for one motorbike per day (equivalent to 7 – 10$).
Besides, visitors can choose to explore the beauty of Ha Giang by car. Therefore, they can avoid bad weather like heavy rain and feel less tired compared to driving of hundreds of kilometers.
By Bike
Bicycle is not recommended because it will take a lot of your time. The tourist attractions in Ha Giang are very far away from each other, which are about from 20 to 30 kilometers. So motorbike and car are the two best ones for you to make your safety before dark. Remember to buy petrol so as to ensure your trip to go well.
There are some recommended motorbike rental providers. Remember to contact and book in advance, especially in high season.
Mr. Tac: +84 3661666968 – + 84 986846110 – Address: 54A Tran Phu street, Ha Giang city (near Minh Khai ATM)
Giang Son: +84 91719955 – +84 988470863 – Address: Km3 Cau Me, Ha Giang city (near Ha Giang bus station)
Hang Thuong: +84 1236399888 – +84 942508448 – Address: 15B Pham Hong Thai, Minh Khai, Ha Giang city…
Take notice where your accommodation is, then you consider where to rent a motorbike for convenience. For example, your hostel is in Dong Van, then, you should rent a motorbike in Ha Giang city where your coach stops to be able to go from this point to Dong Van which is very far away. Or if you accommodate in Ha Giang city in which you leave the coach, you can rent a motorbike in Ha Giang city and then try to arrange your plan to spend one day for Lung Cu because Lung Cu flagpole is the furthest.