A sea-walk service started to be available in Cham Islands (Cù Lao Chàm) which allow tourists to walk on the seabed and get insight into the marvelous sightseeing of hundreds of coral and aquatic species. Cham islands have been recognized as the World Biosphere Reserve by UNESCO since 2009 therefore, the seafloor ecosystems are strictly preserved.
According to the company launching this activity – the Cham Island Tourist Co Ltd, underwater walking corridor has no influence of coral and marine ecosystem.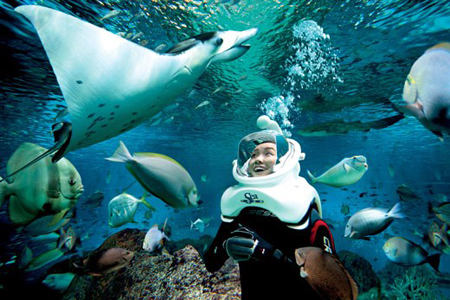 This service offers 20 minutes for tourists to have an amazing undersea walk excursion, including from 2 to 5 minutes of guide. Tour guides always follow and help tourist to feel the beauty of seabed flora and fauna ecosystem. It costs VND 950.000 per person (US$42.5) per person and only for people from age 8.Tourists can take a full package of VND 1.35 million (US$ 61) at the offices of Cham Island Tourists in Da Nang and Hoi An. The tour includes costs of bus transfer, boat rides, lunch, island sightseeing tours and undersea walk.
Beside Cham islands, Nha Trang tour also offers this kind of service.