An indispensable experience when traveling to Laos is shopping. Therefore, many visitors wonder about the best things they can buy in Laos and where they can buy them. You can consider the following suggestion about the best souvenirs to buy in Laos. Hope that you will have a great shopping experience on your Laos trips.
Best Laos Souvenirs to Buy
Laotian Traditional Dress
When traveling to the land of Million Elephants, many visitors are very interested in choosing Laotian traditional costume (Phaa Sin) as the best gift for friends, family and themselves too. The cloth embodies the cultural quintessence of their tribe. The national dress is various in design as well as color and size to meet the needs of each customer. The costumes are made from their own materials, bringing travelers a memorable trip. It is not hard to get traditional clothes because they are available in many places as markets and small shops.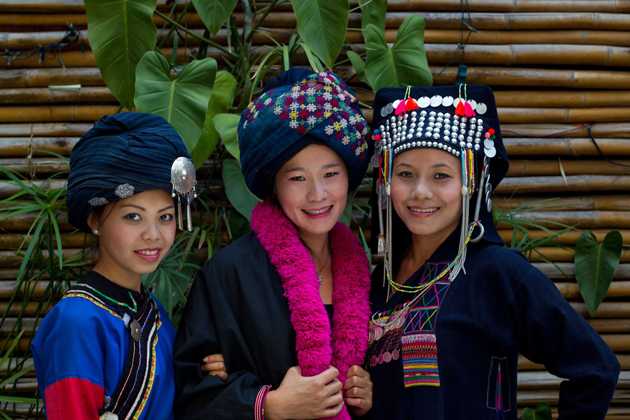 Lao Silk Textiles
Silk textiles are also great gifts for travelers to buy in Laos. The most popular ones are shirts, scarf, shawl and hand silk. This item is divided into from low to high levels. So, you can choose any types to fit with your needs.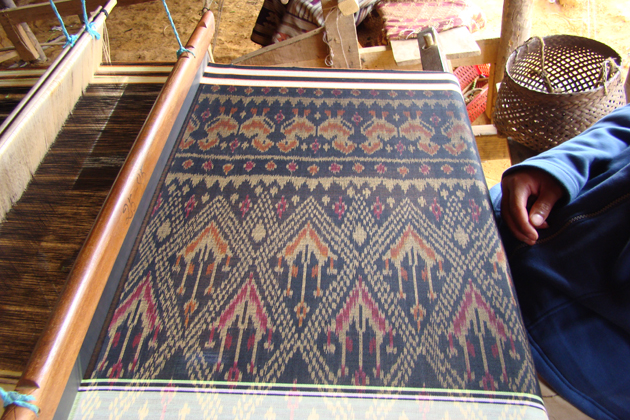 Lao Jewelry
Tourists can choose to buy bangles, watches or chains as very meaningful travel gifts. The jewelry is made of pure gold, silver with sophisticated designs along with glamorous styles making luxury and elegance for people wearing.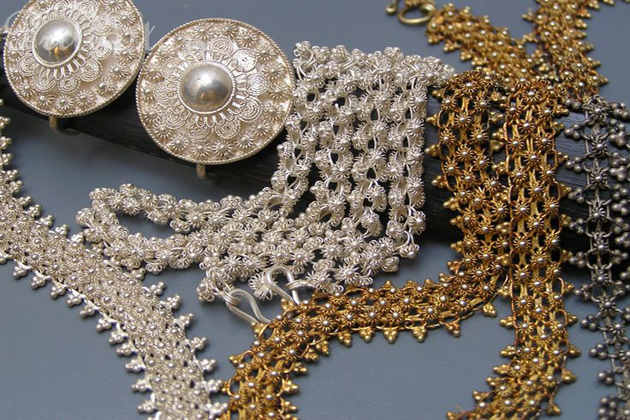 Laotian Handicrafts
Lao handicrafts are also a powerful commodity for promoting heritage abroad. They are carefully elaborated by craftsmen and are sold in most markets and tourist centers in the country. Travelers can find some special items such as hand-sewn bedding, bags, rings, and even accessories.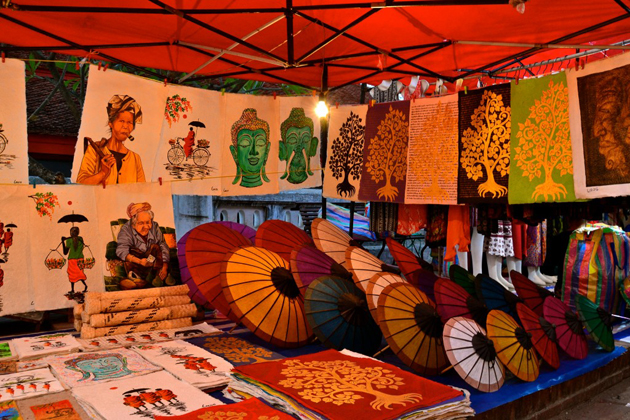 Champasak Coffee
Lao is also famous for coffee as it is one of the best places to grow coffee in Southeast Asia. If you are a coffee lover, you can buy ready-made roasted coffee beans. Overall, it is easy to find this gift at a pleasant price.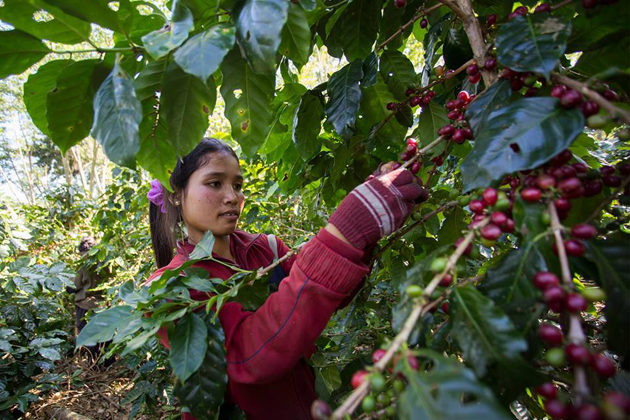 Laotian Specialties
When visitors want to buy something more rustics, they can think about specialties in Laos. The specialties in Laos that tourist can buy such as dried dishes, sticky rice or Nok Aen fermented meat…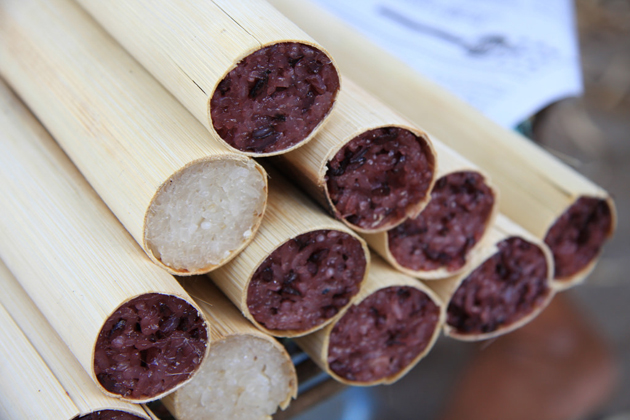 Where to Buy Souvenirs in Laos
Vientiane
In Vientiane, the morning market is the most popular and largest shop. This is places selling many Laotian handicrafts and jewelry which are so attractive and unique. Some names of the streets are Samsenthai, Pang Kam, and Setthathirat.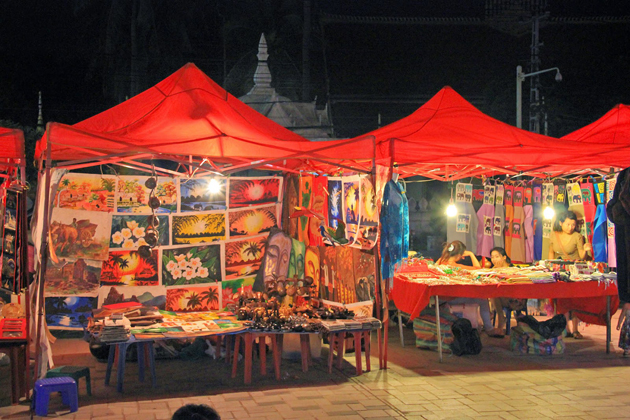 Xieng Khuang
Xieng Khuang is famous for the Chinese market. The market provides many various souvenirs made from plastics and plasticizers, however, you can also see items made from gold and silver and handicrafts.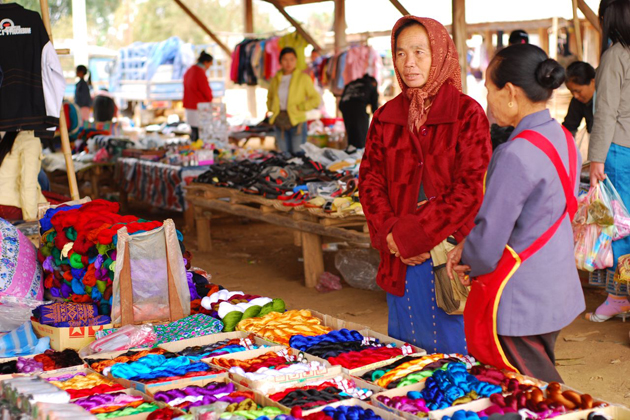 The fresh market is also another good place to buy many items. You can find specialties of Laotian such as Nok Aen fermented meat and mushroom.
Savannakhet
Savanxay market is just 100 meters far from the central station. The market is famous for the delicious specialties of Laos, diverse souvenirs, and silk textiles with unique traditional Laotian patterns.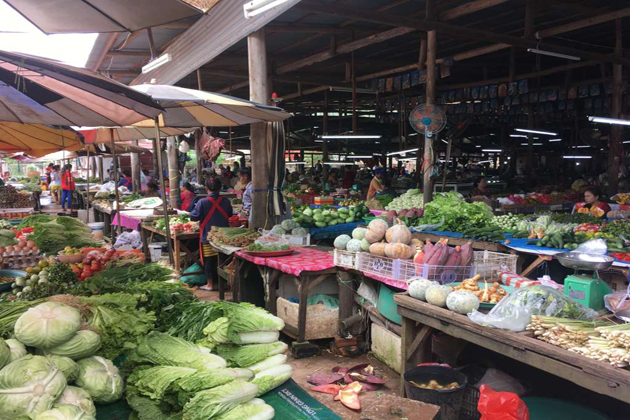 Dao Heuang tax exemption shop is placed containing many tax exemption items at pleasant prices such as chocolate, wine, Cuba cigar, cigarettes, coffee, and electrical household products.
Luang Prabang
In Luang Prabang night market, travelers can choose items made from Laotian cloth, bags, shirts, Laos silver jewelry, silver souvenirs, silver Buddha statue or paper pictures… The price is usually unstable and the bargain is popular here.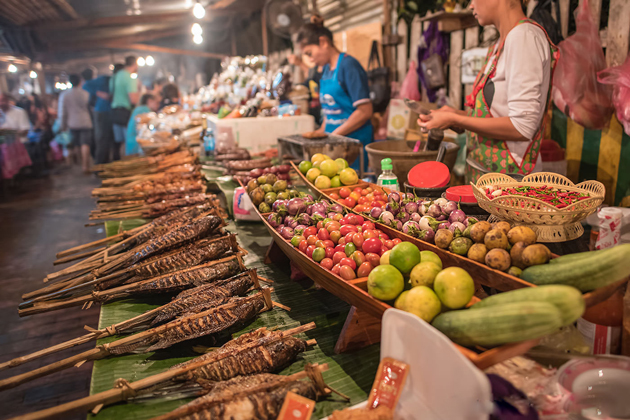 Kopnoi is located in Ban Apha near Phousi mount and Nam Kham River. It is famous for handmade products made from natural materials.
Champasak
Paske's morning market is open in the very early morning. It is also a major shopping place in the city of Champasak.