Many travelers hesitate to choose souvenirs when visiting the kingdom of wonder – Cambodia. Consider some suggestions for the best things to buy with hope to perfect your Cambodia trips.
Best Things to Buy in Cambodia
Krama – Checkered Scarf: An Indispensable Gift
This truly Cambodia gift is made from very good materials with various colors, which is not the same as that of many countries which have just black – white color scarfs. This is a unique souvenir of Cambodia you cannot ignore.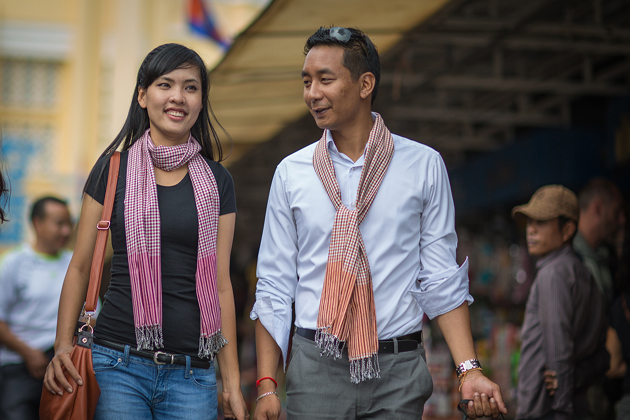 The price of each scarf is quite cheap, just about $1 USD per one. Moreover, the more items you buy, the better price you get.
Silver Items
Silver items of Cambodia are based on traditional craftsmanship since the 11th century. They are designed in s skillful way together with Cambodian style. Women tourists can consider small cute jewelry such as a bracelet or necklace. Besides, furniture for decorations is popular to buy.
Sculpture Arts Work
The small handmade artwork is extremely sophisticated and meticulous in many hours. Although overcoming many centuries, carving in Cambodia is preserved and expanded since tourism is invested and developed during the time.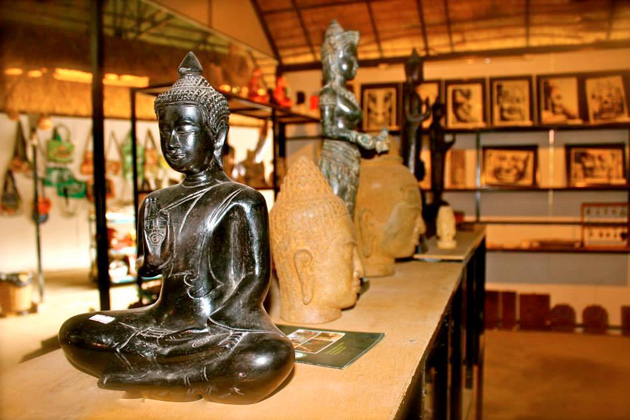 Cambodian Specialty – The Most Favorite Gift in Cambodia
Wandering on the streets, travelers can choose to buy famous specialties of Cambodian such as
Thnot Sugar
It is mainly made from Thnot trees which are yellow. The price for each kilogram of sugar is about $2 – $3. The recommendation for getting a truly delicious taste of Cambodian Thnot sugar is that you should buy liquid sugar.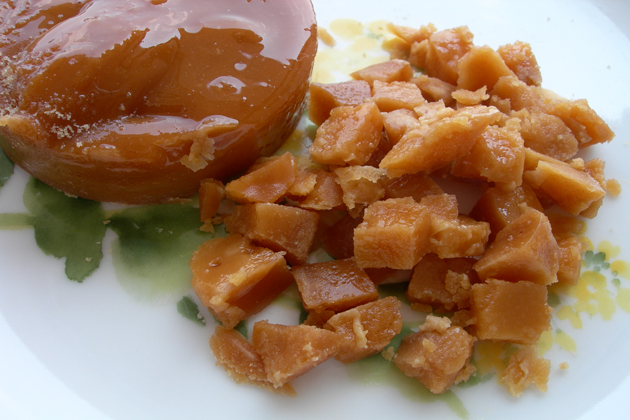 Dried Beef
The dry beef in Cambodia is usually softer and sweeter than that of many places. Moreover, the seasonings are traditionally owned by Cambodian, so the taste of dry beef is so special and attractive.
Beef Sausage
This sausage is also a must-try specialty of Cambodia. It fluctuates from $6 to $15 per kilo.
Dried Snake Meat
Although being a little bit serious, dried snake meat is one of the delicious dishes in Cambodia. The country follows Islam, so people not only eat snake meat but they also worship this animal. Many immigrants turn the reptiles into attractive dishes. You can buy this specialty in many places for about $6 – $15 per kilo.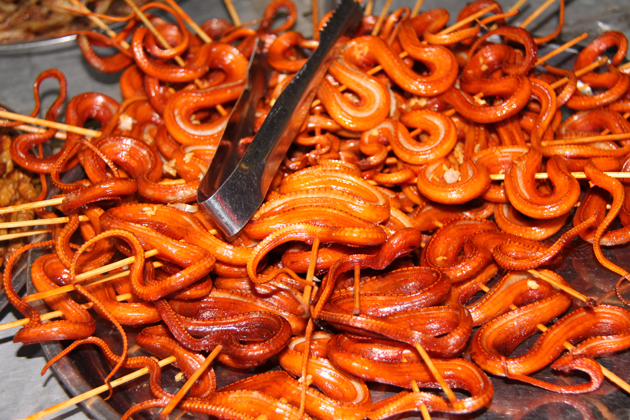 As a country of Islam, the people here not only eat snake meat but they even worship the fierce animals. But due to a large number of immigrants, these reptiles turned the reptiles into attractive dishes. You can buy this specialty in many places for $12 – $15 / kilo.
Best Places to Buy Souvenirs in Cambodia
In general, you can buy souvenirs in Russian market or center market and specialties in O' Russei market or Olympic market. Besides traditional markets, the shopping malls are good places for travelers to buy but the prices are usually more expensive, compared to markets. Below are some addresses for traditional markets of Cambodia.
Phnom Penh Central Market
This is one of the largest and busiest markets in Phnom Penh.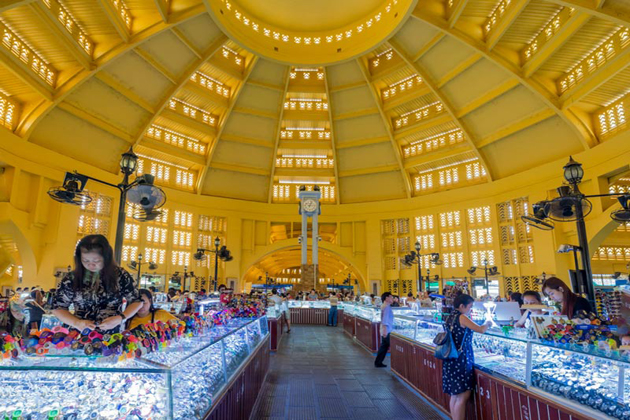 Address: Neayok Souk, Phnom Penh 855
Opening hours: 7 am – 6 pm
Olympic Market
It is the traditional market style of Cambodian, where visitors can find everything you need. The place is considered as the cheapest shopping place.
Address: 286 Phnom Penh
Opening hours: 7 am – 10 pm
Toul Tom Pong Market (Russian Market)
This is the best place to look for souvenirs including wood and stock carving pictures or silver items and old coins.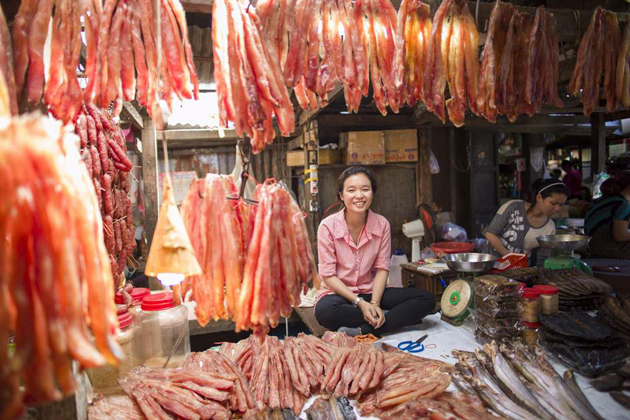 Address: 163 Phnom Penh (near Mao Zedong Avenue)
Opening hours: 7 am – 5 pm
Sorya Shopping Center
This is the most senior shopping mall and you can find any items here from household items, souvenirs to clothes.
Address: 13 – 61 South of Phsar Thom Thmei, Trasak Phaem, 12208 Phnom Penh
Opening hours: 8 m – 10 pm