It is anticipated that 8.5 million foreign visitors and 60 million domestic travelers will come to Vietnam in 2016, which contribute a total of 370 trillion VND (16.8 billion USD) in revenue.
Mr. Nguyen Van Tuan, General Director of the Vietnam National Administration of Tourism, noted that the tourism factor of the country had to struggle with many challenges and prolonged drawbacks during mid-2014 to mid 2015 resulting from worldwide economic downturn.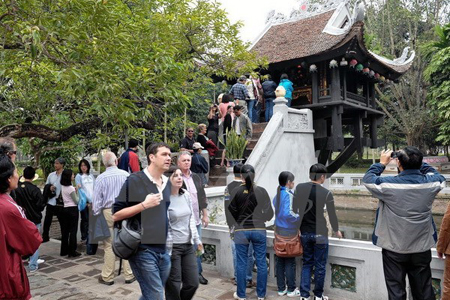 However, the sector received some positive signals from the second half of 2015, when there is a remarkable increase in the number of international tourists. Significantly, the number of arrivals from the Republic of Korea rose by 31.3 percent to surpass the one million, Tuan added.
Tuan acknowledged that the slight increase in the number of foreign tourists, a growth of 0.9 percent compared to 2014, results from the strong recovery.
He added that Vietnam also saw a highest record on the number of domestic travelers last year (57 million), which contribute 337.8 trillion VND (15.4 billion USD) of earnings.
On the occasion, the Guide to Vietnam Tourism Occupational Standards (VTOS) – 2013 document, which covers six major occupations, was handed over to the Vietnam Administration of Tourism by the European Union (EU).
The document was promoted to be in line with the ASEAN Common Competency Standards for Tourism Professionals, and fit with the regulations of the ASEAN Mutual Recognition Agreement on Tourism Professionals (MRA-TP).
The document features the training activities of small and medium –sized enterprises, hotels, travel agencies, schools; and it can be easily downloaded from the website http://vtos.esrt.vn.
Tuan asserted that if Vietnamese tourism workers could meet the demands of the document, they can confidently move to other ASEAN countries to broaden their horizons.
It is advisable that Vietnamese workers should be well trained in terms of their foreign language skills and professionalism to gain dominance from skilled labor from other countries.