Quang Binh province has determined to open up a two-day route of Va Cave and Nuoc Nut Cave to facilitate for both domestic and international visitors on May 30. This offers a great chance to explore the treasure in the ground of Quang Binh Province, which any adventurers should never miss when they have chance to take a tour to Vietnam in general or Quang Binh tour in particular.
Va and Nuoc Nut Caves are located in Phong Nha – Ke Bang National Park, Quang Binh Province – a world natural heritage recognized by the UNESCO. Va Cave has its 1.7 kilometer length along with unique and wonderful stalactites. Nuoc Nut Cave is a river cave with a length of more than 2.2 kilometers.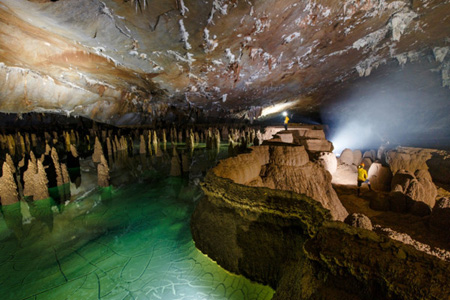 The Va and Nuoc Nut Caves tour will consist of two days and one night in order to increase gradually difficult level of adventure. Its activities are walking, trekking and crossing streams. A 500-meter long, 1 meter deep stream and a 15m high wall in the middle of the Phong Nha – Ke Bang primeval forest are expected to discover. Total distance of this tour is about 20 kilometer.
The Va and Nuoc Nut caves were examined and published by the British Caving Association in 2000.