Vietnam is a friendly and safe country full of wonderful landscapes and interesting adventures for foreign travelers. Nevertheless, you should follow a quick list of dos and don'ts advice is to have a perfect trouble-free trip in Vietnam as below: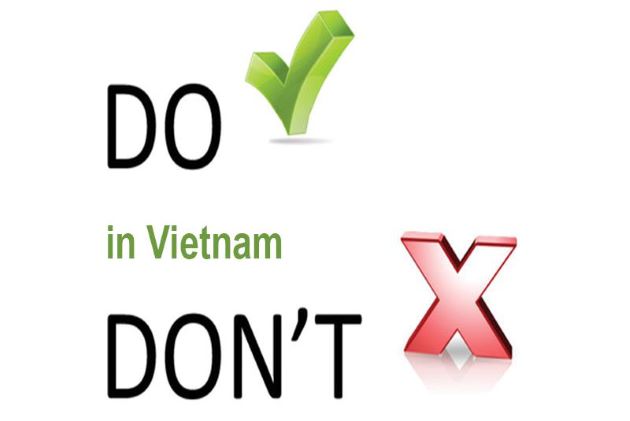 DO'S in Vietnam
The greeting is always welcomed. Say Hello or "Xin chào" and smile at local people. The Vietnamese are very friendly and they can shake your hands to express their hospitable welcome.
Show your respect to the old, children, the disabled people, and religious believers, especially on the bus by offering your seat to them.
Dress conservatively. Wear long and body covered clothes when entering the Temple, Pagoda, and formal places. It is considered to be rude and disrespectful if you wear shorts, tatty beer t-shirts, tank tops, dresses, or skirts. Also, you are not allowed to enter with such clothes.
Give or take things by your two hands.
Always bring yourself plenty of bottled water when walking around the city, Vietnamese summer is quite hot, but no need for a big bottle cause you can buy it at every store in the streets. Bring your favorite drink if you love it.
Take off your shoes and hat before entering the host's house.
Bring a map of Vietnam or a detailed map of cities you travel to along with the hotel's business card by your side. It avoids going astray and easy to find ways to come back to your hotel.
Leave your valuable things such as cash, credit cards, airline tickets, hotel keys, mobile phones in a safe place.
Carry some tissues or toilet paper in your bag when you go out. It is useful and you never know when you need them.
Be careful when going across the road in Vietnam. You should better wait for the red light and walk on the crosswalk or you may use walk bridges.
Travel with a reliable tour company that prepares and offers you all things you need on your great trip.
DON'TS in Vietnam
Do not get your jewelry, money, and bag in an eye-catching and easy-to-crab situation. Robbery and pickpocket is quite popular in crowded places. Carefully put your value things (mobile phone, laptop, Ipad, wallet) in your sight.
Do not overly show your feeling to a lover in public. Vietnamese still maintains a discreet traditional Eastern culture. Kiss in public is not encouraged.
Do not touch someone's head and point at them by your finger or feet.
Do not sit or sleep with the sole of your feet opposite the altar in the Vietnamese house.
Do not take photographs or video cameras in remote villages. You need to ask their permission to do that.
Do not lose your temper in public or when bargaining because it will seriously make a loss of both side's face. The Vietnamese have a conception of "save face" in social relationships. Keep calm and talk you can solve all.
Do not give money to begging children in the ethnic minority village. You can help them by paying for their shoeshine, postcards or souvenirs.
Do not give sweets, candies, water bottles, pens to children in the ethnic minority village. You don't know if it causes dental or health problems for them. Gifts like books, notebooks, school bags, or even clothing should be given.