Known as the Pagoda of the Celestial Lady, Thien Mu Pagoda is probably the most famous pagoda in Hue with a long history. If Hanoi capital is well known for the amazing One Pillar Pagoda, then Hue ancient capital is famous for Thien Mu – as the oldest and most beautiful construction and a fascinating destination for Buddhist followers. Thien Mu Pagoda should be a good highlight in your Hue tours.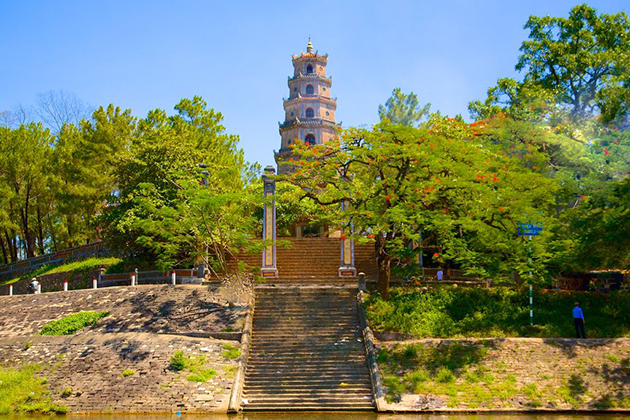 For a long time, Hue has become the home to historical relics, myriad long-established temples, and pagodas, unique traditions, and culture. A trip to explore the ancient Hue, especially Thien Mu Pagoda is almost like a journey back in time to enter the world of ancient Vietnamese. Do not hesitate to plan a trip to this relic packed with history to get a sense of the former imperial capital.
History of Thien Mu Pagoda
Constructed in 1601 by Nguyen Hoang, Thuan Hoa province's governor, Thien Mu Pagoda, also known as Linh Mu Pagoda, is considered the oldest pagoda in Hue experiencing a long history together with Vietnam's history. Nestled in an amazingly beautiful spot on Ha Khe Hill, looking over the stunning Perfume River, Thien Mu Pagoda is among the most wonderful religious destinations in Hue.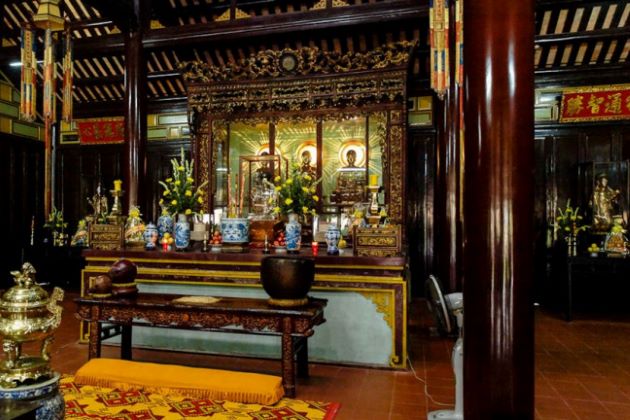 Legend of Thien Mu Pagoda
Almost all historical places in Vietnam have their own legendary story. Thien Mu Pagoda, with no exception, provokes both domestic and international visitors for its legendary story. First and foremost, the name of the pagoda owns distinct and historical meaning. Legend told that an old woman dressing red shirt and blue trousers who had her appearance on the hill told the locals that there would be a Lord visit the place to construct a Buddhist pagoda with a view to bringing about prosperity for the country. After her vanishing, Lord Nguyen Hoang heard of that and ordered the construction of the pagoda.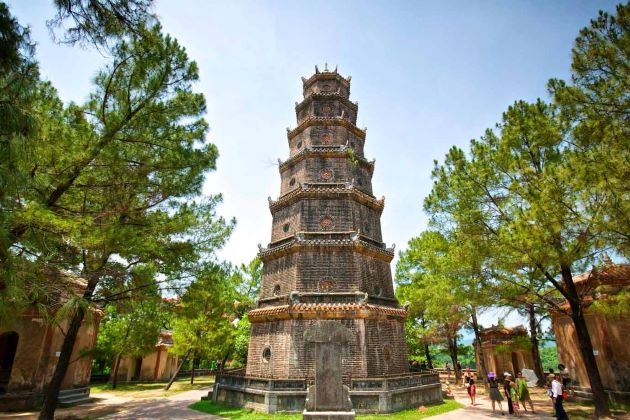 Highlights of Thien Mu Pagoda
The first thing that makes a deep impression on visitors, especially first-timers lies in its unique architecture. In 1844, Emperor Thieu Tri took responsibly for constructing Phuoc  Duyen tower. Characterized as a brick tower with a height of 21 meter and octagonal shape, the tower possesses seven stories that are devoted to different Buddha. It can be said that Thien Mu Pagoda along with the renowned Perfume River has helped to create the unique taste of the ancient imperial city. What's more, tourists can also catch a glimpse of a striking pavilion dating back from 1917 which is located on the marble turtle's back, symbolizing longevity.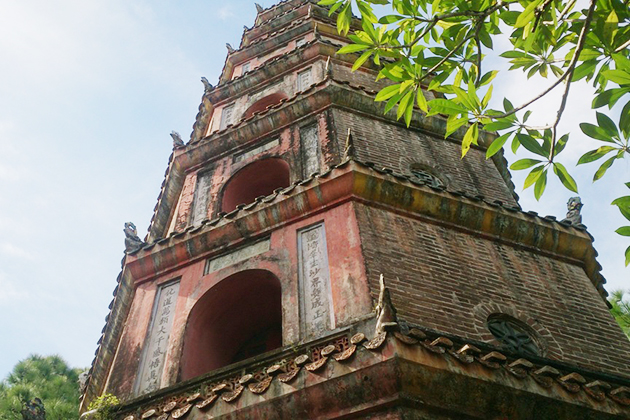 One of the most impressive structures of the pagoda is another pavilion owning six sides with a weight of 2052 kilograms that can be seen even from 10 kilometers far away. As the pagoda was dedicated to Buddha, in addition to three Buddhist guardians at the entrance, it is also the home to well-known statues including Di Lac Buddha – the Buddha of the future, A Di Da – the Buddha of the past and Thich Ca – the historical Buddha.
Best Thing to Do & See at Thien Mu Pagoda
There is a myriad of interesting and meaningful things to do in Thien Mu Pagoda. To the Vietnamese people, visiting pagoda on special occasions is mainly for praying and worshiping. Thus, when visiting Thien Mu Pagoda, you can take time to pray for blessings. Especially, by wandering around the pagoda to have a deeper insight into lust surrounding gardens or attending a meeting by monks reciting the Buddhist scriptures. Moreover, it is worth admiring the beauty of the Perfume River to feel the strong vitality of the potential development of the region and obtain ultimate experience.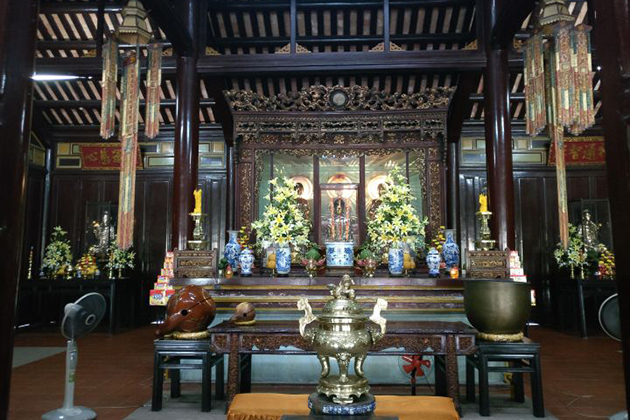 Thien Mu Pagoda is more and more splendid and it should never be missed in Vietnam local tour. If you include Hue Imperial City in your tour itinerary, reach Thien Mu pagoda and you will be immersed in the admiration of ancient beauty there.
Thien Mu Pagoda Entrance Fee – Opening Hours – Dresscode
Opening hour: 8 am to 5 pm
Entrance fee: Free
Dress code: Wear elegantly, avoid short and sexy clothes
You are not allowed to visit Thien Mu Pagoda unless you follow the wearing rules
Try not to make noise and respect the historic and cultural values in the pagoda