Compared to before 2016, the road to the peak of Fansipan takes 2 to 4 days to climb, since February 2016, the cable car system has officially opened in Fansipan, Sapa, Vietnam. The three-rope cable car system, invested by SunGroup, will carry passengers from the bottom to the highest point of the mountain in 15 – 20 minutes. Fansipan is really more fantastic to experience cable car to the peak. Therefore, the cable car tours attract a lot of tourists in Sapa trips, who wished to come to the roof of Indochina and the highest mountain of Vietnam – Fansipan mount with 3143 meters in height.
We understand that you may be worried about the ongoing outbreak of coronavirus in China. Bhutan, Myanmar, and Laos, in contrast, are still safe and sound from this global pandemic. Click here to see the reason why Coronavirus cannot reach these countries and what makes them stronger.
Fansipan Cable Car – Working Time
Time: 7:30am – 5:30pm
According to the time limitation within a day, it will be quite hard to be able to enjoy the dawn or sunset at the peak of Fansipan. However, visitors can choose the time for coming to the top in lunchtime because it has less fog and more vibrant sunshine at that time. You can take a lot of stunning photos from the peak with a great view.
Fansipan Cable Car – Ticket Price & How to Buy
Fansipan Cable Car Ticket Price
Adult and child (taller than 1.3 meters): US$ 33.00/person/ round way
Child: US$ 22.00/person/ round way
The ticket price for Fansipan cable car is VND 700,000 (about $33) per pax for two ways. With children, the price is VND 500,000 (about $22) per child for a round trip. However, this ticket price does not include the train to the peak of Fansipan or the train to Muong Hoa Mountain if you want. In fact, the way to Fansipan peak includes 2 ways: you need to buy a ticket for the cable car and another train ticket starting from the point which cable car stops at to the final peak of Fansipan mount. You also take notice that Fansipan cable car ticker is just valid within a day, so you should not buy the ticket in advance if you do not have a chance to use in a day.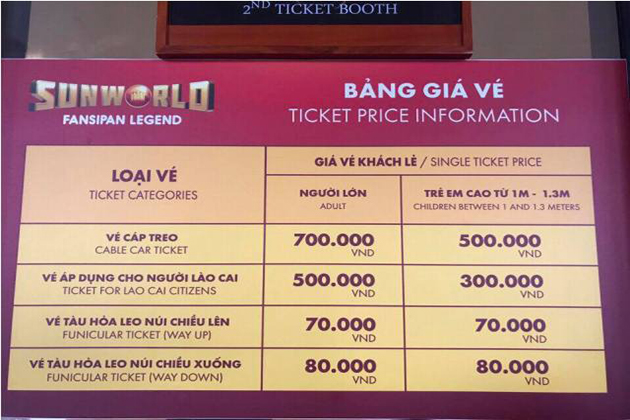 Where to Buy Fansipan Cable Car Ticket
You can buy a cable car ticket in various places. If you travel with a large group or you travel in rush time when Fansipan Sapa welcomes a lot of tourists, you should book in advance at the hotel you stay in Sapa, then, they can provide tickets for you. It is very convenient for you without the need of staying in the line for buying tickets. In contrast, you travel in small groups or visit Sapa in low season, you can go to Sun Plaza in the city center of Sapa town or Sapa station to buy ticket directly.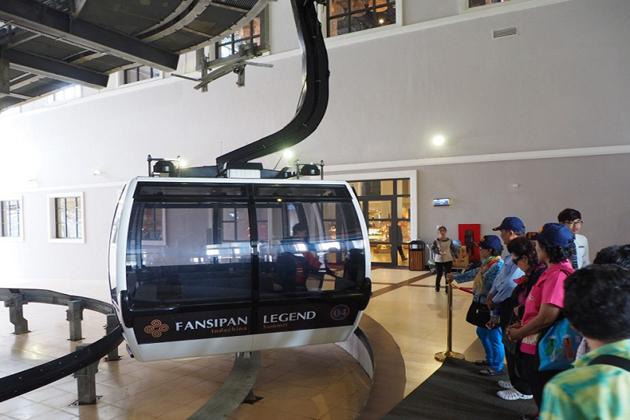 A bonus point of purchasing ticket directly is that you will be given a discount voucher for eating service at the restaurants of Fansipan Legend group. Moreover, the staffs will consult more clearly about how to buy a train ticket in a most economical and suitable way.
How to Get Fansipan Cable Car Station
From Sapa center, distance to Fansipan cable car station which is located in Fansipan Legend areas is about 3 kilometers. Therefore, it will be about 10 minutes for you to get there by taxi or about 30 minutes walking. You can walk from Sapa church on the Thac Bac road to intersection and then turn the left to Nguyen Chi Thanh street, after that going straight to Fansipan Legend.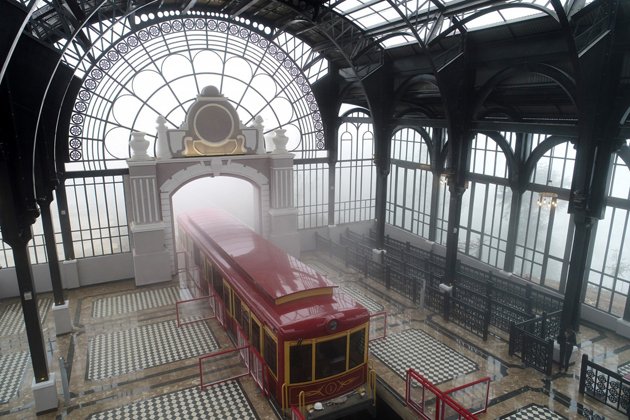 Besides, since March 2018, visitors can choose to get to Fansipan cable car station by train linking Sapa town to the cable car station.
Tips for Taking Fansipan Cable Car
Should not bring too many heavy personal items because the management board will not allow you to bring in the cabin
At the peak, it is so cold, you should wear warmest clothes to be able to withstand the weather there well. The temperature is just about 8 degree
You should definitely not smoke because this leads to forest fires
Bring snacks and water so that you will not be hungry while food at the peak is quite expensive
You should not take cable car if you have respiratory and heart problems because of a big difference in temperature and climate
Try not to move when the cabin operates
Should not carry toxic chemicals, explosive materials, and prohibited substances to the cable car