On Tuesday 29, many Cambodians converged on downtown's Wat Langka pagoda to attend Pchum Ben, a 15-day religious festival which annually celebrated on the 15th day of the tenth month in the Khmer calendar. This year, the festival has taken place in 28-30 September.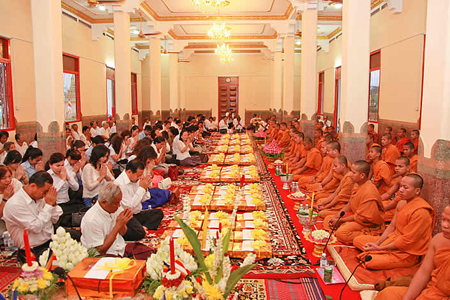 From dawn, all families brought food to the pagoda for the monks. They believe that food-offerings show the respect and gratitude of Cambodians to the monks, and also a way of merit-transference to the ancestors, grandparents. In the evening, the pagoda is packed with the monks chanting, artists performing traditional music as yike and lakhon basaca as well.
During the festival, Cambodians also spread the rice on the pagoda's yard so that ancestral spirits can eat. Inside, whole fish, platters of vegetables, and rice were displayed over the ground to the monks.
"They offer the food to the monks … and after they dedicate it to the souls," said Phnamn Chandara, the pagoda's senior monk.
Pchum Ben is a very sacred holiday to Cambodia, gives an opportunity for them to gather together, express their solidarity and work together.