Mekong Delta is such an ideal region for those who are keen on exploring the very best of people in this southern part of Vietnam. If you fancy getting the taste of this amazing place, a visit to one of the most outstanding pagodas in the Mekong Delta known as Vinh Trang Pagoda is amongst the most optimal choices.
An Overview of Vinh Trang Pagoda
Featured as a renowned long-established Buddhist temple in My Tho, Tien Giang Province, Vinh Trang Pagoda best reflects the soul of the Mekong River Delta as well as the southern part of Vietnam.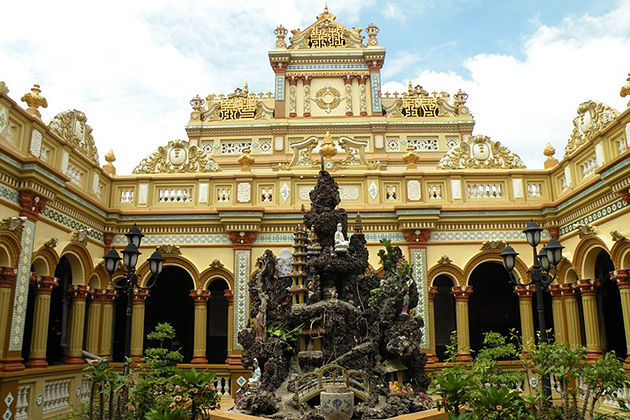 Exist for a long time with significant changes, Vinh Trang Pagoda is regarded as the hidden architectural gem of the region with a unique structural style. Constructed during the 19th century and totally completed in 1850 under the direction of Bui Con Dat who was the chief of the district and the monk Thich Tu Lam, the pagoda has experienced several changes and renovations. However, it today still remains its sacred spirit to be a popular place alluring a great number of domestic and foreign visitors annually.
Vinh Trang Pagoda Highlights
It cannot be denied that Vinh Trang Pagoda is the most wonderful pagoda belonging to Tien Giang Province. The pagoda first impresses visitors for its large-sized areas surrounded by green beautiful trees. The structure of the building bears a resemblance to Angkor architecture as it is the perfect combination of Vietnamese, Chinese, and Angkor structural styles, depicting the unique beauty coupled with purity and solemnity.
Being the home to five major buildings with 178 pillars, a visit to Vinh Trang Pagoda will help you gain an insight into the marvelous interior of the building. There is a collection of pictures portraying "eight angels riding on animals". Moreover, you will be overwhelmed by a number of Amitabha Holy Trinity statues with attractive designs and graves of Buddhist priests.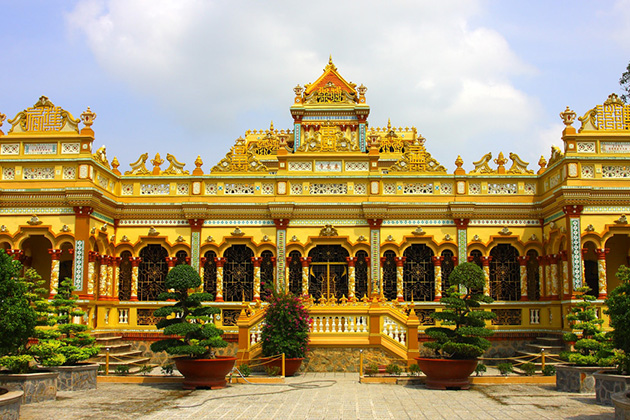 There are countless interesting things to see that Vinh Trang Pagoda offers. It is an ideal place to get a first-hand experience of multicolor Vietnam's religion, especially the representation of Buddhism in southern Vietnam. For those who fancy exploring the uniqueness of architecture in Vietnam, Vinh Trang Pagoda is an optimal choice as you can get the chance to admire the mixture of European and Asian architecture as well as a broad selection of 3 bronze statues, a set of valuable paintings demonstrating the sublime beauty of Vietnam's natural landscape.
Vinh Trang Pagoda Travel Tips
Vinh Trang Pagoda is more than just a normal religious pagoda. It is today one of the top tourist attractions of the Mekong River Delta. There is nothing quite like immersing in the splendid beauty of a brilliant patchwork of uninterrupted green rice fields tended by people in a conical hat along the National Highway.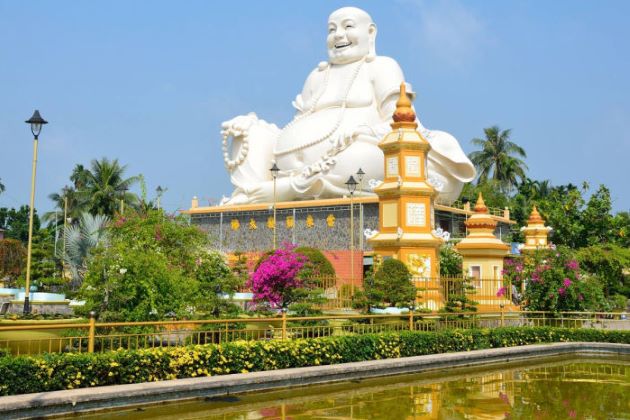 One more exciting thing to do is to participate in a wonderful boat trip along the river in order to capture all the sights, sounds, and tastes of the whole region. On that boat ride, you will have an opportunity to catch a glimpse of traditional stilt house of the locals, fruit orchards as well as renowned fishing villages. For sure, your time in Vinh Trang Pagoda is definitely an unforgettable experience.