Vietnam, a heroic country cloak of history, is gaining its never-ending popularity as one of the most attractive tourist destinations in the world. Immerse yourself in spectacular landscapes, diverse biodiversity, vibrant culture and stunning architecture to sense the strong vitality of this amazing country. Vietnam, for sure, enjoys millions of visits annually. For those who are planning a Vietnam trip, especially first-timers in Vietnam, here are top 10 things to do and see listed by Vietnam Local Tour that cannot be missed during your visit.
1. Trek around Sapa
Located in the far north of Vietnam, perhaps not everyone can resist the magnificence of Sapa which is the home to ethnic groups with unique cultural values. Surrounded by spectacular scenery, mysterious valleys, rice terraces and green hills, Sapa is such an ideal place for those who prefer to take adventurous experience.
Trek around Sapa and continue the journey to Topas Ecolodge to catch a glimpse of majestic mountain ranges. A bit further is the well-known Muong Hoa Valley where you can have a chance to marvel at incredibly spectacular rice terraces. A trekking in Sapa will definitely offer you an insight into local people's daily lives, thereby delving into their unique and beautiful culture. Thus, don't leave Vietnam without exploring the amazing Sapa.
2. Cruise in an Old Junk in Halong Bay
The charming and elegant Halong Bay is familiar with both domestic and overseas tourists. The scenic beauty of Halong Bay has made it one of the top tourist attractions in Vietnam. Be famous for thousands of limestone rearing up the emerald water, extraordinary karst islands and islets with refreshingly cool weather, a cruise along Halong Bay will help you capture all the sights, sounds and tastes of this marvelous land.
There is nothing quite like taking a boat trip to cruise through limestone karst islands and enjoying the impressive sceneries that Halong Bay Tour offers. Moreover, it is also a great idea to hang out a night on board or take up a tai chi session on the deck in the morning.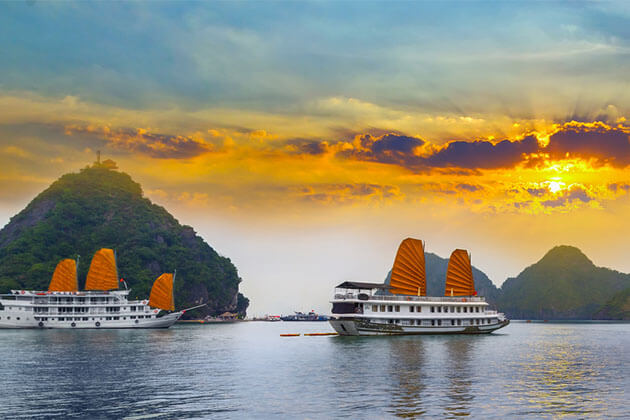 3. Indulge in Incredible Vietnamese food
Vietnamese food culture has never stop visitors' curiosity with unique taste and fragrant flavor. Among the best dishes in Vietnam, Vietnamese noodles, also called Pho is one of the best must-try dishes when paying a visit to this S-shaped land. Nowadays, Pho is becoming more and more popular all over the world enjoyed by a large group of people.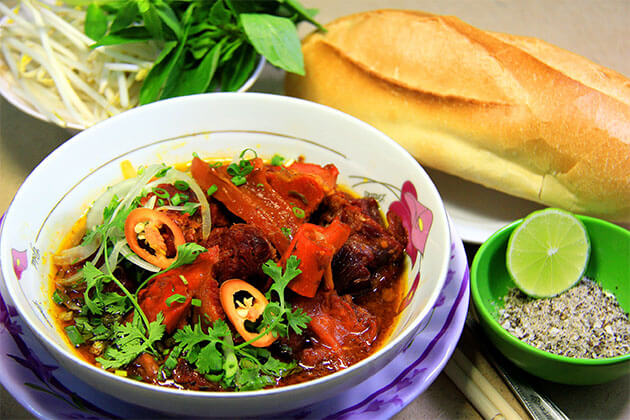 In Vietnam, Pho is often served as breakfast, generating energy for the whole day. For sure, no one can resist the awesome taste of this Vietnamese noodle with a perfect combination of savory broth, white rice noodles, meat such as chicken or beef and special Vietnamese vegetables including bean sprouts, coriander, and lettuce and so on. Moreover, such awesome and renowned dishes cannot be missed such as Vietnamese baguette and Hanoi spring rolls. Right now, don't forget to include these mouth-watering Vietnamese dishes in your food list.
4. Get Lost in Busy Streets in Big Cities
It is the fact that visitors to Vietnam are often overwhelmed by the hustling and bustling atmosphere of busy streets such as crowded and winding streets during the trip in Hanoi and Ho Chi Minh City. By wandering around old and small streets of Hanoi Old Quarter and Saigon streets, ones can get the taste of the whole city with a marvel at French architectural buildings, ancient colonial houses and even gleaming skyscrapers, the first-hand experience of Vietnamese street food and drink as well as a witness of people's daily activities.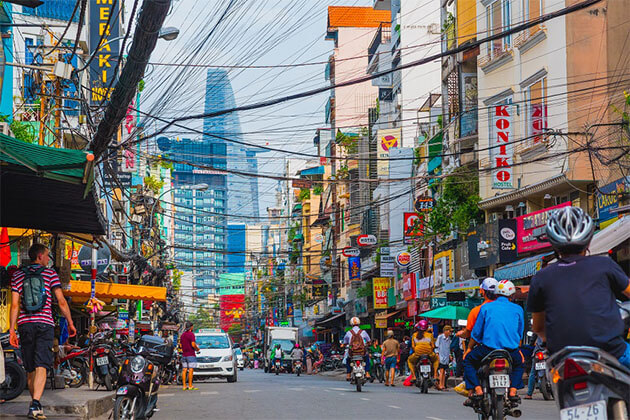 5. Adventure to Majestic Quang Binh's Caves
At the contemporary time, Quang Binh is becoming more and more popular as one of the best places for those who are looking for an adventurous experience. Quang Binh today has made its name for not only existing internationally well-known system of sites including Phong Nha- Ke Bang National Park but also majestic caves such as Son Doong, Hang En and Dark Cave. Don't hesitate to plan a journey to conquer these deep caves. You will have best experience and also gain an insight into the wonderful deep caves to get certain knowledge involving its formation.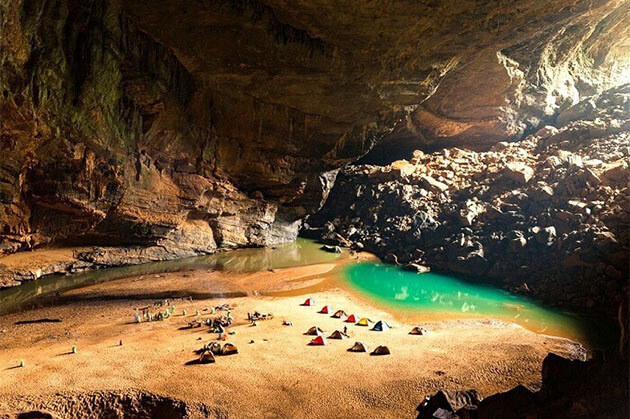 For more information about Quang Binh, view here.
6. Immerse in Hoi An Ancient Town Market
Represented as an ancient town down the Thu Bon River, Hoi An Ancient town has so much to offer. Visit Hoi An, do not forget to immerse yourself in Hoi An ancient town market. Stroll around narrow streets of the market, you can see a lot of essential products sold and bought by local people. Especially, Hoi An, with no doubt, is the best place to purchase silk items, ceramics and unique clothing. With Hoi An ancient town market, you can see more amazing things than you can imagine. For sure, your heart and mind would be certainly captivated.
See more about Hoi An Ancient Town, view here.
7. Drink snake wine
Vietnam is known as a country with adventurous eaters and drinkers. In addition to the rich Vietnamese food culture with a wide range of scrumptious dishes and refreshingly cool drinks, there is an amazing drink that appeals to foreign visitors because of its weird name, weird taste and scary feeling. Snake wine is that much strangest drink. A venomous snake is used to make snake wine. However, Vietnamese people get rid of poison thanks to an alcoholic drink known as ethanol. Besides its unique taste, snake wine also serves the function of maintaining virility and health. Therefore, it is popular in Vietnam.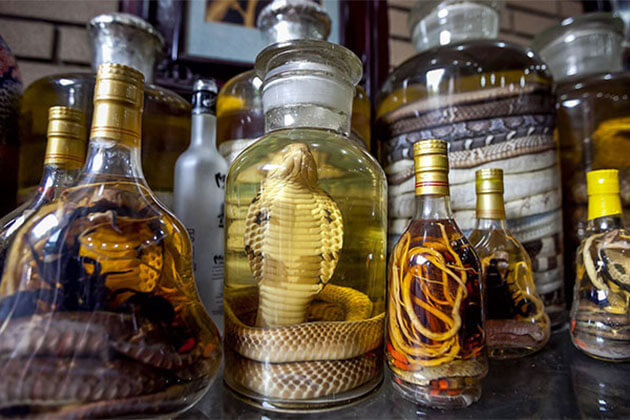 Discover more about the distinct Vietnam Culture here.
8. Get the taste of Hue's histo
ry
A trip to Hue is almost like a journey to the ancient time under the Nguyen Dynasty. Don't miss this place as you can gain a lot of valuable knowledge involving Vietnamese history and people. Located on the bank of Perfume River, Hue will offer you a lot of appealing things to do and see. Come to Hue, spend time exploring wonderful Imperial Citadel, Hue Museum of Antiquities, Emperors Tombs and the beautiful Thien Mu Pagoda. For sure, these of palaces, royal tombs, pagodas and temples of ancient and charming Hue will help you understand more about Hue's history and unique values of culture and architecture.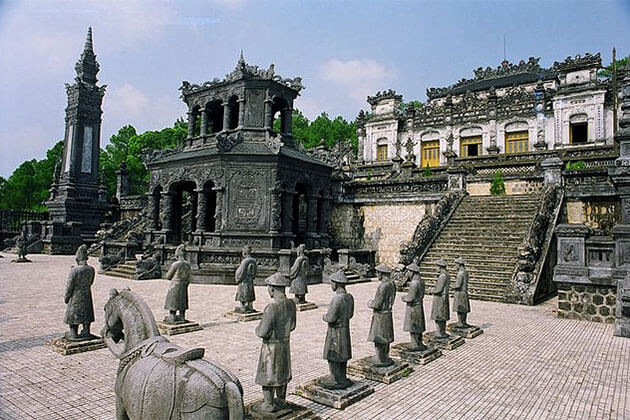 Want to see more about the enthralling Hue, view here!
9. Take a cruise in the Mekong Delta
There is nothing quite like taking a cruise in the Mekong Delta to experience amazing surroundings here including various rivers, canals and myriad vegetables, fruit and tropical orchards. Especially, your trip will become much more enjoyable and memorable when cruising in the Mekong Delta while enjoying a brilliant and lively patchwork of farmers in their conical hats planting rice in the fields and witnessing the busy atmosphere of floating markets.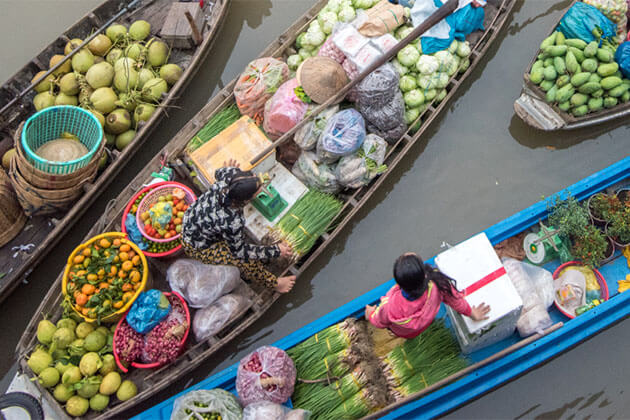 Explore more about the magnificent Mekong Delta via our suggested itineraries, view here.
10. Discover Cu Chi Tunnel
Welcome to a historical site of Vietnam – the underground Cu Chi tunnels. Cu Chi tunnels, during the wartime, were a safe place used by Viet Cong guerilla to hide away from the attackers. Until now, it still remains its long-lasting existence against the time. Cu Chi tunnel nowadays is one of the most attractive tourist destinations. Therefore, do not hesitate to explore this wonderful site. The best thing to do here is to crawl through some safe areas of the tunnels to have an insight into booby traps as well as war memorial parks.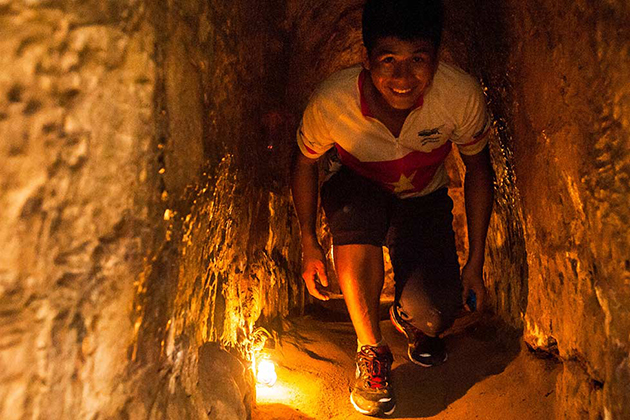 Visit some ideal tour in Cu Chi Tunnels here.