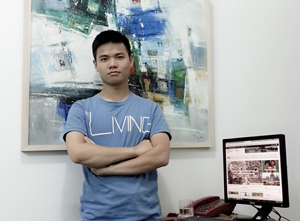 Stephen, Tuyen Nguyen (Mr.) 
Marketing Manager – Travel Blogger
Hi!
My name is Tuyen and you can call me Stephen for Short; I come from a lovely countryside located 20 km away from Hanoi center which is famous for its spectacular landscapes, magnificent pagodas as well as ancient villages. I am a very new member of Viet Vision Team from May, 2014 after graduated from Hanoi Open University. Since from the first days in university, I loved traveling so much and I spent a lot of time to study and improve my English as well as knowledge of tourism. My dream used to be a tour guide who will bring the profound knowledge of Vietnam's unique culture, rich history, and friendly people to introduce to the foreign friends over the world. This is really my big chance to become a member of Viet Vision Travel team where I can feel the most comfortable ever. People are very friendly and helpful; I have my opportunity to study and work with my best and travelling. My job now is social marketer, web content maker, and tour program designer. I always call "traveling through the screen". You can contact me directly by follow or subscribe us on Facebook, Twitter or G+ because I am always around there to bring the most interesting blog, articles, tour programs or traveling experiences from our team as well as our clients to you. I am looking forward to hear the feelings and comments about your travel experience with us.