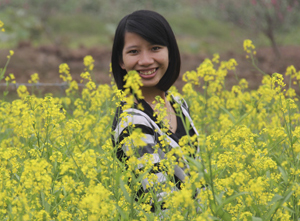 Thanh, Le Thuy Thanh (Ms.)
Accountant
Hi,
My name is Thanh and I am the new member of the Viet Vision Travel team. Many people thought I am a quite and cold people especially in the crowds. However, if you get to know more about me you will see that I am a happy and energetic girl.
I graduated from Bac Giang Colleges of Trading, Economy and Engineering where I grew up. Now I am working at Viet Vision Travel as an accountant. I love to work here as people are friendly, dynamic and professional, that help me a lot to be better and better. Contact us for your tour in Vietnam and find out how professional we are. I am sure you will have a memorable trip in Vietnam, Laos, Cambodia and Myanmar with us.