The Mekong Delta, also called "Nine Dragon River Delta" is located in the southwest of Vietnam including 12 provinces, annually experiences "floating season" which often occurs from July to September, according to lunar calendar of Vietnamese. As a likelihood, this event highlights the beginning of a unique tourism season.
Dong Thap and Long An are 2 provinces most affected by floodwater. Because the floating season came earlier, they have harvested many rice fields, then currently those massive fields are covered with sails and boats, serving the purpose of fish catching and movement.
Visit Mekong Delta in floating season will bring you the paradise of seafood such as "Linh" fish, snails, and crabs. It is about VND 60,000 per kilogram of linh fish in this event in comparison with VND 40,000 in the other high seasons.
It can be seen that there are a variety of specialties such as lotus stems, dien dien flowers and some sweets made from sugar palm trees. Cuisine in the Mekong Delta is unique not only by those specialties but also by the forms of cooking. For example, cook chicken and rice by heating them in steam with lotus leaves, roasting fish by straw, and mixing "sau dau" leaves and seasoned dried fish. It will be a good time for food lovers to enjoy tasting typical dishes of the Delta in this special season
An interesting thing is that as the arrival of the floodwaters, dien dien flowers and lotus stems are both plentiful, then it is the perfect time to make salads and hot pots.
The travelers can purchase dried lotus seeds which can be used to cook sweet soup with palm sugar, fresh lotus pods, stems and lotus seed milk in Tan Hung district of Long An province. One can buy about 20 lotus seed pods with just VND 25,000 equivalent to US$1.
Never forget to taste Banh Xeo – a mouthwatering streetfood of crispy pancake is available along streets in provinces of Mekong Delta. Therefore, local people usually collect those leaves helping them gain a relative source of income during the time. A "truly tasty banh xeo" can be served with more than 30 distinctive herbs and leaves and with fish as well.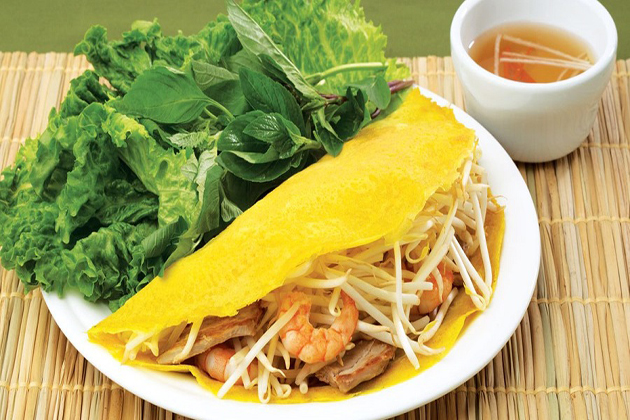 In general, "linh fish" which is used for grilling and hot pot is one of the southerners' favored one. The hot pot of this fish is unique by a cooking method with dien dien flowers – a specialty of the Delta, along with pineapples, green onion, and vegetables.