General Information
Tour Route: Hanoi – Mai Chau – Nghia Lo – Mu Cang Chai – Sapa – Fansipan Peak – Bac Ha – Ha Giang – Quan Ba – Yen Minh – Lung Cu – Dong Van – Ma Pi Leng Pass – Ba Be Lake
Duration: 11 Days/ 10 Nights
Date: No fixed departure dates. You may go whenever you wish.
Starts/ Ends: Hanoi/ Hanoi
Tour Type: Adventure & Experience
Tour Categories: Vietnam Adventure Holidays, Ha Giang Tours
Tour Customizable: Absolutely! (Tell us your specific requirements in the inquiry form)
Active level: Moderate Trekking and Walking
Brief Itinerary
Day 1: Hanoi – Mai Chau – Mai Hich
Day 2: Mai Hich – Xa Linh – Hang Kia – Moc Chau
Day 3: Moc Chau – Phu Yen – Nghia Lo
Day 4: Nghia Lo –Tu Le – Mu Cang Chai
Day 5: Mu Cang Chai – Than Uyen – Sapa – Cat Cat village
Day 6: Sapa – Tram Ton – Campsite
Day 7: Campsite – the top of Fansipan – Tram Ton – Sapa
Day 8: Sapa- Bac Ha visit – Ha Giang
Day 9: Ha Giang – Quan Ba – Yen Minh – Lung Cu – Dong Van
Day 10: Dong Van – Ma Pi Leng Pass – Meo Vac – Ba Be Lake
Day 11: Ba Be Lake – Hanoi
Full Itinerary
Northwest Vietnam Itinerary 7 Days
Day 1: Hanoi – Mai Chau – Mai Hich (L, D)
Pick up at hotel in Hanoi, we will drive to Mai Chau Valley which is in Hoa Binh province, 110 Km away from Hanoi. Along the way, we stop to visit the tea fields, the market Luong Son, ethnic villages with their houses on stilts. Arriving in the early afternoon at Mai Chau, we have lunch in a Thai family in the village of Ban Lac.
In the afternoon, visit Ban Lake and then transfer 8km drive from Ban Lac to Ban Cum. From Ban Cum, short trekking through villages inhabited by Thai and at the foot of the mountains. After two hours of easy walking, arrived in the village Mai Hich, endorsed on a great mountain and open cultivated valley of rice and vegetables. Check in a wooden stilt for your stay. Prepare dinner with the host and afterward having dinner with all members of the family with chatting. Overnight at a local homestay.
FYI: Homestay is equipped with mattresses, mosquito net, and hot water shower.
Day 2: Mai Hich – Xa Linh – Hang Kia – Moc Chau (B, L, D)
After breakfast, we start to get Hmong village of Xa Linh Rouge where you will hike in 3 hours to Hang Kia village in a valley populated by the Hmong. Then you cross the Moc Chau plateau that specializes in the cultivation of green tea dairy farming and bee honey. Have dinner at a restaurant and stay overnight at hotel.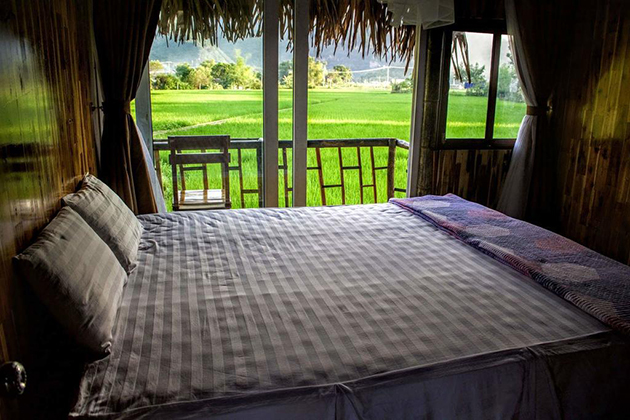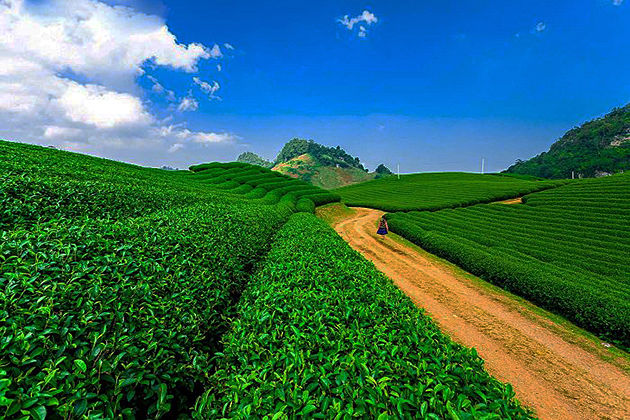 Day 3: Moc Chau – Phu Yen – Nghia Lo (B, L, D)
After breakfast, we will continue our trip to Phu Yen which is a charming little town inhabited by many ethnic villages goshawks. Then, keep driving to Nghia Lo, check in the hotel near the valley of Muong Lo. We will walk in the surrounding villages, mainly populated by black Thai to explore their environment and their daily lives. Return to the hotel in Nghia Lo for dinner and overnight.
Day 4: Nghia Lo – Tu Le – Mu Cang Chai (B, L, D)
After breakfast, we will depart for Nghia Lo to Mu Cang Chai, one of the most spectacular roads in Vietnam. Along the way, stop at Tu Le Village, home to H'mong people for a short walk in the rice fields. The car takes us to the beautiful follows Khau Pha Pass surrounded by peaks over 2000 m and overlooking a large rice field terraces and then switch the H'mong village of Nga Ba Khin. We continue the 7km road through beautiful landscapes to reach the Black H'mong village of La Pan Tan and driving more 20km before arriving Mu Cang Chai.
On arrival, we check in a Thai family. After lunch in the family, we will have a short trek to Kim Noi village. Back to the family late in the afternoon to enjoy a cooking class with the host. Have dinner and overnight at homestay.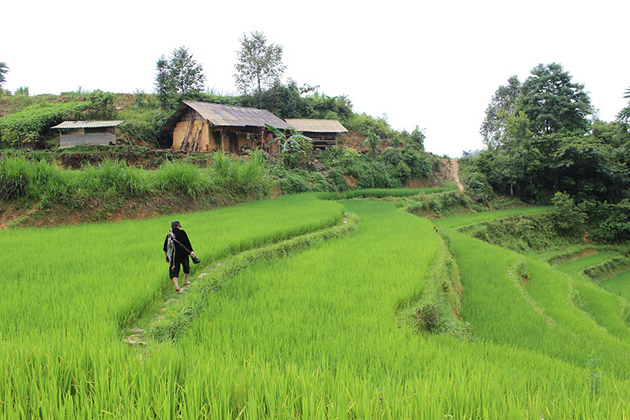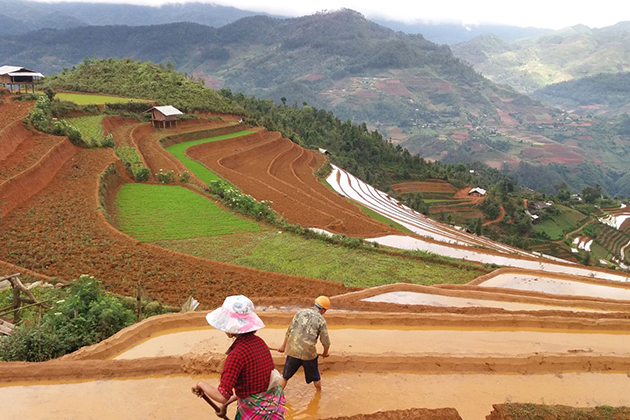 Day 5: Mu Cang Chai – Than Uyen – Sapa – Cat Cat Village (B, L)
After breakfast, drive to Sapa passing through beautiful tea fields in Than Uyen. Before arriving in Than Uyen, we can stop and visit a Thai Village with short hiking of 2 – 3 Km and get closer to the daily life of the locals. Lunch will be in a local restaurant in Than Uyen.
After lunch, we continue to Sapa road, we can touch the highest pass in Vietnam (2047m). Stop at the pass to see Mount Fanxipan (3143m) and conquer it by Fansipan Cable Car, the roof of Indochina. Arrive in Sapa, we stroll in the village of Cat Cat (01heure walk) which saw the Black H'mong ethnic minority. We will discover their original customs, traditional houses surrounded by rice terraces in which we will discover the manufacture of traditional indigo outfits.
Visit a hydroelectric center built by the French in the early 20th century and a waterfall. Stunning views to the Fansipan (3143m), named "Tonkinese Alps". This line includes the highest point in the country, whose sometimes snow covered and frequently hidden by the fog dominates Sapa. Back at the hotel in Sapa for check-in. Free dinner. Overnight at hotel in Sapa.
Day 6: Sapa – Tram Ton (B, L, D)
After breakfast, we are having a couple of interesting days waiting ahead. We travel by car toward the Silver Waterfall where we will be able to take a short walk to the waterfall. We will then drive further to Heaven Gate, the highest peak of roads in Vietnam. From there we can see Fansipan, the highest peak of Indochina mountains as well as enjoy stunning views. The trek will be relatively soft until lunchtime. After a couple of hours of hiking, we will have a break at a nice spot in the forest and enjoy a good lunch.
After lunch, we continue trekking to the campsite with many opportunities to enjoy the scenery and magnificent views of Sapa area and beautiful landscape of Lai Chau province. We will arrive at the campsite at 2800m ASL in the late afternoon. Now it is time to relax and enjoy a well-prepared dinner.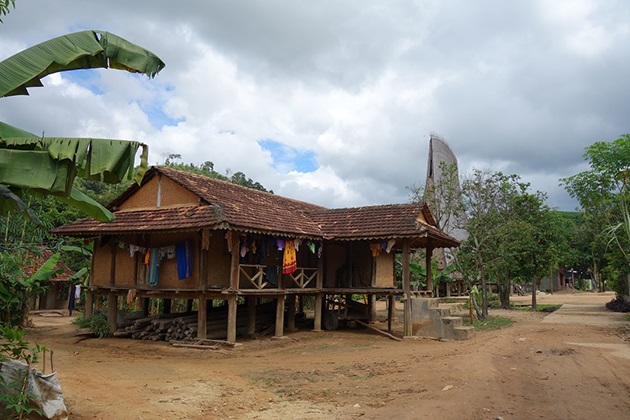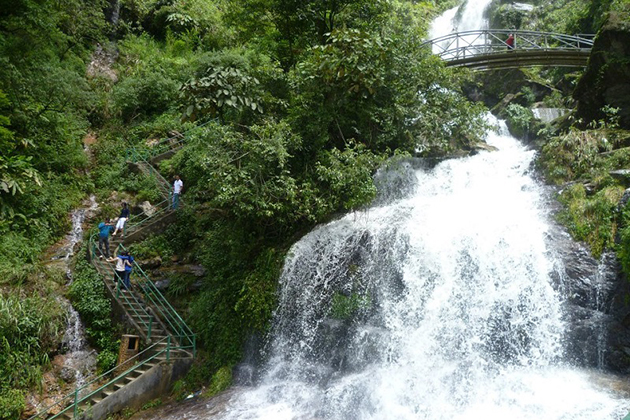 Day 7: Campsite – Fansipan Peak – Tram Ton – Sapa (B, L)
After breakfast, we climb to the top, where we can celebrate your victory. From there, we can enjoy the best view of beautiful sceneries. We will then trek through a rainforest to go back to the campsite for lunch.
After lunch, we start your journey back. We follow the trail as well as stone steps built by Hoang Lien National Park until we meet our car, which is there to take us back to Sapa. In the afternoon we will arrive back in Sapa, where we can celebrate your achievement and relax.
Northeast Vietnam 4 Days Itinerary
Day 8: Sapa – Bac Ha 
– 
Ha Giang (B, L)
It depends on the schedule; we will merge to add one ethnic fabulous market. Can Cau market is available on Saturday morning only and Bac Ha is available on Sunday morning.
After breakfast, we drive to Bac Ha town. The road is relatively flat from Lao Cai to Bao Nhai Bridge. After crossing the bridge, we begin our journey uphill offering beautiful views over the valleys. Visit Bac Ha or Can Cau market on the morning and in the afternoon, we will take a walk to Ban Pho, a small village of Nung and Flower Hmong. The villagers grow vegetables and fruit trees. One of the most famous fruits in the area is plum. Visit a local house and try some local alcohol which is called corn-alcohol. Then go back to hotel late in the afternoon.
Day 9: Ha Giang – Quan Ba – Yen Minh – Lung Cu – Dong Van (B, L)
After breakfast, we depart for Dong Van – the largest karst plateau of Vietnam. On the way we will visit Lung Cu flagpole and also enjoy the heaven gate Quan Ba for a panoramic view of the villages, we continue to climb the chain of limestone peaks. Several stops to visit Mong villages that have old mud houses, some built in a colonial style. Three times a month at night, all the houses around the market light lanterns.
Visit the ancient Vuong Chi Sinh residence (12 km from Dong Van), King of the Hmong on Dong Van trays – Meo Vac. It is a sumptuous palace with Chinese architecture in stone and wood of the Qing Dynasty. The "king" in question was the biggest region's opium trader in the early twentieth century. Arrive in Dong Van for Dinner and overnight at hotel.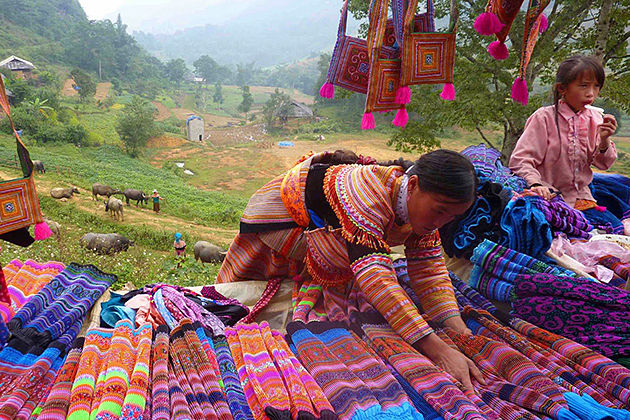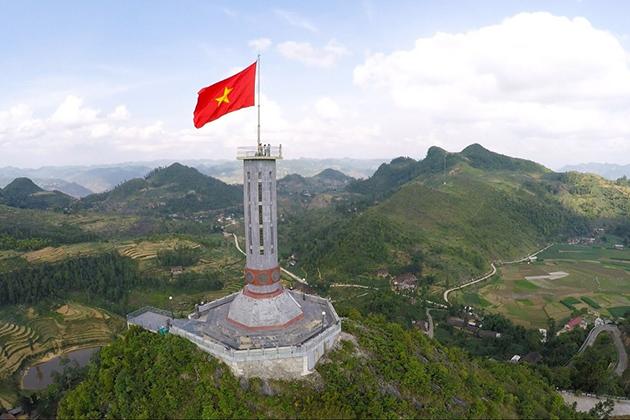 Day 10: Dong Van – Ma Pi Leng Pass – Meo Vac – Ba Be Lake (B, L)
If today falls on Sunday we will have a chance to visit Dong Van ethnic market, where all kinds of goods and multi-colored clothes can be purchased. The people here still retain their traditional life of remote minority tribes.
After hanging around the Sunday market we will drive from Dong Van along the Nho Que River and go through Ma Pi Leng pass which is considered as the most beautiful pass in Vietnam. We will arrive in Meo Vac after two hours later. Have a short rest before drives to Ba Be Lake. Tonight we will have dinner and enjoy beer time with nice river view and overnight at a homestay in Pac Ngoi village.
Day 11: Ba Be Lake – Hanoi (B, L)
This morning after breakfast and take rest for 30 minutes then we will take a boat trip on Ba Be Lake, the largest lake in Vietnam which has a water area around 500ha, spreading over 8km. We will visit Puong Cave – one of the most beautiful caves in Ba Be national park, and then take a boat to Dau Dang waterfall, while waiting for the lunch serves in Minority restaurant, we will take a short walk to visit this majestic waterfall. After lunch, we will take a boat back to Pac Ngoi village, take rest for few minutes then we will drive back to Hanoi (240 km), Arrive in Hanoi at noon time. Vietnam adventure tour itinerary 11 days ends.