General Information
Tour Route: Hanoi – Sapa – Fansipan – Halong Bay – Danang – Hue – Ho Chi Minh City (Saigon) – Nam Cat Tien National Park – Cu Chi Tunnels – Mekong Delta
Duration: 18 Days/ 17 Nights
Departure Date: Any time you wish
Start/ End: Hanoi/ Saigon
Tour Customizable: Definitely! (Tell us what you wish to do in the inquiry form)
Brief Itinerary
Day 1: Hanoi Arrival
Day 2: Hanoi City Tour – Night Train to Sapa
Day 3: Sapa Villages Tour
Day 4: Sapa – Fansipan Peak by cable car – Hanoi
Day 5: Hanoi – Halong Bay
Day 6: Halong Bay Discovery
Day 7: Halong Bay – Hanoi – Fly to Danang
Day 8: Hoi An Farming & Fishing Tour
Day 9: Hoi An Leisure
Day 10: Hoi An – Golden Bridge – Hue
Day 11: Hue City Tour
Day 12: Hue – Fly to Saigon
Day 13: Saigon – Nam Cat Tien National Park
Day 14: Nam Cat Tien National Park
Day 15: Nam Cat Tien National Park – Saigon
Day 16: Saigon City Tour & Cu Chi Tunnels
Day 17: Saigon Leisure
Day 18: Saigon Departure
Full Itinerary
Day 1: Hanoi Arrival (D)
Upon arrival, you will be picked up by a local tour guide and driver then we transfer to the hotel. Relax for the rest of the day. If you get to Hanoi in the middle of the day, "Pho" in a locally famous restaurant will be offered without any charge. Overnight in Hanoi.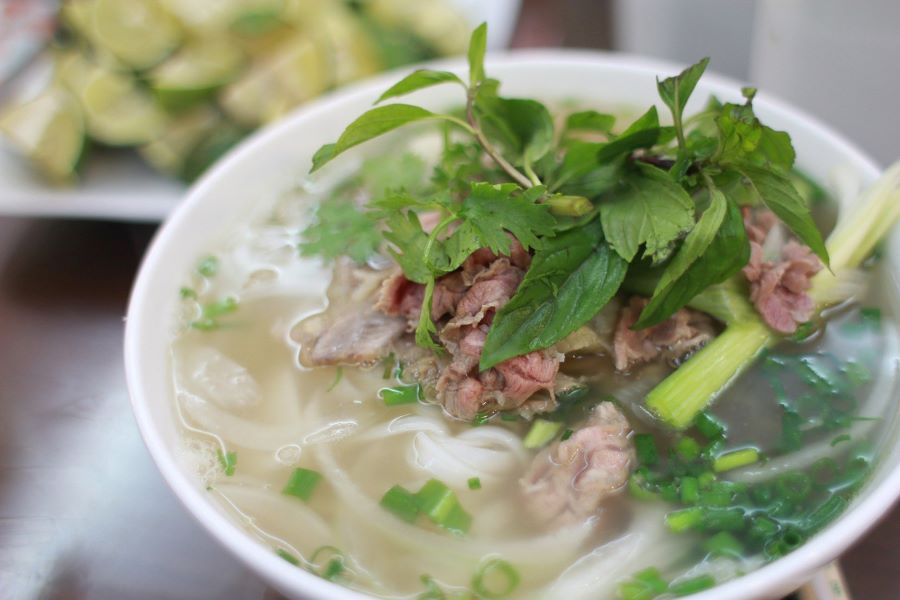 Day 2: Hanoi Cooking Class – Half-day City Tour – Night Train to Sapa (B, L)
After breakfast, our local guide & the driver will pick up you at the hotel and transfer you to the cooking class course at Ngoc Thuy – only 15 minutes drive from your hotel but the local lives are much different from the Hanoi capital. It is not only a normal cooking class, but it will also be an interaction of culture since:
Cooking with local housewives
Menu with authentic dishes of Hanoi and changed seasonally
Market visiting in Ngoc Thuy – a wet suburban market which is still original where the vendors are also farmers and are so friendly with warm smiles to travelers.
Local interaction with some farmers who live and work in their fields next to the Red River bank.
Classes are organized in a wooden antique house with unique architecture.
Convenient location, only 15 minutes driving from the Old Quarters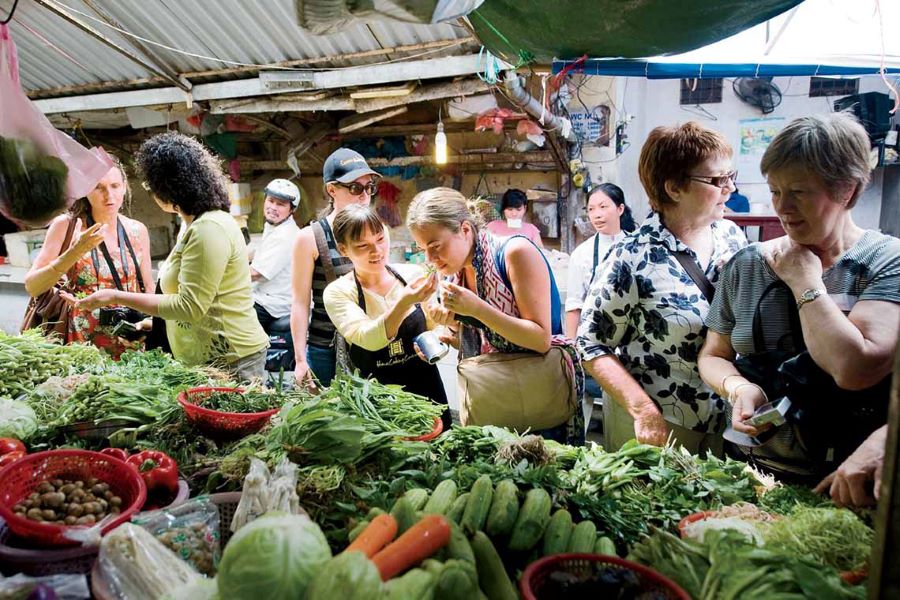 9:00 AM: Meeting guests at Ngoc Thuy market – a vibrant and authentic local wet market. Introduction of shopping habits of Vietnamese people and briefing about the schedule of the cooking class.
9:15 AM: Start visiting the shopping area of alive chicken; fish and buy all ingredients for the cooking class menu. Guests are free to taste some local breakfast (Banh Cuon, Pho Bo, and Fruits).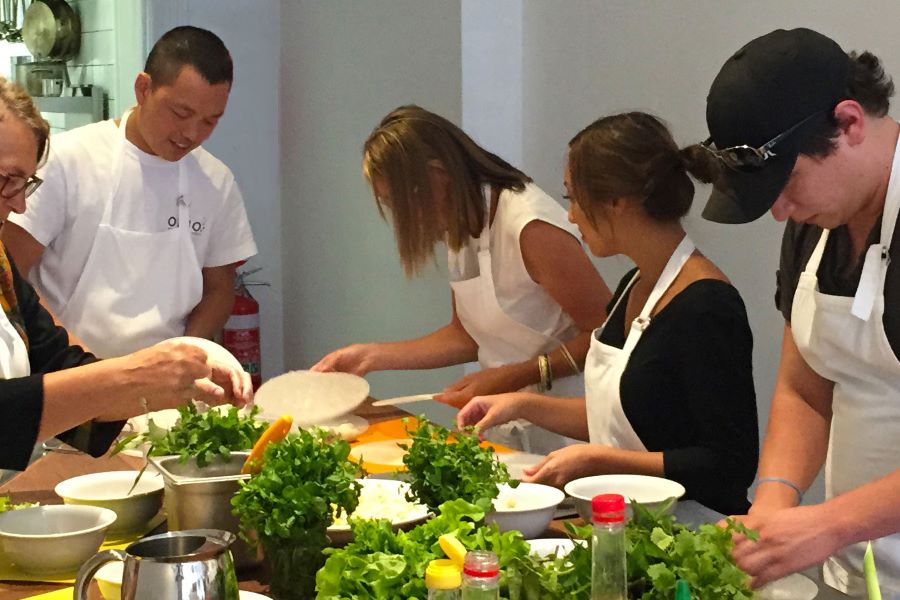 10:15 AM: Option of visiting some relics of the village: Temples of Hero Ly Thuong Kiet; a Buddhism pagoda and temple of Vietnamese traditional belief for Natural mothers "or visiting and learning about the herbs, and vegetables in a family garden nearby
10:30- 12:30 AM: Start cooking 4 main dishes of a traditional meal
12:30 – 13:30 AM: Lunchtime with chef and/or with homestay owner.
Return to Hanoi Old Quarter for sightseeing – can't ignore staying in Hanoi including the Ho Chi Minh complex where we will spend time at Ho Chi Minh's mausoleum, his former stilt-house, the Presidential Palace, the Ho Chi Minh Museum and One Pillar Pagoda. Next, take a visit to the Temple of Literature, which was originally built as the first university of Vietnam and also a temple to Confucius.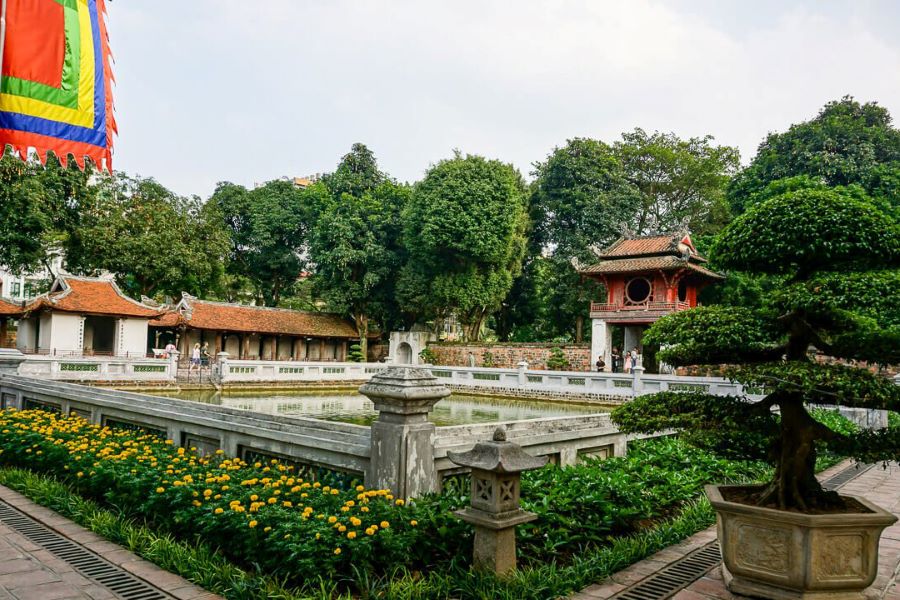 Then, we visit the Museum of Ethnology, widely acknowledged as the best place in the country. It's an extensive display dedicated to Vietnam's 54 Ethnic minorities. Have dinner with Bun Cha (on your own account) before transferring to the train station to take a night train to Sapa. Overnight on the night train.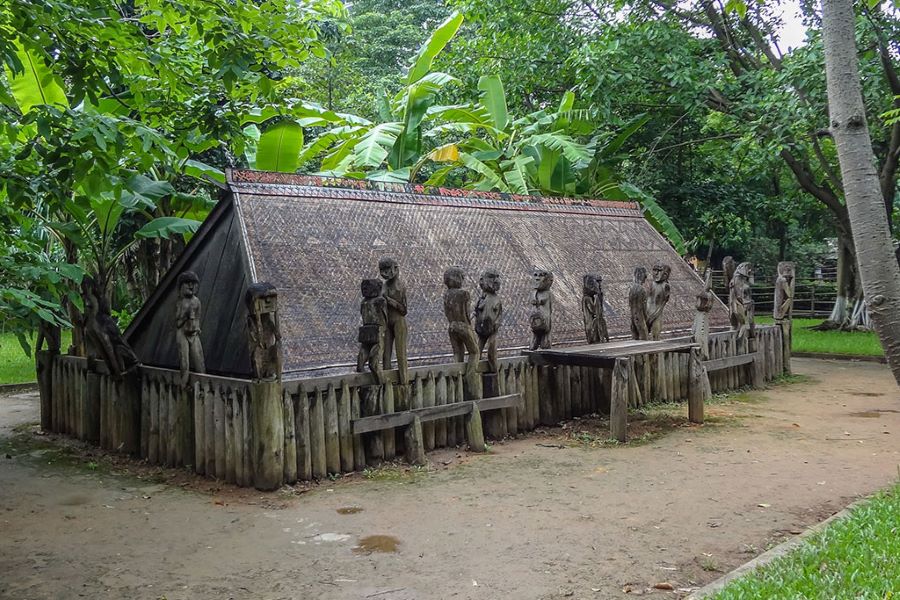 Day 3: Sapa Villages with Green Rice Terraces (B, L)
Upon arrival, our guide and driver will pick you up at the train station and transfer you to Sapa town. After taking short rest and having breakfast, we embark on a beautiful hike through the stunning scenery of Sapa valley. Start by road descending in the wake of the street Cau May (6 km) en route, and indulge in the rice terraces hidden behind the mist of the morning, a truly awe-inspiring sight.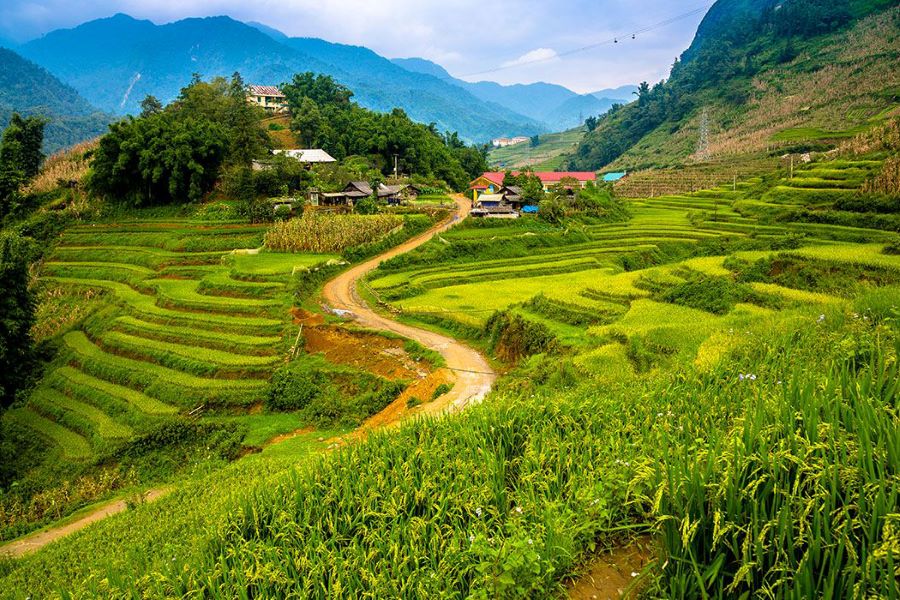 Follow a small track and cross Muong Hoa River, then pass well-tended rice terraces on your way to Lao Chai village, which is home to the Black Hmong people. Continuing through the colorful rice terraces you will reach the village of Ta Van Giay. When trekking along the Muong Hoa River you will cross a small suspension bridge, roughly 2km from the settlement. Here you can discover a fascinating collection of rock carvings. These engravings depict some beautiful images of people, stilt houses, and some gorgeous decorative patterns. Savor lunch in a local home in the village.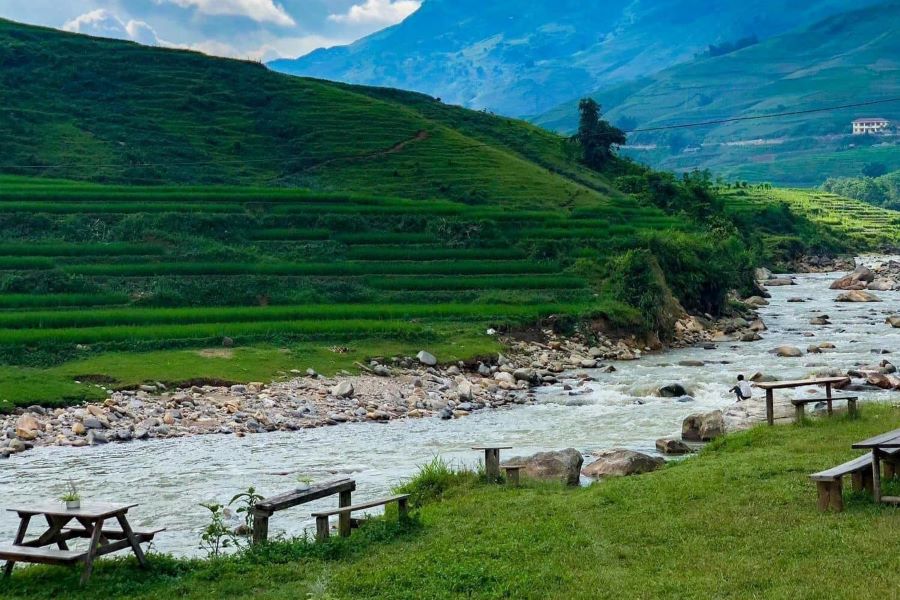 After lunch, spend time strolling around a bamboo forest, then get to Giang Ta Chai, a Red Dao ethnic minority village. Take a rest nearby a waterfall to refresh before starting climbing uphill to a road where the car is ready for your transfer back to Sapa.
Approx: 1-hour drive/ 4-hour walking/ 1-hour lunch
Day 4: Sapa – Fansipan Peak by Cable Car – Limousine Van back to Hanoi (B, L)
After breakfast at the hotel, we take a 4-minute Mountain Train through valleys, viaducts, and tunnels offering beautiful views of surrounding villages as well as nature. Reaching the Cable Car station, we get off the train and enjoy another 20-minute cable car ride up to the top. It normally takes at least two or three days to reach the Peak of Fansipan on foot. However, with the newly three-rope cable car system, we can see the peak and spectacular surroundings from the peak within half a day.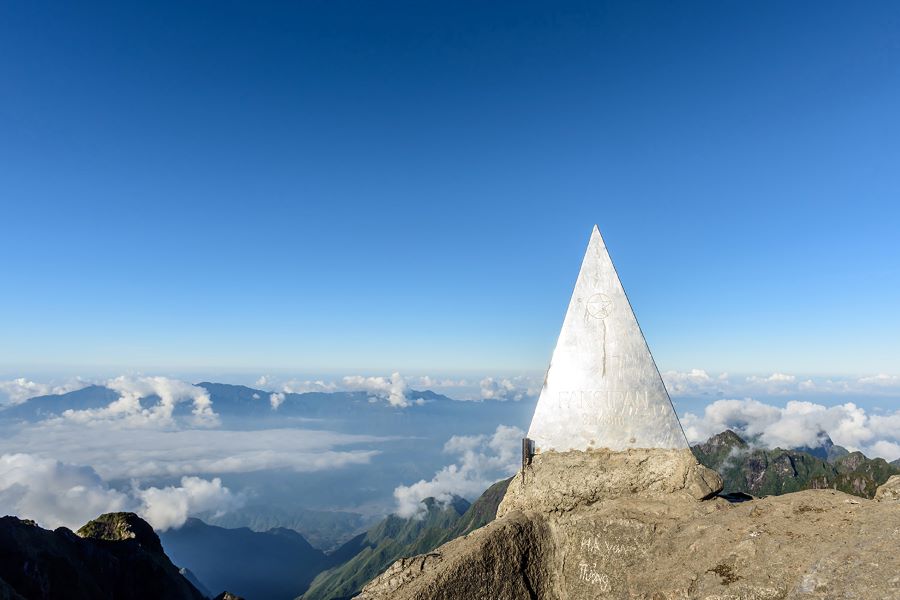 After a 20-minute ride, we start challenging you with 636 high steps up to Fansipan Summit – which is considered 'The Roof of Indochina' with a 3,143-meter height. Enjoy the spectacular scenery of Hoang Lien Mountain and lush forest, we walk down to the cable car station and ride back. Take the Mountain Train back to town and have lunch in a restaurant.
Get back hotel for leisure until mid-afternoon we are picked up by limousine van to return to Hanoi. Arrive in Hanoi around 21h00, check-in at hotel for overnight.
Day 5: Hanoi – Halong Bay (B, L, D)
Pick up at the hotel in Hanoi, we transfer to Halong Bay then to Cai Hai Port. On arrival, we get on our boat and enjoy a welcome drink. A scrumptious lunch is already served while cruising into the primitive Lan Ha Bay. Experience kayaking through the poetically beautiful Tra Bau area then enjoys swimming in the emerald water. After that, we visit a fish farm and socialize with the resident fishermen to learn more about local life and how the people work every day.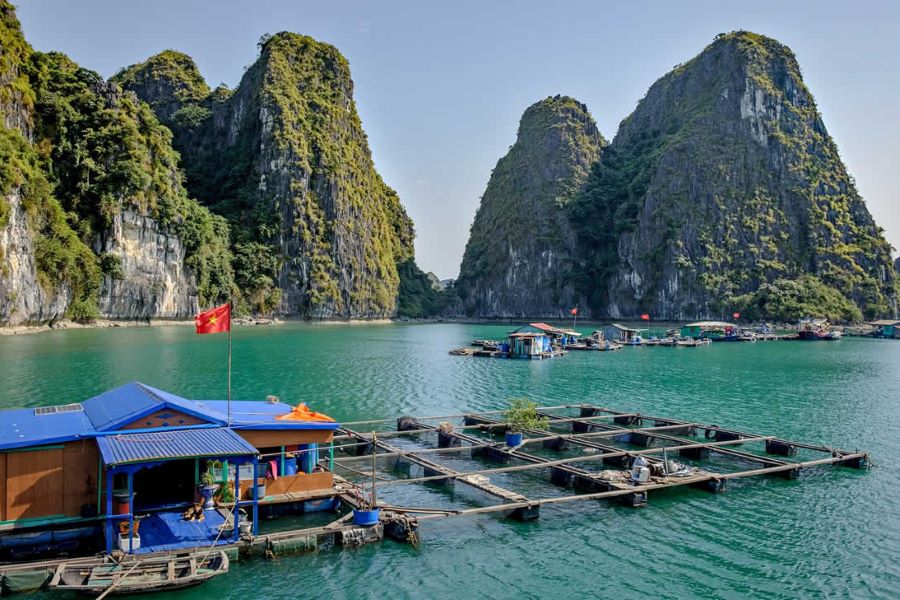 Return to the cruise and enjoy "Happy Hour" drink time while taking part in the cooking demonstration. Delight in the shimmering atmosphere of thousands of stars while eating a fantastic, expertly prepared dinner on the top deck of your boat, all while floating in the center of the serene Lan Ha Bay. Enjoy dinner with fresh seafood on the boat and stay overnight at the Bay.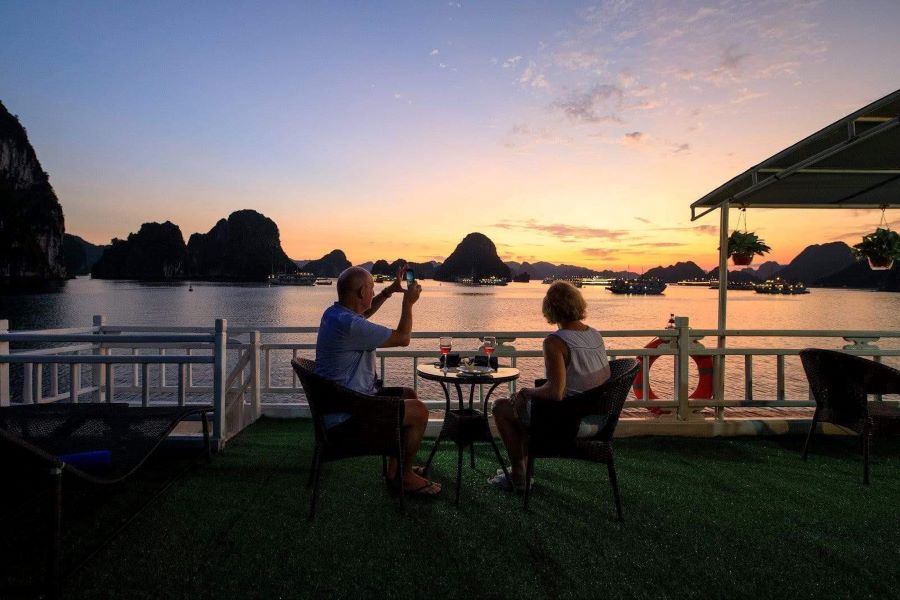 Day 6: Halong Bay (B, L, D)
Today, let a Tai Chi session or a photo hunt brighten your day. We then enjoy breakfast in the restaurant. We then transfer to a day boat for a cruise to explore Lan Ha Bay. Joining a trekking and cycling tour to Viet Hai village before returning to cruise for lunch.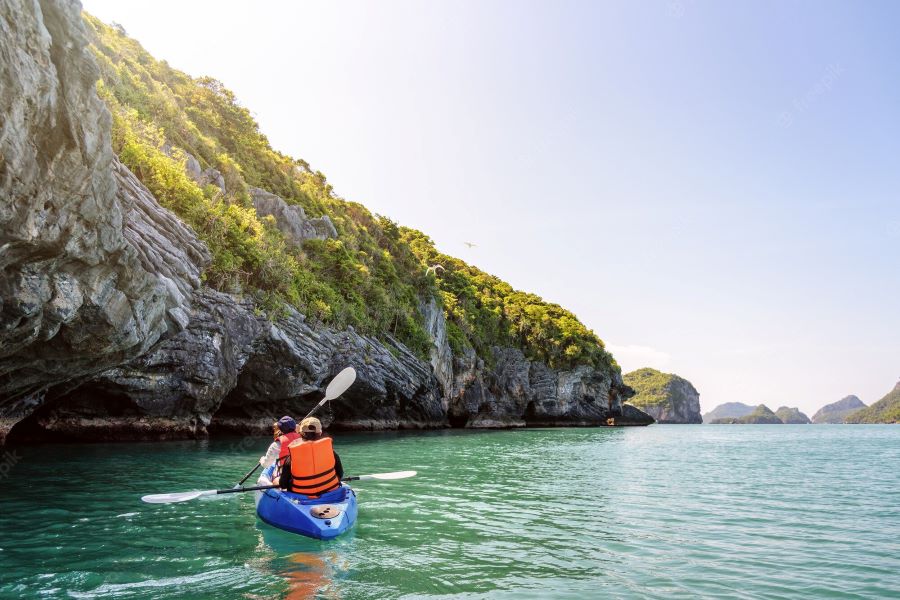 In the afternoon, we will swim and kayak in Ba Ham Lake, wild lagoons on the bay and enjoy dinner on the top deck, squid fishing, or just lazing around. Back to the main back in the late afternoon, freshen up, and sit down for dinner. We spend the second night on the boat.
Day 7: Halong – Hanoi – Fly to Danang  (B, L)
After breakfast at the restaurant, on a bamboo boat, we will explore Bright Cave and a serene round lake surrounded by rich forest and precipitous stone cliffs before coming back. After that, you return to the cruise to pack your luggage and check out of your cabin while cruising towards the port. Enjoy an extraordinary buffet lunch before getting back to the mainland and get on our bus back to Hanoi.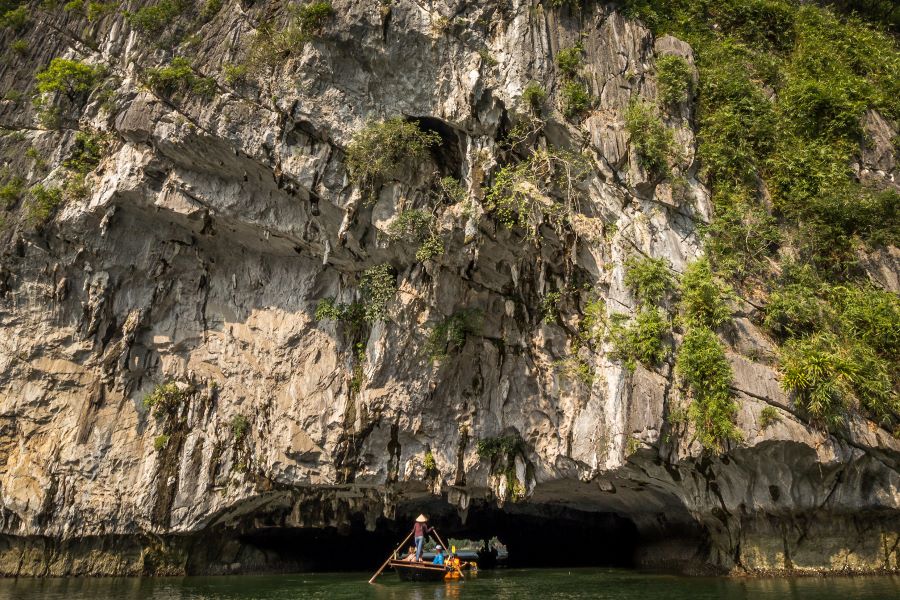 Drop off at the hotel. You are leisurely until pick up & transfer to the airport for a 1.15-hour flight to Danang and then transfer to Hoi An Ancient Town. Arrive in Hoi An, our local guide and driver will pick you up & transfer you to the hotel in Hoi An.
Day 8: Hoi An – Farming & Fishing Tour – Walking Tour (B, L)
This morning, we will cycle to a local farming village to join the daily work life of local farmers – hoeing and a soil, watering veggies at an organic herb garden, riding water buffalo in the field, and enjoying the fresh air and the beauty of the countryside. Later on, board the Hoi An Eco-tour boat and cruise straight to the mouth of the river where it meets the Cua Dai Sea.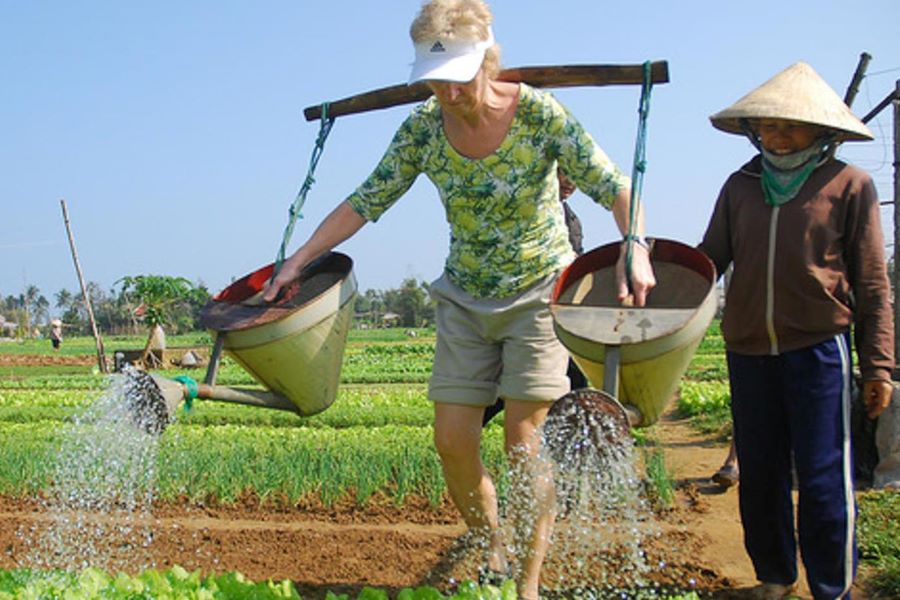 We also learn and try our hand at local traditional fishing techniques using round and cast nets, and learn to paddle the strange and unique Vietnamese bamboo basket boats. Explore the now tranquil coconut palm-flanked waterways of a past war and hear of the extreme conditions endured by soldiers on both sides. Catch the beautiful purple crabs on a bamboo basket boat. Then, visit a local water coconut palm village, and walk around the village. After that, have some tea and snack with local talks…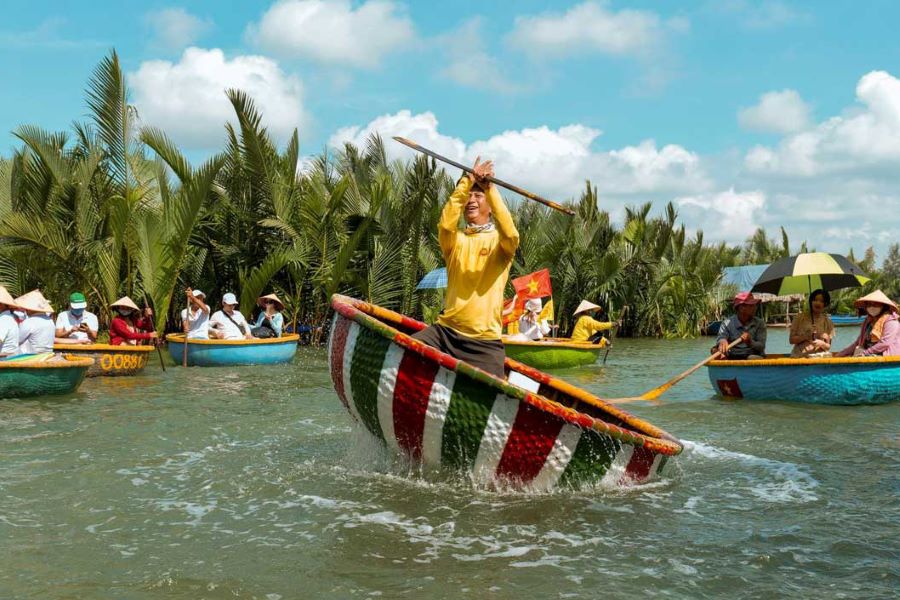 Back on board our Hoi An Eco-tour boat, enjoy our lunch and a cold beer or soft drink on the boat, then back to the resort. In the afternoon, met up with a local tour guide in the morning when we walk down to downtown for our walking tour. Stroll around the ancient town to visit the Japanese Covered Bridge, the Pottery Museum, Tan Ky old house, the Cantonese congregation, the Hoi An silk street, the temples, and pagodas of Chinese appearance. Overnight at a hotel in Hoi An.
Day 9: Hoi An Leisure (B)
Today is free for shopping, strolling in the town, and lazing on the beach, or whatever takes your fancy. We'll spend the night in Hoi An.
Day 10: Hoi An – Golden Bridge – Hue (B, L)
After breakfast at the hotel, we drive to Sun World Ba Na Hills and have a full day entertain in Ba Na Hills. We first take the cable car up to the mountains, and enjoy the specular Truong Son Mountains and most especially, the Golden Bridge – the new symbol of Danang thanks to its unique design and magical settings.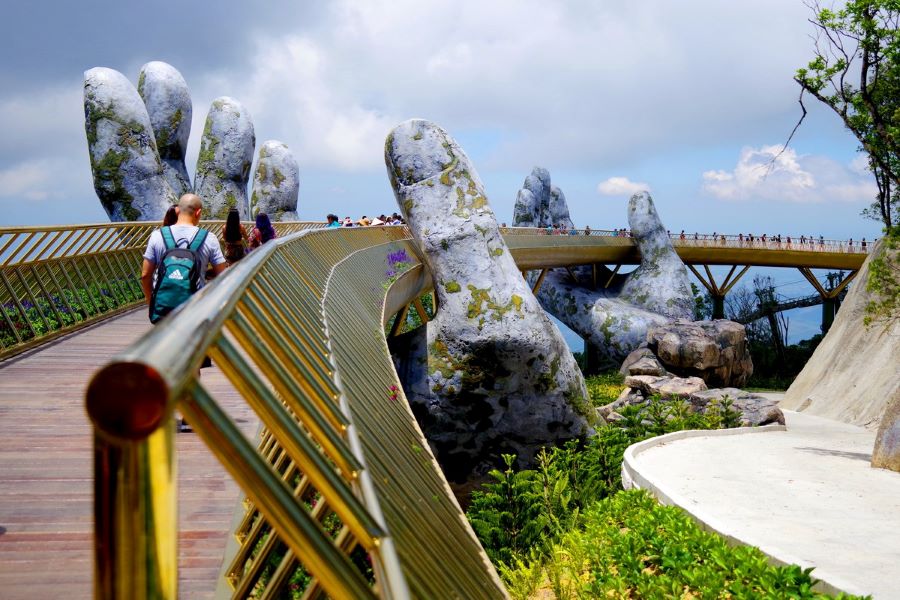 Free time to wander through the Le Jardin Garden with hundred kinds of flowers or admire the architecture buildings in French village. A buffet lunch is included. In the afternoon, we take the cable car down and transfer to Hue. Check in at your hotel and spend the night in Hue.
Day 11: Hue City Tour (B, L)
Picked up at the hotel in the morning and we will board the Dragon Boat on the romantic Perfume River (Huong River) heading out for the countryside. Be an ancient capital, Hue is surrounded by ancient tombs of emperors. Take a visit to the most beautiful tombs on the itinerary for today. The charming Lady Pagoda (Thien Mu Pagoda) will be the first stop today. We will enjoy an alluring view of the Perfume River and its surroundings. Actually, Thien Mu Pagoda is considered the symbol of Hue, and also the symbol of Buddhism in Vietnam. From here, we rejoin our van and go visit King Khai Dinh's Tomb and King Tu Duc's Tomb.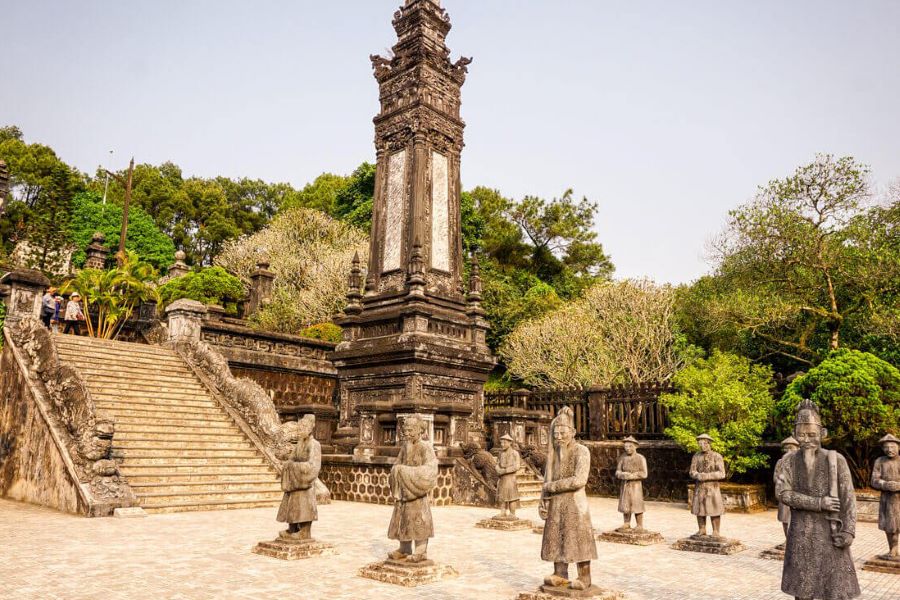 After lunch, we transfer to the Imperial Citadel where the Nguyen Dynasty ruled between 1802 and 1945, then explore the ruins of this wonderful monument. Next, we depart to the Hue Royal Fine Art Museum, which is housed within the former Dien Long An Royal Palace. We will finish our day with the local Dong Ba Market to see the daily life of local people. Overnight in Hue.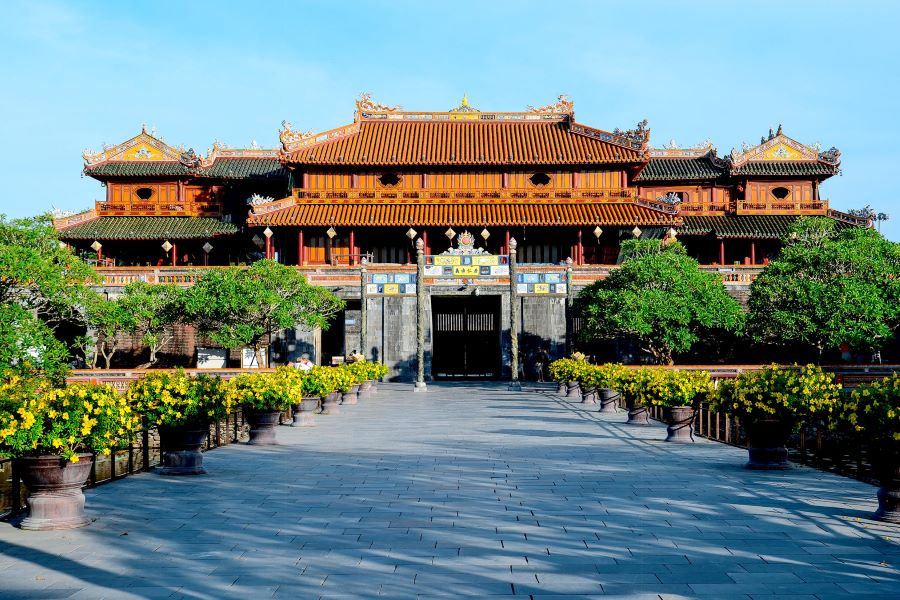 Day 12: Hue – Fly to Ho Chi Minh City (B)
After breakfast, we will be free until your driver arrives to take you to the airport for a 1.15-hour flight to Ho Chi Minh City. On arrival at Tan Son Nhat airport in Ho Chi Minh City, we will be greeted and driven to our hotel in the city center. After check-in, we will be free to wander around the hustle and bustle city and spend the night in Ho Chi Minh City.
Day 13: Ho Chi Minh – Nam Cat Tien National Park (B, L, D)
Pick up at the hotel at 08.00 AM, we will be driven to Nam Cat Tien National Park, 170km from Ho Chi Minh City in Dong Nai Province. Transfer on the road passing through large areas of rubber plantations before branching off to the national park. Check in right after arriving and have a short break, ready for the incredible diversity of birds and mammals living in the forest and wetland habitats of Cat Tien.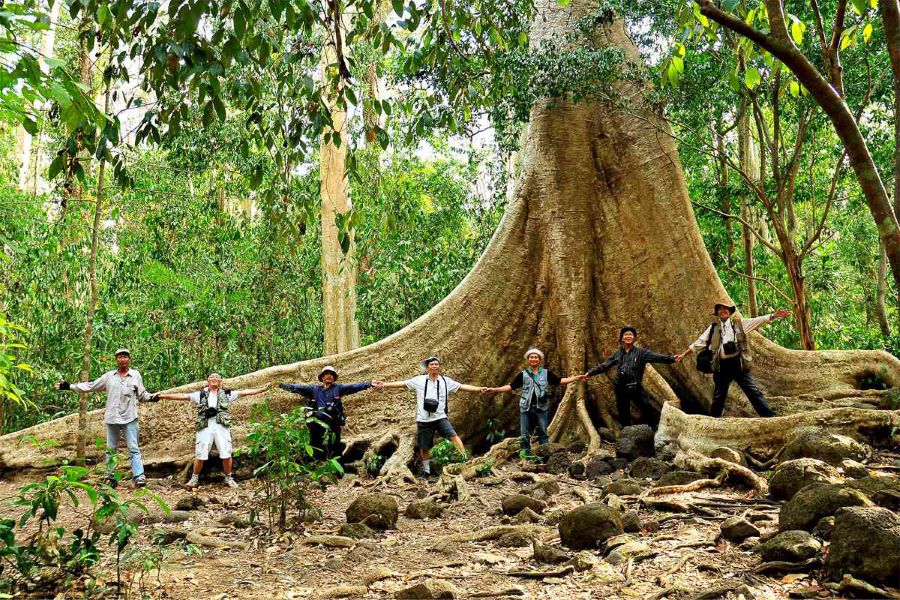 Cat Tien National Park consists of an estimated 230 species of birds. In this park, you can find some endangered birds such as Germains Peacock-Pheasant, Green Peafowl, and the elusive Orange-necked Partridge. You can also find some wild mammals including wild boar, Samba Deer, the rare Black-shanked Duoc Langur, Yellow-cheeked, and Crested Gibbon. The afternoon is free for bird watching along the road or trails. Overnight in a guesthouse in the park.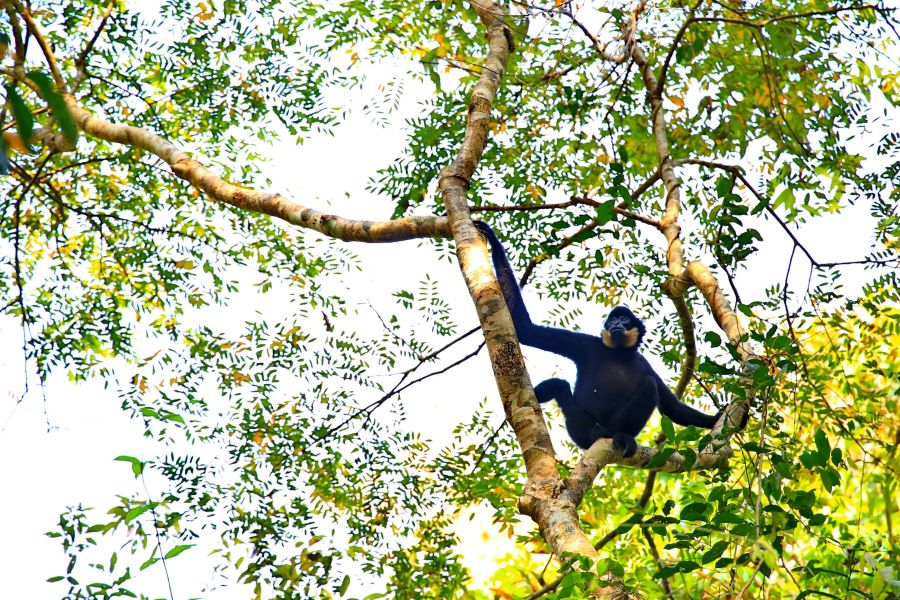 Day 14: Nam Cat Tien National Park (B, L, D)
The highlight of today is birding along the road and the forest trails of Cat Tien. You can hire a jeep at the park headquarters to visit areas further afield as Bird Lake to witness waders or Crocodile Lake where you can see Green Peafowl, Lesser Adjutant, and Purple Heron. During the walk through the forest to Crocodile Lake look out for Bar-bellied and Blue-rumped Pitta, Red, Black Banded Broadbill, and Orange-breasted Trogon amongst others. Overnight in Cat Tien.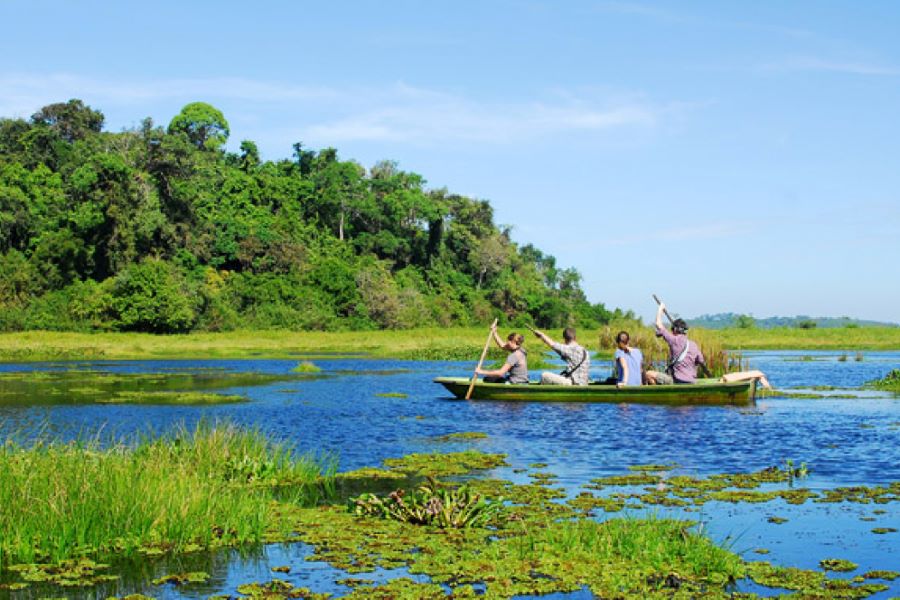 Day 15: Nam Cat Tien National Park – Back to Ho Chi Minh (B, L, D)
A final morning in Nam Cat Tien National Park is birding along the trails or the headquarters where you can see Green-eared, Blue-eared, Lineated, and Red-vented Barbets if lucky. Check out of the park guesthouse and meet up with the driver before transferring back to Ho Chi Minh city and have the rest of the day free at leisure. Overnight at a hotel in Ho Chi Minh City.
Day 16: Ho Chi Minh – Cu Chi Tunnels & City Tour (B, L)
The highlight of the day in Ho Chi Minh City (Saigon), the largest city in Vietnam. The one-day tour today covers almost the attractions in Saigon. Understanding more about history in the War Remnants Museum and the Reunification Palace, admire French-colonial architecture at the General Post Office, Opera House, and Notre Dame Cathedral, and delve into the longest tunnels built by Vietnamese people during the war.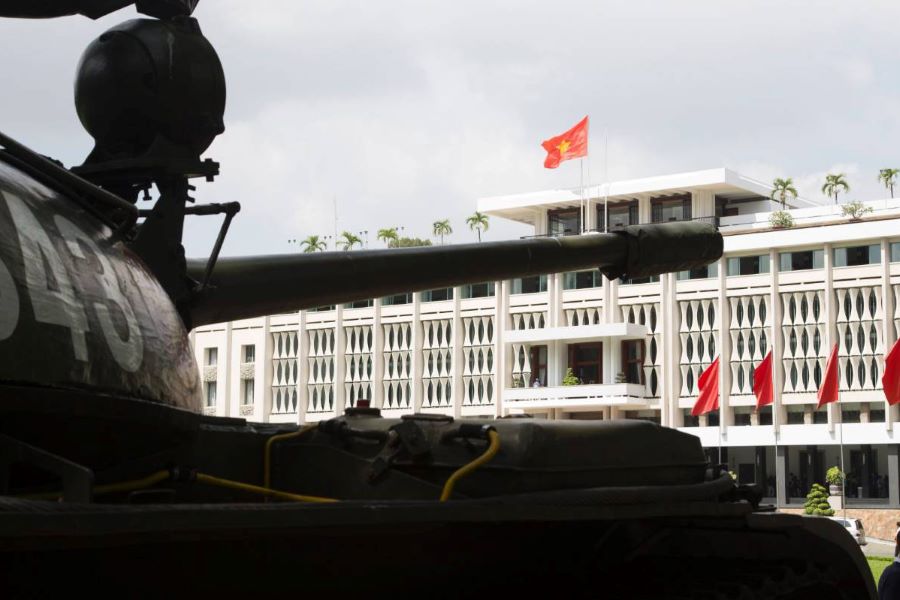 Depending on the weather, the visit to the Cu Chi tunnels can be in the morning or afternoon. Cu Chi tunnels, otherwise known as the "Iron Triangle" or "Iron Land", is the surviving witness of the war against the American empire. Before entering the tunnel, watch a short introductory video showing how the tunnels were constructed. It's allowed an exploration of the maze of tunnels, some of which have been widened to allow tourist access. Also, there stand various mantraps and the remains of an American tank as well as numerous bomb craters made by 500lb bombs dropped by B52 bombers. After that, we transfer back to Ho Chi Minh City for lunch.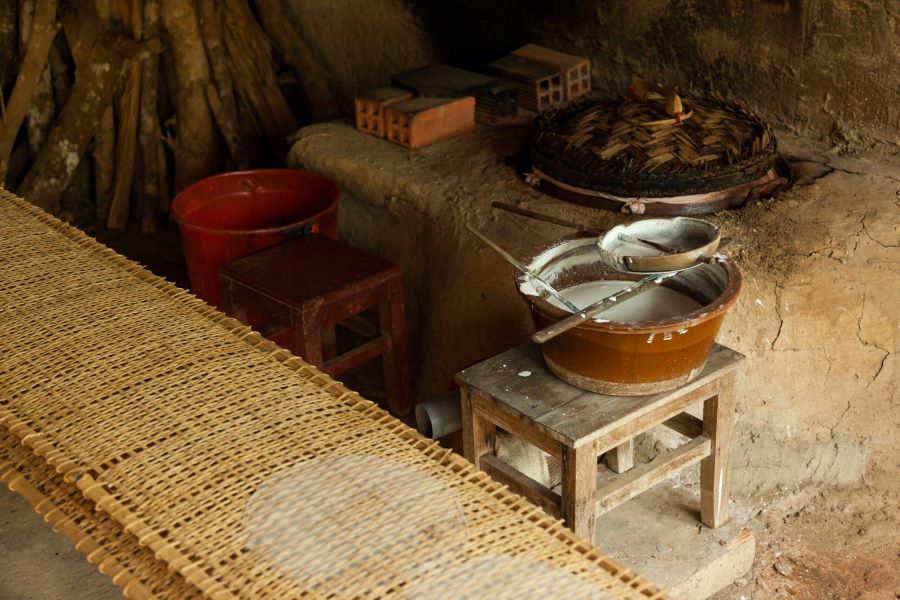 In the rest of the day, take a walk to Ben Thanh market, then back to the hotel at around 18:00.
Day 17: Ho Chi Minh City – Mekong Delta (B, L)
Our day will start with a visit to Cai Be floating market. Then, we will come to Tan Phong island for biking on village paths to see the daily life of the locals. Visit orchards, schools, churches, pagodas, and traditional houses and learn how to pick up fruits in Mekong Delta… On the way, we can make some stops en route to see how they make rice net for spring rolls, sew coconut leaves for cottage roofs and especially see how they wave the dried water hyacinth to make many products: baskets, bags, hats, wallets, shoes…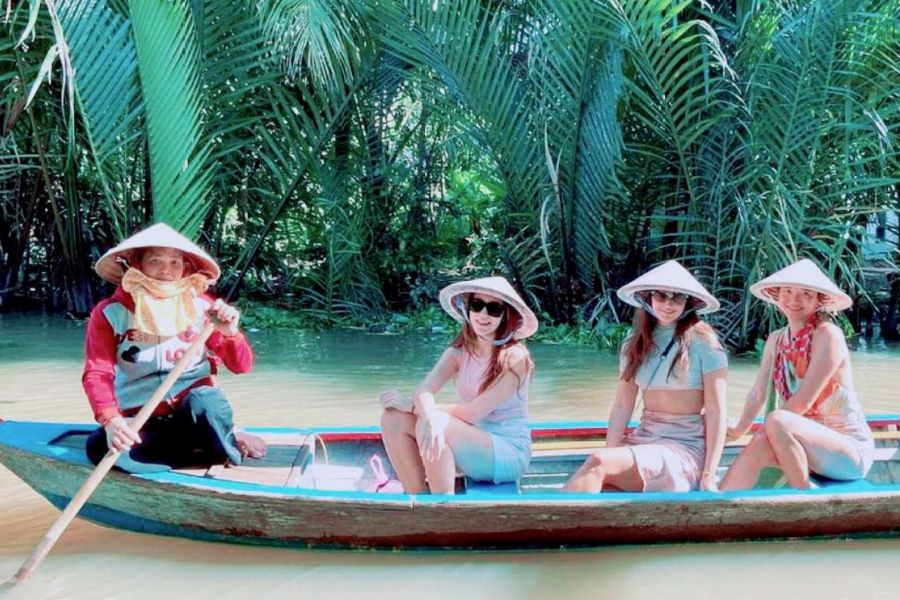 Then, the rowing boat will take you deeper into the countryside on smaller canals to enjoy a peaceful time. Back to our boat to go across one of the longest rivers in the world, the Mekong River, to come to An Bình Island. Travel on a handmade canal to Ut Trinh's home & have an optional lunch.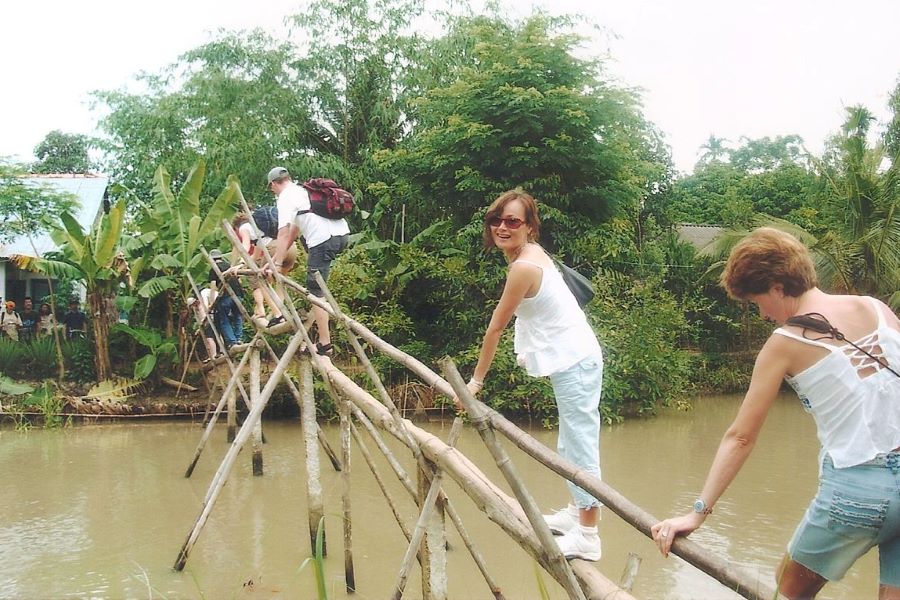 In the afternoon, walk around this orchard & enjoy some cups of tea while listening to traditional music in the ancient house. Visit the local workshop to see how to make rice paper, coconut candy, pop rice… Enjoy these sweets with a cup of hot tea, and talk to the hosts. Do not forget to visit brick kilns where you can see how the locals create beautiful potteries from clay. The cruise will end at Vinh Long City and then transfer to Ho Chi Minh City for overnight accommodation.
Day 18: Ho Chi Minh City Departure (B)
After breakfast, it's your leisure time until the driver arrives and takes you to Tan Son Nhat airport for your departure flight. Tour ends. Thanks for traveling with Vietnam Local Tour Company!