The Phnom Penh Tour in 7 days will take you to visit Phnom Penh and Siem Reap as the two most special cities of Cambodia. Phnom Penh is the largest city and capital of Cambodia. The city is famous for its rich and beautiful history with unique architectures. Meanwhile, Siem Reap, the capital of Angkor dynasty, is outstanding with the beauty of structures and historical heritage from the Angkor era.
Cambodia is a beautiful country where creative and hard-working people are proudly reflecting its rich culture by their country's traditional architectures and structures. Having experienced many ups and downs of history and deeply imprinted by Khmer styled architecture over hundreds of years and also influenced by the immense contributions of its nearby countries, Cambodia is a country full of ancient culture and traditions.
General Information
Duration: 7 Days/ 6 Nights
Date: No fixed date
Tour Type: Explore and Experience
Starts/ Ends: Siem Reap/ Phnom Penh
Tour Route: Siem Reap – Angkor Complex – Grand & Small Circuit – Banteay Srei Temple – Tonle Sap Lake – Phnom Penh
Tour Categories: Cambodia Tours
Tour Customizable: Absolutely! (Tell us what you wish to do in the inquiry form)
Brief Itinerary
Day 1: Siem Reap Arrival
Day 2: Angkor Temple Complex
Day 3: Siem Reap – Grand & Small Circuit
Day 4: Siem Reap – Banteay Srei Temple – Tonle Sap Lake
Day 5: Siem Reap – Phnom Penh
Day 6: Phnom Penh
Day 7: Phnom Penh Departure
Full Itinerary
Day 1: Siem Reap Arrival (D)
Our local tour guide will be waiting for you as you arrive in Siem Reap. They then will transfer you to hotel (The room checks in is subject to availability). Rest of the day is free for you to discover by your own arrangement. Overnight in Siem Reap.
Day 2: Siem Reap – Angkor Thom & Angkor Wat Tour (B, L, D)
Breakfast at hotel, this morning we visit Angkor Thom – the great city of the ancient Khmer empire. The included visit will introduce you to the South Gate of Angkor Thom, Bayon, Baphoun, Elephant Terrace and Leper King Terrace.
The afternoon visit will focus on Angkor Wat, one of the most well-known temples on the plain of Angkor. Its grand scale, perfection in composition, balance, and incredible detail make Angkor Wat an awe-inspiring temple and the ultimate expression of Khmer genius. Apart from discovering this prime example of ancient Khmer art and architecture, tourists will have chances to take in the breathtaking sunset from the top of Phnom Bakheng Hills.
Tonight, you will get opportunities to dine on a savory dinner and enjoy a fascinating show performed by classical Apsara dancers depicting scenes from Khmer mythology.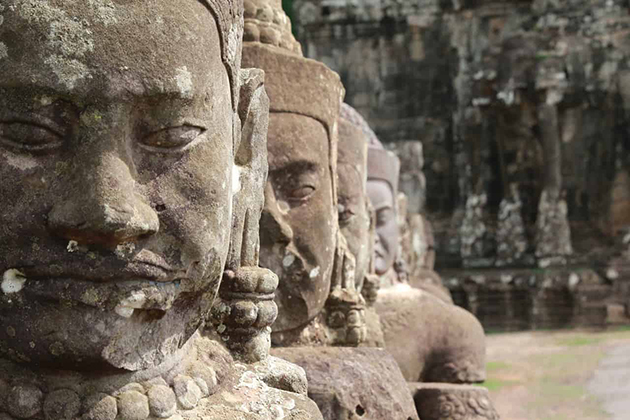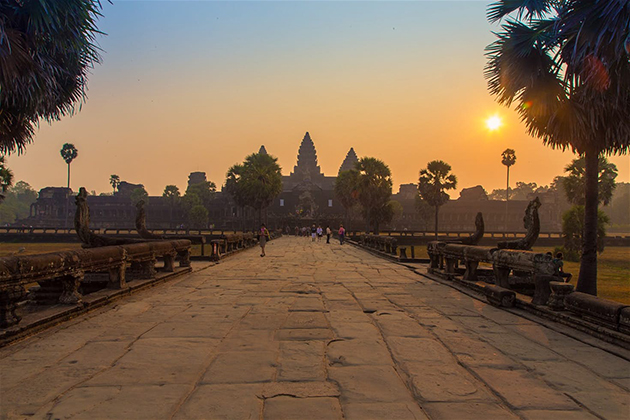 Day 3: Siem Reap – Grand & Small Circuit (B)
After enjoying breakfast at hotel, we will have a short visit to the south gate of Angkor Thom Temple, discover top Cambodia attractions including Bayon strange Baphoun, Phimeanakas, the Elephant Terrace and the Terrace of the Leper King. Afterward, there is time to admire the breathtaking beauty of Ta Prohm which is nearly covered by the jungle. The overgrowing of the jungle makes it oddly daunting and exotic.
Besides, get an unforgettable memory as you marvel at the magnificent roots of a tree which push between the temple's huge stone blocks in a sort of embrace. In the afternoon, a short visit will take you to Preah Khan, Neak Poan, East Mebon, and Pre Rup.
Day 4: Siem Reap – Banteay Srei Temple – Tonle Sap Lake (B, L)
Your journey will continue after your breakfast at hotel, today a 35km scenic drive will transfer you to the rural outskirt and will give you chances to explore Banteay Srei, the nest of Khmer ancient style architecture. Despite its small size, this temple boasts such impressive carvings. Due to that, most everyone could not escape from its attractions. The next stop of our trip will be Banteay Samre Temple.
In the afternoon, there is time for you to enjoy a boat ride on Tonle Sap Lake, Chong Kneas; you will be taken pass a floating village dotted with schools, hospitals, and restaurants, shops and floating crocodile farm and local Market. Overnight in Siem Reap.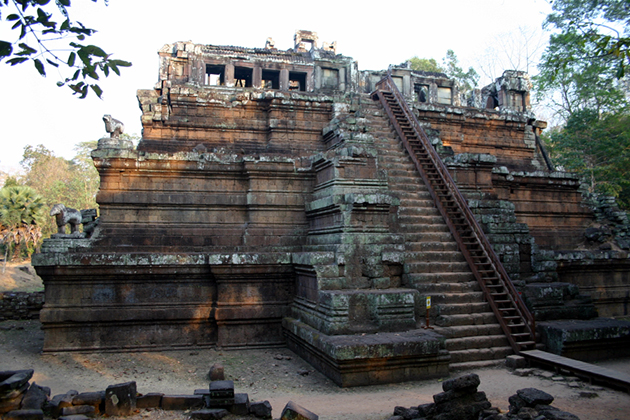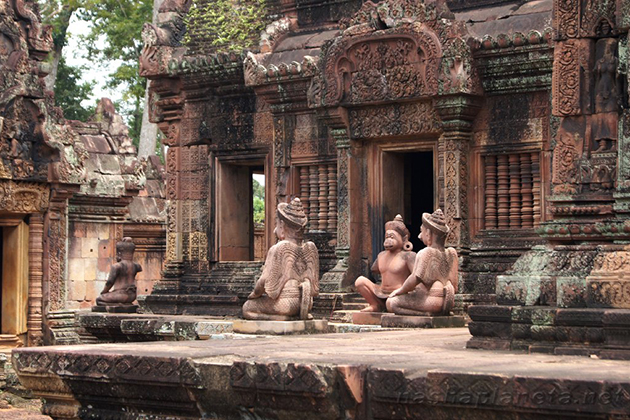 Day 5: Siem Reap – Phnom Penh (B, L, D)
After your breakfast at the hotel, take your time to discover this area on your own. In this afternoon, you will be brought to the airport for departure flight to Phnom Penh.
The local guide will be waiting for you there and take you to the hotel for check-in. Next, visit the capital of Cambodia, Phnom Penh which is beautifully nestled near the confluence of the Mekong and Tonle Sap Rivers. Although this riverside town has experienced a turbulent history, it still boasts significant beauty. The city tour will bring us to top Phnom Penh attractions. The private quarters of the Royal Palace are now home to the royal family and therefore are very close to the public.
This short visit will also introduce you to Silver Pagoda, which is located in the northern area of the palace grounds. The Silver Pagoda is well-known as being the home of the Emerald Buddha statue and a mammoth 90-kilogram Gold Buddha statue studded with thousands of diamonds. Besides, Silver Pagoda is considered the holiest temple in the country and National Museum, so it is definitely the worth-to-visit place in Phnom Penh Tours.
En route, we will trek up to a small hill in order to visit the legendary Wat Phnom. From this point, zoom up your eyes to take in the panoramic view over the surrounding areas. Later in the afternoon, we take a stroll along the Chatomok River (the Four Faces River) to observe the local way of life. Overnight in Phnom Penh
Day 6: Phnom Penh City Tour (B)
Our journey will continue discovering the beauty of Phnom Penh city after you enjoy your breakfast at hotel.
Today we will explore this delightful city with the National Museum, which is exclusively dedicated to Khmer art and sculpture. The majority of the exhibits are from the Angkor period from the 9th to 15th century, but some date from as early as the 4th century.
Later, we will make our way to one of the Phnom Penh's vibrant open markets, Psar Toul Tom Pong; all called the "Russian Market". At the market, take time to stroll around and see wide arrays of local handicrafts and artifacts.
Then you will get the first-hand experience in seeing the painful bloody rule of the Khmer Rouge at the Tuol Sleng Prison Museum and the notorious 'Killing Fields' of Choeung Ek.
Afterward, visit Independent monument that is the symbol of victory, is among the most impressive one in Phnom Penh and the Victoria monument. Later in the afternoon, you will get a travel experience that will probably cherish for a lifetime; which is enjoying the sunset boat cruise on the Mekong River.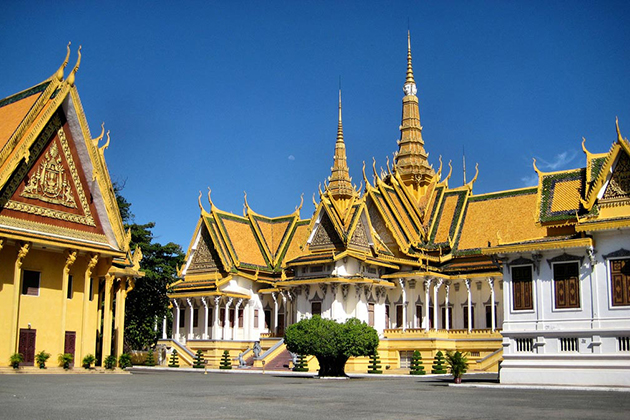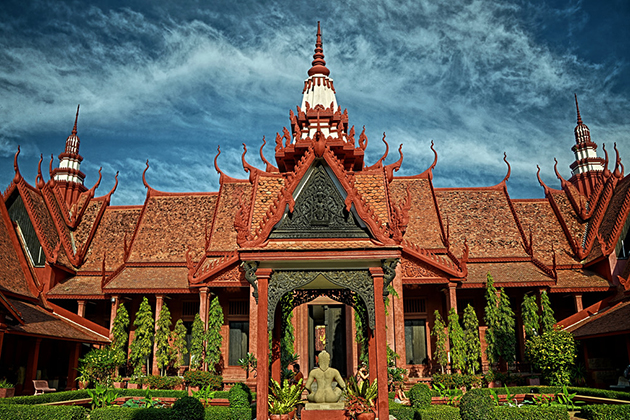 Day 7: Phnom Penh Departure (B)
Today is free at leisure until time for transfer to airport for departure flight. Our unique Siem Reap – Phnom Penh tours in 7 days concludes.