General Information
Duration :
Tour Type :
Starts / Ends :   Your hotel in Hanoi / Your hotel in Hanoi
Tour Route:   enjoy sightseeing while boat row and perfume pagoda
The Perfume Pagoda is one of the highlights of the Hanoi area and one of the most important religious sites in Buddhist in Vietnam. The pagoda itself is situated in a huge cave built into limestone cliffs and can only be reached by boat as there are no roads. You glide along scenic waterways and" walk up steep mountain paths, visiting the pagodas and temples built in this area over the centuries.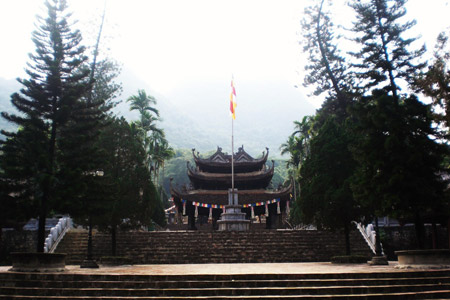 Departing Hanoi, we'll have a two hours drive through the picturesque countryside and back roads to the village of Duc for some refreshments before boarding our boats for a 1.5 hours ride along the scenic Yen river, surrounded by dramatic limestone cliffs. After this we'll walk to the Thien Tru Pagoda (Heaven's Kitchen) and the Perfume Cave and Pagoda – an hour walk in total. On our way back, we'll visit Giai Oan and Tuyet Son Pagodas. Lunch will be at one of the little food stalls near Thien Tru Pagoda. After lunch the boat will take us back to our bus for the drive back to Hanoi. We'll arrive in Hanoi around 6.00pm.
Notes:
–    The cable car is available from Thien Tru pagoda to Huong Tich cave. If you would like to take the cable car, our guide could arrange the ticket for you. Ticket could cover one ways or two ways.
–    This tour should not be organized from Feb to March as it will be in the festival season and the Perfume Pagoda is fully with Vietnamese pilgrims.