General Information
Tour Route: Hanoi – Halong – Danang – Kontum – Pleiku – An Khe – Quy Nhon – Ho Chi Minh
Duration: 10 Days
Departure Date: Any Time You Wish
Start/ End: Hanoi/ Ho Chi Minh city
Brief Itinerary
Day 01: Hanoi Arrival (D)
Day 02: Explore the Changes of Hanoi from the past (B, L)
Day 03: Hanoi – Halong Bay (B, L, D)
Day 04: Halong – Hanoi – fly to Danang – Hoi An (B, L)
Day 05: Hoi An – Farming & Fishing Tour by Jack Tran Tour – Walking City Tour (B, L)
Day 06: Hoi An – Kontum (B, L)
Day 07: Kontum – Pleiku (B, L)
Day 08: Pleiku – An Khe (B, L)
Day 09: An Khe – Drive to Quy Nhon (B, L)
Day 10: Quy Nhon – Fly to Ho Chi Minh – Depart (B)
Day 01: Hanoi Arrival (D)
Upon arrival, you will be picked by the local guide before transfer to hotel. Relax in the rest of the day. If you get Hanoi in the middle of the day, "Pho" in the local famous restaurant will be offered without any charge.

In the evening, we have dinner at Ngon Villa Restaurant. Overnight at a luxury hotel in Hanoi.
Day 02: Explore the Changes of Hanoi from the past (B, L)
Start your day by a scenic drive to Son Tay, your guide will then take you to the International Friendship Village for Vietnamese veterans and Orange Agent victims.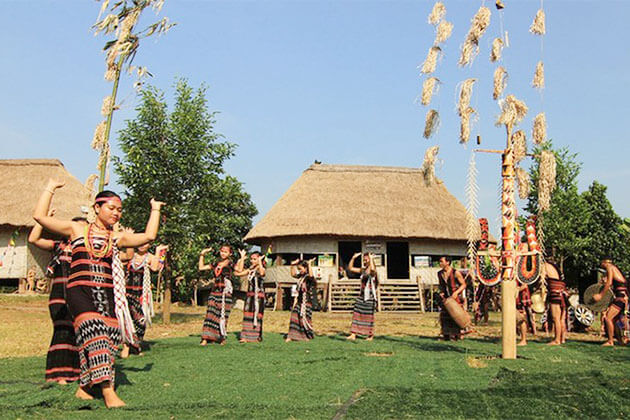 In the afternoon, take a visit to the Army Museum, a Vietnamese perspective of the time of conflict. If time is permitted, we will visit the Hoa Lo Prison, the Revolution Museum.
In the evening, watching a performance of traditional Water Puppetry and overnight in Hanoi.
Day 03: Hanoi – Halong Bay (B, L, D)
Pick up at hotel in Hanoi, we transfer to Halong bay then to Cai Hai Port. On arrival, we get on our boat and enjoy a welcome drink. Enjoy lunch while cruising into the primitive Lan Ha Bay. Experience kayaking through the poetically beautiful Tra Bau area then enjoys swimming in the emerald water. After that, we visit a fish farm and socialize with the resident fishermen to learn more about local life and how the people work every day.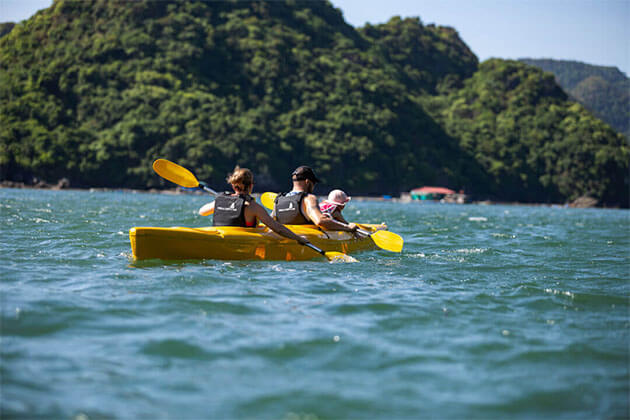 Return to the cruise and enjoy "Happy Hour" drink time while taking part in the cooking demonstration. Indulge in the shimmering atmosphere of thousands of stars while savoring a fantastic dinner on the top deck of the boat while floating in the center of the stunning Lan Ha Bay. Dinner with fresh seafood on boat and overnight at the Bay.
Day 04: Halong – Hanoi – fly to Danang – Hoi An (B, L)
Taichi exercise begins your energic day before enjoying breakfast in the restaurant. On a bamboo boat, we will visit Bright Cave and a serene round lake surrounded by rich forest and precipitous stone cliffs before come back
After that, you return to the cruise to pack your luggage and check out of your cabin while cruising towards the port. Enjoy an extraordinary buffet lunch before getting back to the mainland and get on our bus back to Hanoi.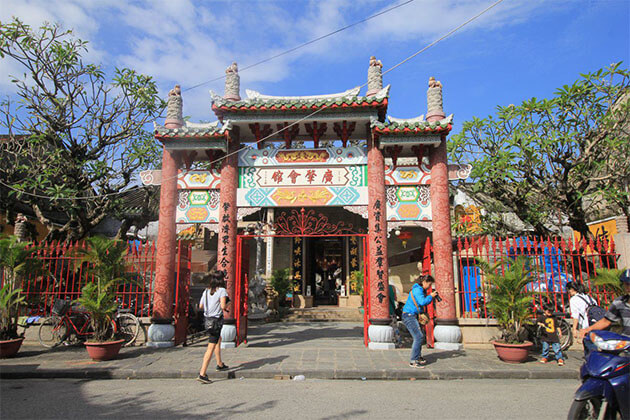 We arrive Hanoi around 15h00, we are leisure at the hotel until our private car will pick up & transfer you to the airport for flight to Hoi An. Arrival in the airport, pick up by our local guide transfer to hotel in Hoi An.
Overnight at hotel in Hoi An.
Day 05: Hoi An – Farming & Fishing Tour by Jack Tran Tour – Walking City Tour (B, L)
Today begins by an early drive to Tra Que village for Farming & Fishing Life Eco-tour. We set about joining the farmers in preparing their land for sowing, helping to fertilize the garden using seaweed from the local river and watering it in using huge tin cans strapped to our backs.
Following this, we will begin our leisurely cycling tour through the countryside witnessing local Vietnamese rural life first hand. In the late morning, board the Hoi An Eco-Tour boat for a river cruise. While boating along the river, you will meet and witness the local fishermen working on their craft. Right after that, we enjoy a hands-on experience of traditional net fishing. Later on, we experience the exciting race on the Vietnamese bamboo basket boat.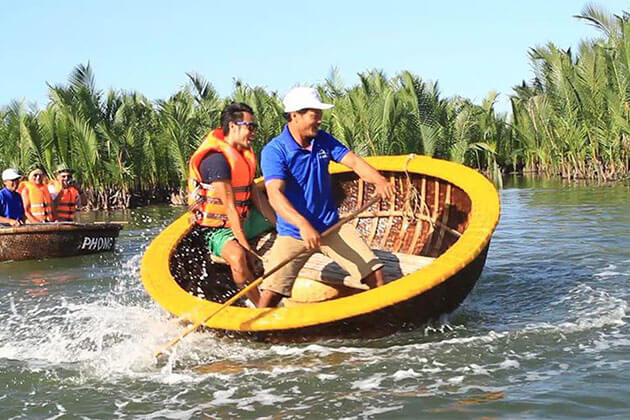 Lunch today is on board our boat, which is prepared using vegetables picked earlier at Tra Que Village.
After lunch, we have some free time to wander around Hoi An town center before heading back to the town for walking city tour. In this walking tour, we visit the Japanese Covered Bridge, Tan Ky Old House, Pottery Museum, the Hoi An Silk Street, the Cantonese congregation, and many temples and pagodas of Chinese appearance. Then we are back to our hotel.
Overnight at hotel in Hoi An.
Day 06: Hoi An – Kontum (B, L)
After breakfast, leave Hoi An for Kontum via Ho Chi Minh trail (320km). Driving over beautiful mountainous passes enjoys the scenery and panoramic views of lowlands from the highlands. Stopover at some ethnic villages and waterfalls along the road. Have lunch on route. Keep driving to Dak To – Tan Canh, stopover at Phoenix Airstrip (The biggest American airstrip in Kon Tum during the wartime)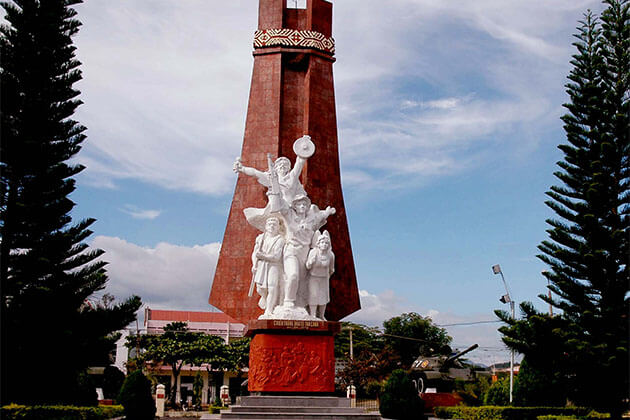 Have a look the Charlie hill and Rocket Ridge from distance. Witness the two Russian tanks which took part in Dak To battle in 1972, the summer of fire.
Take a walk through a suspension bridge to visit Sedang ethnic village, you have a chance to learn about the Sedang people's culture. Continue to Kon Tum, stopover at Slope of the skull (17 Km from Kon Tum). Arrive Kon Tum late afternoon. Upon arrival check-in a hotel. Dinner & Overnight in Kontum.
Day 07: Day 07: Kontum – Pleiku (B, L)
After breakfast, Go to visit Banah ethnic villages including Plei To Nghia and Kon Ro Bang. You will meet Bana people and discover the architecture of the Rong house which looks like an axe blade pointing into the sky. Continue to the village of Ro Ngao ethnic people, Kon Ho Ngo Ko Tu, a traditional village located nearby the Dakbla river.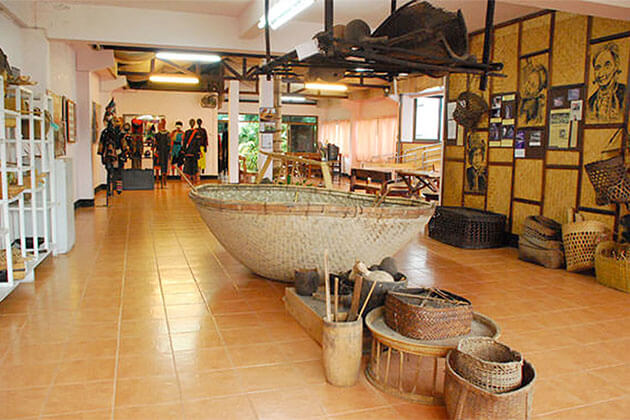 Returning Kontum, visit the Big Seminary and its Hill-Tribe Museum, the Wooden Church and Ethnic Orphan. Have lunch.
Driving to Pleiku, visit Plei Kep, a traditional village of Jarai ethnic group to explorer the Jarai's culture by visiting some families in the village. We will discover the burial culture of the locals, an unusual burial custom of the Jarai minority. The grave is set up as a miniature village with several people buried in one grave, which is typically made of wood with a thatched roof, and decorated with human beings and animal statues, and is surrounded by wooden fences. Continue to Pleiku. Diner by yourself & Overnight in your hotel in Pleiku.
Day 08: Pleiku – An Khe (B, L)
After breakfast, drive to Ham Rong mountain (Dragon Mouth) to visit Camp Enari – the former Headquarter of the 4th U.S Infantry Division. Continue to Catecka plantation – the former operational areas of the 4th Division, en route for Camp of Pleime – the former U.S Special Forces and overlooking at Ia Drang valley with LZ X-Ray and LZ Albany. Go back Pleiku. Have lunch.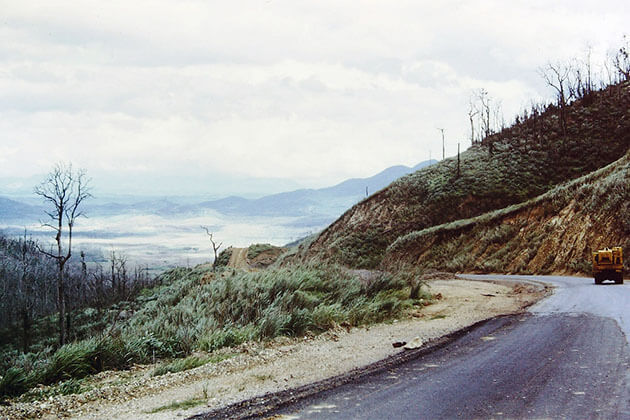 Hop on a drive to Mang Yang pass where was the site of the last major battle of French Indochina War. Take a visit to the 1st Cavalry Division Base, established in 1965 by US army at Hon Cong mountain to defense An Khe. Afterward, check-in the hotel and overnight in An Khe.
Day 09: An Khe – Drive to Quy Nhon (B, L)
After breakfast, drive to Quy Nhon. Visit Phu Tai valley, where the 5th Maintenance Battalion was established during the time of the 1960s. The unit responsibility included the maintenance of between 1,500 to 2,000 army trucks, plus the distribution of howitzer tubes, small arms, machine guns, Caterpillar tractors, jeeps, air-compressors, generators, and ironically, boats and outboard motors, and thousands of other war material the United States Army needed to engage in battle. Have lunch.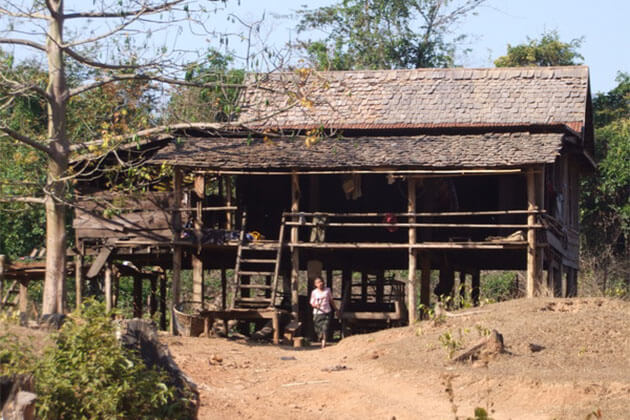 Continue to Quy Nhon, Check-in a hotel. Free at your leisure or swimming. Dinner by yourself & Overnight in your hotel in Quy Nhon.
Day 10: Quy Nhon – Fly to Ho Chi Minh – Depart (B)
After breakfast, free at your leisure till the time to transfer to Phu Cat airport for the flight to Saigon, from here you can take your departure flight.