General Information
Duration: 15 Days/ 14 Nights
Date: No fixed dates
Tour Type: Landscape, Culture, History and Beach Vacation
Tour Route: Ho Chi Minh City (Saigon) – Mekong Delta – Nha Trang – Hoi An – Hanoi – Halong Bay – Hanoi
Starts/ Ends: Saigon/ Hanoi
Activity Level: Easy & Regular Itinerary
Tour Customizable: Absolutely! (Tell us your specific requirements in the inquiry form)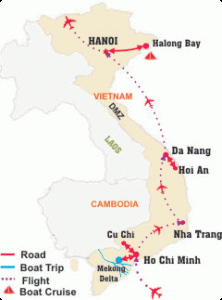 Tour Category: Vietnam Family Tours
Brief Itinerary
Day 1: Ho Chi Minh City Arrival
Day 2: Saigon City Tour with Zoo & Botanical Garden
Day 3: Saigon – Cu Chi Tunnels
Day 4: Saigon – Mekong Delta
Day 5: Mekong Delta – Saigon
Day 6: Saigon – Fly to Nha Trang – Transfer to Vinpearl Land resort
Day 7: Vinpearl Land with Amusement Park
Day 8: Nha Trang – Thap Ba Hot Spring
Day 9: Nha Trang – Fly to Danang – Hoi An
Day 10: Hoi An Tour & Cooking class
Day 11: Hoi An – Da Nang – Fly to Hanoi
Day 12: Hanoi City Tour
Day 13: Hanoi – Halong Bay
Day 14: Halong Bay – Hanoi
Day 15: Hanoi Departure
South Vietnam Family Tour with Kids – 5 Days
Day 1: Saigon Arrival (D)
Welcome upon arrival in Saigon, then we will transfer to hotel. Relax. In the evening, we enjoy our welcome dinner on Saigon River Cruise.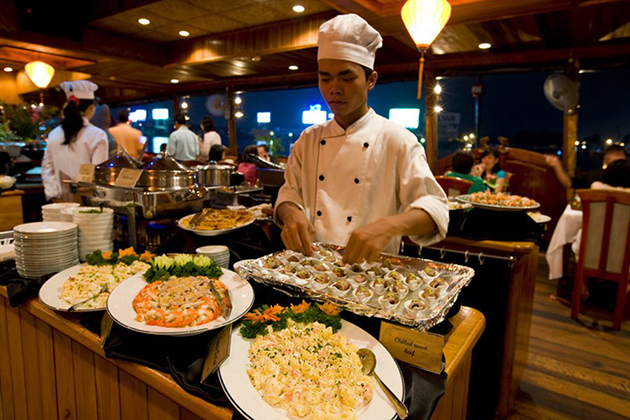 Day 2: Saigon City Tour with Zoo & Botanical Garden (B, L)
We depart our hotel for the Reunification Palace, the former Presidential Palace for the president of the South of Vietnam. After that, we will visit the War Remnant Museum, where you can see countless artifacts, photographs, and pictures documenting the second Indochina war. Before our lunch, we stop at Notre Dame Cathedral and Old Post office to get our good shots for our memory of the biggest city in Vietnam. Our delicious lunch will be served at a nice restaurant in the central city.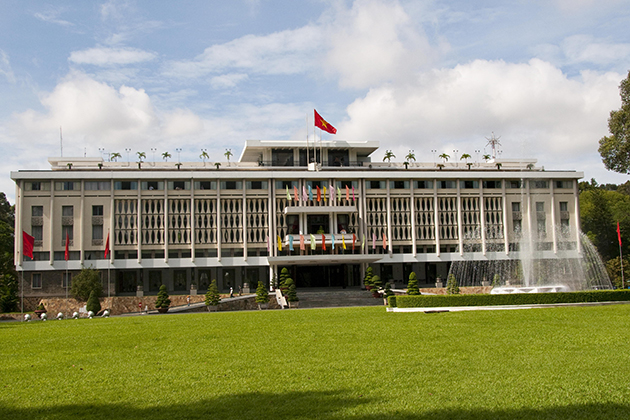 In the afternoon, we will enjoy our time at Saigon Zoo to see vegetation and animals. There are approximately 130 animal species which were being brought up at Saigon Zoo and Botanical Gardens (SGZBG) now. Animal species belong to 3 Classes; Reptiles, Mammals, and Birds. Reptiles include 17 species belong to 3 Orders (Squamate, Testudinate and Crocodile Order). Mammals include 55 species belong to 7 Orders (Carnivore, Rodent, Squamate, Round hoof, Odd hoof, Trunk, Primate Order). Birds include 57 species belong to 10 Orders (Ostrich, Hawk, Sparrow, Parrot, Chicken, Crane, Kingfisher, Stork, Pelican and Duck – goose Order).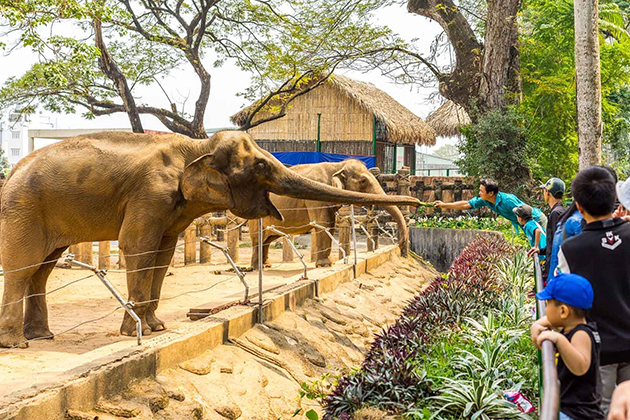 Most animals are listed above belong to Vietnam. Worthy of note, more 2/3 of the total of animal species were listed in the data Redbook of Vietnam and the World. Some valuable and rare animals are scientific value such as Asian Tiger (Panthera tigris corbetti), Leopard (Panthera pardus), Golden Cat (Catopuma temmincki), Yellow – cheecked Gibbon (Nomascus gabriellae), Eld's Deer (Cervus eldi tamin), Asian Elephant (Elephas maximus), Otter (Lutra perspicillata), Eastern Sarus Crane (Grus antigone)…Overnight in Saigon
Day 3: Saigon – Cu Chi Tunnels (B)
In the morning, we will leave Saigon for the Cu Chi tunnels, otherwise known as the "Iron Triangle" or "Iron Land". On our way, we will drive through the pleasant countryside; rubber plantations and rice paddies. Before entering the tunnels, we will see a short introductory video showing how they were constructed, followed by an exploration of the maze of tunnels, some of which have been widened to allow tourist access. Also on display are various mantraps and the remains of an American tank, as well as numerous bomb craters made by 500lb bombs, dropped by B52 bombers. After that, we transfer back to Ho Chi Minh City. Your kids will understand more about the great victory of Vietnamese people against the American Army.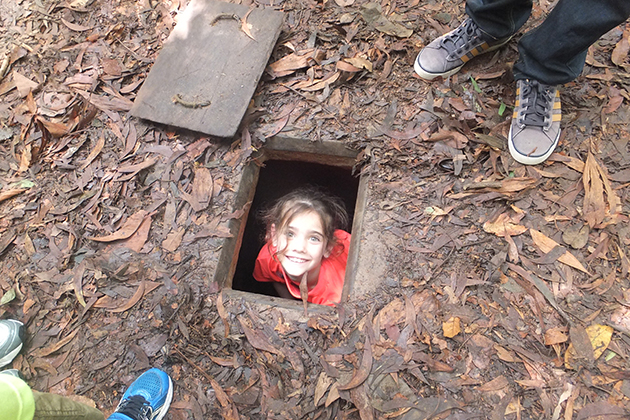 In the afternoon, you and your family are free to visit the local market, like Ben Thanh or Cho Lon…Overnight in Saigon
Day 4: Saigon – Mekong Delta with Homestay (B, L, D)
This morning, we will be met in the lobby of the hotel in Ho Chi Minh City by our local guide. We will leave for the Mekong Delta at around 08:00 AM. Drive through the Delta to Cai Be Floating Market we then board our riverboat for a cruise along the endless waterways of the mighty Mekong. We will stop and visit brick pottery kilns, and a floating fish farm then a small restaurant serving the local delicacies of the river. Later, we will arrive at the lush orchards of the house in which we will spend the night in a homestay with a local family. Overnight in Vinh Long.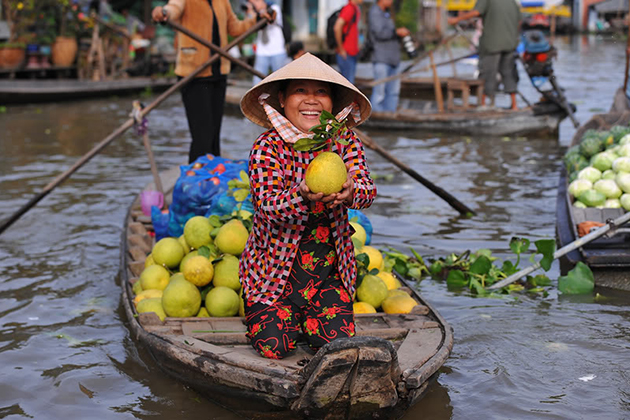 Day 5: Mekong Delta – Saigon (B, L)
Continue our boat trip along the maze of waterways and canals through An Binh Island. We will stop at an old southern house with a bonsai garden and visit some local cottage industries which produce candy as well as rice cakes. Following our cruise, we will return to the Pier and transfer to our awaiting vehicle to return to Ho Chi Minh City. Lunch will be at My Tho City and our trip will finish in Ho Chi Minh City at around 05:00 PM.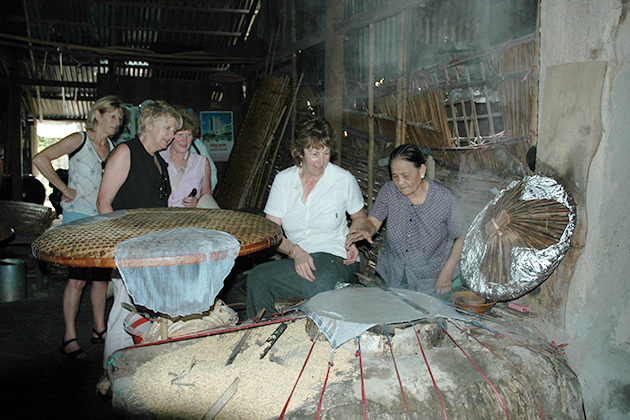 Central Vietnam Family Tour with Kids – 5 Days
Day 6: Saigon – Fly to Nha Trang – Vinpearl Land (B, D)
Today we take a short domestic flight to Beach city of Nha Trang. After 1-hour flight, arrive in the beach city then transfer to Vinpearl Land wharf where we will check in and ride a cable car or speed boat to the island. Relax at the beach or swimming pool.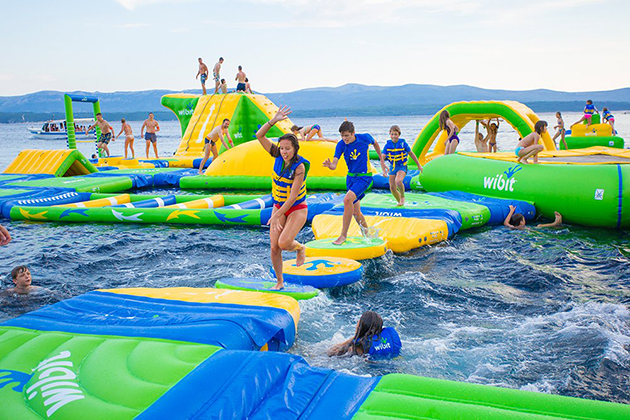 Day 7: Vinpearl land with Amusement Park (B, L, D)
Free entrance fees for all items in the Park, we have time to experience with indoor or outdoor games, Vinpearl Water Park, Vinpearl Underwater World…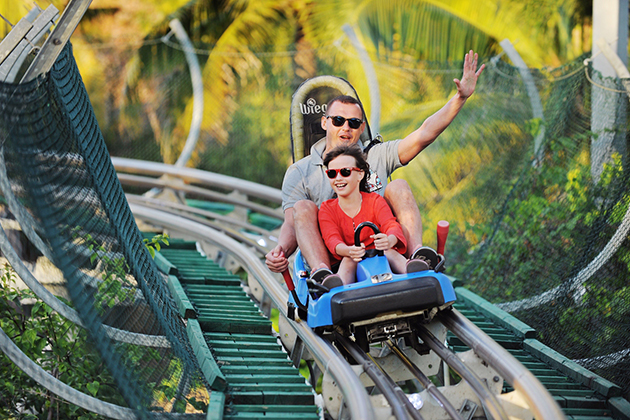 Day 8: Nha Trang – Thap Ba Hot Spring Bathing & Mud Spa Tour (B, L, D)
This tour is designed as an eco/ healthy one. First, exercise yourself by van or biking (upon request & subject to availability) from our hotel to Thap Ba Hot Spring center via beachside road. Relax and gain our health in Mud bathing and Minerals Springs swimming. After that, visit the Cham Po Nagar Temples nearby. Coming back to our hotel through Nha Trang street to observe local Nha Trang life.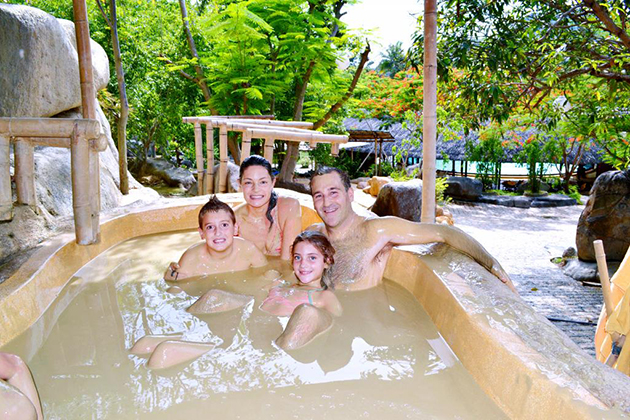 Day 9: Nha Trang – Fly to Danang, Hoi An (B)
Today we transfer back to Cam Ranh airport for our flight to Danang. Arriving in Danang, we transfer to Hoi An. Relaxing in Hoi An.
Day 10: Hoi An Sightseeing Tour & Cooking Class (B, L)
NO FLUORESCENT LIGHTS. NO MOTORCYCLES. NO TELEVISION. ON THE 15TH DAY OF EACH LUNAR MONTH, THE RIVERSIDE TOWN OF HOI AN GIVES MODERN LIFE THE NIGHT OFF.
Hoi An has a distinct Chinese atmosphere with low, tile-roofed houses and narrow streets; the original structure of some of these streets still remains almost intact. All the houses were made of rare wood, decorated with lacquered boards and panels engraved with Chinese characters. Pillars were also carved with ornamental designs.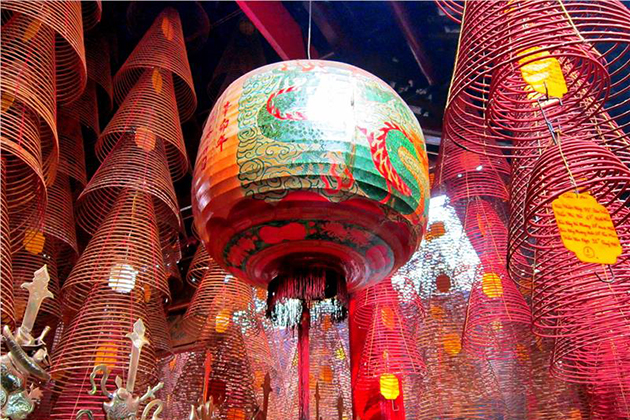 We enjoy a morning walking tour around the ancient city to visit Chua Ong Pagoda, Chinese Assembly Halls, the 200 – year old Tam Ky ancestral house, and the Japanese Bridge. In the afternoon, we will join a special cooking class.
After a short drive through the local countryside, arrive at Tra Que Village, and the home of your host, Mr. Tuan. A welcome drink of freshly picked fruits is waiting before we take a walk around the village and learn about the history and customs of this charming village. We walk through the market gardens where hundreds of local farmers work their fields using the traditional methods of hundreds of years ago – no electrical machinery here.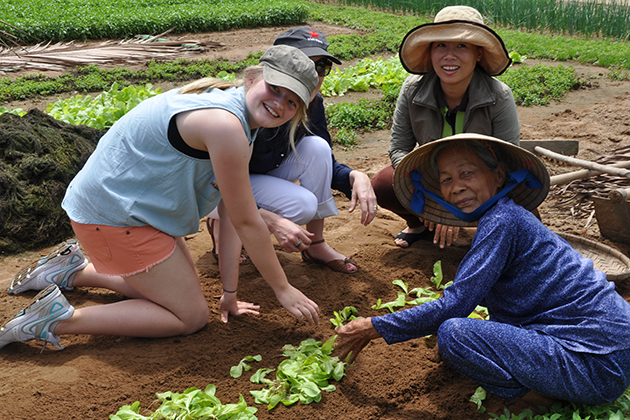 We return to the home of Mr. Tuan, and this is where the real fun begins. Everyone is given farming instruments, and we set about joining the farmers in preparing the land for sewing. Our guide describes the traditional farming methods while we help fertilize the garden using seaweed from the local river, and then water it using huge tin cans strapped to our back. Time is then spent picking vegetables and herbs, and learning how to wrap them to prevent damage.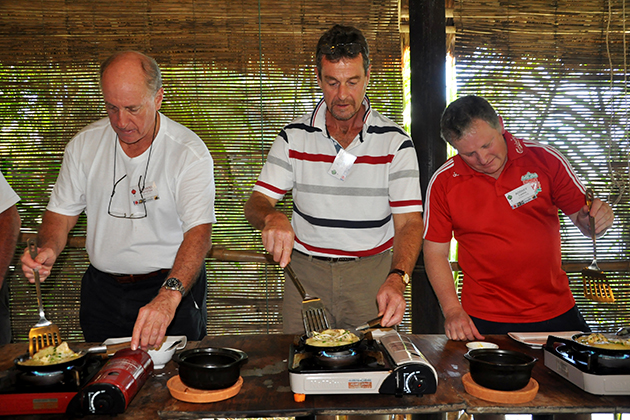 Many of the local herbs are used by the farmers for traditional village medicines – this includes the herbal pillow, which helps relax your body and mind, ready for a good night's sleep.
It's now time to try our hands at making the village specialty named "Tam Huu" spring rolls – using the local herbs and vegetables we have just picked or Xeo Cake ( Banh Xeo). We then sit down and enjoy a lovely local meal. Before dark, transfer back to Hoi An
North Vietnam Family Tour with Kids – 5 Days
Day 11: Hoi An – Da Nang – Fly to Hanoi (B)
Free at Hoi An in the morning, in the afternoon, transfer back to Da Nang for our flight to Hanoi. Arriving in Hanoi, we transfer to hotel for our relax. Overnight in Hanoi.
Day 12: Hanoi City Tour (B, L, D)
After breakfast, your family will visit the Ho Chi Minh Complex, including Ho Chi Minh Mausoleum, his house on the stilts, and the outside of the Presidential Palace. After that we walk along an evergreen street in the Hanoi old quarter get to Vietnam people army museum, to understand more about wars resistance to defend the nation. Have lunch with Cha Ca specialty today.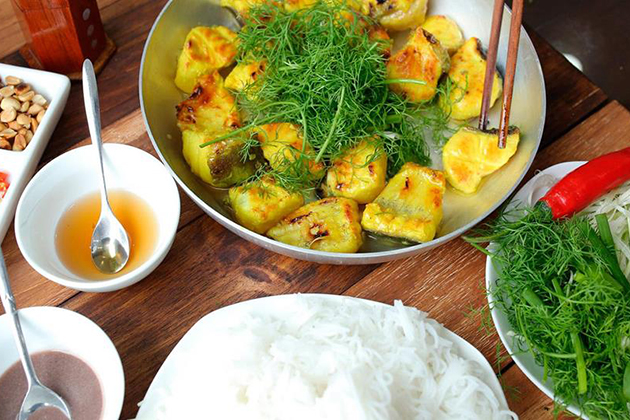 In the afternoon, explore Hanoi Hilton (the old prison where the American pilots were detained) and then we visit Ethnology Museum. This evening we are going to have a special hot pot (the steamboat pot) for dinner.
Day 13: Hanoi – Halong Bay (Overnight on Junk) (B, L, D)
After breakfast at hotel, we will be met then transfer to Halong city and check in Luxury Paradise Cruise. Welcome drink of cocktail while having a briefing, safety instructions. We then set sail and to explore Halong Bay. Our Asian Buffet lunch will be severed from 13.00 – 14.30 as the vessel sails to Halong Bay passing numerous of limestone islands and islets like the Cocks fighting islets, the Elephant leg islet, the Castle islet…and the TITOP Island.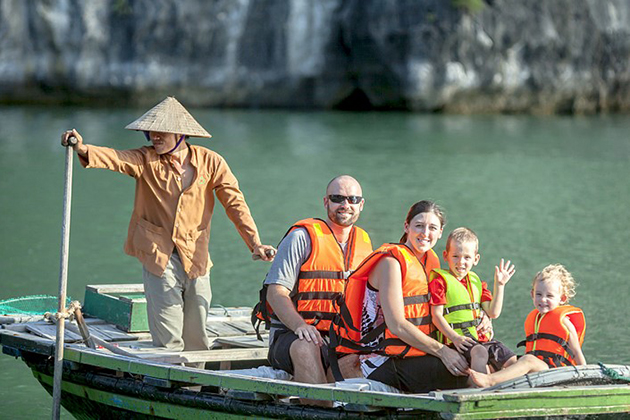 In the afternoon, we have a chance to explore the most famous grotto of Luon Cave (Hallow cave) in the entire Halong Bay by local rowing boat or enjoy kayaking on the tranquil Halong Bay or discover the most amazing cave of Sung Sot cave. We also visit Cua Van floating village to experience the daily life of local people.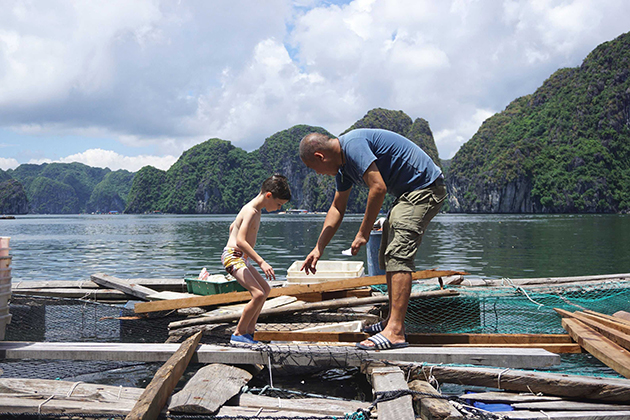 Late afternoon, we enjoy the open-air cooking demonstration on the sundeck (weather permitting) to learn how to cook Vietnamese cuisine while the cruise moving to Pearl Farm area. At dawn, we may try some drink at the open-air cocktail bar located on the sundeck. A delicious five-course set-dinner will be served at around 7 PM. In the evening, enjoy happy hours and music on the sundeck.
Day 14: Halong Bay – Hanoi (B)
Sunrise on this seclude Bay will be a wonderful experience which is worth your early wake, then join a Tai Chi Lesson at 06:45 on the sundeck. Enjoy the Continental Buffet Breakfast from 07.00 – 09.00. During breakfast, the cruise keeps moving to explore other areas in Halong Bay. At around 07.45, arrive at Ti Top Island where we can enjoy the Ti Top Beach or get up to the top of the island for a fabulous bird eyes view of Halong Bay. We have the option of swimming or kayaking activities.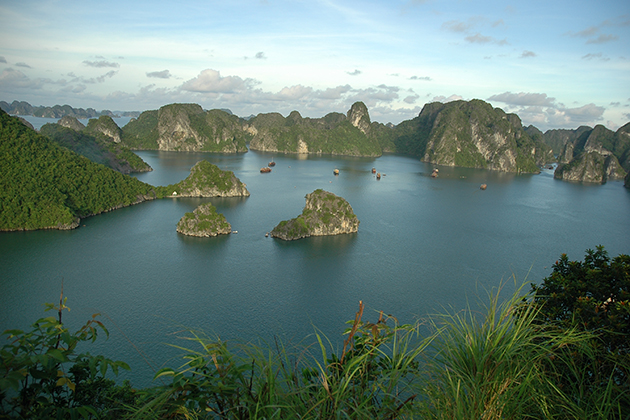 At 08.30, we depart Ti Top Island to continue cruise through Halong Bay. We check out our cabin at 09.30 & our settle bills – Luggage collection. At 10.30, we will disembark the Warf at Tuan Chau Island. We will be transferred from the Cruise to our vehicles and go back to Hanoi.
Day 15: Hanoi Departure (B)
Today we are free at leisure for last minute shopping then transfer to the airport for our flight home. Vietnam family tour with kids in 15 days ends.