General Information
Duration: 23 Days
Tour Type:
Starts / Ends: Hanoi / Ho Chi Minh
Tour Route: Hanoi – Sa Pa – Fansipan – Halong – Hue – Hoi An – Kon Tum – Pleiku – Buon Me Thuot – Dalat – Mui Ne – Ho Chi Minh – Cu Chi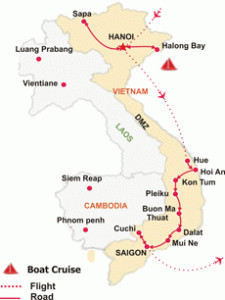 Brief Itinerary
Day 1: Arrival Hanoi
Day 2: Hanoi City tour – train to Sapa
Day 3: Sa Pa
Day 4: First peak to Fansipan
Day 5: Base Camp – Fansipan Peak
Day 6: Down the hill to Sapa
Day 7: Hanoi – Halong bay
Day 8: Ha Long Bay – Lan Ha Bay
Day 9: Lan Ha Bay
Day 10: Ha Long Bay – Hanoi
Day 11: Hue City
Day 12: Ride to Hoi An
Day 13: Hoi An
Day 14: Hoi An cycle to Quang Ngai
Day 15: Quang Ngai to Kon Tum
Day 16: Kon Tum cycle to Pleiku
Day 17: Cycle to Buon Me Thuot
Day 18: Buon Me Thuot cycle to Dalat
Day 19: Cycle around Da Lat
Day 20: Da Lat – cycle to Mui Ne
Day 21: Mui Ne – Ho Chi Minh
Day 22: Ho Chi Minh – Cu Chi
Day 23: Depart Ho Chi Minh
Day 1: Arrival Hanoi ( D)
Upon arrival you will be welcomed by our tour guide and transferred to our hotel in the center of town. In the evening before heading out to dinner, there will be a trip briefing with our tour guide to have idea what will be happening on the trip. Tonight we have tickets for the famous water-puppet show.
Day 2: Hanoi train to Sapa (B)
This morning we will visit the Ho Chi Minh complex which consists of: Ho Chi Minh's Mausoleum, his house on stilts, and the outside of the Presidential Palace, the One Pillar Pagoda and the impressive Temple of Literature. The remainder of the day is free to explore the Old Quarter. After a late check-out from our hotel and dinner, we will transfer to the train station for our overnight train journey to Sapa.
Day 3: Sapa (B)
Upon arrival in Lao Cai we drive the 35 km to Sapa. The morning will be free to explore this colorful town. Later we visit the main market and walk to Ham Rong hill for some panoramic views of Sapa.
Day 4: First peak to Fansipan (2,400 m) (B, L, D)
After breakfast, we meet our local guide and porters for start our trip. A bus will bring us up to Tram Ton at 1945 m above sea level where our adventure starts with a trek through a beautiful forest. Our first day is just enough activity to warm up our muscles. After lunch break, we'll continue to our first peak at an elevation of 2,400 m where we have a little stream for a shower and flatland to set up camps for the night.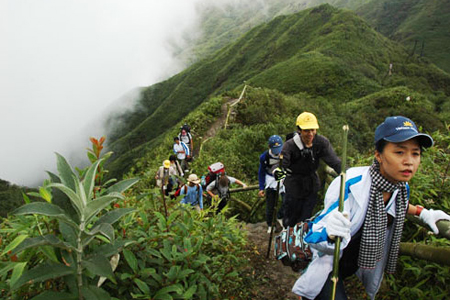 Day 5: Base Camp – Fansipan Peak 3,143 – Base Camp (B, L, D)
Break camp after an early breakfast and start the final ascent arriving at the summit 3,143m above sea-level. Congratulations! You've got it! From this Highest Point of Vietnam there are stunning views to China to the North and Laos to the West. There is time for a well-earned rest before descending back down to Base Camp for the night.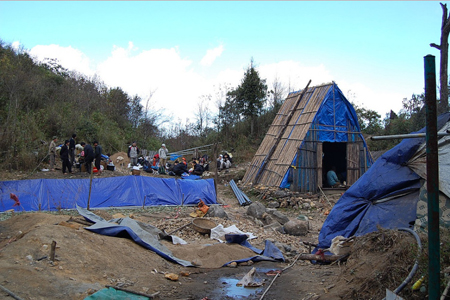 Day 6: Down the hill to Sapa (B, L)
Today it's downhill just about all the way. After lunch, we will arrive at the base around 2.00 pm and head back to Sapa to for a beer or a massage or a nap – you deserved it! We will have a celebratory dinner at 5.00pm, before transferring to Lao Cai station for our overnight train back to Hanoi.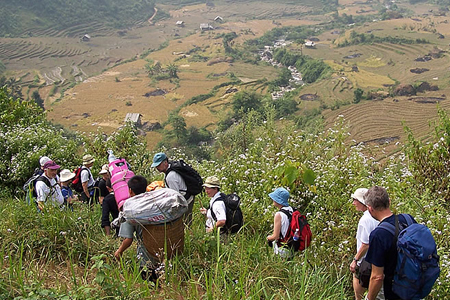 Day 7: Hanoi – Halong bay (B, L, D)
Arriving Hanoi early in the morning, today follows breakfast and refresh in the dayroom. We continue to Halong bay. It takes 3 hours to get there with several coffee breaks. Tonight is our first night on boat.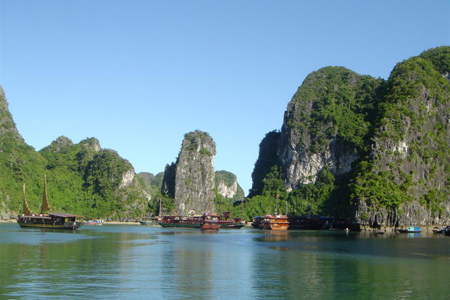 Day 8: Ha Long Bay – Lan Ha Bay (B, L, D)
Today we will have approximately 6 hours of paddling time amongst some of the most stunning scenery Vietnam has to offer. Our tiny kayaks are dwarfed against the massive limestone peaks that tower above us as weave our way through the labyrinth of islets. From our previous overnight spot we kayak to the Dark Cave, and then make our way to beautiful beaches of Ba Trai Dao. Our today's destination is Lan Ha Bay where we will anchor at a quieter lagoon to spend the night.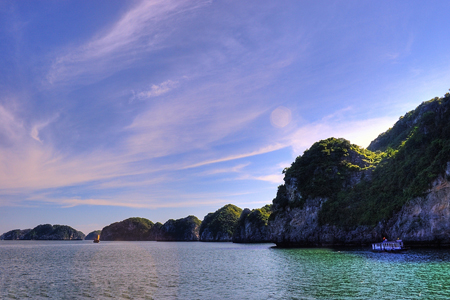 Day 9: Lan Ha Bay – Ho Ba Ham – Van Gia – Hang Trong (B, L, D)
Another great day of kayaking starts. Soaking the morning atmosphere of the bay, we kayak to visit a number of lagoons and caves. The highlights of the day are our visit to the floating village of Van Gia that provides us better understanding of the water life of the local fishermen. Our today's destination is the Trong Cave.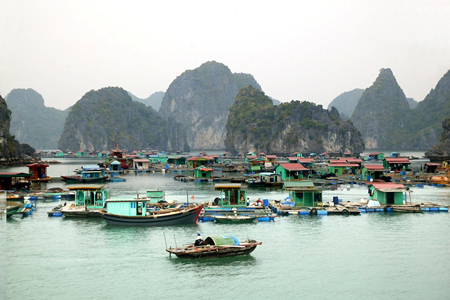 Day 10: Ha Long Bay – Hanoi (B, L)
Following breakfast this morning, we kayak around Luon Cave before returning to Halong Bay harbor where we meet with our vehicle for the 3hour drive back to Hanoi. Overnight in Hanoi.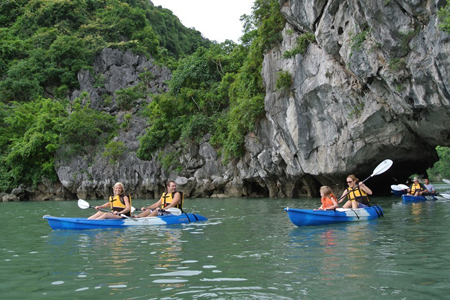 Day 11: Hanoi Fly to Hue (B)
We will flight to Hue in the early morning and transfer to our hotel. After breakfast we will meet our additional crew who will be driving the support vehicles. We are also introduced to our bicycle. We will receive a briefing on how to ride the bikes and how to handle the traffic in Vietnam. We will then set out for our first ride in to visit the old Imperial Citadel, the Forbidden Purple City, and the Imperial Museum before lunch. In the afternoon we cycle to the eccentric Tu Duc tomb. Time permitting we will then cycle to Thien Mu Pagoda.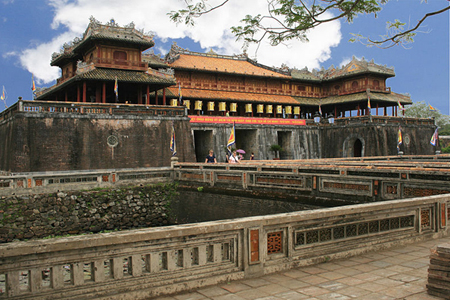 Day 12: Ride to Hoi An (B)
We will drive out of the city then cycle on the highway through some little passes to Lang Co beach where we will have lunch. Afterwards we will drive to the top of the Hai Van pass, admiring the wonderful views as we go and as we free ride to Da Nang, then by bus to the charming old city of Hoi An. In the evening we will take a short walking tour through the old streets of Hoi An.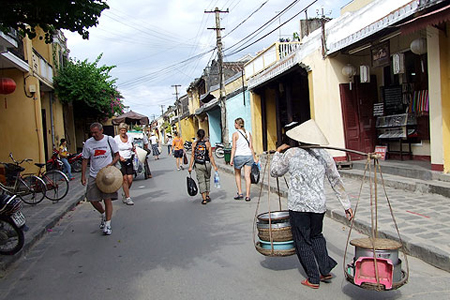 Day 13: Hoi An (B)
We will have a short walking tour round Hoi An to visit some of the beauty spots such as 200 year old Tan ky old house, Phuoc kien assembly hall, Japanese bridge…The high quality silk found in Hoi An can be made into clothes by local tailors within a couple of hours. You may even join a local cooking class to learn some of the sumptuous Vietnamese dishes. Plenty of distractions to keep you busy for a full day in Hoi An.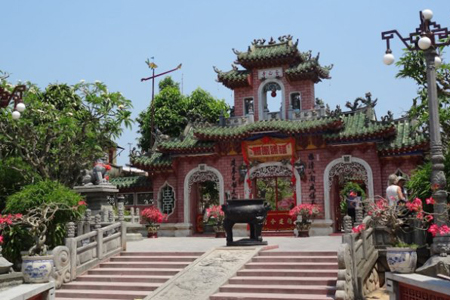 Day 14: Hoi An – Quang Ngai (cycle 65km) (B, L)
Leaving the charming town behind, we will take a short boat trip to cross the Thu Bon River to Duy Hai village where we start the cycling through many fishing villages on the way along the coast to Ha Lam town that we keep take our bus to Tam Ky town for lunch. After lunch we drive to our hotel in Quang Ngai town and cycle to My Lai massacre which is now a museum of The War Remnants in Quang Ngai province. Tonight we spent the night in the hotel.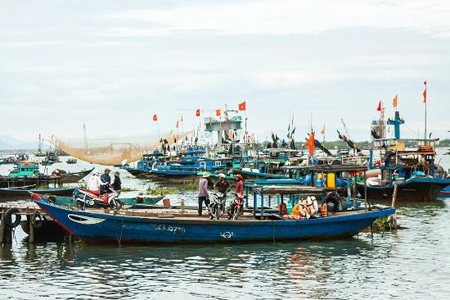 Day 15: Quang Ngai – Kon Tum (70 km) (B, L)
We start our day with cycling inland along the highway 24 up to Ba To town, Dak Rve and Kon Tum, this road with some challenge for us and there not much traffic on the way.
Day 16: Kon Tum cycle to Pleiku (B, L)
This morning we take our bus out of Kon Tum before we start to cycle. We spend a pleasant day on gentle rolling hills passing numerous small villages and rubber plantations. Pleiku is situated 600km from Saigon and 200km from Buon Me Thuot. Overnight at Pleiku hotel.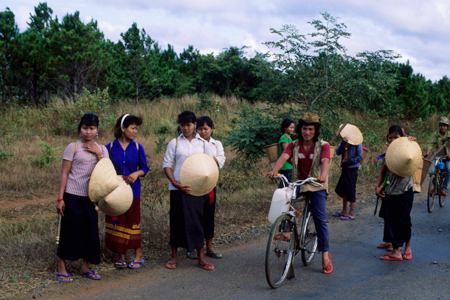 Day 17: Pleiku to Buon Me Thuot – Approx cycling distance 49km (B, L)
Today's part- cycle is on an excellent road, Highway 14, taking in 197kms of undulating and scenic uplands. We pass by coffee plantations and national parks on our way to the largest town in the Western Highlands, and the capital of Dak Lak Province.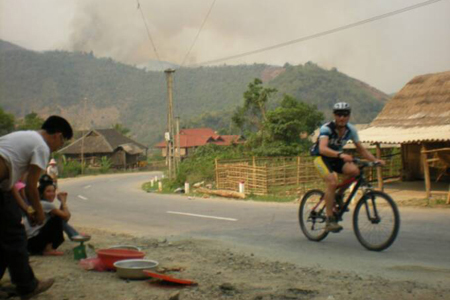 Day 18: Buon Me Thuot cycle to Dalat (B, L)
We leave Buon Me Thuat early in the morning by bus out of the biggest coffee city in Vietnam. Our way today is fantastic road with little traffic. The road is narrow but quite good, the view, with its vast coffee and rubber plantations will make you lose yourself in nature.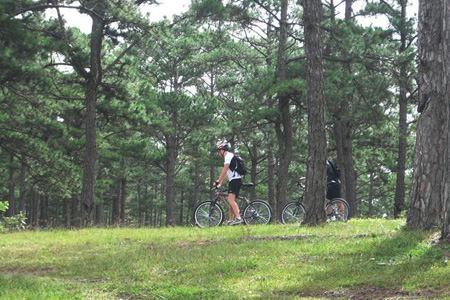 Day 19: Cycle around Dalat (B)
Today there is a cycle tour round Dalat's historical villas and a visit to an ethnic minority village, a crazy house and King Bao Dai's palace. The rest of the day is at leisure so we can go to Dalat market where you can try very different coffee at one of the coffee shops overlooking Xuan Huong Lake.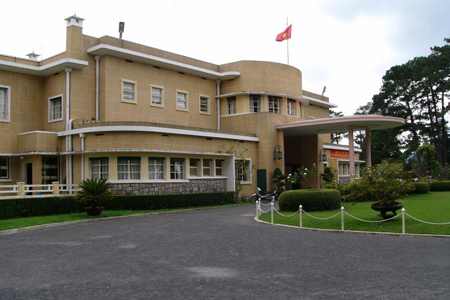 Day 20: Dalat – cycle to Muine – Approx cycling distance 85km (B, L)
Today we begin on the bus for a short distance before commencing our cycle ride down the coastal route. This offers wonderful ocean views with a climb on quiet roads through rolling hills and remote Cham villages. After lunch we will continue cycling to Mui Ne. Overnight at the hotel.
Day 21: Mui Ne – Ho Chi Minh City (B)
The morning is at leisure. This afternoon we will drive by bus to Ho Chi Minh City (about 4hrs). Overnight at the hotel.
Day 22: In Ho Chi Minh (Saigon) – Cu chi tunnels (B)
Early this morning we will travel to the Cu Chi tunnels, about a 2hrs drive. These tunnels are part of a network stretching a length of 250km. They enabled resistance fighters to move around unobserved. Visitors can go down into a section of the tunnels which have been maintained. In the afternoon there is free time for last minute shopping in Saigon before leaving Vietnam. Overnight at the hotel.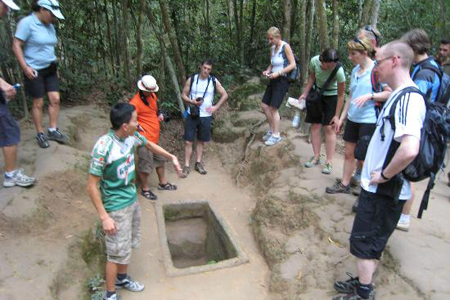 Day 23: Depart Ho Chi Minh (B)
We are free time until our guide and driver take you to the airport for our fly home.