General Information
Duration: 3 Days
Tour Type:
Starts / Ends: Siem Reap / Siem Reap
Tour Route: Angkor Temple Complex
Brief Itinerary
Day 1: Arrival in Siem Reap
Day 2: Angkor Temple Complex
Day 3: Banteay Srei temple – Departure
Day 1: Arrival in Siem Reap – Visit Angkor in the afternoon (D)
Transfer via international flight – your arrangement
Upon arrival in Siem Reap we transfer to the hotel. In the afternoon we visit the Roluos Group which includes the three temples: Preahko, Loile, and the mountain-temple of Pre Rup. This evening we will go to the fine restaurant in town for our Welcome dinner. After that, we can walk along the town to see the local people do their business at night. Overnight in Siem Reap.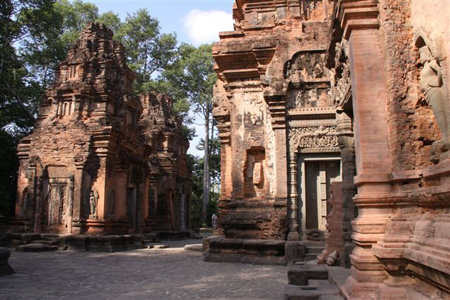 Accommodation: Steung Siem Reap Hotel – 3 Stars
Day 2: Angkor Temple Complex – Angkor Thom, Angkor Wat and Ta Prohm (B)
Today, after breakfast, we will start our visit to the amazing temples complex of Angkor. We will begin to explore the complex of Angkor Thom. Angkor Thom was built by King Jayavarman VII at the end of the 12th century, a short while after the completion of Angkor Wat. Angkor Thom, which means "Great City", is surrounded by a massive perimeter wall and a moat with five monumental gates and covers an area of more than ten square kilometers. The most important monuments are located in the center of the city, namely the Bayon, the Baphoun and the Terrace of Elephants.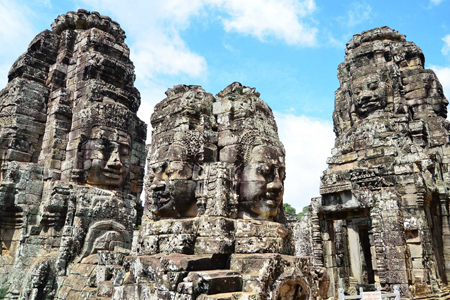 The Bayon is a fascinating piece of architecture and one of the most photographed. It is a bizarre structure, with a total of 54 towers elaborately decorated with 216 enormous and enigmatic smiling faces. The numerous other structures of this fortified city are the Terrace of the Leper King, the Phimeanakas, Preah Palilay, Tepranom, Preah Pithu, North & South Kleang, and Prasat Sour Prot. Then, we will visit Ta Prohm. The principal singularity of Ta Phrom is that it has not been cleared from the thick jungle, as the rest of the Angkor Complex has been. It looks nearly the same as in the descriptions of the first French explorers, shrouded in the undergrowth and in the huge roots of old Banyan trees.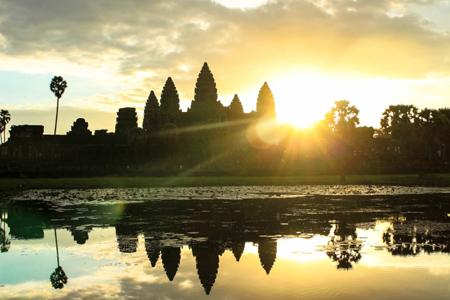 This afternoon we will visit Angkor Wat. Angkor Wat is located about six kilometers north of Siem Reap, south of Angkor Thom. Angkor Wat was built in the first half of the 12th century (113 – 5BC). It is the largest monument of the Angkor group and the best preserved and it is an architectural masterpiece. Its perfection in composition, balance, proportions, relief's and sculpture make it one of the finest monuments in the world. At the end of the afternoon, we will enjoy the sunset at the hilltop temple of Phnom Bakheng. Overnight in the hotel in Siem Reap.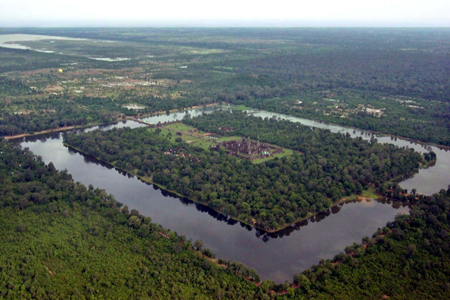 Accommodation: Steung Siem Reap Hotel – 3 Stars
Day 3: Banteay Srei temple – Departure (B)
In the morning we have a journey of 25km to Banteay Srei temple (the Woman temple) which regarded as the jewel in the crown of Classical Khmer Art. Then we drive back to Siem Reap for our lunch. We are free at our leisure until the time transfer to the airport to take our flight home. Trip concludes.