General Information
Duration: 15 Days
Starts / Ends: Ho Chi Minh / Siem Reap
Tour Route: Ho Chi Minh – Long An – My Tho – Ben Tre – Tra Vinh – Can Tho – Rach Gia – Ha Tien – Chau Doc – Phnom Penh – Kampong Chhnang – Siem Reap
Tour Level: Moderate
Group Size: Minimize from 2 people to above
Customize: Definitely for your own adventure travel style, please choose form and tell us about your wish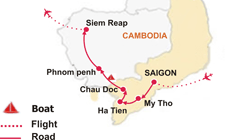 Brief Itinerary
Day 1: Ho Chi Minh Arrival
Day 2: Ho Chi Minh – City Tour
Day 3: Ho Chi Minh – Long An – My Tho – Ben Tre – Tra Vinh
Day 4: Tra Vinh – Can Tho
Day 5: Can Tho
Day 6: Can Tho – Rach Gia
Day 7: Rach Gia – Ha Tien
Day 8: Ha Tien – Chau Doc
Day 9: Chau Doc – Phnom Penh
Day 10: Phnom Penh
Day 11: Phnom Penh – Kampong Chhnang
Day 12: Kampong Chhnang – Siem Reap
Day 13: Angkor Thom and Ta Prohm
Day 14: Banteay Srei temple and Angkor Wat
Day 15: Departure
Full Itinerary
Day 1: Ho Chi Minh City Arrival (D)
Up on arrival at Tan San Nhat Airport, we are met and transferred to hotel. Ho Chi Minh City is a center of commerce, finance, culture and tourism in Vietnam. This bustling metropolis, contradiction of its northern counterpart, is crowded with bikes and motorbikes, excited by numerous shopping area and sidewalk cafés. (If time permits) we stroll around the downtown to explore the different local ways of life.
Overnight in Ho Chi Minh City.
Day 2: Ho Chi Minh – City Tour (B, L)
We are departing today to visit the Reunification Palace, the former Presidential Palace for the president of the South of Vietnam. After that, we will visit War Remnant Museum, where we can see countless artifacts, photographs and pictures documenting about the second Indochina war. Before our lunch, we stop at Notre Dame Cathedral and Old Post office to get our good shots for our memory of the biggest city in Vietnam. Our delicious lunch will be served at a "Pho 2000" restaurant in the central city. In the afternoon, we will visit Ben Thanh market, Cho Lon, China town and market.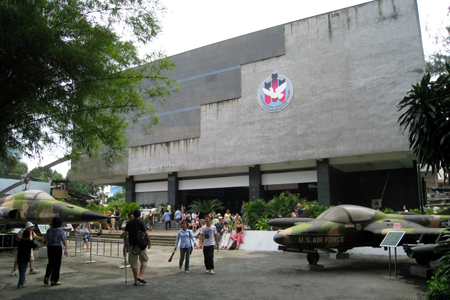 Day 3: Ho Chi Minh City – Long An – My Tho – Ben Tre – Tra Vinh – (80km cycling) (B, L, D)
After breakfast, transfer a couple of hours out of Ho Chi Minh City to Long An. Lunch break at My Tho. Pedal narrow roads and lanes, past banana plantations, fields of sugar cane, through the lush green landscape of the Delta, crossing rivers and canals by numerous, ubiquitous, fascinating ferries. A section of biking cuts off road onto gravel and dirt lanes, and weaves around hamlets, across water channels and through quite dense vegetation. This makes for superb biking. A final ferry across the gaping expanse of Co Chien River leads us to Tra Vinh, a pretty tree lined town with a large population of ethnic Khmer.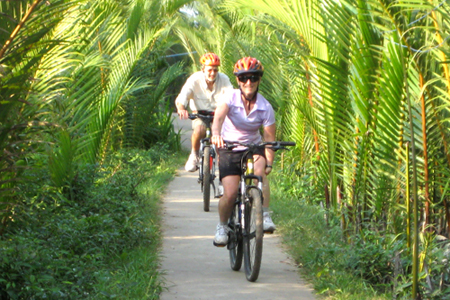 Day 4: Tra Vinh – Can Tho – (82km cycling) (B, L, D)
The route is peaceful, the road narrow and very pretty all the way to Can Tho. There is plenty along the way to see, from the contrasting architectural styles of ethnic Khmer homes, to the numerous colorful Khmer temples and to the fascinating river scenes witnessed when pedaling over countless small wooden plank bridges. Visit Ba Om Pond with its magnificent lotus flowers, and observe local women having their future predicted in the small temple nearby. En route, spend time at a local Khmer Temple School and learn about the life of the students.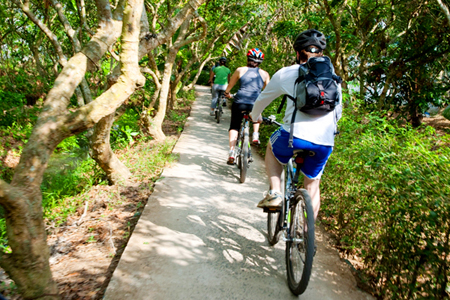 Day 5: Can Tho (B)
Today is easy day for us by taking a boat trip visit floating market of Cai Rang, it takes a few hours in the morning. The rest of the day is relaxing.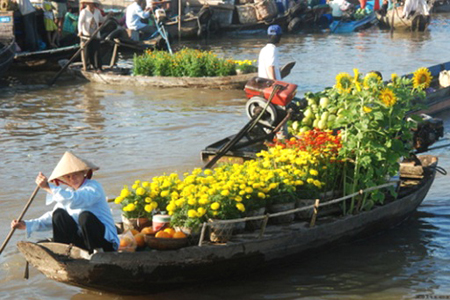 Day 6: Can Tho – Rach Gia – (110km cycling) (B, L, D)
Leaving Can Tho after breakfast, we start cycle along canal to Vi Tanh. Lunch break. Afternoon cycling via Go Qua to Rach Gia. Tonight we stay in Rach Gia town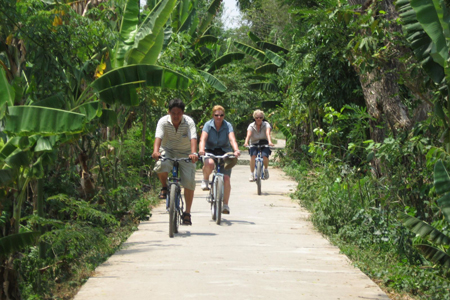 Day 7: Rach Gia – Ha Tien – (92km cycling) (B, L)
Leaving Rach Gia quietly by cycling along the west coast to Ha Tien town, this is the bottom of Vietnam, on the way we can see the Hon Chong and swim on little beach before we reach hotel in Ha Tien. Tonight we stay in Ha Tien town.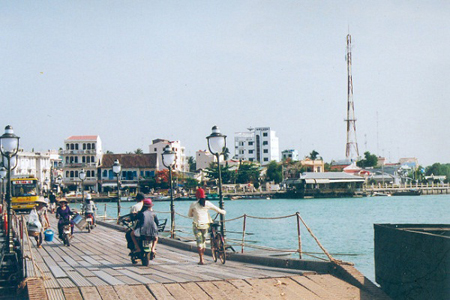 Day 8: Ha Tien – Chau Doc – (100km cycling) (B, L)
Cycle along Vinh Te border canal to Tri Ton, we stop over for short visit to Ba Chuc ossuary well known as killing field in Vietnam, followed by a ride up the sacred Sam Mountain with its panoramic view over the vast plains of the Mekong Delta and far into Cambodia. Overnight in Chau Doc.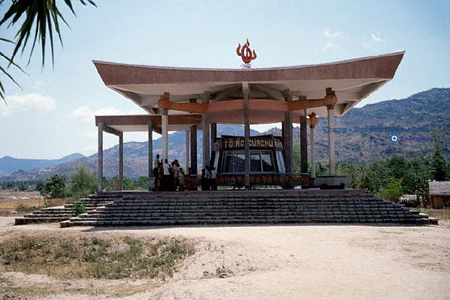 Day 9: Chau Doc – Phnom Penh – (no cycling) (B, L)
Depart early for the boat journey up the Mekong River to Phnom Penh (take water, food, book etc for we r approx 6hr journey). Once arriving at the pier at Chau Doc we will say Goodbye to we r Vietnamese guide & bikes and cruise up the Bassac River for approximately 1hr to the Cambodian border. At the Cambodian border, the boat crew will obtain our visas on our behalf (we will need a spare passport photo, fill in a form and pay the $20 visa fee). This process will take about to half an hour. The boat will then continue to take us upstream to Phnom Penh, where new Cambodian team will be ready to greet with our new bikes. We will then continue we r journey into Cambodia & Phnom Penh. This capital city was once considered one of the most beautiful in the Orient, and despite its recent turbulent history, it retains a colonial charm. After lunch at the atmospheric Foreign Correspondent's Club and we will transfer to Cambodia's killing fields. Later this afternoon we will transfer to our hotel where we r bikes will be ready for us to fit and check. Overnight in hotel.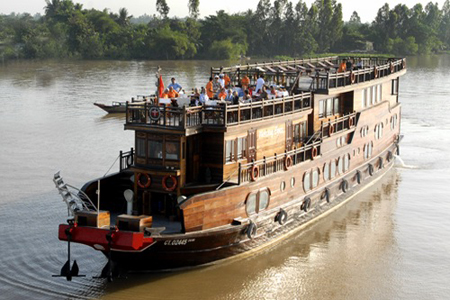 Day 10: Phnom Penh – (no cycling) (B)
In the morning, we start the tour with Silver Pagoda located in the Royal Palace Enclosure and the Royal Garden. Before lunch, we also visit the Wat Phnom, widely acknowledged as the site of the foundation of Phnom Penh. Where we can enjoy views over the tree-lined avenues of Phnom Penh. We have lunch in the restaurant.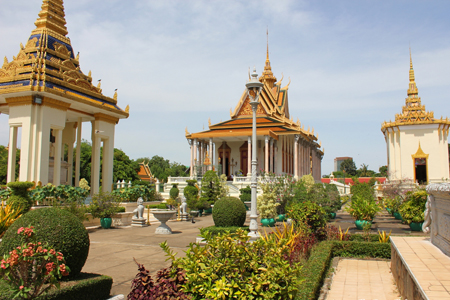 In the afternoon, we visit The Tuol Sleng Museum, also called Museum of Genocide where we can understand more about the most tragic part in Cambodia history. From 1975 until 1979 it was Khmer Rouge's main torture and interrogation center, gaining the acronym 'S-21'. From here the victims were taken out and executed in what is now known as the Killing Fields. Follow by that we visit the Victory monument and the Russian Market.
Day 11: Phnom Penh – Kampong Chhnang – (91km cycling) (B, L, D)
We depart in the early morning by bike and we head north on National road N5 via the ancient Japanese bridge and start traveling through the Cambodian countryside. We will share the road with light local traffic and get a good sense of what Cambodian transportation actually is. After 12Km we get to Prek Phnov and at the junction we left turn to unpaved roads passing local villages and rice fields. We pass the ancient capital of Udong where Udong Mountain is still home to many of the old Royal Palaces. We pay a visit to one of the remaining stupa's and after a visit we will ride on the paved road heading north-west to Kampong Chhnang.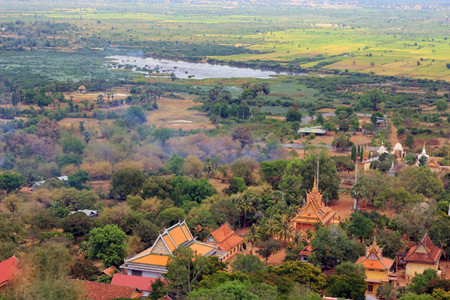 It is located 91 km North of Phnom Penh. The area is scenic and if we cross the river, we will find several ancient temples from the Chenla period, such as Samrong Sen and Prasat Prah Srey. We will get great views of the countryside and for sure will meet hordes of people welcoming us with a broad smile and a "Hello Mr.!" quote. Overnight in Kampong Chhnang.
Day 12: Kampong Chhnang – Siem Reap – (no cycling) (B, L, D)
Speedboat to Siem Reap. About 4 hour's. Afterwards, our vehicle will bring us to the city of Siem Reap, the gateway to the stunning temples of Angkor.
Day 13: Angkor Temple Complex: Angkor Thom and Ta Prohm – (40km cycling) (B)
Today, after breakfast, we will start our visit of the amazing temples complex of Angkor. We will begin to explore the complex of Angkor Thom. Then, we will visit Ta Prohm. The principal singularity of Ta Phrom is that it has not been cleared from the thick jungle, as the rest of the Angkor Complex has been. It looks nearly the same as in the descriptions of the first French explorers, shrouded in undergrowth and in the huge roots of old Banyan trees. Then we go back to hot air balloon station where we can ride a stable hot air balloon for a truly memorable sunset look over one of the Wonder of the World, Angkor Wat.
Overnight in the hotel in Siem Reap.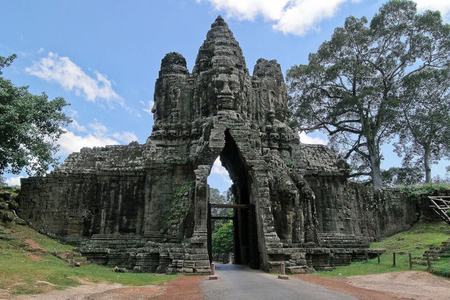 Day 14: Angkor Temple Complex: Banteay Srei temple and Angkor Wat – (40km cycling) (B)
In the morning we have a journey of 25km to Banteay Srei temple (the Woman temple) which regarded as the jewel in the crown of Classical Khmer Art. Then we drive back to Siem Reap for our lunch. This afternoon we will visit Angkor Wat. Angkor Wat is located about six kilometers north of Siem Reap, south of Angkor Thom. Angkor Wat was built in the first half of the 12th century (113 – 5BC). It is a largest monument of the Angkor Group and the best preserved and it is an architectural masterpiece. Its perfection in composition, balance, proportions, relief's and sculpture make it one of the finest monuments in the world. In the end of afternoon, we will enjoy sunset at the hilltop temple of Phnom Bakheng.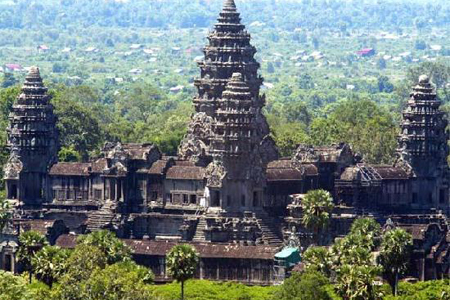 Overnight in the hotel in Siem Reap.
Day 15: Siem Reap departure (B)
Today we are free day until transfer to the airport for our fly home. Thanks for traveling with Vietnam Local Tour Company!