General Information
Tour Route: Hanoi – Siem Reap – Angkor Wat – Kampong Cham – Phnom Penh – Ho Chi Minh
Duration: 7 Days
Departure Date: Any Time You Wish
Start/ End: Hanoi/ Ho Chi Minh
Brief Itinerary
Day 1: Siem Reap Arrival (D)
Day 2: Siem Reap – Angkor Wat (B)
Day 3: Siem Reap (B, L, D)
Day 4: Kampong Cham (B, L, D)
Day 5: Homestay in Chambok village (D)
Day 6: Phnom Penh (B, D)
Day 7: Fly to Ho Chi Minh City – Departure (B)
Day 1: Siem Reap Arrival (D)
Get to Cambodia from Noi Bai International Airport (Hanoi). Meet your private guide and driver upon pick up from Siem Reap International Airport to the hotel. Enjoy the welcome dinner and stay overnight at the hotel in Siem Reap.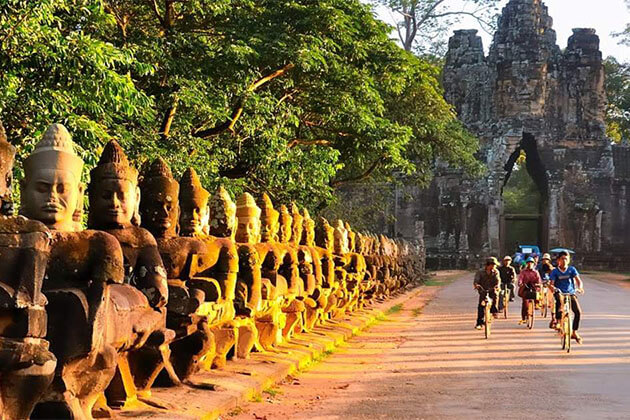 Day 2: Siem Reap – Angkor Wat (B)
After breakfast at the hotel, spend time visiting The Angkor Wat – the world's largest religious monument. These temples are located just a few miles north of Siem Reap. Constructed in the first half of the 12th century, Angkor Wat is where you can explore the history Khmer Empire. Ta Prohm is an impressive temple that has largely been covered by lush jungle with huge trees. The ruins of the complex are scattered over an area of 160 square kilometers but the main cluster of temples is located just a few miles north of Siem Reap.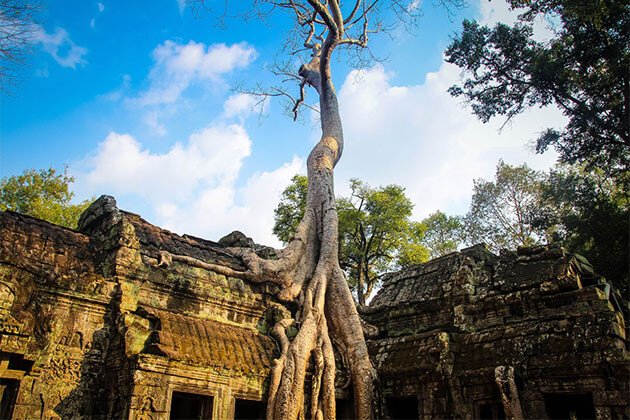 Visitors can admire the majestic beauty of towers and artwork with the classical style of Khmer architecture, which makes it a must-see tourist attraction. The best time to take photos is the sunrise at Angkor Wat, you should get up early and go to the temple-top viewing area – Bakan Sanctuary.
Day 3: Siem Reap (B, L, D)
The third day is your free day to discover Siem Reap in your way. Check out amazing things to do in Siem Reap that you should try:
• Pay a visit to the Landmine Museum to learn about Cambodian history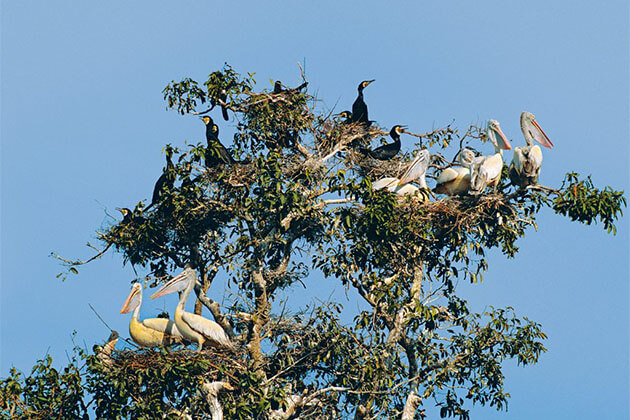 • Explore the Prek Toral Bird Sanctuary with many large-sized birds such as storks, pelicans, ibis and their enormous nests
• Join a Khmer cooking class
• Get a fishy foot massage
Day 4: Kampong Cham (B, L, D)
Catch a bus and get to Kampong Cham (nearly 5 hours). It is a public bus which means you will travel like a local. You can hire a bike to visit the rural island of Koh Paen, linked to Kampong Cham by a small bamboo bridge (If you travel in the rainy season, you will have to take a ferry). Local people here grow tobacco and sesame and fish to earn living; therefore, it is a wonderful place for you to have a closer look at the daily life of Cambodian people.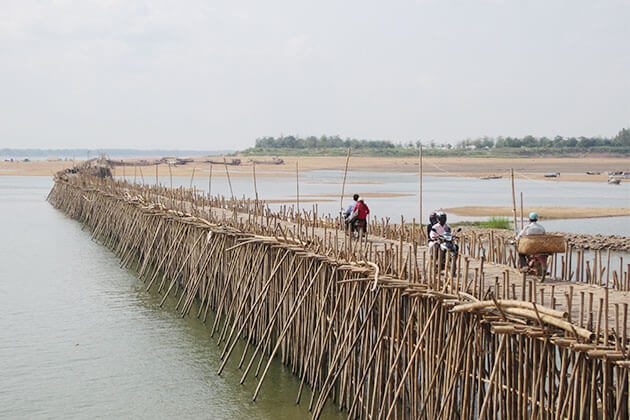 Day 5: Homestay in Chambok village (D)
Travel by a private vehicle into the Chambok village. Chambok is located right next to the Kirirom National Park. After exploring the stunning scenery, come to this charming village and discover the Khmer hospitality by staying with a local family in the rural Khmer house. A lot of families have vegetable gardens and raise animals in their gardens, so it is your chance to immerse yourself in their daily lives. You will be offered a traditional Khmer dinner which is prepared by the locals.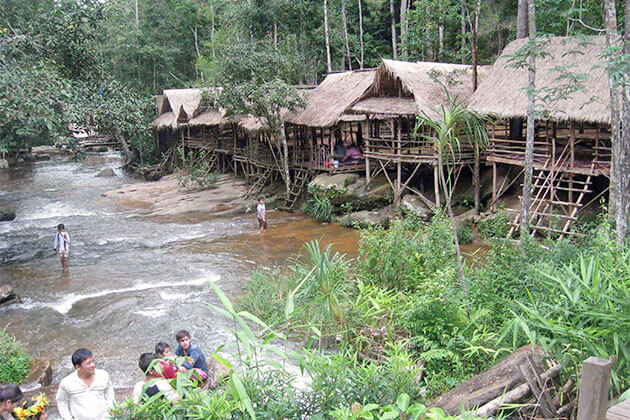 Day 6: Phnom Penh (B, D)
Catch a private bus to Phnom Penh, the capital of Cambodia (approximately 3 hours). There are many amazing activities to fill your stay in the Cambodian capital. Visit the Royal Palace and Silver Pagoda to stroll through the green gardens and visit the ornate temples, library, and galleries inside. Head to the Choeung Ek Memorial and the Killing Fields which is infamous for a stupa made of more than 8000 human skulls.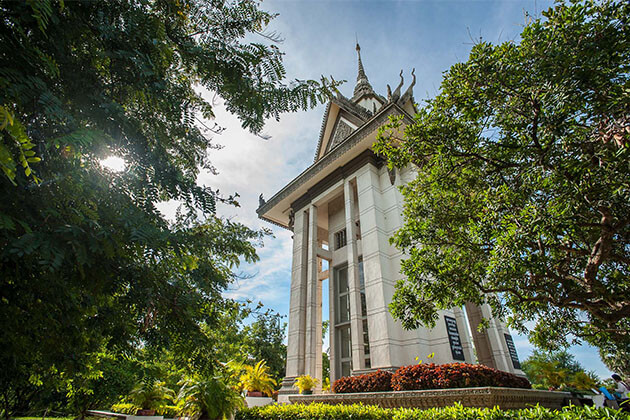 Also, you can explore Wat Phnom, check out the National Museum of Cambodia, visit Phnom Tamao Wildlife Rescue Center…
Your dinner will be served at the Friends International Restaurant, not only will you enjoy delicious local food, but also support an organization that helps vulnerable children.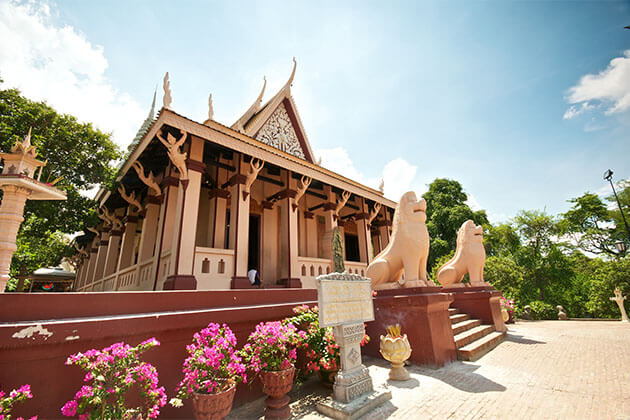 Stay overnight at the hotel in Phnom Penh for overnight accommodation.
Day 7: Fly to Ho Chi Minh City – Departure (B)
Enjoy the savory breakfast at the hotel and have a quick glimpse of this city through a 2-hour Ho Chi Minh City Tour. Visit the most appealing destinations in Saigon such as Independence Palace, Notre Dame, Saigon Opera House, Central Post Office, Ben Thanh Market,… and some other places if have time.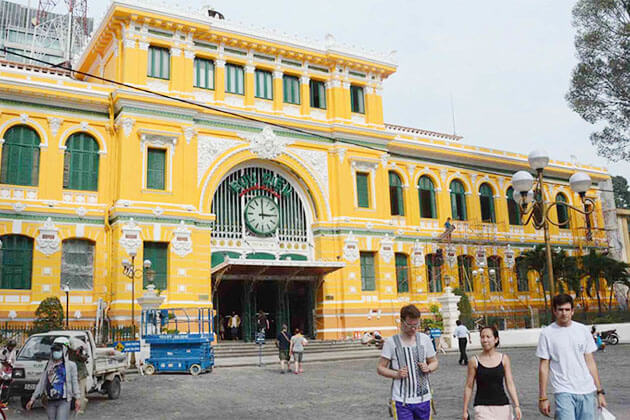 In the afternoon, you are free time until your driver picks up and transfers you to Phnom Penh International Airport to move on to Ho Chi Minh City.
Your tour ends in Ho Chi Minh City.