General Information
Duration:16 Days/ 15 Nights
Date: No fixed dates
Start/ End: Bangkok/ Phnom Penh
Tour Route: Bangkok – Bangkok City Exploration – Siem Reap – Angkor Wat – Koh Trong Island – Mondulkiri Expedition – Phnom Penh
Tour Customizable: Definitely! (Tell us your specific requirements in the inquiry form)
Guides: Local Guide (English Speaking Guide, Other Languages upon Request)
Brief Itinerary
Day 1: Bangkok Arrival – A Night as a Local Tour on Tuk Tuk (D)
Day 2: Authentic Bangkok City Tour (B, L)
Day 3: Good Morning Bangkok Biking Tour (B)
Day 4: Bangkok – Transfer to Aranyaphrathet – Poi Pet – Banteay Chhmar – Siem Reap (B)
Day 5: Bayon – Ta Prhom – Angkor Wat Tours (B)
Day 6: Banteay Srei & Preah Khan Discovery (B)
Day 7: Active Day Tour at Koulen National Park (B)
Day 8: Siem Reap – Sambo Prei Kuk Temple Tour – Transfer to Koh Trong (B)
Day 9: Kraie – Koh Trong Island Discovery (B)
Day 10: Koh Trong Island Relaxing Day (B)
Day 11: Kraie – Transfer to Mondulkiri (B)
Day 12: Mondulkiri – Exploring the Elephant Valley Project (B, L)
Day 13: Mondulkiri – Transfer to Phnom Penh (B)
Day 14: Phnom Penh City Tour (B)
Day 15: Phnom Penh – Nature Sightseeing Tour in Phnom Oudong (B)
Day 16: Phnom Penh Departure (B)
Full Itinerary
Day 1: Bangkok Arrival – A Night as a Local Tour on Tuk Tuk (D)
Welcome to Bangkok, the city of angels! On arrival at the airport, we will be welcomed by our local guide and driver then transfer to our city hotel for check-in and relaxation.
Arrival Time: 6.30 AM
(Note: Hotel's check in is 14.00, early check in is based on hotel's vacancy)
Have a rest then later this afternoon, at around 17:30, we will depart by tuk tuk for an evening tour around Bangkok. Ride through the busy streets and enjoy the view of Bangkok. Stroll the streets of Yaowaraj Road, sampling a variety of local food and snacks. Have the best kept-secret noodles of Guay Tiew Kua Gai. Cruise the old city and see from a unique night time perspective. We will also take a stroll around the amazing local flower market. After the tour, we will escort you safely back to your hotel stay by 22:00.
Overnight in Bangkok.
Meal: Dinner.
Day 2: Authentic Bangkok City Tour (B, L)
This morning, we will be picked up at 6:00 AM at the hotel lobby. We will then travel by the local Metropolitan Rapid Transit (MRT) among the commuters to visit Wat Po with the Reclining Buddha. Here, get the chance to join the morning Buddhist ritual and ceremony. Take a stroll to visit the Grand Palace and the Emerald Buddha at Wat Phra Keo.
After enjoying lunch with local cuisine at a nice restaurant in town, we will take the ferry crossing to visit Wat Arun (Temple of Dawn). Board a motorized boat and cruise in the canals to end up at China Town side, where we proceed with a walking tour to see local activities. We will then take the MRT and Bus Rapid Transit (BTS) and transfer to our next destination, the Jim Thompson House. After the tour, you will be escorted safely back to your hotel stay. The rest of the day is free for you to spend at your own leisure.
Overnight in Bangkok.
Meals: Breakfast, Lunch.
Day 3: Good Morning Bangkok Biking Tour (B)
Today, time will be free until our guide and driver arrive to escort you to the starting point of our bicycle tour through Bangkok. Join in group for a 3-hour bicycle ride through the alleys of the city and local hidden communities. Meet up with locals to get to know the daily life here. Enjoy the afternoon free at your leisure.
Overnight in Bangkok.
Meal: Breakfast.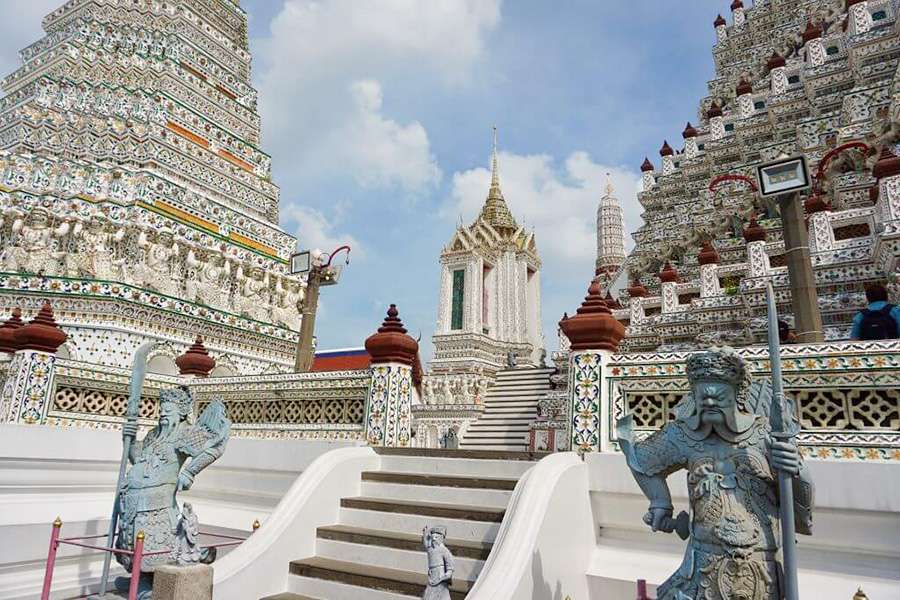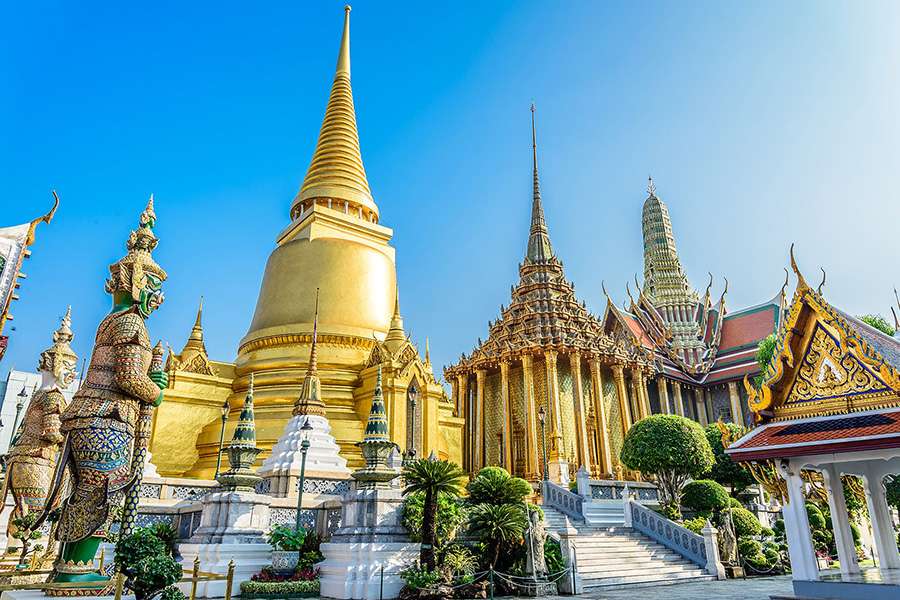 Day 4: Bangkok – Transfer to Aranyaphrathet – Poi Pet – Banteay Chhmar – Siem Reap (B)
Enjoy your breakfast at hotel then we will meet up with our guide and driver for a transfer to Aranyaphrathet in Sa Keo province (approx. 4 hours driving). Upon arrival at the border, kindly take your luggage or hire porters and walk across the border passing Thai immigration to the Cambodian side and WELCOME TO CAMBODIA!
You will be warmly welcomed by our driver and guide at Poi Pet International Border then drive out of the hassle Poi Pet city to Banteay Chhmar temple, situates in Thma Puok District, Banteay Meanchey. The journey takes about 3 hours (190km) from Siem Reap, passing countryside dotting with palm trees, rice paddies and we stop to see people selling crispy bugs (Ex. Cricket, grasshopper), and you have the chance to try different delicious bugs.
Once we arrived, we begin our guided adventure to reveal Banteay Chhmar temple hiding among lush forest and you could be the only tourists exploring this Angkorian temple, which was built in 12th century during the reign of famous Khmer King "Jayavarman VII" and the temple complex resembles Angkor Thom. Stroll around to unlock interesting bas-reliefs describing military and daily life engagements, take some nice photos before visiting Banteay Chhmar Buddhist pagoda. One the way back, we stop by to visit the ruined Banteay Toap temple "Fortress of Army" which is considered as a tribute to Khmer army and nearby is admired by a large water reservoir and beautiful landscape.
Overnight in Siem Reap.
Meal: Breakfast.
Day 5: Bayon – Ta Prhom – Angkor Wat Tours (B)
Enjoy your breakfast at the hotel then we will be picked up by our guide and driver at 8.00 AM to go out for exciting days filled outdoor activities. Our first stop is at the South Gate of Angkor Thom atop 4 giant faces that religiously represents compassion, sympathy, equanimity and charity. Stroll around Bayon temple consisting of more than 200 smiling faces in stone, admired by interesting temples including Baphuon, Phimeanakas, and terrace of leper king and terrace of elephant. Resume the journey to visit Ta Prohm temple adorned with the stunning, amazing tree roots where Lara Croft Tomb Raider was filmed.
In the afternoon, continue to witness the marvelous Angkor Wat – the world's heritage listed by UNESCO in 1992 and the largest unrivaled monument in the world. Built by Suryavarman II in 12th Century, Angkor Wat is considered as one of the top destinations in Asia and is a must-see in your lifetime. Learning from your tour guide the amazing history, its ancestral incredible, architectural masterpieces and the finest carvings dates back to the Khmer Empire when it dominated the largest parts of Southeast Asia.
Overnight in Siem Reap.
Meal: Breakfast.
Note: Visiting beautiful sunset is available at Phnom Bakheng but with limit allowance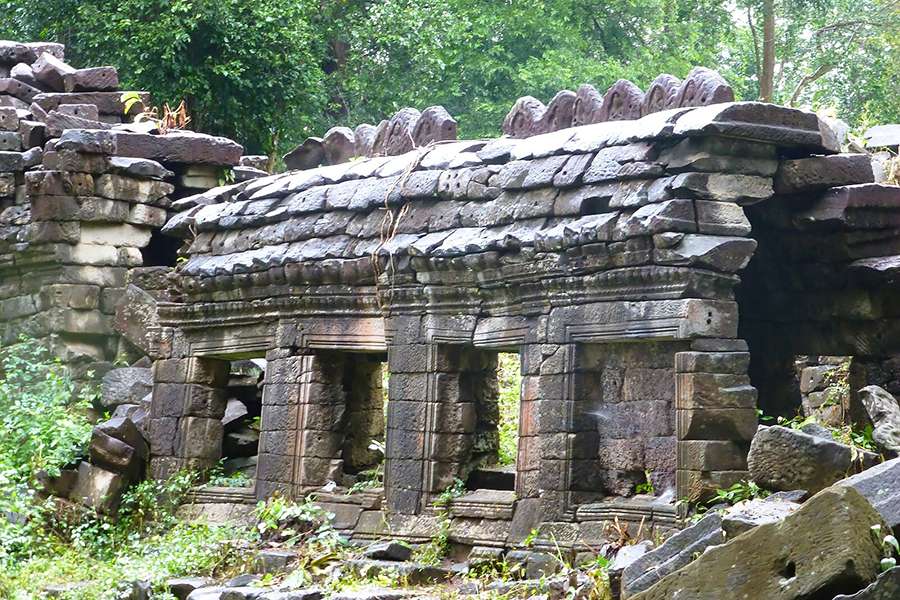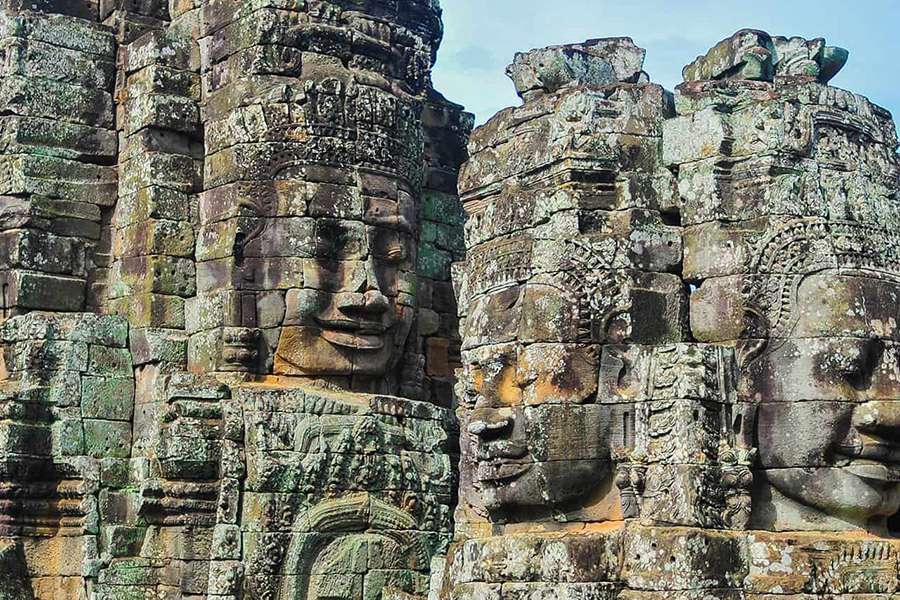 Day 6: Banteay Srei & Preah Khan Discovery (B)
Our guide and driver will greet you at 8.30 am at the hotel's lobby then we will drive to the Angkor jungle to Grand Circuit where we're going to explore some main Angkorian temples starting with Srah Srang (The Royal's Basin), Banteay Kdei, Ta Keo, Preah Khan (Royal Sword), Neak Pean (Coiled Serpents), Ta Som and East Mebon. Afternoon, continue to reveal the intricately carved, beautiful red-pink sandstone temple of Banteay Srei which has a meaning "citadel of the women" – was built in 10th century and considered to be a Jewel of Khmer art which features unique decorations and its finest details. We return for a short visit at palm sugar village, other various palm handicrafts and discover the serenity of Banteay Samre temple. Climb over Pre Rup temple, wait to watch beautiful sunset overlooking rice paddies. After the tour, we will return to your hotel in the late afternoon.
Overnight in Siem Reap.
Meal: Breakfast.
Note: The tour is flexible and you can always skip a few of these temples if you think it is too much
Day 7: Active Day Tour at Koulen National Park (B)
This morning, enjoy breakfast at hotel then we will depart at 8.30 am, heading to Phnom Kulen before we drive out of the hassle Siem Reap city to visit one of Cambodia's most famous national parks – popularly known as "Phnom Kulen" where you get to see the famous, beautiful waterfall. Phnom Kulen (Mountain of Lychee) situates about 57km (approx. 1 hour driving), Phnom Kulen is regarded as the holy mountain for religious significance to Hindus and Buddhists and was the significant home of the ancient Khmer Empire when King Jayavarma II proclaimed independence from Java in 804 CE. The journey provides nice views of rice paddies, countryside dotting with palm trees and cattle. We will have a short visit at Preah Dak market to observe the daily life of people selling their vegetables, meat and exchange the trades.
Enjoy the walking tour to see the giant reclining Buddha statue on the hilltop along with breathtaking, spectacular views and learn from your tour guide about historical site. Resume walking within the jungle to witness the religious Hindu of the riverbed of 1000 linga carvings, next we move to observe the sacred ground-pool before we head to relax near the waterfall. From then, it is your own free time for cooling down, swimming and enjoying local lunch and fresh coconut juice nearby (at own expense). Late afternoon, we drive back to Siem Reap and on the way, we stop for a visit at palm sugar village and other various local handicraft souvenirs.
Overnight in Siem Reap.
Meal: Breakfast.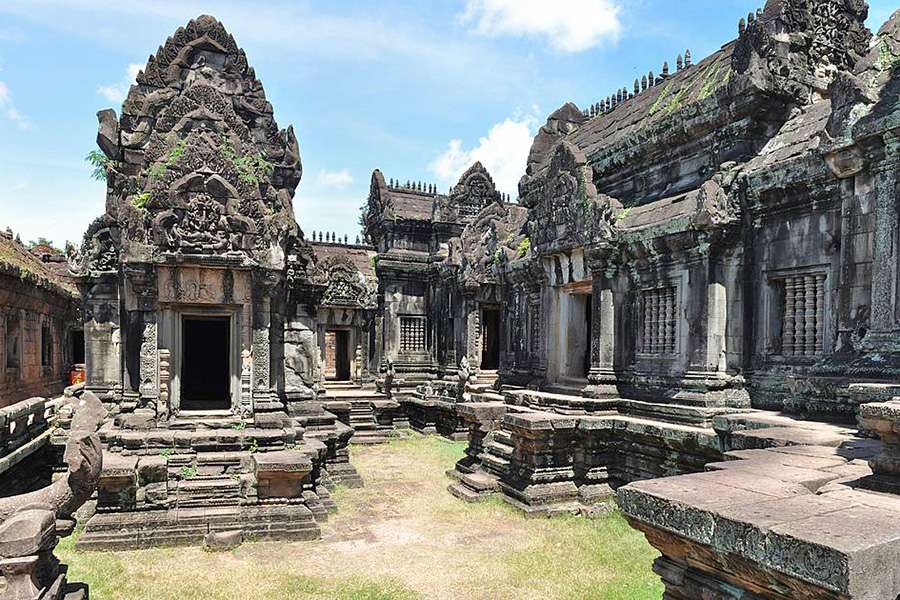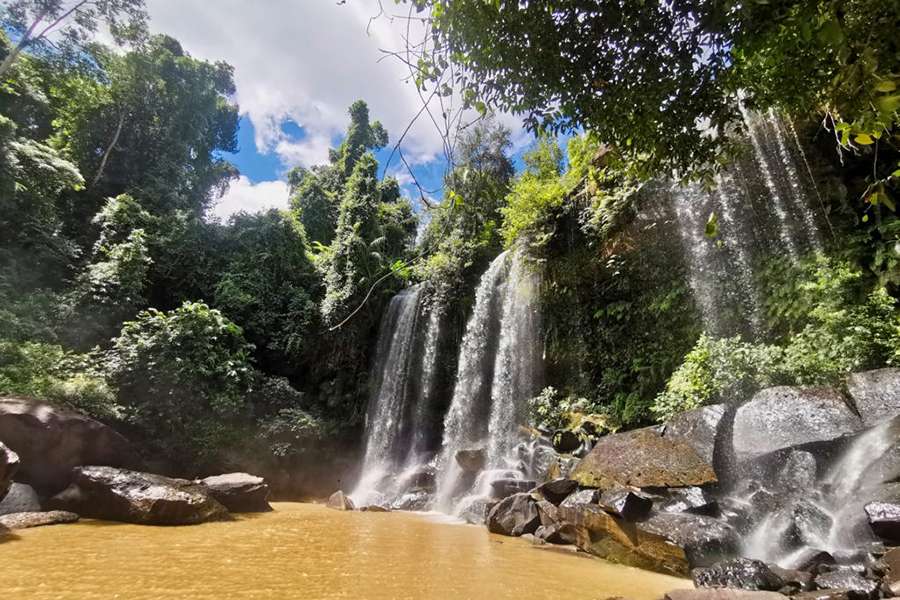 Day 8: Siem Reap – Sambo Prei Kuk Temple Tour – Transfer to Koh Trong (B)
This morning, enjoy an early breakfast at your hotel stay and check out of your hotel room. Our escort guide and driver will greet you at 7.30 AM at your hotel's lobby then drive out of the hassle Siem Reap city to visit Sambor Prei Kuk temple, located in Sambor Commune, Kampong Thom province. The road trip takes approx. 3 hours, passing through beautiful countryside dotting with palm trees & cattle, we stop to observe how traditional bamboo sticky rice is made, and try some bites of its delicious taste. Afterward, proceed to visit Kampong Kdei Bridge – the Angkorian Bridge was built in 12th century during the reign of King Jayavarman VII.
Resume drive directly to Sambor Prei Kuk – the archaeological site of ancient Ishanapura, the capital of the Chenla Empire consisting of a cluster of brick temples date to the late 6th and early 7th centuries AD. Sambor Prei Kuk means in Khmer language: "the temple in the richness of the forest", was successfully declared as the UNESCO world heritage site in 8 July 2017 due to its unique masterpieces, architectures and arts of Pre-Angkorian period. Enjoy the guided walking orientation and learn from your tour guide about its historical richness and take some fantastic photos, and the surroundings. We say goodbye to Kampong Thom then drive to Kratie – a sleepy town and the great home for freshwater Irrawaddy Dolphins. Once we arrived, take a local boat to Koh Trong Island and check in then have the rest of the day to yourself.
Overnight in Koh Trong.
Meal: Breakfast.
Day 9: Kraie – Koh Trong Island Discovery (B)
Today we explore Koh Trong Island by push bike (if you don't like biking) for the highlights of Koh Trong Island, interact local people as well as seeing rural life. Learn from your tour guide about their way of living, routine, culture especially the en-rooted superstitions. Passing traditional stilt houses and hear kids welcoming you by saying "Hello", you'll have a lot of chance to take interesting photos. Continue to see Vietnamese floating houses, make a friendly visit to grape farm and enjoy the taste of famous Koh Trong pomelo before heading back to the hotel. Afternoon, embark a local boat to the mainland then heading to visit Wat Sasar Mouyrouy (100 column pagoda) with interesting history & legend, continue to Kampi pool where you take a small boat to capture the special glimpses of rare endangered freshwater Irrawaddy Dolphins and watch beautiful sunset over the Mekong River.
Overnight in Koh Trong.
Meal: Breakfast.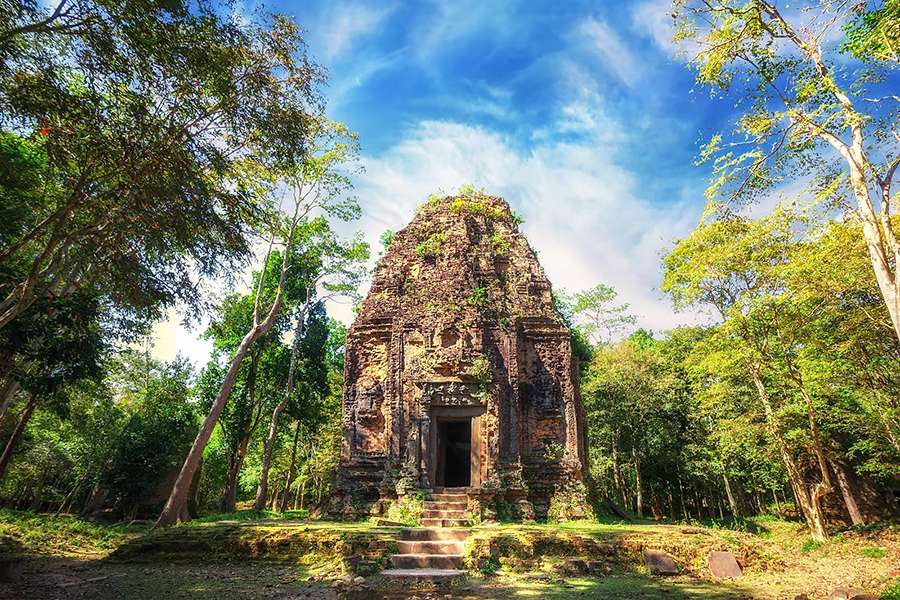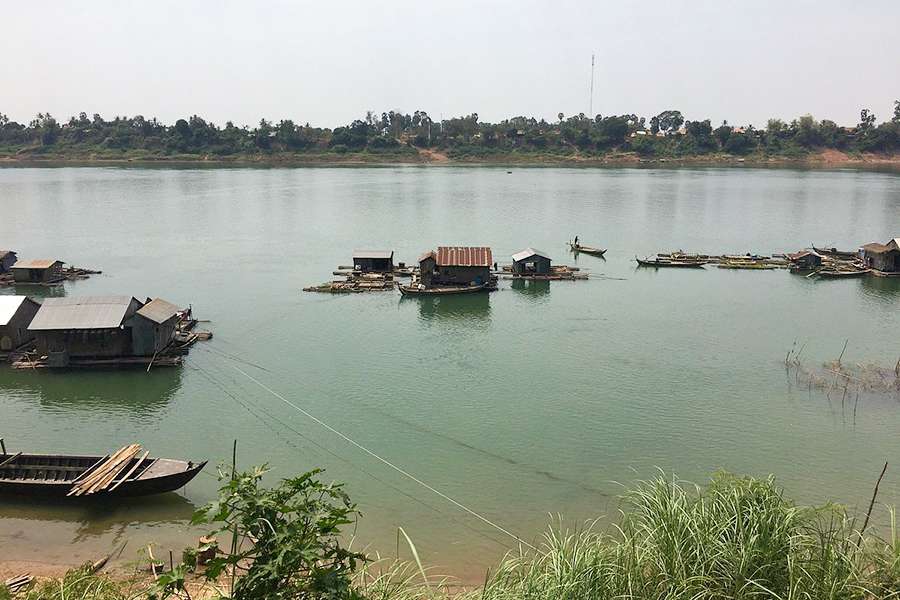 Day 10: Koh Trong Island Relaxing Day (B)
Today, time will be free for you to spend at your own leisure. Spend time to relax or walk along the shore to enjoy the breezy scenery or take a stroll in town to meet the friendly locals.
Overnight in Koh Trong.
Meal: Breakfast.
Day 11: Kraie – Transfer to Mondulkiri (B)
Breakfast is at hotel. Check out of your hotel then we will drive straight to Mondulkiri Province. Along the way, we will make a quick stop to see the most beautiful Bousra Waterfall in Mondulkiri, unwind yourself, cool off and relax by the falls (don't forget to bring extra clothes if you wish to cool off under the falls). Continue our journey toward your hotel and check in to your hotel room. The rest of the day is free for you to spend at your leisure.
Overnight in Mondulkiri.
Meal: Breakfast.
Note: Mayura Zipline at the Waterfall is temporarily closed
Day 12: Mondulkiri – Exploring the Elephant Valley Project (B, L)
Enjoy your breakfast at hotel then we will leave at 8.00 AM to the Tree Lodge Bungalows. From here, you will be transferred to the starting point of our tour in Mondulkiri protected area then we trek through the jungle to the Mondulkiri Project's Jungle Lodge. Here, you will listen to your guide talk about the Mondulkiri Project. Next, it is time to meet the 5 elephants and their Mahouts. Take lots of photos, get close to the elephants and have fun feeding the elephants bananas. Watch as the elephants walk around eating bamboo and enjoying being elephants. You will also see them scratching against tree trunks and throwing dirt or mud on their backs. After lunch, we continue to the valley for swimming, washing and playing with lovely elephants until late afternoon. Heading back to our awaiting car then drive to our hotel.
Overnight in Mondulkiri.
Meals: Breakfast, Lunch.
Note: Specialized elephant tour guide will help you to see the surrounding and bathe/play with elephants.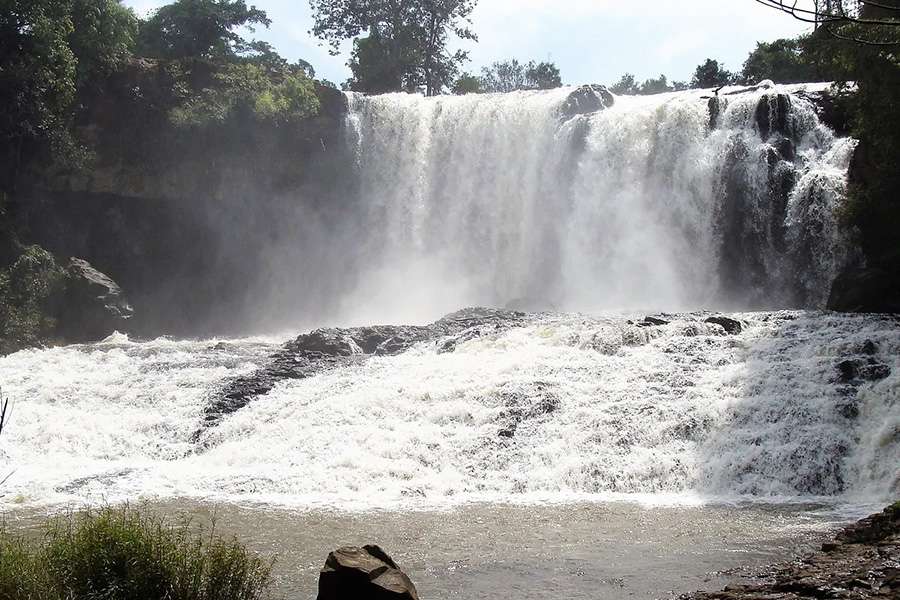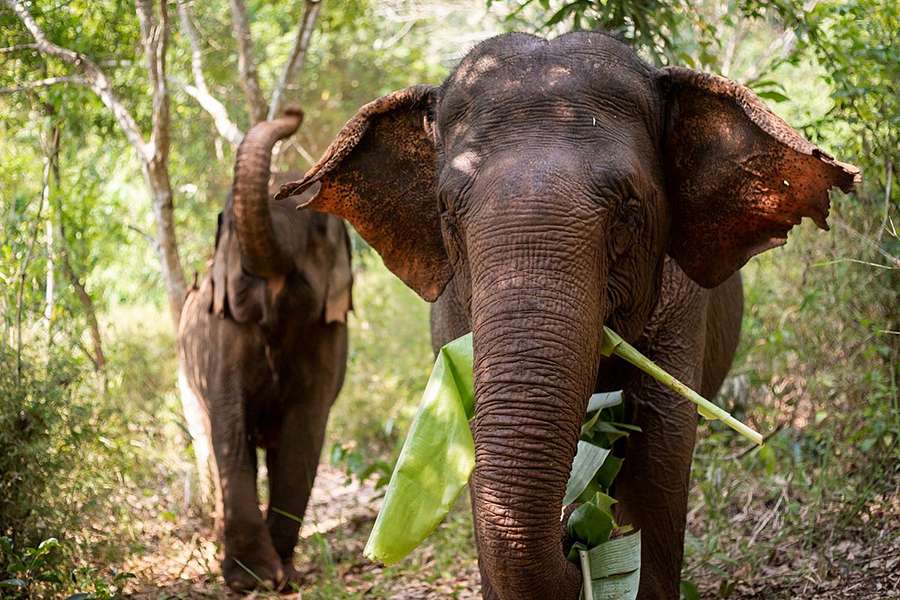 Day 13: Mondulkiri – Transfer to Phnom Penh (B)
This morning, after checking out, you will be picked up and transferred to Phnom Penh. Along the way, we make a stop at Kampong Cham where we visit the Angkorian temple "Wat Nokor". Resume the journey to Skun village – alternatively well-known as "spider village", this is your chance to experience the taste of crispy bugs. Continue driving to Phnom Penh Capital and upon your arrival, check in and have free time to your own exploration in the evening.
Overnight in Phnom Penh.
Meal: Breakfast.
Day 14: Phnom Penh City Tour (B)
We will be picked up by our personal guide and driver at 8.00 AM then drive along riverfront for fantastic morning highlight of Phnom Penh Capital toward Independent Monument where we stop to capture some beautiful photos before resuming witness the tragic site of Cheug Ek – the killing field that proceeded more than 20 thousands of civilians and the site is connecting with Tuol Sleng Museum – was the former school that was transformed to Tortured Prison S21. Stroll around Russian market for shopping.
Afternoon, visit The Royal Palace – a complex of buildings which are served as the royal residence for the King of Cambodia, admired by impressive Silver Pagoda with over 5000 solid silver tiles and other Royal Stupas, shrines, monuments etc. Continue for a guided tour at the National Museum, the world's most important collection of Cambodian antique sculptures and carvings. Next, continue to visit Wat Phnom with interesting legendary of founding place of Phnom Penh Capital.
Overnight in Phnom Penh.
Meal: Breakfast.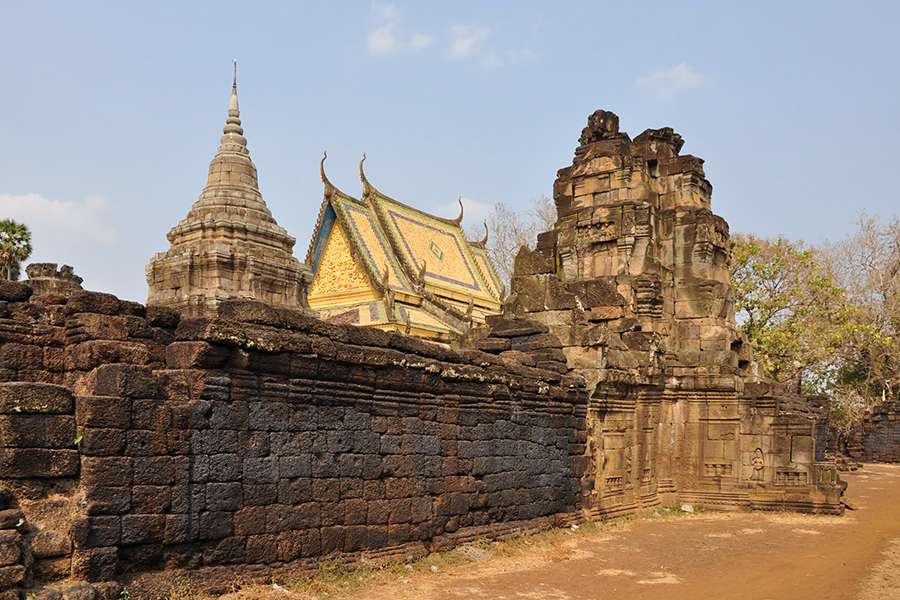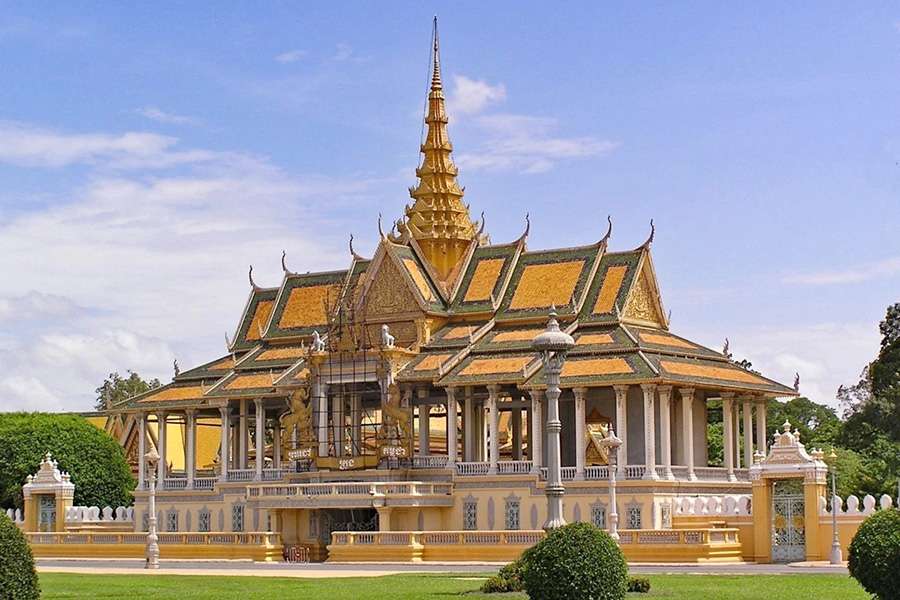 Day 15: Phnom Penh – Nature Sightseeing Tour in Phnom Oudong (B)
Our escort guide and driver will be meeting you at 8.00 am at hotel's lobby then we start heading out of the hassle Phnom Penh toward Phnom Oudong which locates in Kampong Speu and 40km Northwest Phnom Penh Capital. The journey takes approx. an hour drive passing beautiful countryside dotting with palm trees and huge rice fields. Mt Oudong dates to 16th century along with interesting history. The former Royal Capital was ideally founded by King Srei Soryapor and its large impressive stupas house several Cambodia's King's ashes. Stepping our feet in the base of Mt Oudong and admired by green jungle, we gently enjoy walking up the main stairway with around 500 steps to reach the summit where we take off our shoes to explore the surrounding that includes three magnificent stupas and other small temples whilst witnessing Oudong history from our tour guide.
It's true to take the advantage of breathtaking and capture the panoramic view before we set off back to Phnom Penh in the afternoon. Please be aware that you are freely invited to visit 8th century Pre-Angkorian temple of Phnom Praset and its Buddhist pagoda which admires the reclining Buddha. Or make a visit at Silver Smith Making Village If you intently want to make this happen, please speak to our tour guide.
Overnight in Phnom Penh.
Meal: Breakfast.
Day 16: Phnom Penh Departure (B)
Today is reserved as free time for your own leisure until our guide and driver arrive to pick you up and escort to Phnom Penh airport in good time for your departure flight.
Have a safe flight! Thanks for choosing Multi-country tour from Vietnam local tour operator!
Inclusions & Exclusions
Inclusions
15-night accommodation with daily breakfast as per detail itinerary
All transfers for touring and airport pick-up/drop-off by private air-conditioned vehicle with experienced driver
Meals as specified in the itinerary with Vegan/Western/Indian food available on request. (B = Breakfast, L = Lunch, D = Dinner).
Local-stationed English-speaking tour guide
Entrance fees & permits (if have)
Boat excursions as per mentioned
Bottled drinking water
Exclusions:
Surcharge for early check-in or late check-out unless stated
International and domestic flights and airport taxes
Visa Arrangement (kindly advise your nationality if need assistance)
Travel Insurance
Other meals which are not indicated above
Surcharge and Compulsory dinners (if any)
Beverages in the restaurants where meals are included
Gratuities to guides and drivers
Personal and other expenses such as porter, bar bills and laundry not stated in the itinerary
Notes:
Please be aware that hotels and all other logistics, services and days of travel are subject to availability.
Where flights are cancelled or delayed Indochina Tours will endeavour to secure alternative arrangements of similar value as noted in our booking conditions.
The traveling times mentioned within this dossier are approximations only. These times will vary according to weather, road, traffic or any other prevailing conditions.