Pu Luong Nature Reserve is a nature reserve in northern Vietnam. This nature reserve is situated in Quan Hoa and Ba Thuoc districts of Thanh Hoa Province. The reserve is located along two parallel mountain ridges that run from north-west to south-east, and are divided by a central valley, which contains several human settlements and a large agricultural land area, therefore, is not included within the nature reserve. This 4 days trip allow us to explore the mountainous Pu Luong Nature Reserve and amazing experience with culture of the Thai and Muong people in scenic villages with traditional, rustic home-stay accommodations.
General Information
Duration: 4 Days
Tour Type: Vietnam Adventure Tours
Starts/ Ends: Hanoi/ Hanoi
Tour Route: Hanoi – Mai Chau – Hang Kia – Kho Muong – Ban Hin – Ban Trinh – Pho Doan – Hanoi
Brief Itinerary
Day 1: Hanoi – Mai Chau – Pom Coong – Ban Hang (-/ L/ D)
Day 2: Ban Hang – Eo Ken – Kho Muong (B/ L/ D)
Day 3: Kho Muong – Ban Pon – Ban Nua – Ban Hin (B/ L/ D)
Day 4: Ban Hin – Ban Trinh – Pho Doan (B/ L/ -)
Full Itinerary
Day 1: Hanoi – Mai Chau – Pom Coong – Ban Hang (-/ L/ D)
Today morning we will depart from your hotel in Hanoi at 7:30 AM and transfer to Mai Chau. Upon arrival at the Pom Coong village in Mai Chau, we will take a short walk to visit the ethnic Thai villages. We will enjoy our lunch at Thai stilt house in Pom Coong village. After lunch, we will leave Mai Chau for a short ride along the Ma River (22 km) to Tan Phuc village. Off the van and off the beaten path, we will begin the trekking to Hang village. For 3 hours we will trek through outstanding mountain scenery and picturesque rice paddies, Thai and Muong stilt house on the green mountain.
We will spend the night in a local Thai's family traditional house on stilts. Sharing our stories and immersing into the Thai's culture, overnight in a quiet village.
Day 2: Ban Hang – Eo Ken – Kho Muong (B/ L/ D)
After breakfast, we will start our trekking at 8:00 AM. Today we will be walking for an approximately 6 hours. The first section is hard with some steep climbs and stream crossings. The second stage is glorious with beautiful views of the valley, rice terraces, rich rain forests, and meandering streams. Our Picnic lunch will be served on the way at Eo Ken village. Arrival in Kho Muong village is always special as the setting of the village is perhaps the most beautiful in Northwest of Viet Nam, nestled between steep karst mountains with rice terraces in the afternoon. Tonight we will have dinner and overnight at Thai stilt house in Kho Muong village.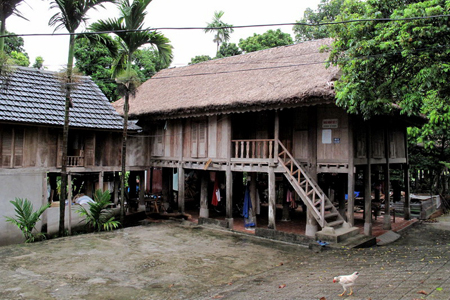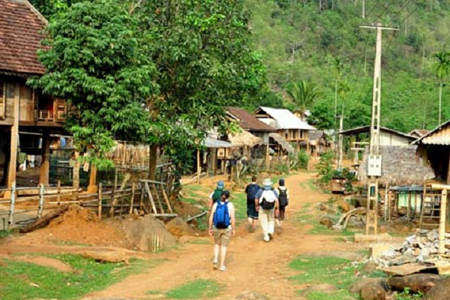 Day 3: Kho Muong – Ban Pon – Ban Nua – Ban Hin (B /L/ D)
After morning breakfast, we will trek to Hin village (approximately 5 – 6 hours). On this route we will encounter some steep climbs and more stream crossings. Along the way we will visit an incredible cave, only recently discovered, now protected by the Forest Rangers. The trekking will be in the remote area. Pass steep limestone mountains and curiosity conjuring caves, through the dense rain forests all inside the borders of the Pu Luong Nature Reserve and into Ban Nua. After this tough trek, there is nothing more refreshing then dunking yourself in a cool stream. Surely you will not be the only one taking part in some of the fun of stream bathing. Our picnic lunch will be served here followed by a little relaxation from the heat of the day before continuing to Hin village of the Thai people. We will be welcomed as honored guests, and have dinner with the local people at their traditional home.
Day 4: Ban Hin – Ban Trinh – Pho Doan (B /L/ -)
After breakfast, continue 2-hour trek through rice fields, village to get to Pho Doan Market. Then, we will have lunch in Pho Doan town. In the afternoon, we will drive back to Hanoi by car. Arrive in Hanoi at around 5:00 PM. Tour ends.