Embark on a sightseeing Tour in Laos, the tranquil country with the myriad of splendid sites. Depart at Hanoi, the thousand-year-old capital, then flight to Luang Prabang, a city of ancient architectures, take a visit to Laos Royal Palace and admire its unique architecture. Experience a trekking & hiking time to get the pagoda on the peak of Mount Phousi before immersing in the beauty of Kuang Si and Tad Sae waterfall. Visit the Viengsamay village in Vang Vieng, explore their daily life and then undergo the final leg in Vientiane, the capital of Laos.
General Information
Tour Route: Hanoi – Luang Prabang – Mount Phousi – Kuang Si Waterfall – Tad Sae Waterfall – Vang Vieng – Vientiane
Duration: 12 Days
Departure Date: Any Time You Wish
Starts/ Ends: Hanoi/ Vientiane
Brief Itinerary
Day 1: Hanoi Arrival (D)
Day 2: Arrive Luang Prabang – Baci Ceremony (D)
Day 3: Cycle Pak Ou Cave, return boat and Mount Phousi (B, L)
Day 4: Hike Kuang Si waterfall (B, L)
Day 5: Alms Giving – Elephant Education tour – Tad Sae Waterfall (B, L)
Day 6, 7, 8: Luang Prabang Cooking Class – Luang Prabang City Tour (B)
Day 9: Luang Prabang – Vang Vieng (B)
Day 10: Vang Vieng – Kayaking and Tubing – Vientiane (B)
Day 11: Vientiane city tour (B)
Day 12: Vientiane departure (B)
Full Itinerary
Day 1: Hanoi Arrival (D)
Xin Chao!
Welcome to Hanoi, Vietnam.
Upon arrival in Noi Bai international airport, you will be picked up by the local guide and then drive to the hotel for accommodation.
In lunchtime, a warm welcome dinner is ready served at a local restaurant. Enjoy it and then we have about two-hour walking around Hoan Kiem Lake and some special stores around it.
Overnight at hotel in Hanoi.
Day 2: Arrive Luang Prabang – Baci Ceremony (D)
Today begins by an early flight to Laos.
On arrival at Luang Prabang airport, students and teachers will be welcomed by our local guide and then transferred to the hotel for check-in.
Our guide will have a quick briefing about the program at the hotel lobby. Then we will head out to explore this UNESCO World Heritage Site, start with a visit to Wat Xieng Thong – "The Monastery of the City" before we make our way to the city's oldest and prettiest temple Wat Visoun. Our next stop is the National Museum also known as the former Royal Palace. Then continue to Houen Chan Heritage House to learn more about Laos culture. In the evening, we will attend the Baci Ceremony at a local house and welcome dinner.
Overnight in Luang Prabang.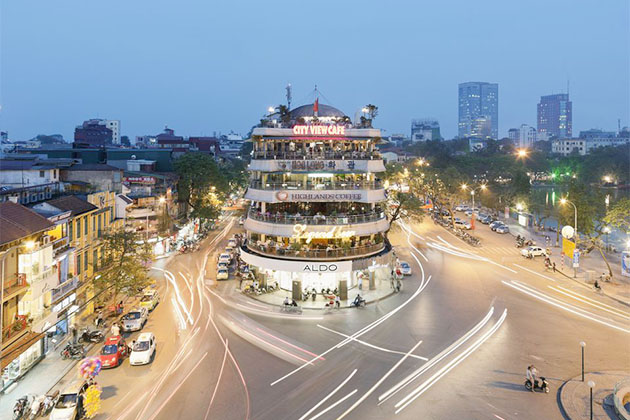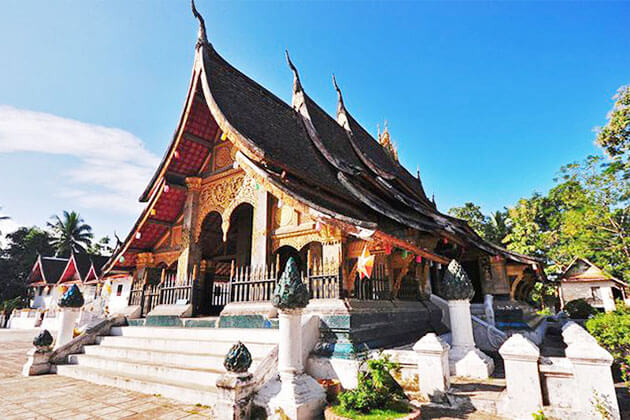 Day 3: Cycle Pak Ou Cave, Return boat and Mount Phousi (B, L)
This morning, we receive a bike and a short introduction then head out to Pak Ou Village from Luang Prabang. After approximately 25 kilometers of cycling in both smooth and rough road, we reach the village of Ban Pak Ou. After a short rest, we cross the Mekong River to Pak Ou and Thamting Caves, located on the Mekong riverbank. We visit the interesting and mysterious Pak Ou Caves, which are two linked caves crammed with thousands of gold lacquered Buddha statues of various shapes and sizes left by devoted pilgrims. We then embark on a traditional boat downstream the Mekong River with our bicycles.
On the way, we stop at the village of Ban Xanghai, where you can sample the local produce of Lao rice wine. Our next stop will be Ban Xang Khong, famous for Saa paper-making. We then return to Luang Prabang, climb up to the top of Mount Phousi for a panorama view of the city and Mekong River. The evening is free to visit Night Market.
Overnight in Luang Prabang
Approximately: 2hours cycling/2 hours boating
Day 4: Hike Kuang Si Waterfall (B, L)
This morning, we drive to the nearby valley southeast of Luang Prabang. Arrive at the Long Lao Village where depart our hiking tour. After exploring the life and the culture of the village as well as Khamu and Hmong people living here, we start a trekking tour.
Continue trekking into the mountainous Lao countryside of Luang Prabang. During the trekking time, we will pass the orchards, stunning rice fields, and vegetable gardens before reaching the forested mountains with very wild jungle scenery and some graded climbs.
In the afternoon, we get the crystal clear Kuang Si Waterfall. An exciting forest trail leads you to the end of your trek and your reward – the welcoming and refreshing pools of Kuang Si Waterfall where we will have plenty of time to relax and swim.
When you're in Kuang Si Waterfall park, take a visit to the Kuang Si Bear Rescue Sanctuary where you can find the information about Asian sun and moon bears, the bears' protection program.
Undergo the new Lao Buffalo dairy, that produces cheese and a range of scrumptious dairy products. The diary brings incredible income and a sustainable future for Lao people as well.
Witness and learn how to milk a buffalo, cuddle a buffalo for the flawless selfie and try some ice-cream. The Buffalo may be the stars of the show but the playful pigs, chickens and cute rabbits are also plenty of fun for the young and young at heart!
We'll return late afternoon by vehicle. The tour concludes late afternoon in Luang Prabang.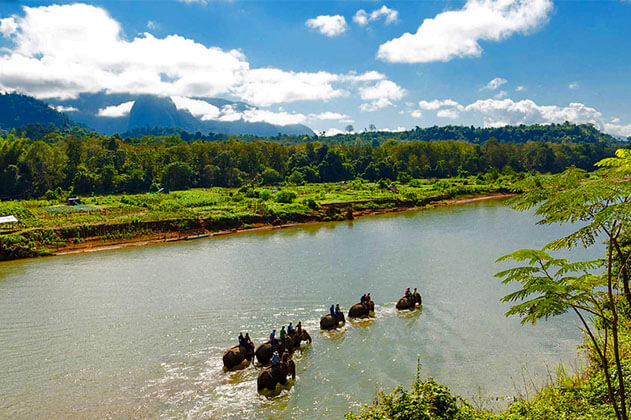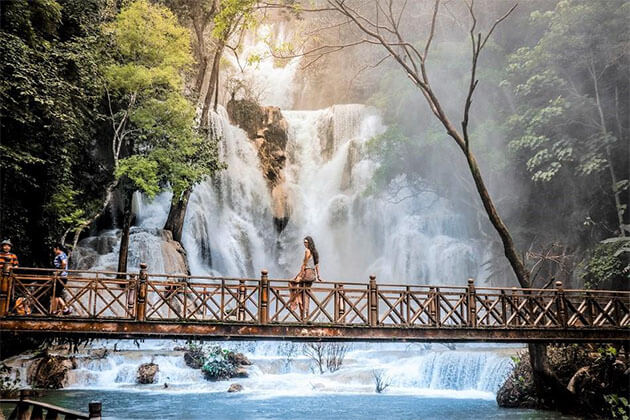 Day 5: Alms Giving – Elephant Village Camp – Tad Sae Waterfall (B, L)
Get up early in the morning, students and teachers will join the local people with their daily Morning Alms Giving. This tradition is unique in Laos and some other countries in Southeast Asia. The offerings are normally sticky rice, flowers, fruits and sometimes money.
Afterward, we return to the hotel for a proper breakfast.
After that, we transfer to visit Elephant Village Camp and earn an interesting time learning about the procedure of dung paper and visit some related sites.
Option 1: General tour about Elephant
09:00 am: Get a briefing from your tour guide about Elephant Village and elephants in general
Elephant Feeding: Get up close and personal with elephants, including one young elephant
Visit Elephant Hospital: Meet our elephant doctors and learn about the checkups the performs
Learn About the Surroundings: Learn about the nearby villages and farms
Visit Museum: Learn more about elephants and their plight
Dung Paper: Learn about how elephant dung paper is made
Basic Mahout Training: Learn how to command elephants using the local language
The tour is finished around 11:30
11:30 Lunch: Enjoy a lunch buffet overlooking the Namkhan River
Option 2: Dung Papermaking (max 10 pax per day)
09:00 am: Welcome greeting by your guide and participate in a short briefing about elephants
Elephant Feeding: Get up close and personal with elephants, including one young elephant
Tour camp: Visit our elephant museum and elephant hospital to learn more about the plight of elephants
Collect Dung: Walk around the camp to collect the elephant dung
Learn About Dung: Learn why elephant dung makes a good paper
Process Dung: Wash the dung, boil it to kill off bacteria, use a thrashing machine to soften the dung
Sun Dry Dung: Spread the softened dung on a rectangular screen and then lay it on a piece of cloth to dry
Make Souvenir: Make a souvenir from dung paper to take home with you
Lunch: Dine at our Elephant Camp restaurant. Your buffet lunch will be served with coffee or tea. (Vegetarian options are available)
Afternoon, we transfer by boat to visit Tad Sae Waterfall and have time to relax and have short hiking around, swimming is possible.
Come back Luang Prabang by late afternoon. Overnight.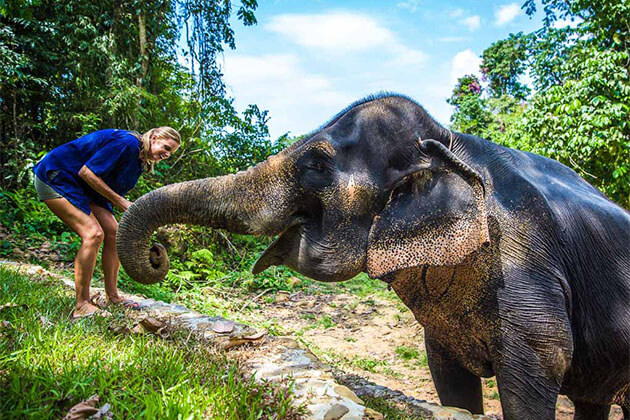 Day 6, 7, 8: Luang Prabang Cooking Class – Luang Prabang City Tour (B)
The first day in the three-day tour in Luang Prabang, we first join in an exciting cooking class to explore the traditional Lao cuisine.
Tempt your taste buds with a series of traditional Lao food at this 4-hour cooking workshop in Luang Prabang.
Soak up the atmosphere when shopping for ingredients at the local market, then learn to cook scrumptious Lao specialties during an expert-led cooking class. It's up to your choice of the private or small-group classes, you'll relish in plenty of one-on-one attention as you create an array of dishes, after that, tuck into your 4-course homemade lunch.
Eventually, you will receive a recipe book to take away, thus you can remake the dish at home or create any dish you want.
The next two-day in this tour, we spend time to discover the Luang Prabang city tour. Depart with a visit to the morning market, where the locals shop for everything from fresh local vegetables and imported fruits to live frogs. After that, we'll step into the serene in one of the most elaborate monasteries, Wat Mai, and then take a visit to the former King's Palace, where presents the history and present life off Luang Prabang. From there, head to the antique Wat Xieng temple which features a scenic low sweeping roof.
After lunch, we will visit either the UXO Visitor's Center (The Unexploded Ordnance Museum), which is the documents the devastation that Laos suffered during the Second Indochina War. Later on, we will explore the 16th century Wat Visoun temple, which is famous for its enormous stupa and its rich collection of old gilded Buddhas.
We finish our two-day tour in the Traditional Art and Ethnology Centre (TAEC), known as the only independent resource center in Laos dedicated to the diverse ethnic groups.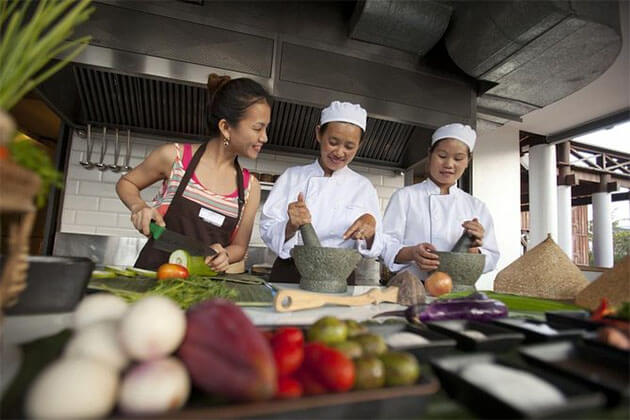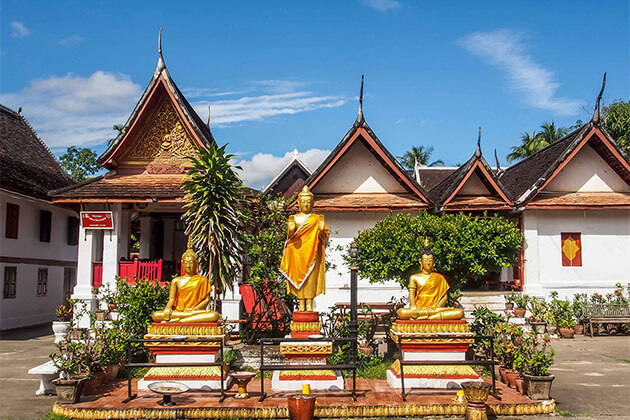 Day 9: Luang Prabang – Vang Vieng (B)
After breakfast at the hotel, we will take 6-hour driving to Vang Vieng (200 KM). Along the way, we will stop at Phou Pheng Fa – the highest peak of the area. Arriving in Vang Vieng at around noon, we will check in our hotel.
In the afternoon, we will explore Tham Jang caves and Blue Lagoon. Have time to swim or attend other activities on your own.
Overnight in Vang Vieng.
Day 10: Vang Vieng – Kayaking and Tubing – Vientiane (B)
After breakfast, you will be transferred around 10km North to Viengsamay village which is home to Khmu people, meet and interact with the locals, listen to the basics of kayaking before setting off down the stunning Nam Song river.
After that, we travel downstream to Tham None (Sleeping cave). It is one of the biggest caves in Vang Vieng and it's also severed as a rescue shelter for the villagers during the Second Indochina War. The cave now is home to a family of bats and the Magic Stone of Vang Vieng. If your trip is right on the rain season, you can swim through the entrance to the cave. The final leg of the trip is a gentle paddle which leads us back to Vang Vieng.
Approx. : 15 minutes transfer, 2 hours kayaking, and 1-hour caving.
After that, transfer to Vientiane (4 hours driving). We will arrive at Vientiane in the early evening. Transfer to hotel for checking in and overnight.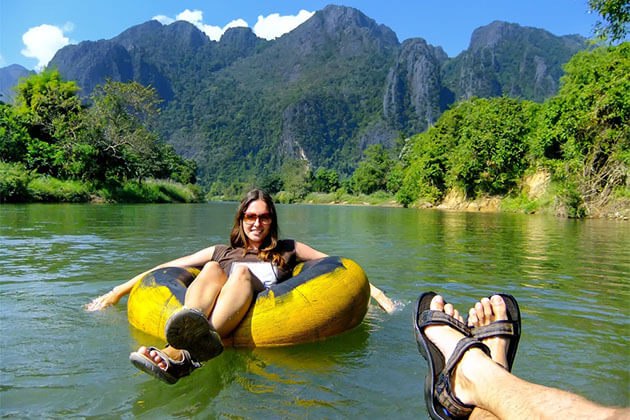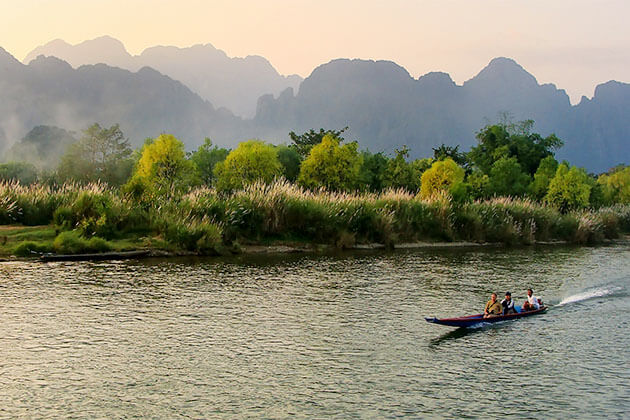 Day 11: Vientiane city tour (B)
This morning, we will explore Vientiane and its outskirt with a visit to the oldest temple Wat Sisaket dated back from 1818 with thousands of Buddha images from many countries. Continue to Wat Prakeo, the former royal temple of the Lao monarchy and originally built in 1565, is home to the Emerald Buddha image. We then head to the famous and sacred structure of That Luang Stupa and have a short stop to take some pictures of the imposing Patuxay Monument, Vientiane's own Arc de Triumph.
After lunch in a restaurant in town, we drive out of the city to visit the Buddha Park where hundreds of manmade Buddhist and Hindu sculptures are displayed. Then transfer to visit the COPE center to know more about the affection of war to local people.
Overnight in Vientiane.
Day 12: Vientiane Departure (B)
Today we will take the flight to Hanoi/Bangkok then connect flight to your departure.